For 19 years, Cherry Jubilee — a nice guy named Robert, who hails from Connecticut — has organized the Glam Awards for LGBTQ nightlife, this time taking place on January 21 at Public Arts at the Public Hotel. Cherry, who works out of drag as a booker and social networker in the office at Lips drag restaurant, works tirelessly to organize this event, seeming to live it and breathe it with every pore all year 'round. I've cohosted three times, and won a bunch of times (for Best Writer/Blogger) and this year will be involved again, so I'm naturally partial to the awards (lol), but I swear a lot of the community turns out for it—not just to win, but to dazzle and enjoy. I caught up with Cherry to talk about what makes the Glams so glammy.

Hi, Cherry. Tell me how the Glams came to be.
A couple of years before the Glam Awards, I had just started doing drag. I started doing my cable access show. I was a new queen and was in awe of all the legendary queens — Girlina, Joey, Jackie Beat, Lady Bunny, Candis — some of whom are trans now. HX Magazine had awards, but mostly people that would advertise in their magazine would get the award. It wasn't as respected as much. I'm not saying they were rigged, but I heard they would make phone calls to see if people would be available to make it.
I wanted to have the community vote. Fast forward to Barracuda, December 7, 1997. We packed that place with every drag queen and big nightlife person. People were literally sitting on top of each other. This wasn't a popularity contest. You couldn't buy it. It takes me hours, days, weeks to tabulate the nominations. It's chosen amongst your peers, like any other awards show. We're the Oscars of nightlife.
Some people have wondered if the Glams are ever fixed (and I occasionally have myself, lol--except when I win, of course). But you've said it's completely on the up and up. That's great. Can you elaborate on that?
Almost every year there is some grumbling from a particular person or persons who insinuates or straight out claims it's all rigged. And it's always from someone who has not been nominated or won and feels they should have been. But when they are nominated or win, suddenly they are praising the whole thing profusely. Of course I know that it's all done fairly. I work real hard to keep the integrity of the Glam Awards intact. And I know most people know that and appreciate that. So I don't let the few sourpusses upset me. I just have to rise above any pettiness and negativity.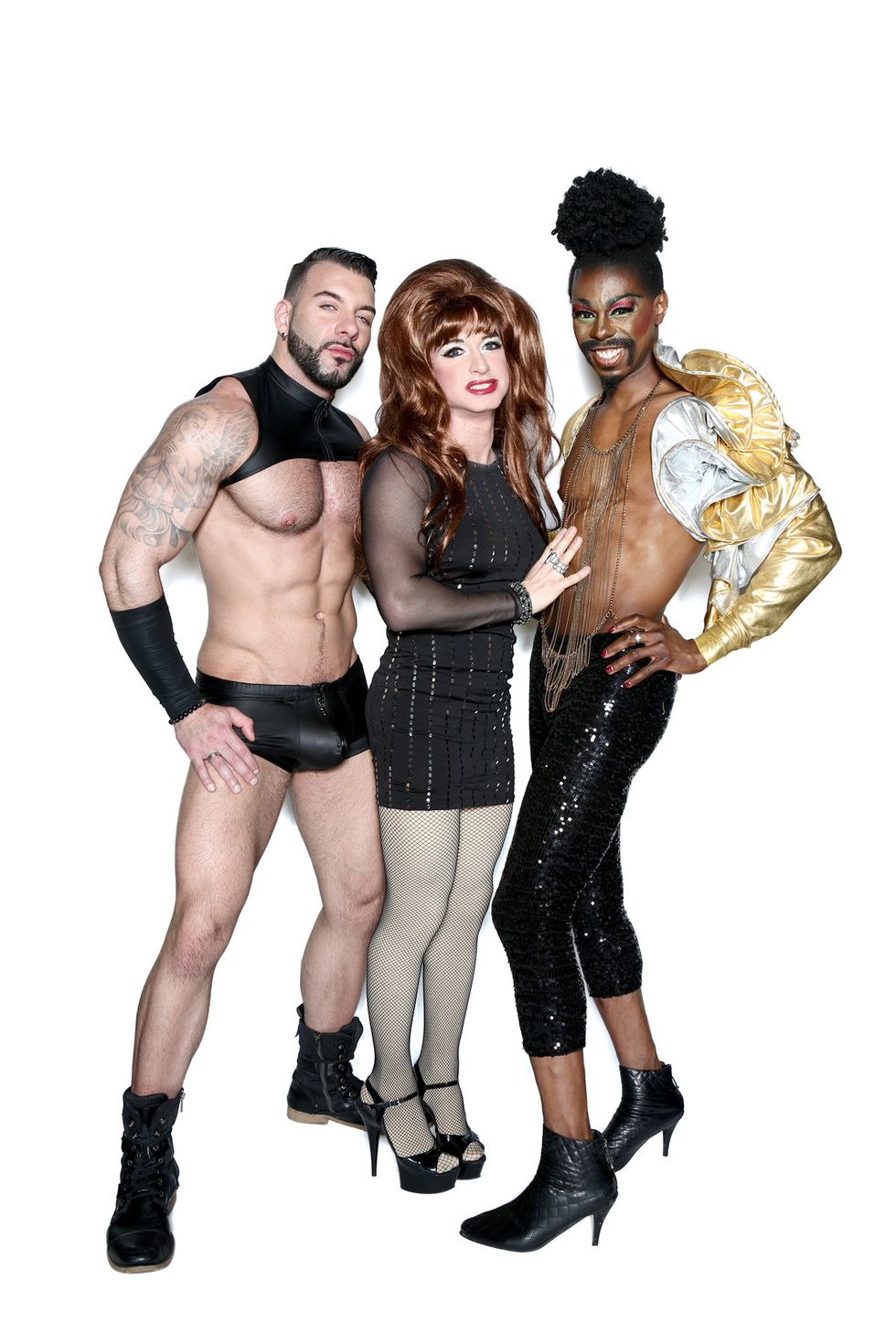 Vinny Vega, Cherry Jubilee, and Kareem McJagger by Jeff Eason for WilsonModels
Do you have a standout moment from the Glams?
I think my favorite time in the evening is when I can step back and look at all the luminaries that showed up. Everyone is happy and supportive of each other — they're not scratching each other's eyes out. When we did it at Webster Hall, it was nice to see the Glam Awards on a marquee. It's gotten bigger and bigger and it's so great that it's become an institution. I love the performances and Peppermint [who's cohosting with Thorgy Thor this year] has done some amazing performances. She brought giant plastic bubbles. One year, she did pyrotechnics, we had fire breathers, and I thought the flames were hitting the ceiling and we'd need the fire department, but luckily, no injuries. She brought out a full-on rock band one year.
Tell me about the first time you got into drag.
When I went to SVA when I first came to New York, one of our projects was to take someone into the class and portray them in some way. I chose a girlfriend of mine. We were similar in our sizes. I got a black wig because she had this long, crazy hair. She was kind of goth-y. I dragged it out and did a performance. I was a quiet, shy, reserved boy from Connecticut, and all of a sudden I was a woman. It was nice to see the reaction, the adulation. Then it was a Halloween here and there. When I went to Wigstock for the first time, I shaved my entire body and got proper makeup and hair done. That's when Cherry Jubilee was born.
There are some terrific new kids on the drag scene, no?
Some people say drag and nightlife are dying, but there are some amazing kids out there. They want it bad. They're serious. They're ready for the Drag Race thing to happen. They work really hard. We have 10 nominees for Breakthrough Artist this year.
Who are some of your favorites of the newer drag queens?
I cannot say that. They'll say, "You said it in Michael's article, and look what happened? She won." I can't pick one. All the girls nominated are so deserving.
But the Glams go beyond just drag.
When we started out, it was just drag, and someone like Girlina [now Lena] said, "I'm transgender, you should be more inclusive." You could have male DJs, straight performers... It's more inclusive. Drag kind of dominates it because of the huge drag presence in nightlife, but I love that we've branched out. This doesn't have to be drag. This can be all of nightlife.
Is there anyone you would never work with again?
There was one promoter that co-promoted with me. I had to postpone it because this person was a nightmare. She was asking for things that were not fair and was trying to take over a bit. It became not fun. She was putting bad energy into and I felt I had to break it off.
Why are you not doing the event at Stage 48 this year?
There was a fire.
Was Peppermint performing, by any chance?
There's a tie-in right there. [laughs] There was a dumpster fire behind the venue and it spread to the venue and it's closed permanently.
Nobody was hurt, though, right?
No. They were closed that night and according to a contact, the entire management had resigned before the fire. I'm not saying anything more than that. [Update: The club reopened, but the Glams found a new home at Public Arts.]
You're one of the few drag queens who doesn't seem to seek the spotlight, except to promote your project, the Glams. Are you still that shy kid from Connecticut?
The wonderful thing about Cherry Jubilee is she gives me the opportunity to be more outgoing. Drag is basically armor. You can be more outrageous and feel less self-conscious. I love that. I'm a Gemini, so I have two distinct personalities — one wants to be home, quiet, with my puppy, and the other loves nightlife and wants to interact with the creatures of the night.
Do you have a significant other?
I don't.
Do you want one?
Honestly, no. I'm open to it happening, but I'm not out there actively looking for it. I don't feel like I need to have someone. I don't like to be tied down. I'm very independent and I like my independence, but if I find the right person and they can accept Cherry Jubilee and the whole thing, yeah.
For more information on the 2018 Glam Awards, click here.
Sign Up For The Morning PAPER