Today marks the fifth annual celebration of World Hijab Day (WHD), an appreciation of hijab-wearing muslim women, as well as an invitation for both muslims and non-muslims to experience the hijab before they judge it.

Founded by Nazma Khan, a Muslim-American originally from Bangladesh, WHD seeks to promote religious tolerance and understanding (something that is especially pertinent given the current political climate of our world) by inviting all non-hijab wearers to experience the hijab for a day – to literally see the world from a (hijab-wearing) Muslim woman's eyes.
So in honor of the overwhelming positivity of the Muslim diaspora, we've selected 5 artists, organizations, and cultural platforms, providing a space for the Islamic community to express itself in an increasingly Islamophobic world.
MuslimGirl
Founded by writer, artist, and all-round badass, Amani Al-Khatahtbeh (whom we sat down with post-election last year to talk feminism and muslim female identity), MuslimGirl - an online platform whose tagline is "Muslim Women Talk Back" – is dedicated to rewriting the reductive and often-ignorant narrative of Islam in popular culture.
In response to Trump's Muslim ban, the women at MuslimGirl have formulated a Muslim Ban Guidebook on how to navigate being of the muslim diaspora in a post-Trump world, complete with statistics, talking points, and mental health resources to combat Islamophobia.
Go follow MuslimGirl for more talk back from Muslim women.
Ibtihaj Muhammad

Ibitaj Muhammad first rose to prominence as the first American hijab-wearing Olympic fencer at Rio last year. Nowadays, in addition to being a world-class athlete, she is also a designer of a hijab-inclusive fashion line called LOUELLA. And if that's not enough, she was also nominated by former President Barack Obama to the Council of Fitness, Health, and Nutrition.
Follow Ibitaj as she takes both the athletic and fashion world by a storm.
Sofia Niazi
Sofia Niazi is a hijab-wearing artist whose works largely revolve around the experience of wearing a hijab in a world that is hostile to her very existence. The creator of such zines as "Talk to the Scarf," and OOMK (One of My Kind – a zine dedicated to celebrating Muslim women, a publication whose subscribers include the Museum of London and Tate Modern), her art is a revealing look at the changing attitudes to the Muslim diaspora in the post-9/11 world.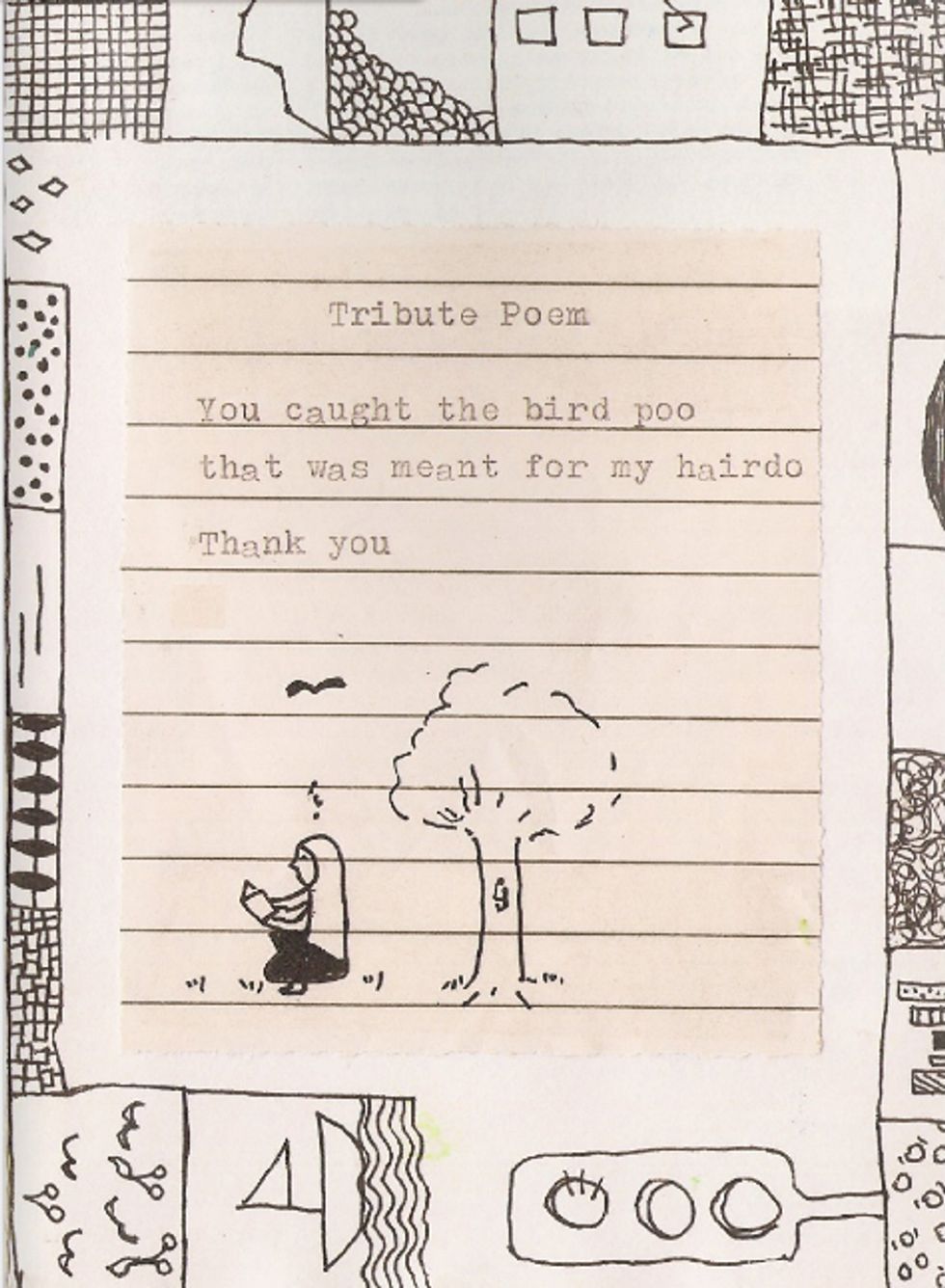 Courtesy Girls Get Busy Zine
The Hijabi Chronicles

Bay Area based hip-hop collective The Hijabi Chronicles, founded by prominent hip-hop artist and feminist Alia Sharrief, is composed entirely of female Muslim artists, claiming their stake in the male-dominated genre.

Because hip-hop is frowned upon in the Muslim community, Islamic women wanting to break into the scene face the double challenge of overcoming disapproval from their own community as well as externally perceived stereotypes. The Hijabi Chronicles stands boldly against both and is active in the political sphere, as well.
Follow @thehijabichronicles for more on stereotype-breaking Muslim women on the hip-hop scene.
Mvslim
Mvslim's Instagram bio reads, "In the mixed society we live today, we went looking for the ideal platform for Muslims. And of course, we didn't find it. So we made one ourselves." The culture and arts webzine caters to the experiences and artistic sensibilities of the Muslim community the world over.
Follow @Mvslim here
Sign Up For The Morning PAPER