Disco-punk singer and model Cailin Russo just dropped her new single "PSYCHO FREAK," a pulsating club bop that sinks you to the middle of the dance floor. The track arrives alongside the announcement of Cailin's upcoming album INFLUX which is set to drop on March 3rd.

SoCal-born and raised, Cailin Russo surfed into the scene during the early 2010s, modeling for brands like Wildfox, American Apparel and Brandy Melville, capitalizing on her sunshine blonde "girl next door" looks. In 2013, she played Justin Beiber's bombshell love interest in the "All That Matters" and "Confident" music videos, where she was thrust into the precarious spotlight of the unattainable: Girls wanted to be her and boys wanted to know her. Cailin just wanted to figure out who she was.
Daughter of Scott Russo, lead vocalist of the California punk band Unwritten Law, Cailin turned toward her alternative roots and founded the eponymous four-piece punk band RUSSO, releasing a debut EP "House With A Pool" in 2018. She's since broken away to focus on her solo career, where she's been tapped for major collaborations like recording the song "Phoenix" for the online game League of Legends, and working with Kanye and his team, writing and arranging tracks for Donda in 2021. The hit song "Hurricane" from the Donda album earned her a Grammy nomination.
Cailin is an experimentalist at heart, thriving at the intersection between music, fashion and digital arts. Active in web3, Cailin launched her previous single "DIE DOWN" alongside an NFT that sold out almost immediately after the premiere and even walked (via a virtual avatar) in the first-ever metaverse fashion show.
Now known for her chic-grunge allure, sleeked-back short hair and edgy LA style, "PSYCHO FREAK" taps into the sparkling nightlife energy in which Cailin soars. After listening to Kylie Minogue's "Can't Get You Out of My Head" for months on repeat, Cailin said the song inspired her to "recreate the same dance/nostalgic/cocky girl energy that it imprinted on [her]."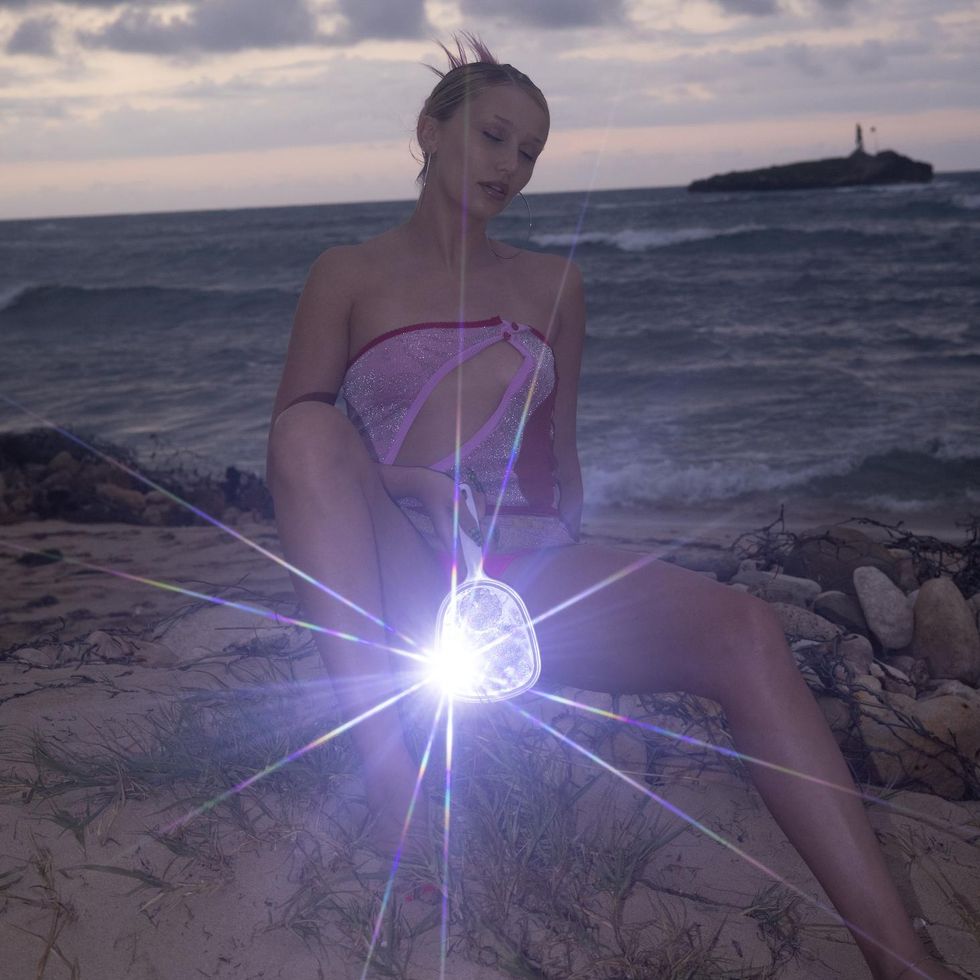 Below, stream the PAPER premiere of "PSYCHO FREAK" off her forthcoming album, INFLUX, and read on for PAPER's conversation with Cailin Russo for a behind-the-scenes look at the album-making process.
Congratulations on your upcoming album INFLUX — dropping March 3rd. This will be your first album since the 2018 release of "House with a Pool." What went into putting this album together?
This will be my first full body of work in a long time. The whole process began with a conversation with a friend Theo who basically told me to blueprint everything — every mood, every piece of inspiration. I was practicing a 30-day meditation challenge at the time and that's where a lot of the imagery for the album art came from. The key to putting this album together was support and a lot of brutal conversations.
"PSYCHO FREAK" is a glittering club bop. Can we expect more dance floor hits on INFLUX?
I would say about one-third of INFLUX is on the dance floor. "PSYCHO FREAK" was born out of Kylie Minogue's glittery little butthole. I definitely have a dance girl streak in me that I was ready to commit to debuting on this album. We also have "BOYS TASTE LIKE DRUGS" which is another extreme dance song, and "DIE DOWN," so there are absolutely a couple of club bangers on the record.
How is nightlife integral to this project?
Nightlife is freedom, uninhibited behavior, love and mystery. Nightlife and INFLUX go hand in hand. I even picture some of the softer songs occurring at night.
You've been a web3 pioneer in the music space, selling out the NFT that accompanied your most recent single and music video, "DIE DOWN." Can you tell us about being a creator at the intersection of music and technology?
I think being an independent artist is so unique in terms of connection and how musicians can support themselves. I like the web3 space because it feels very infinite and universal. I'm not a tech person but I do feel connected to this space.
Will there be any web3 accessories to INFLUX?
Absolutely.
As a creator who's existed in many spheres — modeling, fashion, music and technology — how do you know which channels to tap into and when? Or do these various artistic pursuits live within each project?
I haven't yet found a balance. Everything feeds into each other like an ecosystem. I'm just about showing up for yourself at all times in every aspect and deciding what needs a little more attention. If we try to follow a formula it can alter the natural flow of things, which art thrives in.
If this album could tell your fans something, what would it be?
INFLUX is an arrival of large numbers of people or things. That word resonated with me so deeply because I felt a lot of pressure on deciding one thing I needed to be for people to understand me (because I had been taught I needed to do that to be relatable). For myself and my fans, INFLUX is about accepting and championing all sides of you. That uniqueness is key and fuck a box that anyone tries to put you in — or that you put yourself in!
What lies ahead for you in 2023? Do you have any New Year's resolutions?
I learned a lot this past year about people, work and how to balance the two. It came with some really tough experiences, so, moving forward in 2023 I'm focusing more on being as considerate as possible to myself and others. Also owning my shit more. 2023 is about showing up for yourself and others and hopefully playing some late-night TV shows.
Photos courtesy of Cailin Russo