Viva Las Vegas indeed! Britney Spears announced a big announcement on Ellen last week without saying more than "the announcement is that I have an announcement," in an adorably coy way while looking amazing because Britney Spears.
Say what? We then live streamed a bizarre, almost-half-hour video in Vegas, the second home of the pop queen, who, fresh off the super-successful multiyear Piece of Me residency, smiled, waved to hollering fans, and said nothing. We did hear mega-mixes of Brit's hits catalogue while watching crews set up what looked to be a stage. Ellen special correspondent Kalen Allen danced awkwardly in the fray while we all watched blown-up images of Brit on a poster reading "Domination" cover the visage of the Park MGM venue.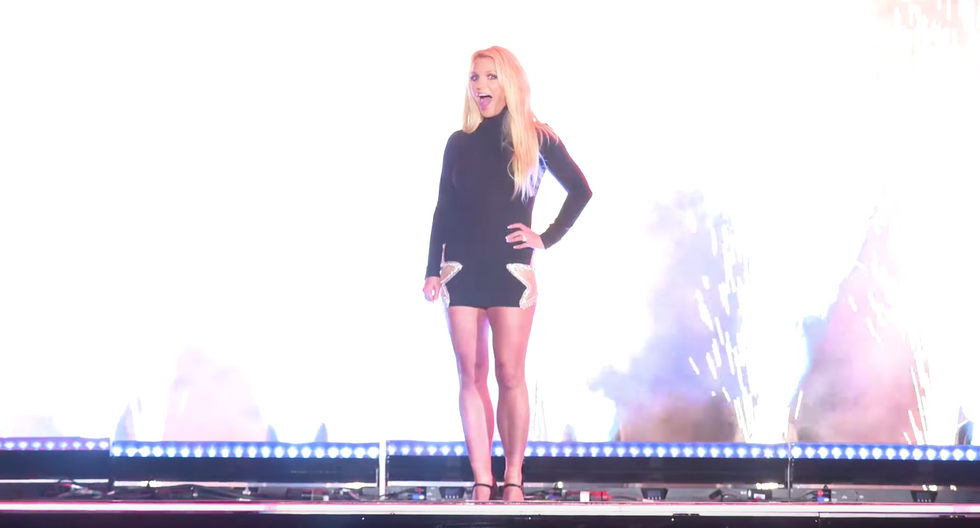 It wasn't until she posted an image of the poster in question that we really knew the full tea.
And now we know! "Domination" kicks off February 2019, and it's a performance residency that will carry Brit through the year. We think it would be iconic if she called whatever her next album is Domination, too, but one thing at a time. It appears then, that, when it comes to Britney Spears, the old adage is true: what happens in Vegas stays in Vegas.