This year's Alabama senate race between Republican Roy Moore and Democrat Doug Jones evolved over the course of its run from a typical local state election into a litmus test for the direction of the country's political and cultural future. Though several allegations of sexual predation against women and minors by candidate Roy Moore were made during the campaign (not to mention his controversial political past, including refusing to remove a statute of the Ten Commandments in a government building), the very fact of Alabama's demographic makeup and history as a very red state led many experts to predict he would win. He didn't, and exit polls indicate that we primarily have black women to thank for that.
In the below infographics from the Washington Post, preliminary exit polls show black voters selected Jones by a 92-96% margin, and nearly 100% of specifically black female voters backed Jones. Voter turnout among black voters was also unusually high; CNN's exit poll found that 30% of the electorate was black, which is a higher rate than in the 2008 and 2012 elections when Obama was on the ballot.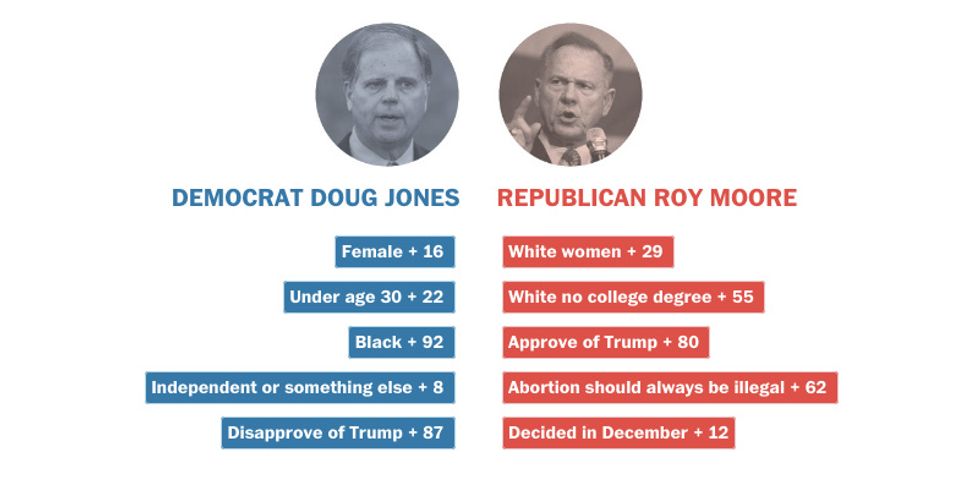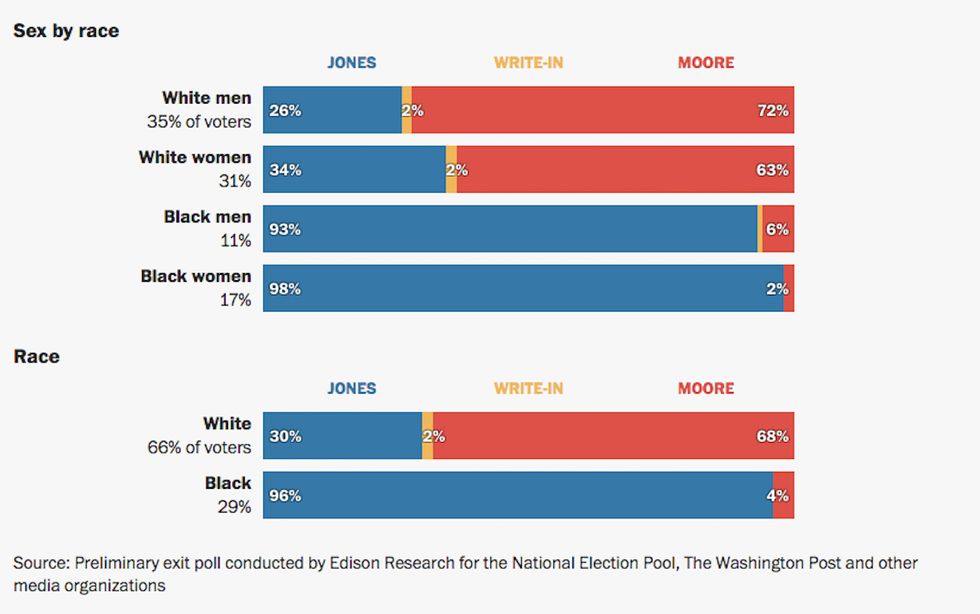 Polls by CNN also found that 63% of white women voted for Moore, who has called Islam a " false religion" and has been an extremist voice against LGBT rights. What's more, 50% of the white women who backed Moore hold college degrees (62% of white men with college degrees also voted for Moore, as did 72% of white male voters overall).

In light of the win, people celebrated black women once again turning out to vote for what's right. Despite his anti-Muslim, anti-immigrant, anti-women, anti-LGBTQ (and so on and so forth) rhetoric, 54% of white women voted for Donald Trump. And despite her less than stellar record on supporting the black community, 94% of black female voters backed Hillary Clinton. This discrepancy was not lost on the internet (very little is):

But the narrative pushed onto black women that they must sacrifice themselves or put in extra work to rescue Americans from their own bad decisions is a problematic trope itself.
As Doreen St. Félix writes for the New YorkerNew Yorker, "The black female voter is especially invoked as a check on the moral void that would, in the case of Alabama's special election, allow the election of a candidate who had pursued underage girls and spoken fondly of life under slavery...Her lack of power and ego makes her the right arbiter of justice. Materially, though, she is ignored, and her efforts to safeguard her own welfare are instead regarded as efforts toward a national salvation. She is of American only because she works for it."
Jones' election marks the first time in 25 years that Alabama has elected a Democratic senator. Jones is best known for prosecuting two members of the Ku Klux Klan responsible for the bombing of Birmingham's 16th Street Baptist Church that killed four black girls in 1963. "I love Alabama, but at some point we've got to draw a line in the sand and say, 'We're not a bunch of damn idiots,'" retired NBA star Charles Barkley said at Jones' election eve rally in Birmingham.
The sister of one of the girl's killed in that bombing, Lisa McNair, was present to celebrate Jones' historic win.
Activist Brittany Packnett put together a list of ways to actually help, elevate and thank black women for The Cut, which you can read here.
Image via Twitter