Billie Eilish is making it very clear that she doesn't have time for "disrespectful" impersonations of her.
On the heels of the star's historic Grammys sweep last weekend, everyone has obviously been buzzing non-stop about her. But with a certain level of notoriety also comes a few minor annoyances, including a slew of apparent impersonations that Eilish hasn't taken too kindly to.
Earlier today, Eilish took to her Instagram stories to ask her fans to stop impersonating her, as she says, "it is not safe for you and it is mean to the people who don't know any better."
"Please stop doing this shit," she wrote, alongside a photo of an impersonator flanked by security guards. "You make me look bad." She then went on to post screenshots of the YouTube search results for videos about "pretending to be Billie Eilish," before reiterating that she would like people to "please stop."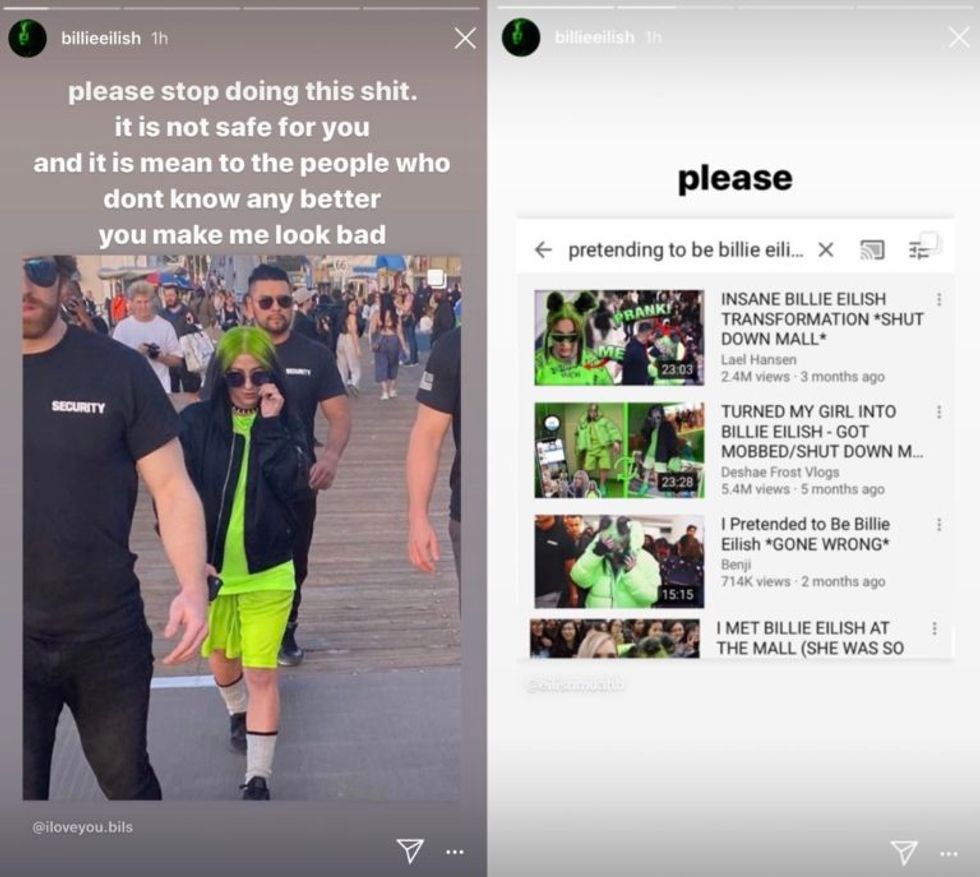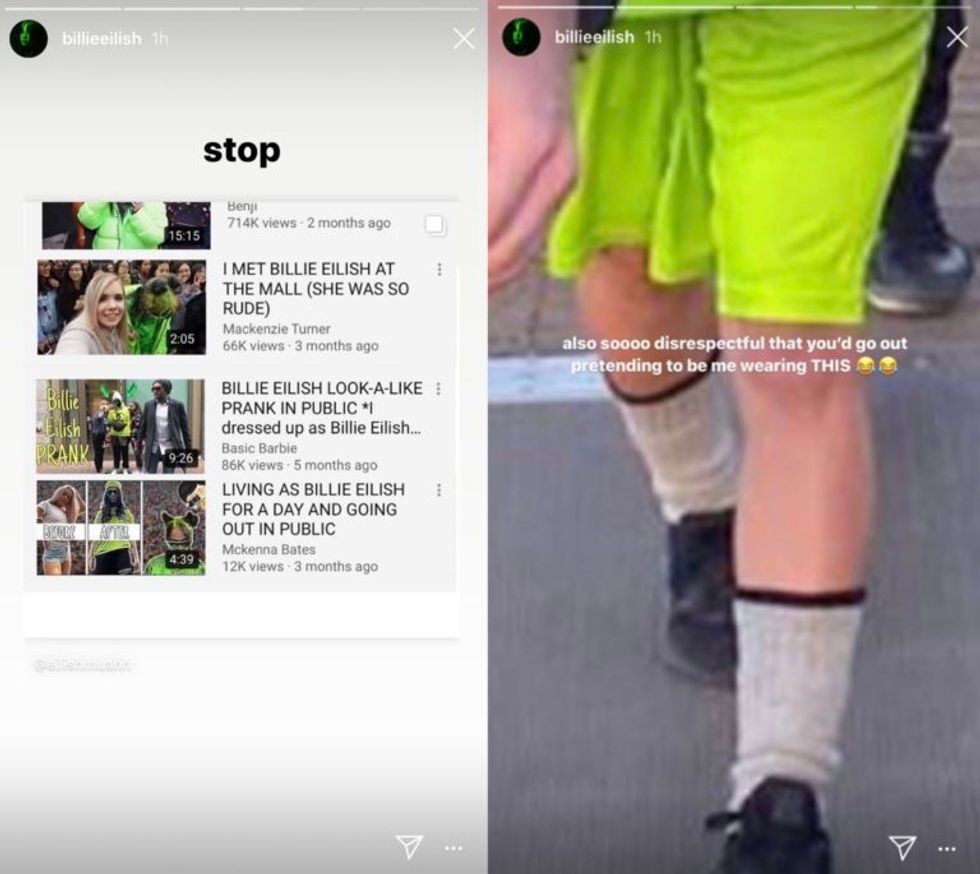 That said, it seems as if this particular copycat's sartorial sense was particularly irksome to Eilish, as she followed up her initial message with a zoomed-in pic of the bottom half of his outfit with the caption, "Also soooo disrespectful that you'd go out pretending to be me wearing THIS."
In the wake of her condemnation, YouTuber Jordan Matter — whose video was the one Eilish screenshotted — took to his own Instagram to apologize, explaining that he had gotten an acrobat dressed as the star to do a "cheer flip" in front of a crowd he had gathered at LA's Santa Monica Pier.
"I had absolutely no intention of disrespecting Billie. I'm a big fan, like everyone else. I've never done a celebrity impersonation video before, but they're pretty common so I thought it would be fun to add my own acrobatic twist," Matter wrote, clarifying that he eventually told everyone it wasn't Eilish. "I felt it was completely harmless since at no time in the video are we pretending that she is actually Billie. I have reached out directly to Billie and Maggie and apologized, and I will not post the video without their permission."
Eilish has yet to respond to Matter's post, which you can read for yourself, below.

Music
Story by George M. Johnson / Photography by Mason Poole / Styling by Shiona Turini / Hair by Nakia Rachon / Make-up by Rokael Lizama / Creative direction by Andrew Makadsi