Belts worn as barely-there tops and makeshift corsets are the latest subversive fashion trend to hit the fashion mainstream. Typically used for functionality, the leather belt strap is now being experimented with in a provocative, post-ironic way.
When Miu Miu debuted their viral schoolgirl uniform sets with major midriff, part of the novelty lied with their belted crop tops. Haphazard belts and zippers were a major focal point at Louis Vuitton's Spring 2023 show, whether they were worn like braless corsets or styled around bare waists à la Carrie Bradshaw. And Diesel's unforgettable belt-mini skirt sparked online debate when a TikToker went viral for being unable to sit in the skirt.
Indeed, it seems belts are being strapped in every which direction, except to hold up a pair of pants.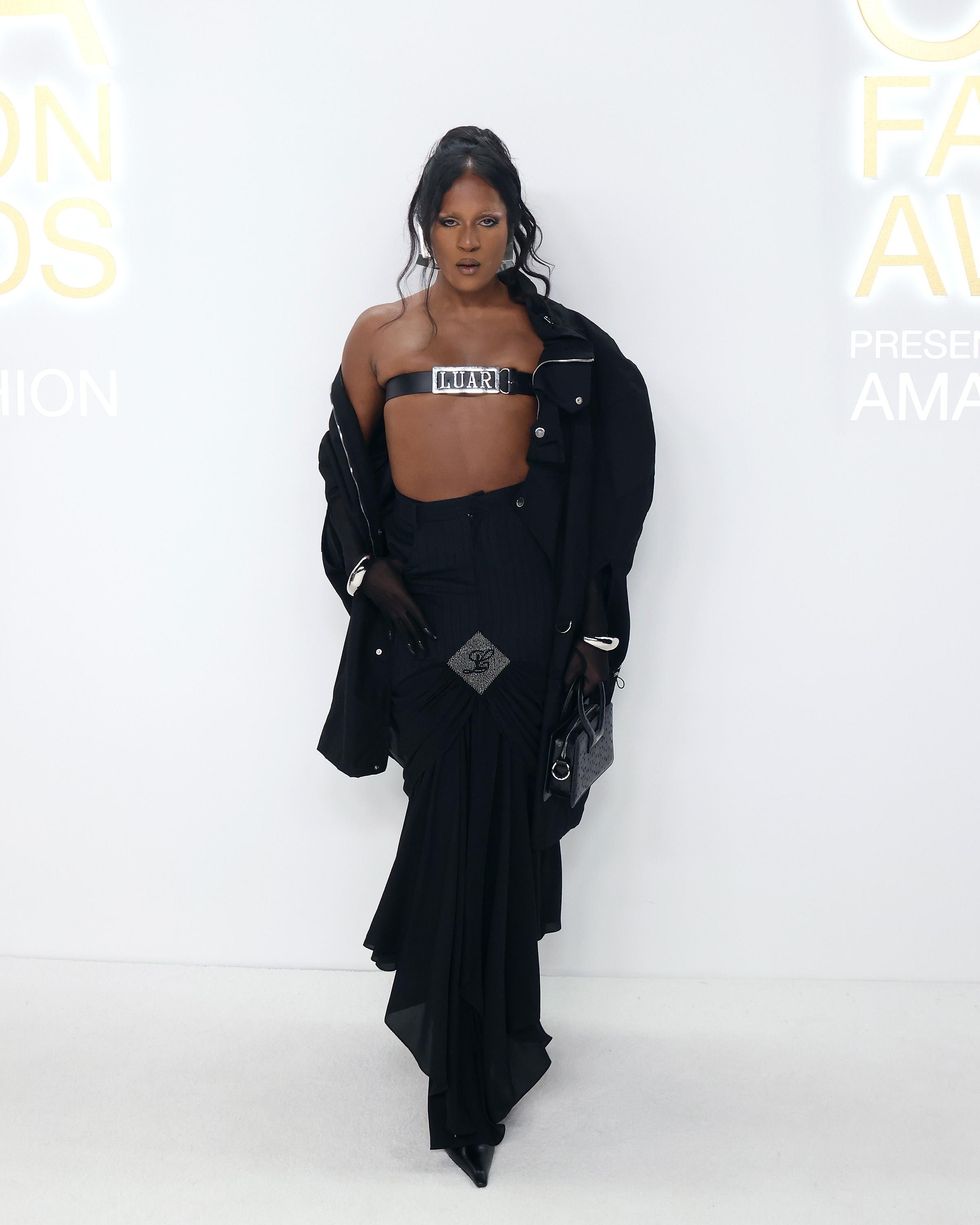 Photo via Getty
For the CFDA Awards, Briana Andalore styled Richie Shazam in a high-waisted Luar maxi skirt with a singular leather belt buckle strap as a bra top. "I love everything Luar does, but the top that came with the look just wasn't scandalous enough," Andalore tells PAPER, adding that she took inspiration form '80s power suits. "It gives a no fucks attitude and you can find so many amazing vintage belts. I love Western scorpion ones."
Singer-songwriter Rina Sawayama has also sported belts as tops for several occasions and magazine spreads. "I love how it creates a sense of innovation from a product that on its own could be boring but by using them in a different way we can create a whole different garment," says Sawayama's stylist Jordan Kelsey. Kelsey notes the influence of the '90s on how belts are being styled, "whether they were low-rider hip belts of '90s Blumarine, grungier and punk styles of Vivienne Westwood or '90s Alaïa waist belts."
Emerging designers are also experimenting with belts in their designs. EMEERREE created the Gabardine Corset Mini Dress which features a simple statement belt over the chest. Their creative director, Aaron Moreno, says that they are in a moment where "consuming sustainably is important, so we are seeing people experiment with clothing and accessories."
For Hodakova's debut Spring 2023 collection, the show featured entire sets and dresses made out of layered leather buckle belts. The Swedish designer specializes in a Buckle Belt Baguette Bag that continues to be sold out. "Belts are the perfect combination between out-dated and trendy, sexy and goofy, practical and uncomfortable, just like bras," says Ellen Hodakova Larsson of the strappy accessory.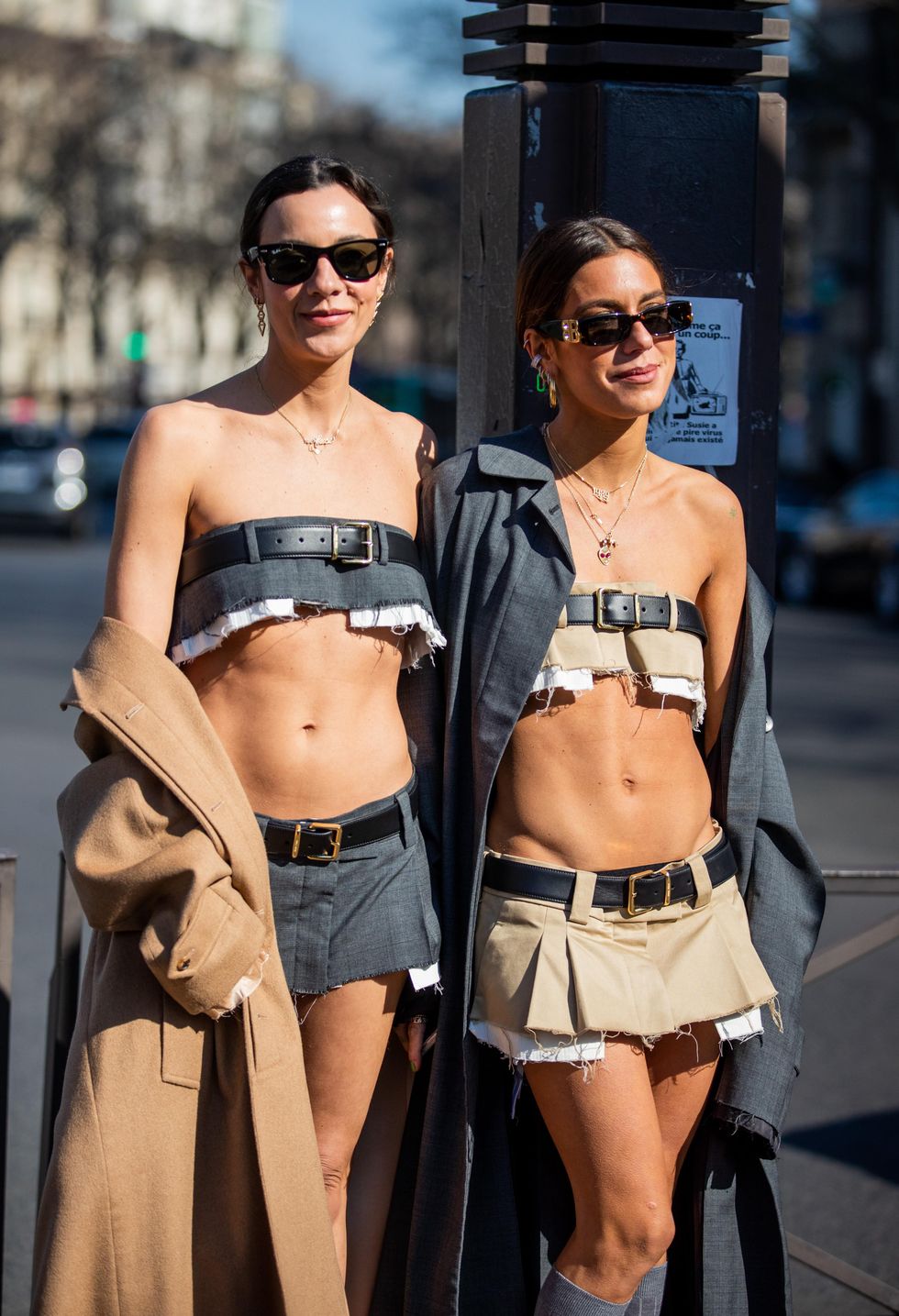 Outside the Miu Miu show in Paris (Photo via Getty)
Designer Tianjia Hu, who's influenced by S&M culture, makes specialty leather jackets out of belt buckles with straps. Hu says that she likes challenging the rules of fashion. "Leather is a very sexy material," she says, noting that leather belts and gloves "are kind of metaphor for sexuality and fetish."
The trend is especially prevalent within the DIY communities on Fashion TikTok. Content creator Myra Magdalen, 25, has a cult following for how she styles everything from old television sets to baby heads on her body. Recently, Magdalen posted herself layered in an outfit entirely made out of side-release buckle straps.
"When I was putting together this look I was going for something sort of in the cyberpunk grunge aesthetic especially in regards to the buckles," she explains. "Belts are easy to find at thrift and second-hand stores and they are adjustable so they make for a great and easy accessory to style in new ways."
Belts were created for functionality during the Bronze Age, specifically for military and utilitarian purposes. Now in the 21st century, the belt is shifting into post-ironic fashion. "The cool thing about fashion is that it's often in a tug of war with itself between being functional and being art," says Magdalen. "And I think styling belts in a way that completely negates that original purpose and just for the sake of art and self expression is kind of a brilliant example of that."
Content creator Jaquelyn James, also known as @portal.grl, also experiments with leather belts, turning them into layered and braless corsets. "My inspiration for layering belts in unconventional styling comes from working with limited resources," she says. "For me, it's [about] how I can take this basic belt from Zara and turn it into something no one could be wearing."
As a creator, James shares the pressure that comes with being ahead of trends. "There is an underlying pressure that comes with being creative, especially in the fashion space, to always be wearing something new, never repeating the same outfit. When you have four belts, five pairs of jeans and 10 t-shirts, you have to turn the belts into a corset, the jeans into a skirt, the shirts into a dress. Innovation is the only way I could live with myself in the URL."
Whether a belt is styled as a bra or a braless corset, the haphazard, eccentric styling trend quickly serves sex appeal without looking further than a Goodwill bin.