Fendi Forever
Subtlety isn't in Fendi's vocabulary. Before the show began, a crowd that included Nicki Minaj (covered head-to-toe in artist Hey Reilly's Fendi x Fila collaboration) were greeted by an enormous circular F logo door plastered against a millennial pink wall. It was a literal sign of things to come as Bella and Gigi Hadid, Kendall Jenner, Kaia Gerber, Adesuwa, and Sara Grace Wallerstedt followed show opener Adwoa Abdoah onto the runway in a range of looks covered in the Fendi's signature insignia.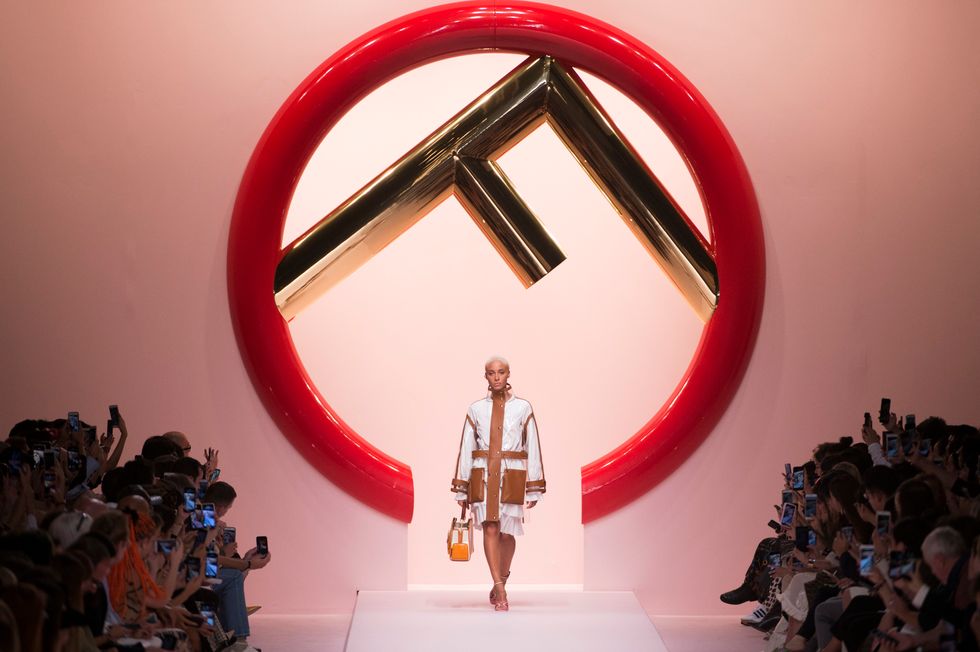 Sporty Spice
If Fendi is anything to go by, and it is, cycling shorts are here to stay. The spandex look that formed Yeezy's design ethos for seasons has made its way to Milan Fashion Week, appearing in black and blue variations with a quilted Fendi insignia. Much like goths and Polaroid, athleisure is the vampiric fashion trend that never seems to die.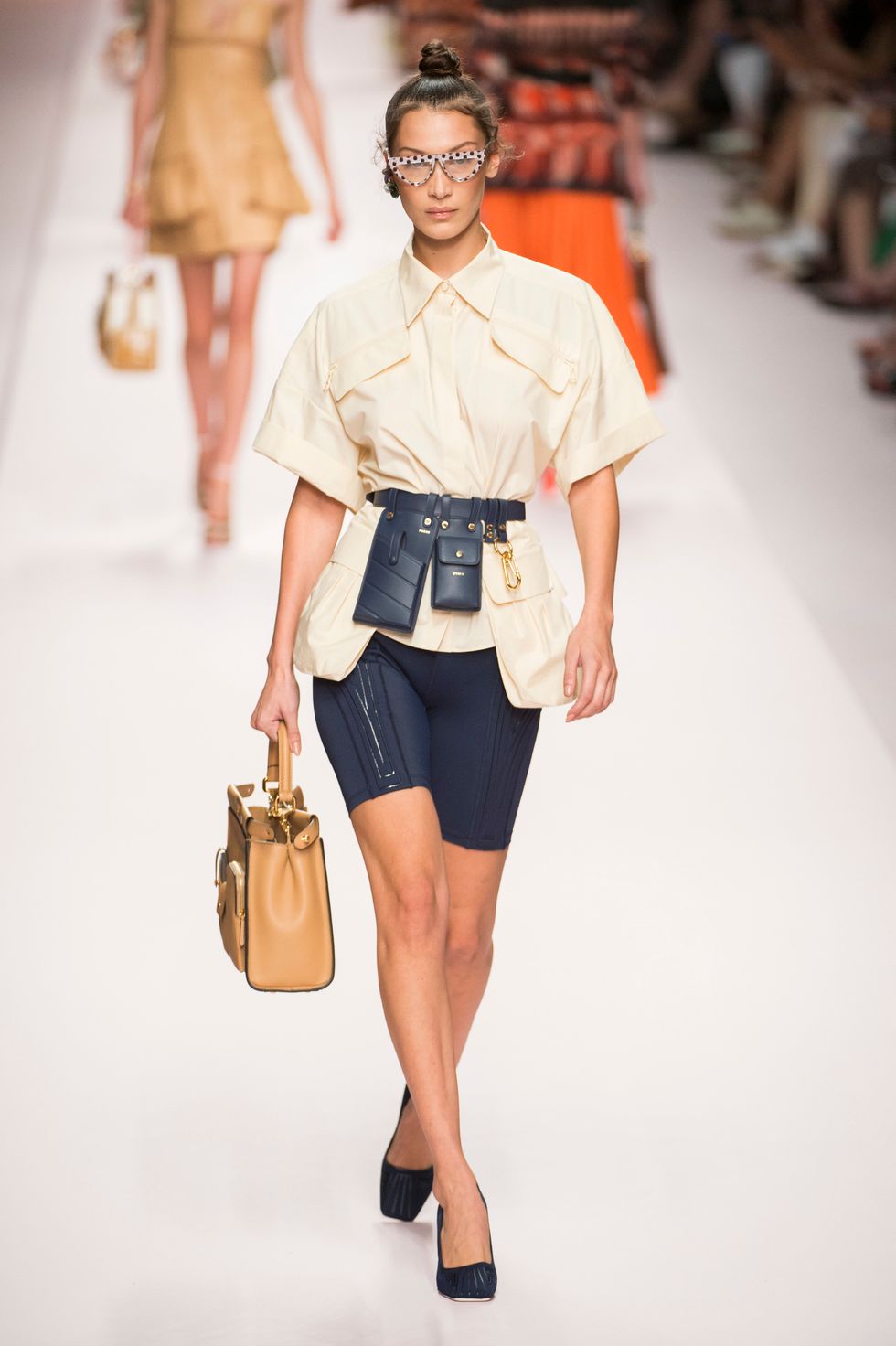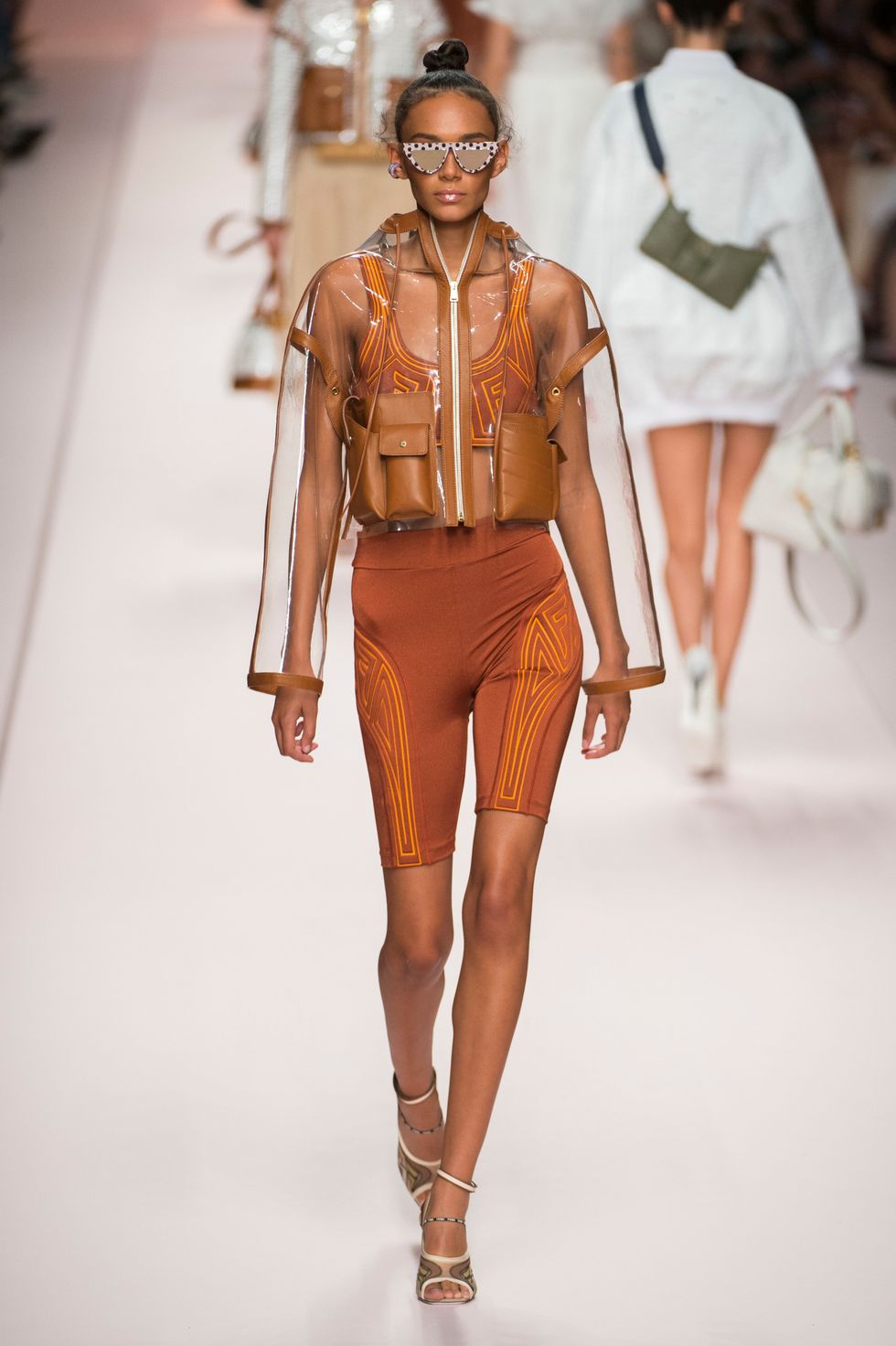 Pocket Rocket
For the pocket aficionados among us, the Italian designer's vision for spring 2019 was heaven sent. No blouse, bag, skirt, dress, or coat was safe from the pocket revolution. While we loved seeing the pockets pop up on denim coats, leather dresses, and safari shirts, it was the utility belts that left us truly and utterly gagged. This isn't your dad's Home Improvement belt, either. The Fendi variety appeared in army green, black, tan, white, and a gorgeous (and extremely on trend) shade of orange — all featuring a pocket that looked large enough to fit your bulbous new iPhone XS Max.
Knotty and Nice
Up top, the go-to hairstyle was a loosely bundled knot for the focused Fendi woman. Finally, the easy, breezy hairstyle has escaped the clutches of hungover sorority girls and peyote-smoking man boys and brought a lowkey flair to the runway.
The Shade Of It All
The itsy bitsy shades that have made a home out of the faces of Rihanna, Gigi Hadid, Kendell Jenner, and literally everyone else in Hollywood are not going anywhere. As much as we hate to love the little frames, we are here for the sexy librarian variety that Bella Hadid rocked on the catwalk.