From self-assured lyricism to visuals that pay homage to club outings with friends, Brooklyn-based rapper Ahsh Eff keeps it real in every aspect of her artistry.
When Eff sat down to write her most recent single, "Nasty," premiering today on PAPER, the hip-hop artist had several concepts to work with: a friend's dream, her own experiences as a young musician, and the desire to create music that reflected reality rather than portraying a fantasy, in light of the Millennial/Gen-Z inclination to showcase exciting lives on social media.
"I don't feel like we live in the moment enough," the rapper told PAPER, "A lot of the time, we're consumed with running our lives more in line with the Internet than we are with what's actually happening in real life."
The result? An infectious track and visual highlighting both her smoky vocals and nuanced ability to analyze modern portrayals of romantic and personal commitment.
"'Nasty' glamorizes a distant and sometimes harsh reality of commitment," Eff said in a statement, "While we think we most desire fairytale romantic moments that end in heartbreak, we really just want to have fun and make memories we thought we could only dream of."
Eff believed "Nasty" required a video that would allow her to capture even more aspects of her real life. For example, rather than playing a character, she shows herself on a fun night out.
"I wanted to capture something that was as natural, personal and realistic as possible," Eff says. "I was like, 'We're going to get dressed like we're going to the club, and then we're going out to the bar, and that's what we did in real life. We went to the bar, we killed it, I stood up on the bar and danced. That was something I never did before, but I was like, 'this is the night of the video, I should take advantage of creating a memory I'm never going to forget.'" As such, video features scenes of Eff dancing in a club, wandering through the Lower East Side and Chinatown, and singing alone, all under rich neon lighting and fading ripple effects reminiscent of VHS tapes or staticky film.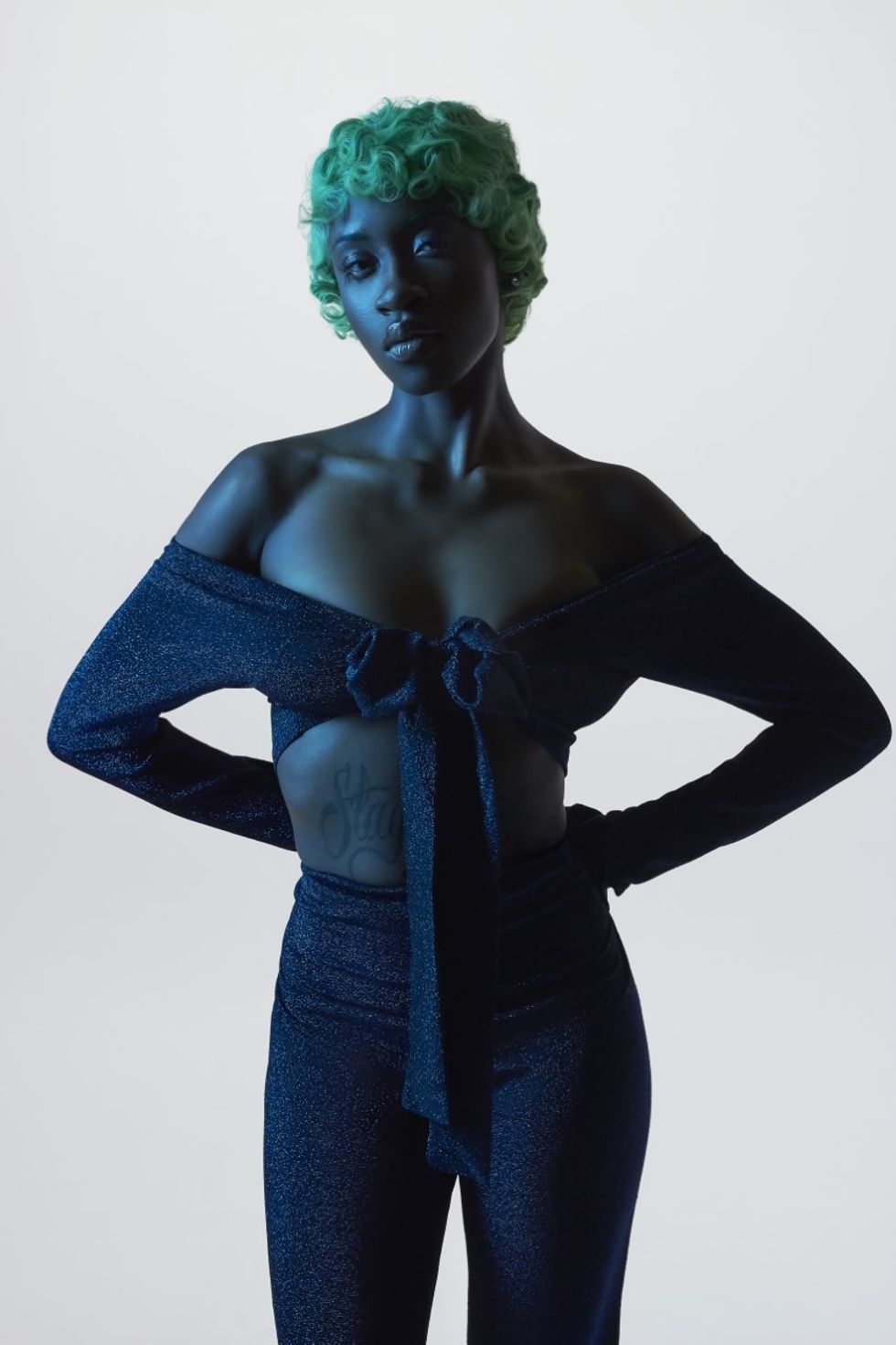 Eff explains the significance of the song name, and how it relates to the sentiment behind her upcoming debut album, PIRL, which stands for Poppin' In Real Life. "In the video and cover photo for 'Nasty,' I really wanted to set the scene for Poppin' In Real Life," she says. "The album title means, in real life, you lit. You're creating memories that transcend the Internet, are natural and fun, and come to you with ease."
She continues: "I don't say the word at all in the song, but I named it 'Nasty' because I feel like it's a very immature-but-mature word. It can sometimes be funny. With taking myself so seriously [through my work] I needed a moment of relief by calling my song 'Nasty.' I was speaking about subject matter I normally don't speak about."
Being nasty can also be a good thing, too, Eff clarifies. "It doesn't have to mean 'eww, that's gross/ nasty,' it could be like, 'wow this beat is 'nasty,'" she says. "That's how it is when my friends and I go out places, in the most positive way possible. We're doing our thing, chasing our dreams as lit, young individuals and having fun in the process. That's really what it's about."
PIRL will feature seven songs and is set for release sometime this month. Eff further discusses how her single, video, and album reference what it means to live IRL by disregarding social media expectations and truly being present.

"You're not about to pull out your phone and record a video of you sitting, having a very personal, great interaction with somebody just to be like, 'Yeah I had a great time at this event, here's the video of me talking to people at the party,'" she says. "You don't have to do that. I feel like it's about being able to actually live in the moment."