Katie Roberts-Wood frequently eschews traditional sewing methods in favor of linking and knotting fabrics by hand to create sculptural 3D garments. Nothing Roberts-Wood has ever done, though, has been traditional. The Nottingham-born designer studied medicine at Glasgow University before changing course and nabbing a spot in the Royal College of Art's prestigious MA Fashion Womenswear program in London. She was the only designer in her year without any formal fashion training.
She presented her first collection during London Fashion Week back in September 2015, and saw her pieces immediately picked up by Dover Street Market. Her darkly romantic, voluminous silhouettes also caught the attention of Zaha Hadid, who commissioned her to create several garments.
Roberts-Wood says her work is inspired by nature, biology and mathematical patterns, which she translates into ethereal organza layers, rippling surrealist structures and deconstructed tailoring. "Experimenting with materials is really exciting, and it is always the driver," she explains. "I would describe my process as a continuous evolution."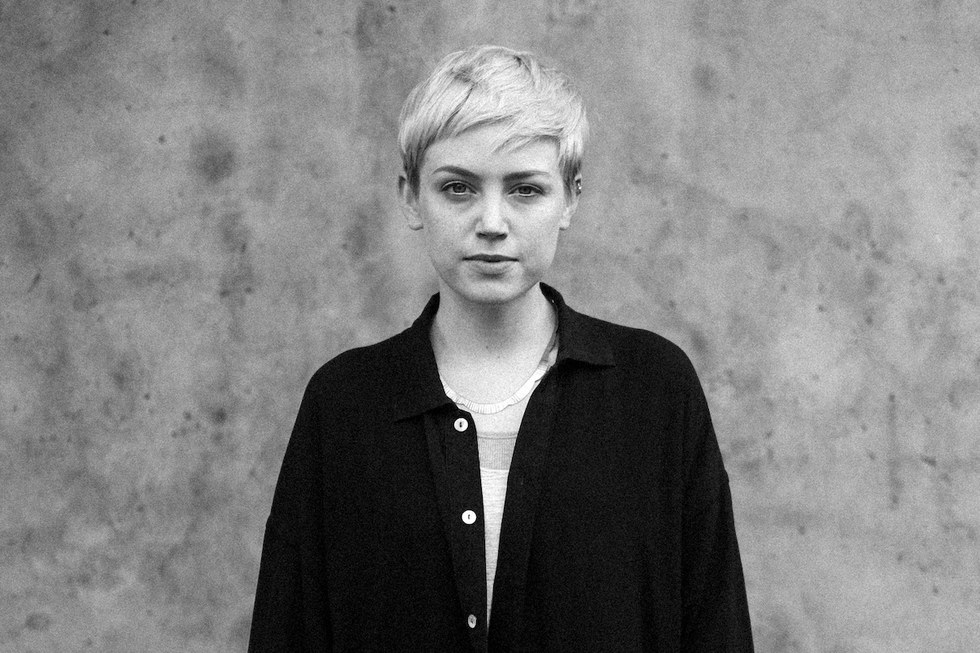 Katie Roberts-Wood; photo by Paul Phung
When did you realize you wanted to move into fashion?

I studied medicine straight after high school, and midway through my degree I realized that there was something else I was burning to do. I am from a family of doctors and I had always been destined to be a doctor, so it was quite a big thing to suddenly realize there was maybe this alternative path that was calling me. I decided to finish the degree so I would know I was changing for the right reasons, but I was always drawing, making or doing something creative in my spare time.
What did you do next?
I taught myself how to sew and began making and selling in small boutiques, as well as working in an alterations shop to bring my technical skills up to scratch. I went on a pattern-cutting course and one of my tutors suggested that I apply for an MA in Fashion Womenswear at the Royal College of Art.
How would you describe your process?
I would describe it as an evolution. For my MA, I bonded together fabrics (wool, felt and Lycra) using a heat press. I created the engineered, laser-cut designs on computer, and these were then cut from the bonded fabrics using the laser cutter. This part of the process created many precisely cut flat shapes, which I then linked together by hand to create the final layered 3D garment design.
This has been the starting point from which a lot of my work has developed, evolving this fascination of how things are structured and put together. A lot of methods are based on non-sewn techniques, and I like to find new ways to create structures and texture by linking.
Transparency is also a key theme; I work with a lot of silk organza and luxury fabrics. I also like taking a very ordinary fabric and turning it into something extraordinary. My S/S16 collection was made entirely from white cotton, and I used it as an exercise in learning what you can create from something quite simple.
The palette is usually quite limited because I want the technique and texture to come through, so limiting the color palette can really highlight what you are doing with the fabric.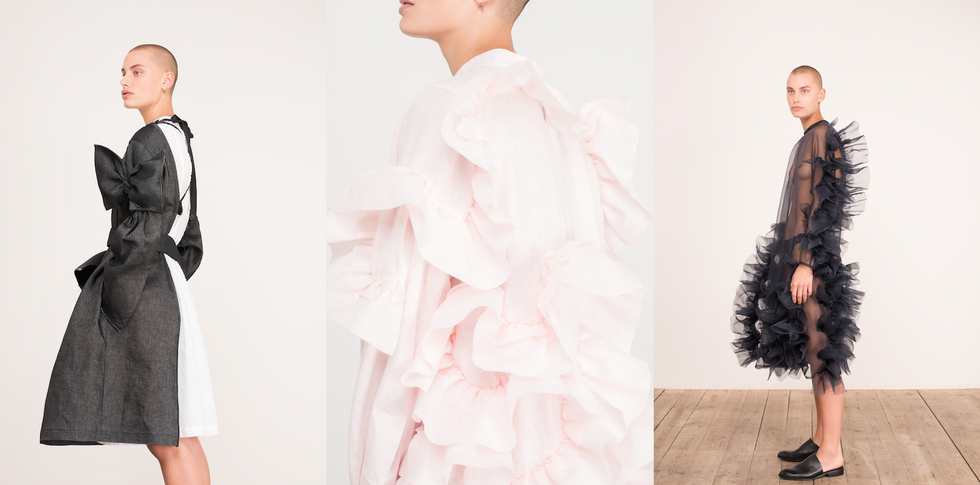 What inspires you?

Nature and microscopic patterns have always really fascinated me. My MA was inspired by the murmurations of starlings and how offset movement can create amazing patterns. I started looking at waves and I wanted to create 3D fabric that mirrored these patterns.
The scientific part of my brain wants to figure out exactly why and how something has happened, but the artistic designer in me enjoys the mystery and the beauty.
Tell us about your relationship with Dover Street Market.
S/S16 was my first collection and that was picked up by Dover Street Market in all three stores, which completely blew my mind. It was incredible to have that start in your career as it feels like such an important endorsement, especially when you look up to DSM, Adrian Joffe and Rei Kawakubo; they are heroes for so many people. They have been part of the story of the brand since the first season.
What have you learned from how they run CDG and DSM?
Fearlessness and to never give up the pursuit of creating something unique. Also that uninhibited creativity and commerce can actually co-exist. They are proof to me that it is possible to carve out your own way of doing things in this industry.
What are your aspirations for your brand?
A year ago, I would have said that I aspired to show on schedule at London Fashion Week, and that has happened, so it's hard to put down landmarks for your business going forward. It would be great to build something sustainable and from there see how far it can go. For me personally, I am very ambitious but I'd rather do good things than huge things. I like not knowing where it might take me, it's exciting. When I was debating leaving medicine, that was one of the things that inspired me -- medicine is such a prescribed path and you know exactly where you will be in ten years' time, but I enjoy the unpredictability of my life now. So far, I've been really lucky with how well things have gone, and you just need to enjoy it.