Last night's #TimesUp white roses, moving performance by Kesha of her survivor anthem "Praying" (accompanied by powerhouses like Cyndi Lauper, Camila Cabello, Julia Michaels and Bebe Rexha), Gaga and P!nk's powerful ballads, SZA's five nominations and performance, and Rihanna and Cardi B bringing joy, sass and fun to the stage might have you thinking women are crushing mainstream music right now.
A new study, though, finds that this is not the case, not by a long shot. The report, by the USC Annenberg Inclusive Initiative, looked at the gender and race of artists, songwriters and producers across 600 popular songs from 2012-2017, and the findings are either worse than you'd expect or just about right depending on where you stand, but certainly not better.
In 2017 for example, only 12.3% of songwriters of those chart-topping 600 songs were female (and only 22.4% of artists were female). It gets worse for producers, where the ratio of male to female producers is 49 to 1.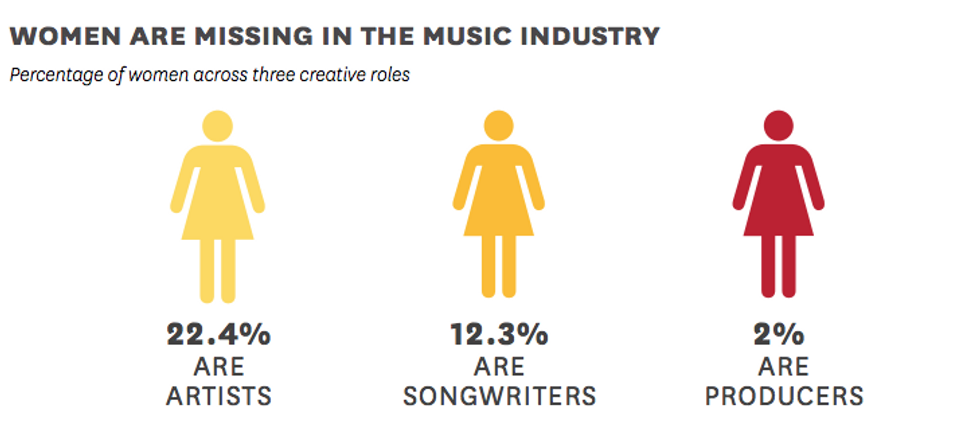 Women of color were even less represented in the producer category, with only two out of 651 credited over the time period in question. The study also found that 2017 presented a 6-year low for female artists (16.8% in popular content) — a figure that music writers have been trying to make sense of since it became clear there were hardly any top songs by female artists this year.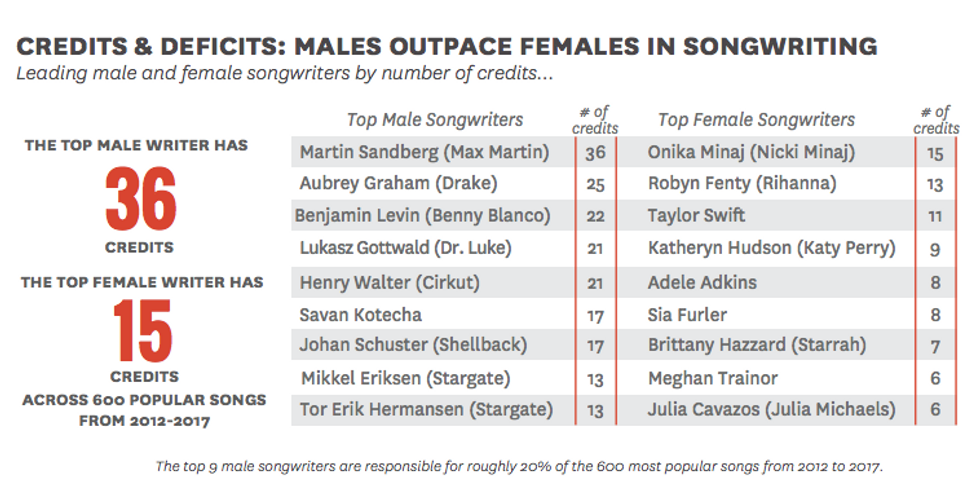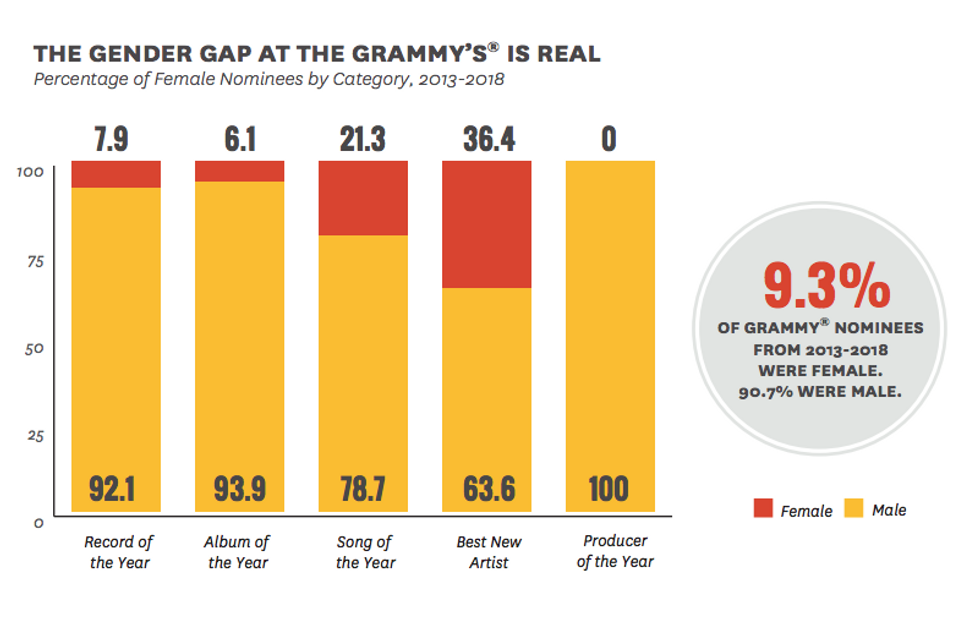 The authors of the report drew several similarities between underrepresentation in the music industry and the film industry, the latter of which has seen increased scrutiny for sexual harassment but perhaps not for other forms of gender discrimination that hinder women from reaching top leadership roles.
The report noted that across 1,100 top-grossing films from 2007 to 2017, just 4% of all directors were female (and only 8 of those women were non-white), and just 1.4% of all film composers were female. In music, just 2% of all producers of 300 top songs were women.
"The lack of women in roles responsible for creative direction across visual and audio entertainment is troubling," the report declares. "This appears to reflect deeply‐held biases related to women and leadership, some of which we have illuminated in film and which may carry over into the music industry. Addressing these beliefs is paramount to opening doors for women in all creative roles, and offering females a chance to shape the cultural narratives and landscape in which entertainment is made."

Splash image via Getty, graphics via USC Annenberg