At just 20 years old, Trill Sammy is experiencing what can best be described as a meteoric rise to fame.
He first went viral in 2016 with his "Uber Everywhere" freestyle, garnering over 15 million views, and followed it up with a string of impressive collaborations from producers like Cashmere Cat and Benny Blanco (whose label he is currently signed to) and rap stars ranging from Migos' Offset to Slim Jxmmi. All considered, the young star has been quietly working on his debut album No Sleep Vol. 1 (which arrived September 7) over the past few years, and slowly making himself the face of this generations wave of notable Texan rappers, bolstered by his unstoppable hustle and a distinctly melodic sound.
PAPER caught up with Sammy ahead of his album release to talk his early beginnings, trusting his creative process, and the importance of standing out in a saturated hip-hop scene.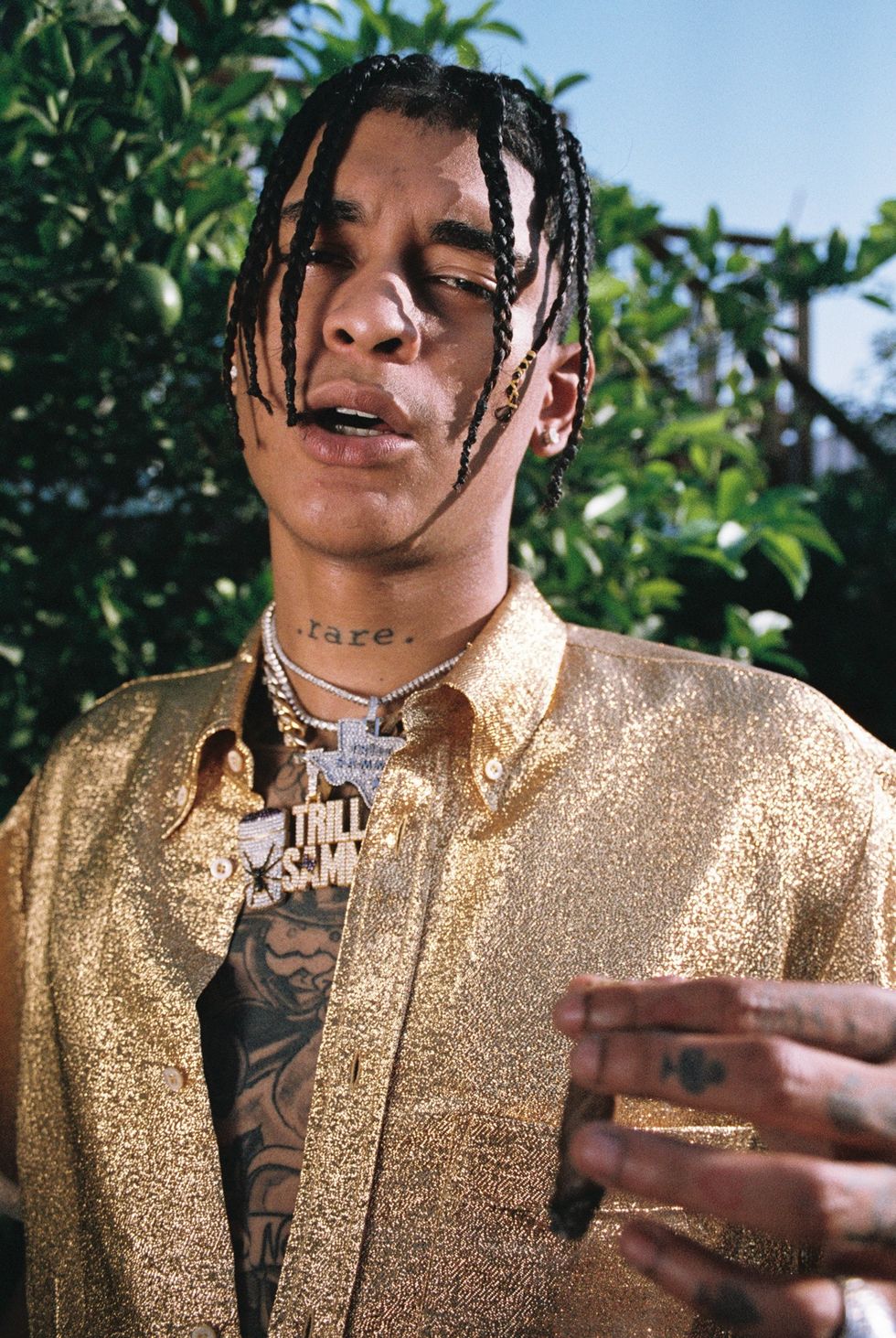 We've all seen your mainstream success and virality, but could you talk to us a little bit more about your time growing up and the moment you knew you wanted to get into rap?
Rapping started as just something to do when my friends and I were having fun; I wasn't even serious about it. At lunch breaks in school, we would freestyle the whole time while just banging on the table. In class, I'd get into trouble just tapping the pencil on the desk while thinking of freestyles over whatever simple beat I was creating. We'd all just freestyle together and from there, I became obsessed.
What has your musical journey has been like since first breaking out online with your early freestyles?
I've been lucky to team up with some great people. Working with Benny Blanco, Jake One, Southside, Cashmere Cat and a few other producers has taught me a lot about making music and given me tools that I'll use forever. A big part of the journey has been learning from these legends and figuring out how I can bring my talent to the table and offer something unique on top of what these guys do. Outside of that, a lot of it has been about staying patient and waiting for things to come together at the right time. Creatively speaking, I'd like to be in the studio with just the engineer and producer and whoever is actually working. I then go through all the beats I have and wait for something to really click. If I have something I know I need to finish, I'll think about it leading up to the next time I'm getting into the studio, so when I go in I can knock it out ASAP. Sometimes I'll bring in my people just to shoot dice and smoke so we can vibe but once I come up with an idea, I kind of want everyone to get back out so I can get in the booth and get my thoughts out. In that sense, my process is often really collaborative.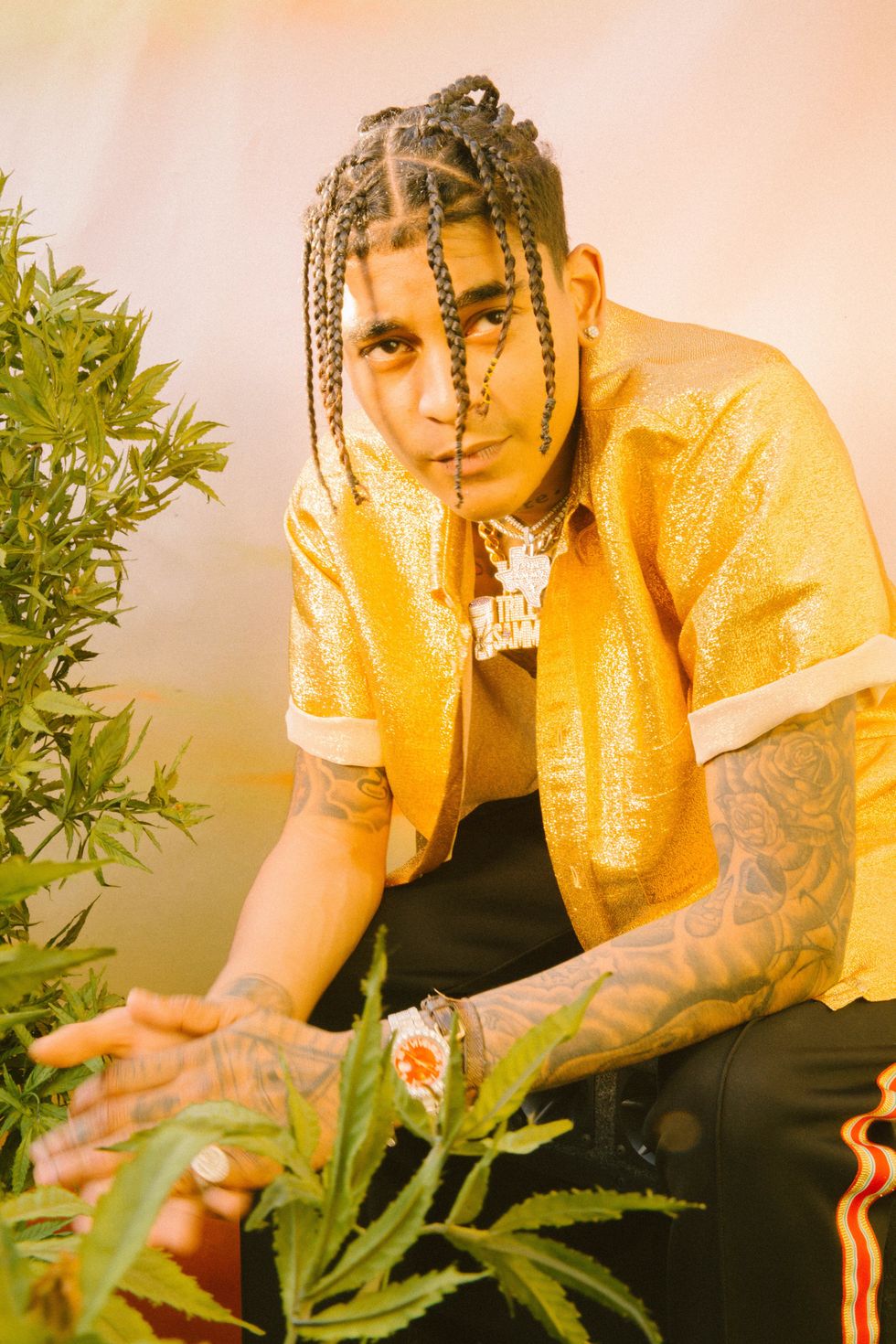 You have some big features on No Sleep Vol. 1, including Offset and Slim Jxmmi. How did these come about and what was it like working together?
Jxmmi and I were fucking with each other. He just pulled up to the studio and by the time he got there, I had cut pretty much the entire song. What I love is how he brought a completely different energy to the song even after hearing what I did. My flow on it is kind of slow, like I'm talking. Jxmmi came in and immediately brought that wild energy that he has. For "Paranoid", I was also in the studio with J.I.D and we actually had him in mind for another record but when he heard "Paranoid," he immediately started writing something, got in the booth and cut his part in like 30 minutes. Just by doing what he does lyrically so fast, you can tell he's insanely smart.
Do you feel like your album shows a different side of you?
I feel like this project shows two different styles of music that I like to make. "3AM" is that more melodic vibe, kind of similar to "Don't Mean It." Songs like "I Can't Decide" and "Do Not Disturb" just turn up more. As a whole, the project is inspired by whatever I was feeling and going through at the time that I made each song. The people around me, thoughts I was having, time of day. The vibe is a mixture of all of that. Mainly, it reflects my highs and my lows.
Your visuals are always on point. How do you create the visual concept to all of your music videos?
Videos are everything. It's really about working with other dope people and making sure that everyone involved is bringing something to the table. Everyone from the stylist, producers, and directors I've gotten to work with are all so talented. Once we choose the team and pick the direction we want to go in, I just trust that they'll do their thing.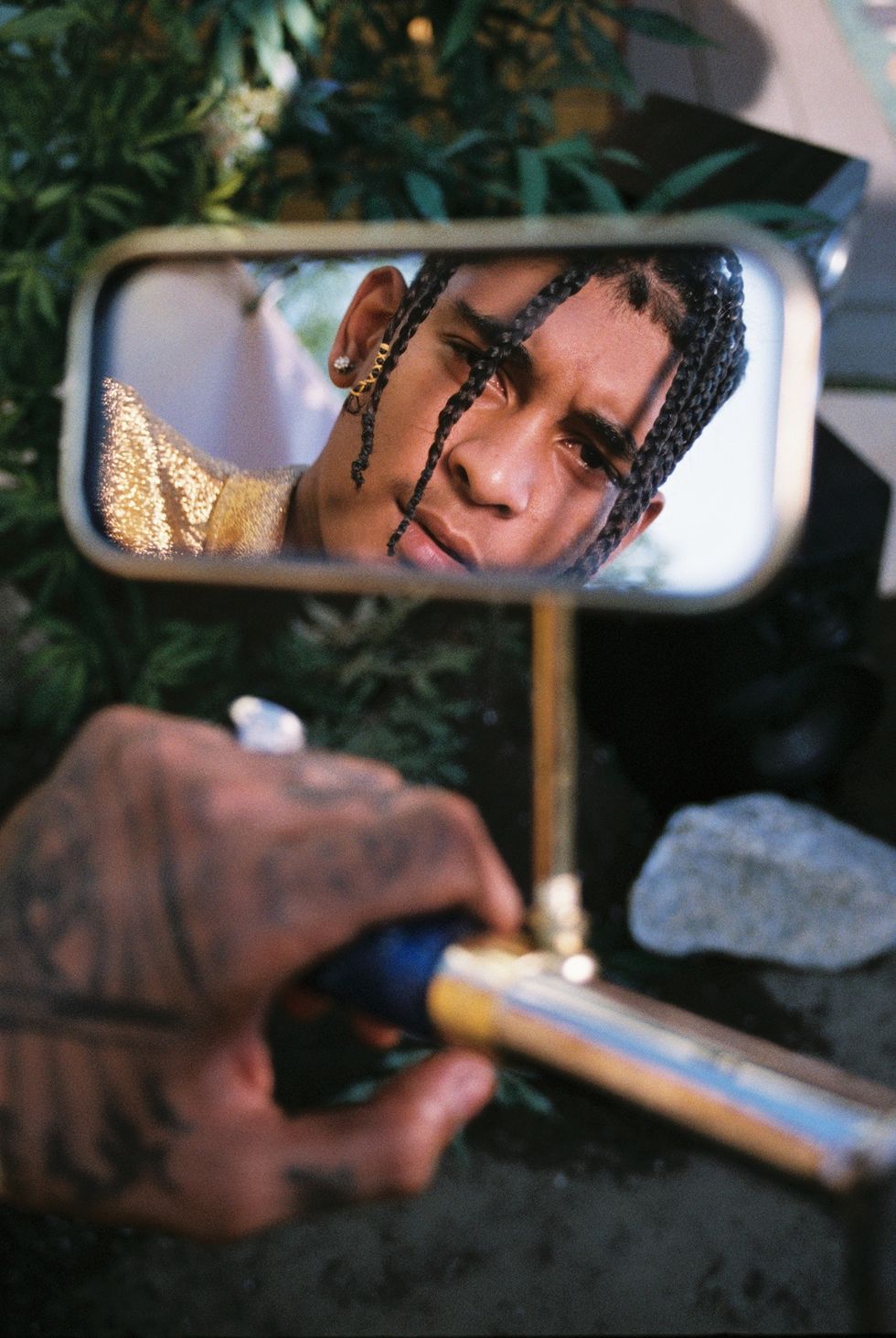 It seems that you are one of the main voices in Texas within the younger generation. What aspect of growing up in Texas influenced your sound the most?
It's so crazy to even think that. I think one of the major influences Texas has had on my sound is just the slang and lingo that you use in Texas and Houston specifically. Every place has their own accent and way of talking, and you can always find Houston slang and references in my lyrics. My personal sound is progressive in an old school kind of way. In terms of the impact it's had on my city, I don't really know how to feel about that other than it's so dope to know that I have fans at home who embrace me and have allowed me to have an impact.
Who have been some of your biggest musical inspirations you look to?
Wiz Khalifa, ASAP Rocky, and all the Texas legends — Slim Thug, Trae the Truth, Z-Ro, Bun B, Paul Wall — there's been so many more. I'm always finding songs [by all of them] that inspire me.
Photography: Alex Figueroa