It is all of the things that Anne Karine Thorbjørnsen is not that set her apart from the crowd at Oslo Fashion Week. No airy, northern minimalism, no floral prints, no nostalgic, cozy knits; all unavoidable hallmarks of most Scandinavian designers.
There is an obsession with drape, this season in "tacky" fabrics like paper thin synthetic silks in tarty red or a bedazzled, rainbow puff-paint satin. Resulting in a sweet unpleasantness that feels confrontational especially in the perpetually smiley nordic country.
Thorbjørnsen, an Oslo native, returned home in 2015 after nearly a decade in London, and that time away comes through in a distinct, sometimes jarring point of view. It was in London that she received her BA and MA at Central Saint Martins, most importantly under the guidance of the legendary Louise Wilson, who Thorbjørnsen remembers saying that a designer can always do better. Upon graduation in 2012, she founded her own namesake label in London (after interning for cult brand Meadham Kirchhoff), but has always maintained a presence in Norway.
She explained her choice to push herself into a bad-taste baroque direction as a response to the dark and chaotic times, and the idea of something "sickeningly hopeful," among other things backstage in Oslo: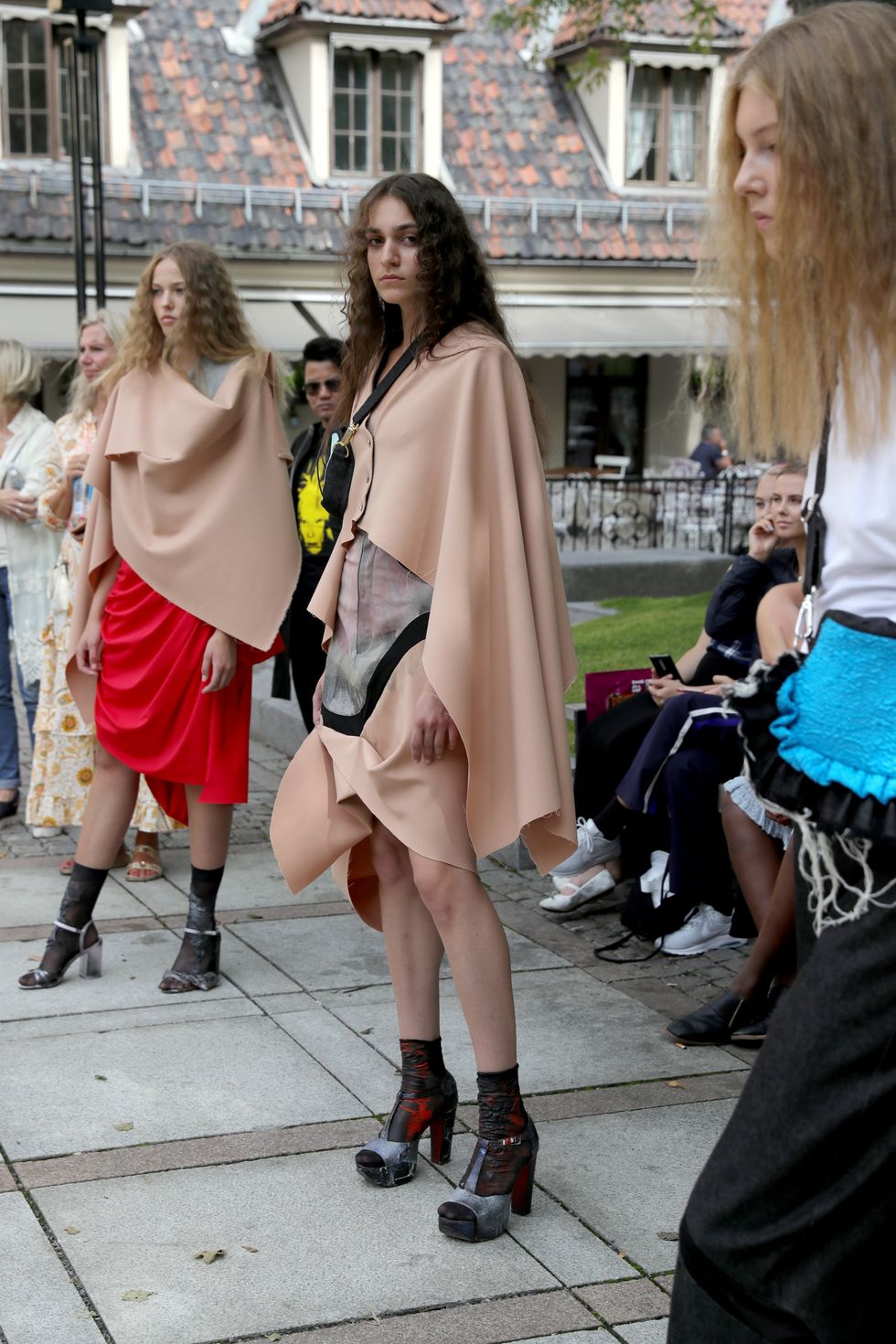 What is it like showing in Oslo?
People are hungry for more than the typical Scandinavian minimalism. I try to go big. Bolder and brighter. Sickeningly hopeful somehow. But try to have a bit a fun. Not just stressing constantly.
Can you explain your obsession with draping or "the fold" ?
I got really obsessed with drapery on my masters. It's so much, the depth, and the movement and it's infinite. I love that. It excites me.
What was the story this season?
It's always the draping, the connotations of being a woman and femininity. But then the darkness and chaos we have been living in today. Baroque was kind of this seasons' theme. Not baroque 1600s, but baroque as a method and lots of it. The hope for something better and grander even if it's too much. Trying to evoke emotion. Thinking what is baroque today.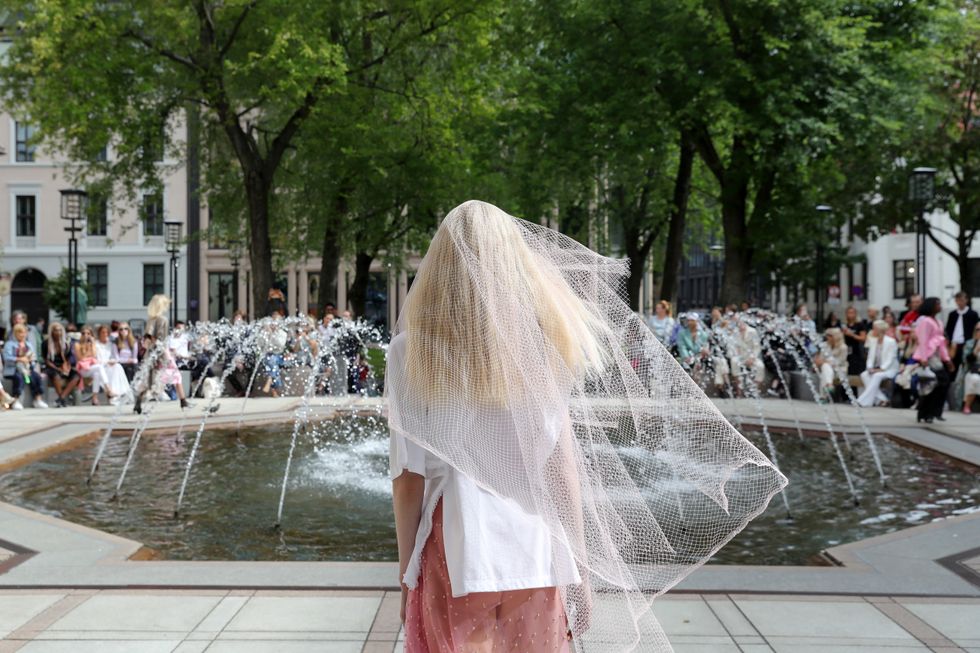 "People are hungry for more than the typical Scandinavian minimalism."
Oslo is outside of the churn of fashion, what's that like as a designer?
It's been amazing being back in Oslo because there is so much space here. Less people and also I get so many opportunities by moving back. You're someone here. you're more recognized here than in London where there is so much great talent. There is so much good will here and space — figurative and literal. When I moved back from London, I lived in a cabin with my boyfriend just fishing for a year. No people, a huge contrast. Outside of Oslo on the fjord and I loved that. Chopping wood and rowing. Making my studio in one of the outdoor houses. It got a bit too isolated.
Do you see yourself eventually returning to London?
I am eventually going to return. Trying to work myself back. There are a lot of things I miss, but a lot of things I will miss here too. It can get too quiet and too easy here. I miss that grittiness and the struggle and realness. This is a 1% place in the world and London is real. My boyfriend lives there too. Everyone is comfortable [in Norway] and I don't think that's a good thing.
Photos via Getty/Oslo Fashion Week