Neon lights, a dark and dingy hotel room, and a vintage film aesthetic — The Driver Era is giving off an intoxicating, eerie electric feel with their "Preacher Man" video, premiering right here on PAPER.
The visual shows a side of siblings Ross and Rocky Lynch that we've never seen before. Post-Ross's acting stint at Disney, and the brothers' band with the rest of the Lynch bunch as R5, the two are ready to drive off into uncharted musical and creative territory. And the "Preacher Man" video is just the image to launch their daring, freewheeling, yet-to-be fully defined project.
Related | The Driver Era's New Song 'Preacher Man' Makes Us Wanna Dance
After the release of their first single last Friday, we caught up with the duo to talk about their sound, the video (found below), and what we can expect as they take us on this wild new ride.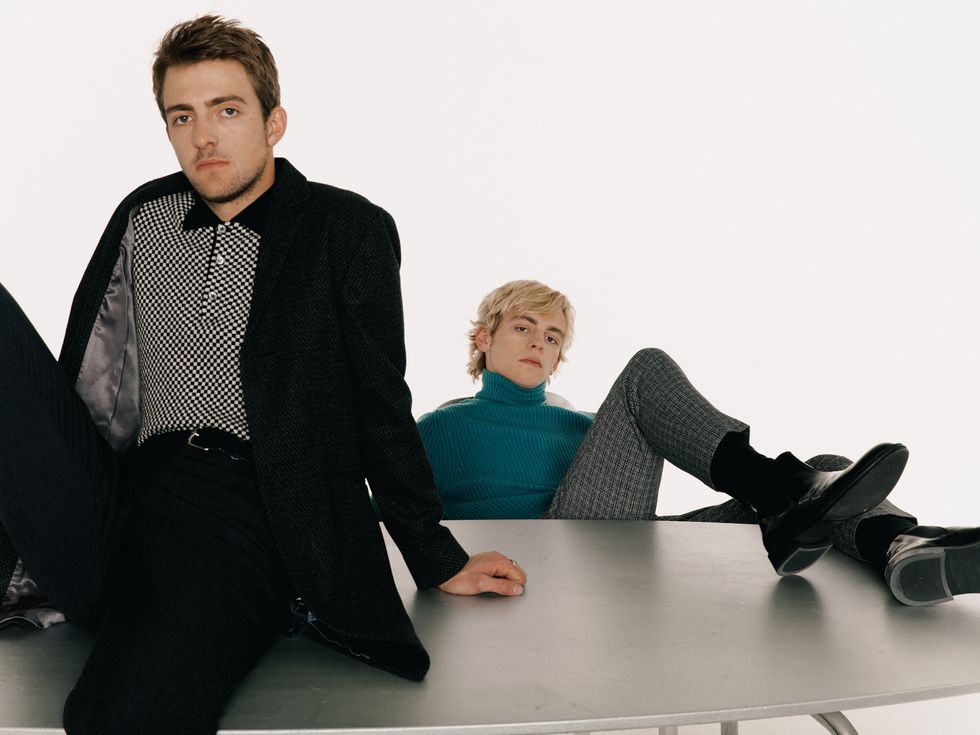 We got a preview of The Driver Era with "Preacher Man" last Friday, and now with the video. How would you describe this new project's sound?

Ross: Like you said, we've got nothing out yet. Just "Preacher Man." So we kind of have free range to do whatever we want. And although that may seem scattered of us, it's kind of exciting because now we've got one song out. We have this plethora of songs to choose from, and we get to choose what we do.
Rocky: Also, we're not quite decided on what the sound should be, and I don't think we kind of ever will. I like that. I think The Driver Era sound should be continuously changing and free to do whatever it wants at a specific time.
Ross: Absolutely!
You guys had a lot of songs to choose from, but why did you think "Preacher Man" was the perfect song to debut with?

Ross: It was just one of those songs everybody liked.
Rocky: It was so crazy because everyone liked this song. It was kind of a perfect fit just based on that fact.
How did you guys go about writing and producing the song?
Rocky: We were taking a trip to Hawaii, actually. It was pretty crazy. Always getting good ideas on vacation.
But what inspired it?
Ross: Some songs really pull from somewhere, and other songs are made in a session one day when you're kind of just workin.
Related | Actor Ross Lynch on Going from Disney Channel to Playing Serial Killer Jeffrey Dahmer
What was the thought behind the concept and filming of the music video?

Ross: Every music video comes about with the song. You just want to fit it really well. With this particular song being a little dark, a little anarchist, it set the mood with being in a weird hotel in the middle of Hollywood with neon lights, and kind of like trashing this place. Somewhere you wouldn't want to be at, almost.
Rocky: Yeah! Initially, Ross was talking about doing like a Heath Ledger Joker scene in a cop car, but that didn't end up happening. It got cut out.
Why didn't the Joker thing pull through?

Rocky: For budget reasons.
That's too bad. But how was the experience of making the video?
Both: Fun!
Ross: It's not all the time that you get an excuse to stay up all night and have fun. And that's basically what we got to do. We got to stay up until 5 or 6 am. It was fun to do that kind of work and we didn't really have a problem. It was the easiest thing to shoot. We've all had experience shooting scenes in the entertainment industry, but this was really stress-free. Just kind of singing a song, having a good time. A good atmosphere.
Rocky: I was literally just drinking champagne the whole time. (Laughs) Basically was just hanging out.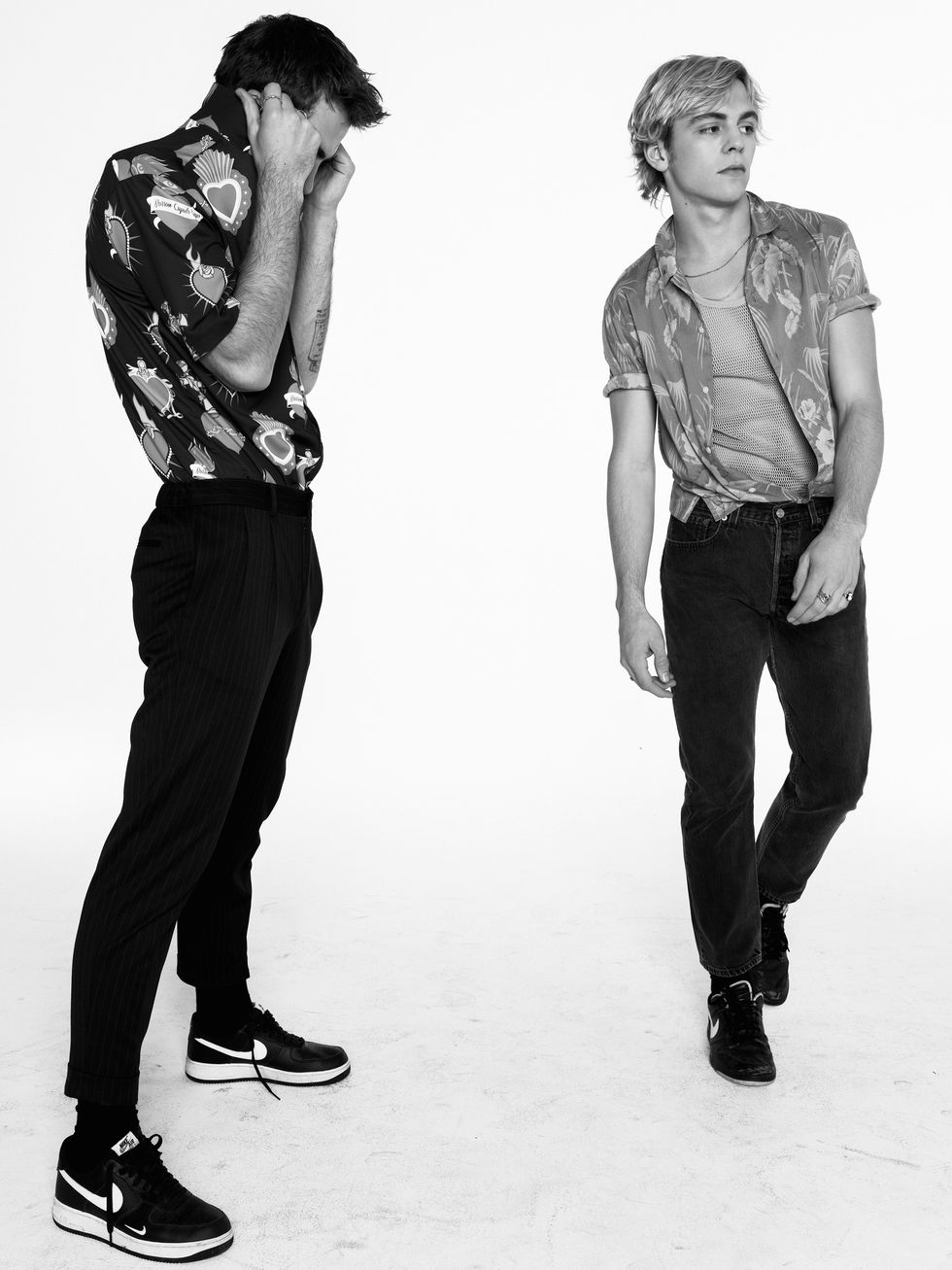 Fans have already heard the song. How do you think they'll be reacting to the video?

Ross: I think they're really going to like it. So far the reactions to the song have all been positive, and that's really the greatest thing about our situation. All I ever see on the Internet — and it's unlike all the stories I hear — all I ever see on the Internet is positive feedback. It's great. Occasionally there's one person who's like, "Oh, it's not my thing!" But majority of people are really cool. I think that's almost because we put a positive vibe out, and that's what we receive back.
You guys also used to work together with R5. What does it mean moving into this new space with your music?

Rocky: With R5, we were always juggling where we want to go. I think it was time to get a fresh start and just let R5 be what it was. Just see what happens, take a chance. We kind of knew there would people who would be a little shocked. But at the same time, we know that if we do good music and we put out good content, people would come along. That's kind of what anybody wants. Just enjoy what they're listening to or watching, feel some sort of pleasure, and that's it! It was just that time in our lives to just step away and do that.
Ross: Also it's good to get it from the artist's viewpoint, too. Sometimes it isn't even about other people. Sometimes it's about us and being able to create something new. It's so much easier to do that with a fresh start. It was productive for us because we have this whole new wave if inspiration and motivation to make something we really wanted to make.
We know it's still undefined and you'll figure things out as you go along, but what do we have to look forward to from The Driver Era?

Ross: I think just the songs that I and Rocky are going to create is going to tie everything together. We do have a specific style. You can hear our trademark in our songs. And I'm particularly excited because I'm doing this new show called Sabrina, and I got an opportunity to play all my castmates 10-15 songs that Rocky and I have been making. One of those nights, you know, because we've been bonding. And their reaction was amazing! I was stoked.
Rocky: Eyyyyyyyy!

Ross: Oh, yeah! It was really cool, man! I wish you could've been here, Rocky.

Rocky: Bro, then why didn't you film it? (Laughs)

Ross: (Laughs) I had to play the songs! That's why!

Rocky: Film it, and send it to me next time, bro!

Ross: Definitely next time we're jamming with some new songs.

Rocky: Yeah, just tweet it to me!
What else do you want to let people know?
Rocky: Nothing. Just, welcome to the journey! Let's go on it! Let's have some fun!
Ross: Yeah! Spread some love and good vibes.
Sign Up for the Morning PAPER
Music
Story by Justin Moran / Photography by Joaquin Castillo / Makeup by Alex Levy / Hair by Sergio Estrada / Styling by Carma Flores