Laura Kim and Fernando Garcia have the pleasure of being simultaneously the hot young things and old school classics of NYFW. Their brand Monse is the CFDA Award-winning new sensations of fashion week and they're the creative directors of Oscar de la Renta, one of the most classic NYC brands ever. We caught up with them a few days before their Monse show to talk about how they find balance between the two distinct brands, and how NYFW is more versatile than ever.
What do you love about being the sensations of New York fashion week?
Laura: Are we?
Duh! You're double sensations. You're the hot new thing and the classic New York brand!
Fernando: It's a very exciting time because the houses are so different so we basically get to play two different characters. One of the things we've found is whenever you feel like you're beginning to overwork a collection it's nice to pause for a day and work on the other.
As far as doing as things in New York. I can't imagine another city that would accommodate an emerging brand like ours. We literally knocked on a few doors, showed a few sketches and everything snowballed from there. I can't imagine that happening as easily in any other city in the world.
I love it. How did you two meet?
Laura: I was the design director at Oscar. I'd been there since 2003. And when did you walk in?
Fernando: 2009 in May.
Laura: Fernando went to see Oscar to show him some sketches when he was in the Dominican Republic. And Oscar called me and said I have this boy from Notre Dame which I thought was a church in Paris.
Fernando: It was awful because I had zero technical capabilities at that time. All I had was my studying of fashion since I was a boy and my sketching ability which came in handy here and there. Oscar was much more of a visual person so I quickly figured that out with Laura's help who taught me everything else that I needed to know besides Oscar.
I think it's great actually that you didn't know anything. You don't know what you can't do or what you shouldn't do, you just are liberated in a way.
Fernando: What was nice about being a sponge to this type of company is that it taught me to aspire to create real things, real products, and drop that fantasy fashion imagination right away—
Laura: You didn't drop it completely!
Fernando: I didn't drop it completely, but there's a very important amount of grounding that you need out of college. A company like Oscar supplies it because it's a company that's first and foremost clothes.
And Fernando, you went to Notre Dame in South Bend, Indiana. Are you from Indiana?
Fernando: I'm from the Dominican Republic. My parents are Spanish and they went to the Dominican as kids. I was born and raised there and then I got into Notre Dame's architecture program. I just jumped over and learned all I could in architecture. I definitely had fun and soaked up all of that Americana culture that you're bound to see.
I love it. And Laura, were you more traditionally trained in fashion design?
Laura: My family is in fashion so I started sewing when I was three and went to fashion school. I always thought I was going to be in fashion. I actually for a brief second thought about studying architecture, but then it was five years of school instead of four, so I went for fashion.
And why do you feel doing a runway show is important as opposed to a presentation or anything else?
Laura: I think it brings some level of excitement. It's like a little story you're telling, more so than a presentation can.
Fernando: We must not forget that as a designer we have to be very inspiring for the rest of the community, and how uninspiring is it to arrive to a showroom like you do a store? When you go to a showroom or a show, it needs to provide some fantasy. There has to be that excitement that you give to your customer, and that comes to life when you put on the best lights, the best make up, and the best music so that everybody gets what you're trying to say. It's a very emotional thing.
At your last show, I was very happy to see two of my favorite people- Paris and Nicky Hilton. Some people might think that would be an unusual choice, not necessarily for Monse, but for Oscar. Did you have any hesitation?
Fernando: No! I love how much they support us. Nicky was there from day one and Paris wanted to come and we said we would love to have her. It's exciting because it's a very unexpected match, but I like throwing things like that into the mix. Alex (Bolen, CEO of Oscar de la Renta) has been very accommodating to new ideas for the house to move it forward. We were talking today about the music for the show and I was saying I wanted classical music mixed with rap. That's the sort of thing you have to do at moments when you need a company to become younger and more relevant for today's youth.
Well that is New York. New York is Nancy Kissinger with Paris Hilton, it's not just one or not just the other.
Fernando: And how wonderful that Nancy and Paris can have a sit down conversation at my show!
You were saying that sometimes if you're working on one collection and you have a block you start to work on the other one. Do you ever find them merging?
Laura: We've never had that problem so far. It's very separate.
Fernando: For both companies, where we definitely have overlap is making sure every single piece looks like a finished product, and at the end of the day, is wearable. There's a sense of modernity and wearability of the clothes. I think today what's fantastic is the ability to excite you and have it be able to be put on your body.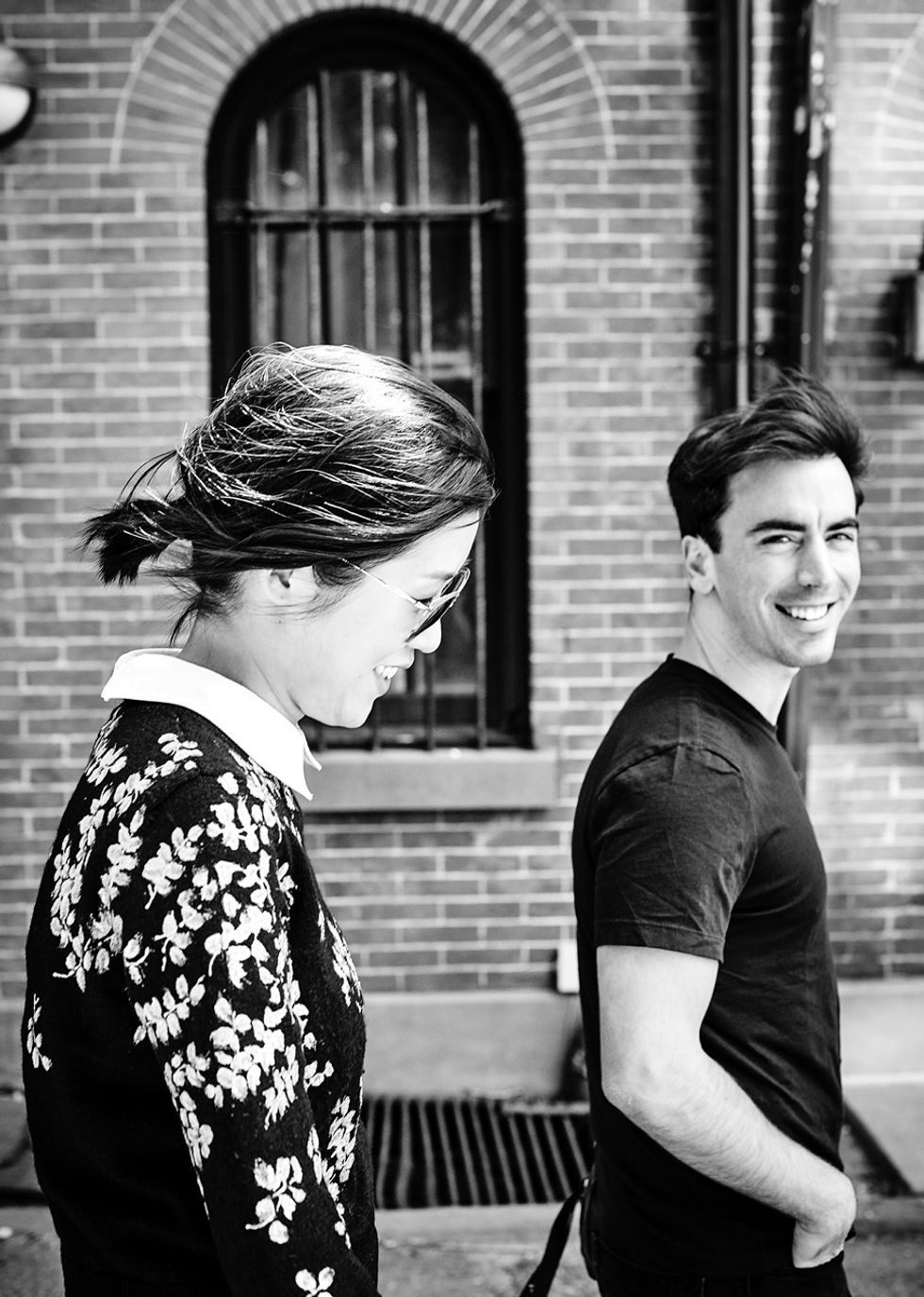 Photo via Monse