"I was more of a cigarette-coffee breakfast," Michael Zee, the London-based mastermind behind the SymmetryBreakfast Instagram account, explains of his eating habits before meeting his fiancé, Mark. But "then the first time I ever met him, which was in a nightclub in East London, we went home and made breakfast the next day. I made him these Dutch pancakes because I'd just gone to Amsterdam the week before and bought all the syrups and pouches and sprinkles and so when I met Mark, I said, 'This guy's Dutch. I'll make him a Dutch breakfast.'" At the time, Zee was working at the Victoria and Albert museum while Mark was working as a designer at Burberry. Their relationship progressed but during the frenetic fashion week seasons when Mark was pulling long hours in the studio, the two would rarely get to spend time together except for a few moments in the early morning. Gradually their mornings began to include elaborate breakfasts Zee would whip up because, as he says, "I just had this urge to make those mornings a bit more special."
Zee, whose grandfather had immigrated to the UK from Shanghai and had opened a few Chinese restaurants in Liverpool, grew up in his family's kitchens and was comfortable experimenting with recipes and ingredients. After a few of his breakfasts turned out so well, so symmetrical and so photogenic that he couldn't resist taking a pic, he started getting feedback from friends to set up a separate account dedicated to his elaborate meals. And so @SymmetryBreakfast was launched, featuring mouth-watering photos of Persian herb omelettes, kimchi corn fritters or Nepalese momo dumplings. Zee says these elaborate creations don't usually have much advance planning -- he often decides what to cook the morning of, after a quick early hours trip to his nearby market.
This was back in 2013 and now, nearly four years later, the account has ballooned into 655k follower, over a thousand entries, and a new cookbook, Symmetry Breakfast: 100 Recipes for the Loving Cook, out now.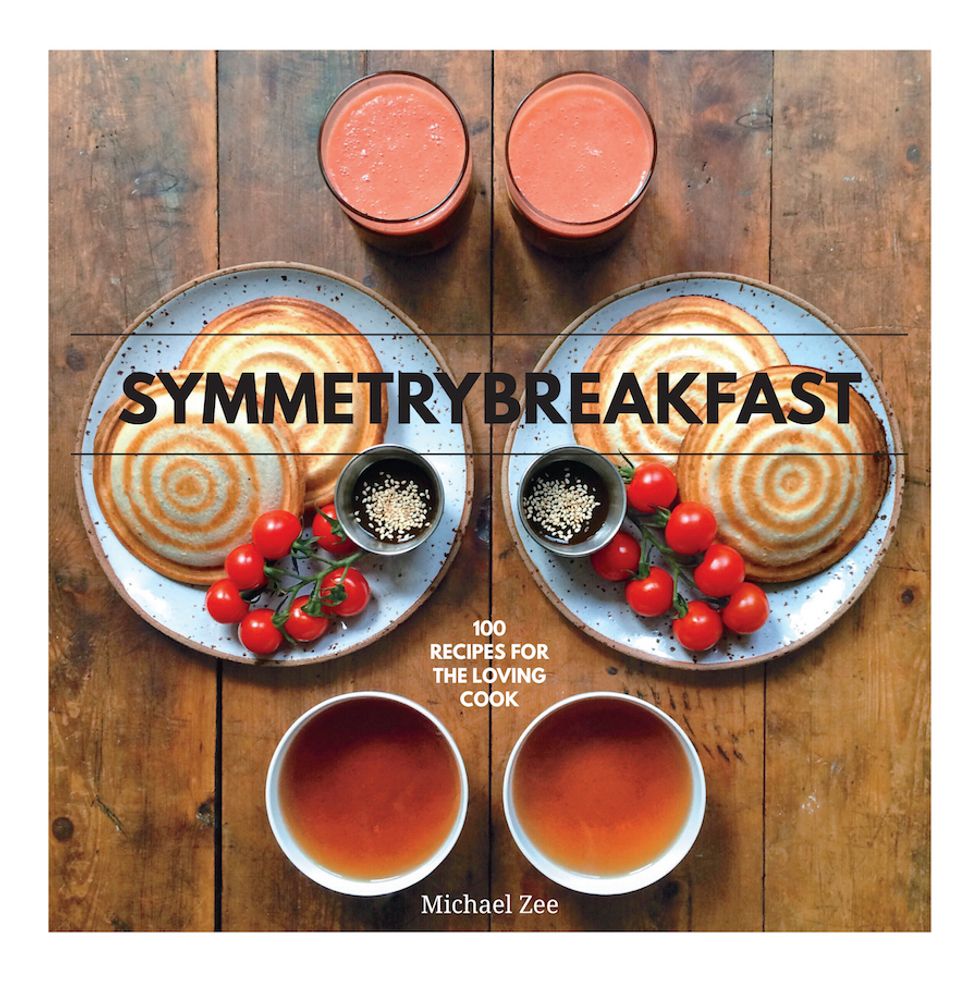 The cookbook cover
Inside the book are one hundred recipes that span numerous countries and continents, all grouped together and organized by time zone. It's this last feature that Zee is eager to share more about. "The chapters are in time zones because the idea is that somewhere in the world right now, it's breakfast," he says. "I thought every other system of organizing it felt really kind of sad. [Going by] continent felt really colonial and by ingredient, there was always something left out...So the time zone idea was the best way to not be judgmental of the food or the people or the culture or the history of those places." He goes on to add, "The first chapter is the United Kingdom, Portugal, Morocco and Nigeria. I wanted to have that ability to have a cross-selection going from the North to the South Pole that would make people work out common things or maybe go, 'Wow, they're so different.'"
Throughout the recipes are chatty references and anecdotes, not unlike the captions found on Zee's Insta, which sprinkles self-deprecating British charm and mentions here and there of Zee's travels with Mark around the world (they've since launched a spin-off Instagram account, @symmetrytravel). In one post last month, Zee revealed that he and Mark had gotten engaged and that his marriage proposal could be found in the book. But there's one thing he doesn't post on Instagram -- recipes. Though you'll find recipes in his cookbook (four of which we were given permission to reprint here), Zee says the Instagram "is meant to be purely inspirational" and "it's not meant to be 'this is how you make it.'" This past Saturday, Zee made a special announcement beneath a photo of rhubarb and egg custard waffles to say that he and Mark were leaving London to move to Shanghai in February.
It's safe to assume Zee's new homebase -- and its proximity to new cities and countries -- will inspire endless recipes and -- who knows? -- maybe even a follow-up book. "I had maybe 4-5 entries on China," Zee says of his current book. But "I was in a bookshop with books on China that are 4-5 inches thick!" But while we wait to see what's next from Zee, there's no better pre-work ritual than pulling up his Instagram or, for the more ambitious, taking a crack at one of his SymmetryBreakfast cookbook recipes. Maybe even take a page from Zee and Mark's story and consider whipping up a Dutch Puff or matcha Hong Kong egg waffles after the next time you have a special guest stay over. You could wind up engaged.
All photos courtesy of Michael Zee/SymmetryBreakfast
To pick up a copy of SymmetryBreakfast: 100 Recipes for the Loving Cook HERE.
Sign Up For The Morning PAPER