Queer|Art, an organization that has championed the creative and professional development of LGBTQ+ artists in New York since its founding in 2009, has announced its annual Sustained Achievement honoree and finalists for Recent Work for the 2018 Queer|Art|Prize.
The Prize is a community-nominated national awards program, now in its second year. Last year, Catherine Opie won for Sustained Achievement and Tourmaline's "The Personal Things" (2017) won the Recent Work category. A diverse panel of judges select who takes home the organization's top honors. This year, the judges are multimedia performance artist Wendell Cooper, aka Mx. Oops; photographer and writer Allen Frame; and time-based artist kara lynch.
The Sustained Achievement award, which also includes a $10,000 prize, will go to pioneering filmmaker a nd performance artist, Vaginal Davis, whose "films, performances, and lectures have, for more than four decades, explored multiform facets of queer punk, "terrorist drag," and Black/Latino experience in a U.S. context," according to a press release detailing the honor.
Vaginal Davis, still from keynote presentation Creative Time Summit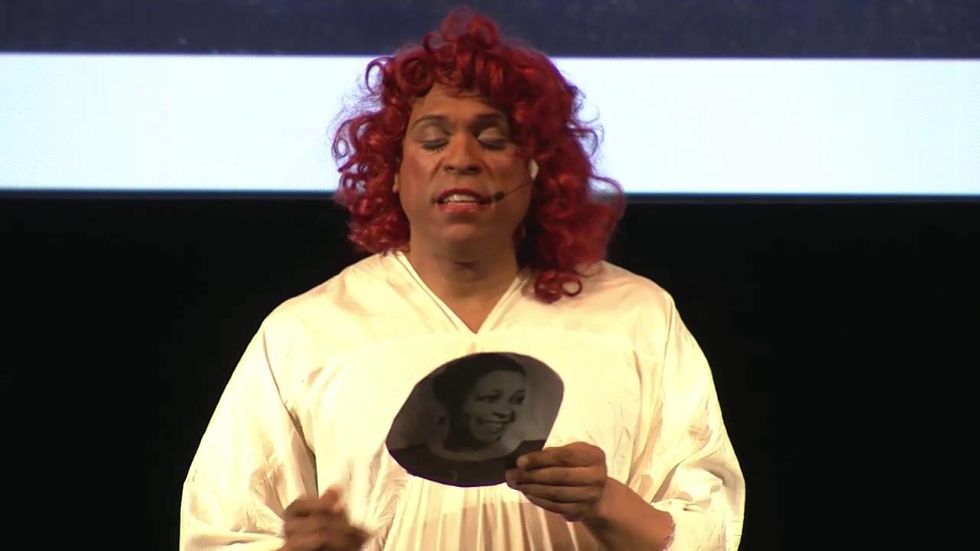 The Recent Work finalists, who were selected for original art completed between New York's LGBTQ+ Pride last year and Pride this year, are Elegance Bratton for My House (2018), which is a ten-part Vice docuseries following the best vogue performers in the world as they gear up for competition; Rafa Esparza for cumbre: look as far as you can see in every direction–north and south, east and west (2018), which was made in honor of the personal histories of U.S. immigrants and their families, while exploring the complex history of downtown Los Angeles; keyon gaskin for [a swatch of lavender]: a self portrait (2018), comprising a self-portrait performance series choreographed in the artists' Portland, Oregon apartment and put on for contemporary gallery spaces; and Xandra Ibarra for The Hook Up/Displacement/Barhopping/Drama Tour (2017), which is described as a "community performance tour and bar crawl of the former sites of San Franciscan queer clubs and venues."
Rafa Esparza, still from cumbre: look as far as you can see in every direction–north and south, east and west (2018)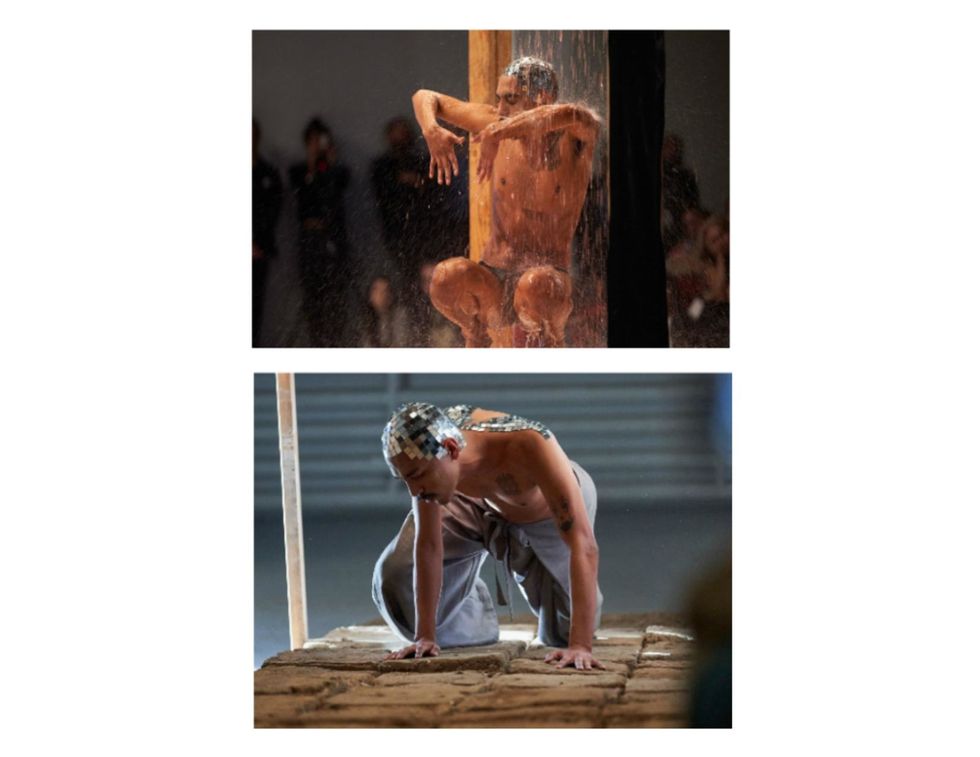 "This year's honorees and finalists for Queer|Art|Prize each, in their own way, show us, as queer people, how important it is to honor ourselves, own our differences, and hold fast to each other and the histories that have allowed us to become who we are," Queer|Art's managing director Travis Chamberlain tells PAPER. "Each artist's work, in its own way, offers up a variety of strategies for survival and sustained resistance during very turbulent times."
Xandra Ibarra, still from The Hook Up/Displacement/Barhopping/Drama Tour (2017)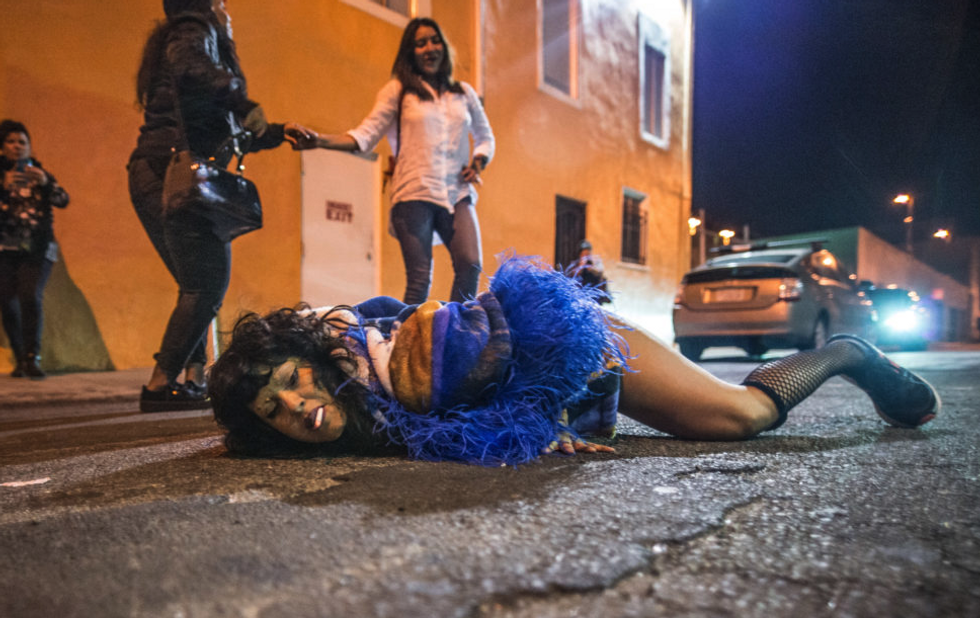 keyon gaskin, still from  [a swatch of lavender]: a self portrait (2018)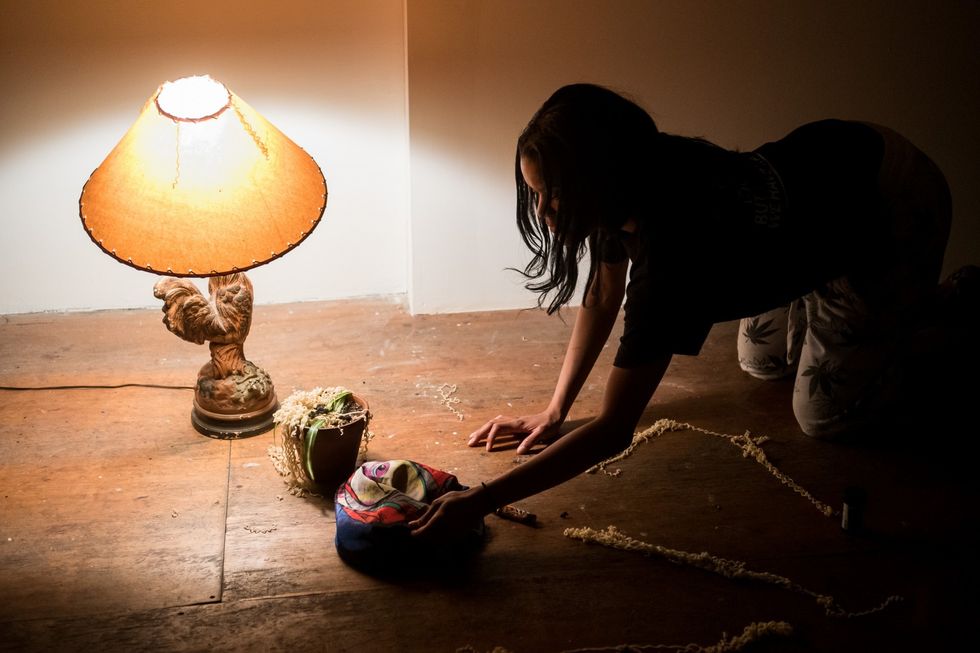 Chamberlain adds that the recent work being honored during this year's awards would not be possible without the trailblazing labor of Vaginal Davis. "In the work of our Recent Work finalists, [Elegance Bratton, Rafa Esparza, Keyon gaskin, and Xandra Ibarra] you can see many echoes with the attitudes and methods Ms. Davis brings to her work and way of existing in the world — refusing to be erased, refusing to be co-opted, and refusing to let the rules of any game stop her from being anything less than fully herself," Chamberlain explains. "Each artist presents a model for living fully as oneself and in provocative dialogue with others at intersections of unchecked privilege and indifference."
All artists will be honored tomorrow, November 1 during a public ceremony serving as Queer|Art's largest event, called The Annual Party, at New York's LGBT Center on 208 West 13th Street from 7 to 10pm. RSVP is required; visit queer-art.org for details.
Photography (left to right): Vaginal Davis by John Vlautin for The New York Times; Rafa Esparza by Barbara Davidson for the Los Angeles Times; Elegance Bratton by Giancarlo Valentine for The New York Times