Private Policy doesn't waste the opportunity to send a powerful message. The New York-based streetwear brand, founded by designers Haoran Li and Siying Qu, always packs presentations with strong sociopolitical statements. In the past, they've used NYFW as a platform to spotlight globalization, slave labor and the South Asian fishing industry, and LGBTQ rights. This season, they're spearheading politics today, and the way President Trump violently challenges free speech.
Their Fall '18 collection will be shown without models, instead presented through life-size photographs arranged like a political press conference. The clothes, specifically, are inspired by Charlie Chaplin's 1940 "satirical masterpiece" The Great Dictator, which addressed Nazism in a period when Americans were largely silent on the topic. During their show, Private Policy will invite guests to give speeches in an attempt to make their audience participants, not observers.
We caught up with Li and Qu before their NYFW presentation on Monday, February 5th to get an exclusive preview. Below, we talk about fashion's political power, NYC youth culture and how Private Policy projects freedom.
This collection is inspired by free speech. Why is this important to you, right now?
Free speech is a fundamental block for freedom within society. It is especially important to speak out against injustice, discriminations, and lies. Due to recent current events, the political climate has been the most tense. Truth and facts are not respected or encouraged, and there are also talks within the government to enforce laws that could inhibit free Internet usage. It is quite shocking and scary to think where all this can lead to.
How can fashion have a meaningful impact on the world?
Private Policy takes an approach similar to a news organization. We research issues — political or social — and discuss it within our collative group. The topic becomes our collection inspiration. Then we build the designs, presentation sets, and campaign photos around that topic. In the end, our fashion collections can start a conversation about these political or social issues within our community.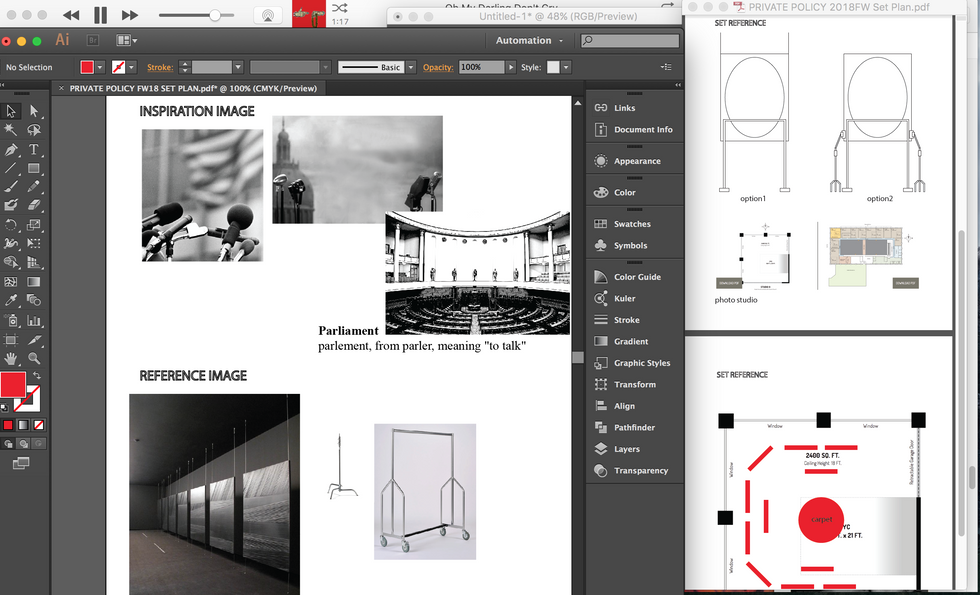 Private Policy Fall '18 Staging
Describe your presentation — it's very concept-heavy.

This time the set design is all about freedom. We decided not to have a divided situation where there is typically a "stage" and the "audience" observes. Instead, we aim to have people interact and truly feel the collection.
How will this complement the collection?
The collection topic was based on the movie The Great Dictator, which was directed and staged by Charlie Chaplin right before the break of WWII. Charlie was disturbed and shocked by people's supportive reaction to Hitler's nazi ideals, so he decided to stand up against this great dictator through his favorite medium: comedic film. We want to honor and spread Charlie's bravery and strong spirit for peace, love and freedom. We design the presentation set to mimic a hemicycle parliament, which was created to allow everyone's voice to be heard in a political discussion. The looks will be presented in large format photos and positioned in a semicircle. In the center of the circle will be a "speech stand" art installation piece. We will also have other interactive elements that truly give the power to the audience to experience the collection in their way. And if they want, they can take the stand and give a speech.
What do you think defines New York fashion?
Our brand DNA is build upon New York City's spirit. The city has always stood for human rights and always one of the first to act upon it. Let it be Women's March, LGBTQ Rights March, Occupy Wall Street, AIDS walk, protest at JFK against Muslim ban... NYC is all about freedom, self-expression, and inclusivity.
And what about New York menswear?
For menswear in particular, New York designers have always stayed true to needs of their customers and stayed close to daily life. Since New Yorkers care about social and political issues, we stay true to that, and bring more and more interesting and meaningful topics every season. It is very unique and new to the fashion world; and people always can point out our New York identity no matter where we take the collections.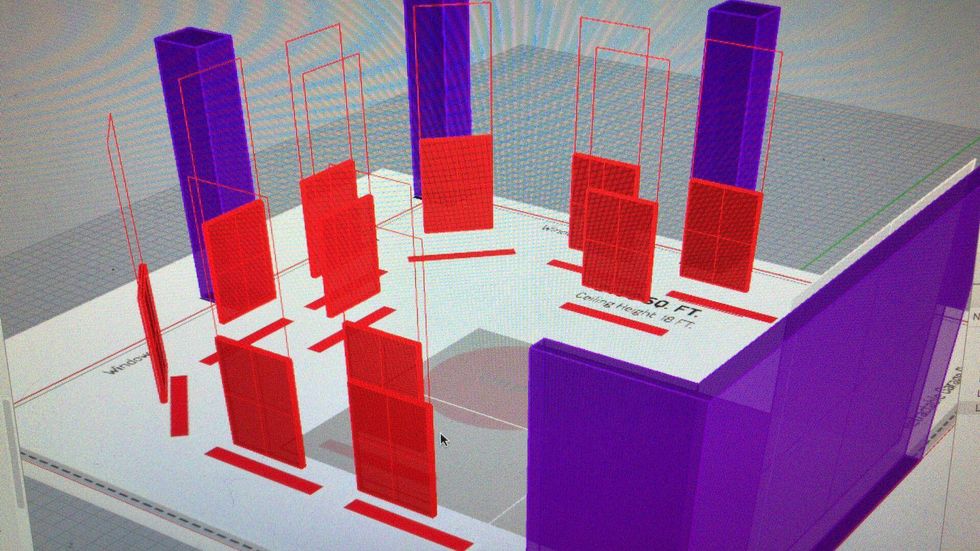 Private Policy Fall '18 Staging
What's your collaborative process like?

We let ideas flow in from friends, from shows we see, or even from strangers on the street. We design and get inspired by the streets of New York. You would rarely see us in the studio designing a whole collection behind closed doors. Between us two, we talk about the collection designs all the time, when we are walking to sample rooms, when we are having lunch/dinner/brunch, when we are in museums, on the train, when we discuss politics with friends. If we are not sure about any color, silhouette or fabric, we get others to chime in. We are very open about new inspirations and plans, instead of bidding them, we share with friends and different professionals we meet who may have ideas to contribute.
How has that process changed for this collection?
Every season we also try to find collaborators to design parts of the collection with us. This season the most exciting one is set design with Space designer, Jian Xu, who develops this NYMD presentation set ideas with us, and build digital 3D models. Also, for our lookbook, we brought in photographer Shxpir Huang and team, stylist Nico Amarca, Makeup Pro team, and Chong Li for hair design. We give them the maximum freedom to create a group of imageries for our new Fall '18 collection. We love collaborations, it enriches the whole design process and the results are always better.
What statement do you want Private Policy to make through this collection?
Private Policy Fall '18 is a tribute to Charlie Chaplin's remarkable action of using his talent and creativity to speak out his criticism against injustice and his wishes for peace. When there are political leaders using nuclear weapon threat as games without considering people's lives, we should speak out. Within this collection, we use NYC downtown youth culture elements to twist iconic military clothing. The goal is to show people how empowering does not equal violence or suppression. It should be for joy and humanity. Private Policy stands for freedom and peace.
Photos Courtesy of Private Policy/Agentry PR