As a teenaged budding fashion addict in Hanover Park, Illinois, I plastered my bedroom walls with GUESS ads from the back cover of W, which at the time was a huge fold-out fashion newspaper. Claudia Schiffer channeling Brigitte Bardot photographed by Ellen von Unwerth felt like the pinnacle of glamour. The visual identity of GUESS has always been the handiwork of Paul Marciano, one of four French brothers who started the company in 1981 in Southern California. Today, nostalgia for those amazing '80s and '90s fashion moments is stronger than ever. At GUESS headquarters, I caught up with Marciano, who, along with his brother Maurice, opened a new art foundation in LA last month, to hear the behind-the-scenes scoop on their legendary campaigns.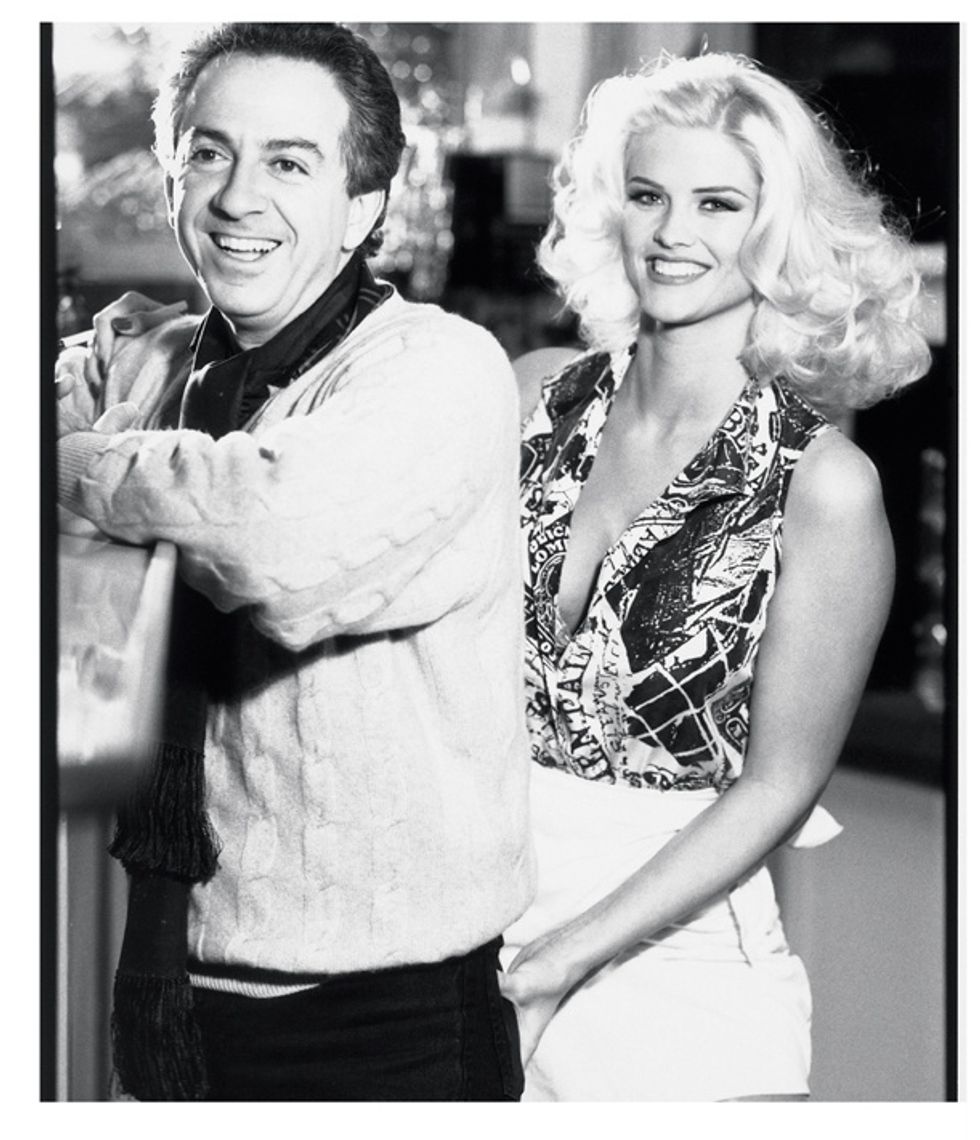 Photo by Daniela FedericiTell me about your first ad campaign.
I was thinking it was time to do a campaign. At the time, I loved two campaigns: Ralph Lauren and Calvin Klein, both shot by Bruce Weber. I went to meet Bruce. I said, "We're French. We just started in America. I would love to shoot with you." It was 1984. His agent said, "It's 50,000 dollars a day." I said, "Wow." I'm talking about 35 years ago. That's like 400,000 Euros a day today. I said, "I can't."
So I said to my friend who was a makeup artist, "I need to do a campaign." She said, "I can be the stylist." I said, "Okay, but I can't pay you. Do you know a photographer?" She said, "Yes, Wayne Maser." I asked, "Does he shoot fashion?" She said no. I said, "He doesn't know what he's doing, you don't know and I don't know!" I said, "I want a girl with short hair," the opposite of all the models at the time. We found Deidre McGuire. We went to Laguna Beach.
We shot outdoors with almost no makeup. The police arrived, came up to where we were shooting and asked if we had a permit. I said, "No. What permit?" They said, "This is illegal." I said, "We're just taking pictures. We're on the beach. Instead of taking a swim, we're taking pictures." He said, "Sir, you need a permit or we're going to arrest you." So we packed and left. We had already shot a few pictures. We went from Laguna Beach to Manhattan Beach. Same story. The police arrived and asked for a permit. Then we went to Huntington Beach. After three beaches, we had a campaign.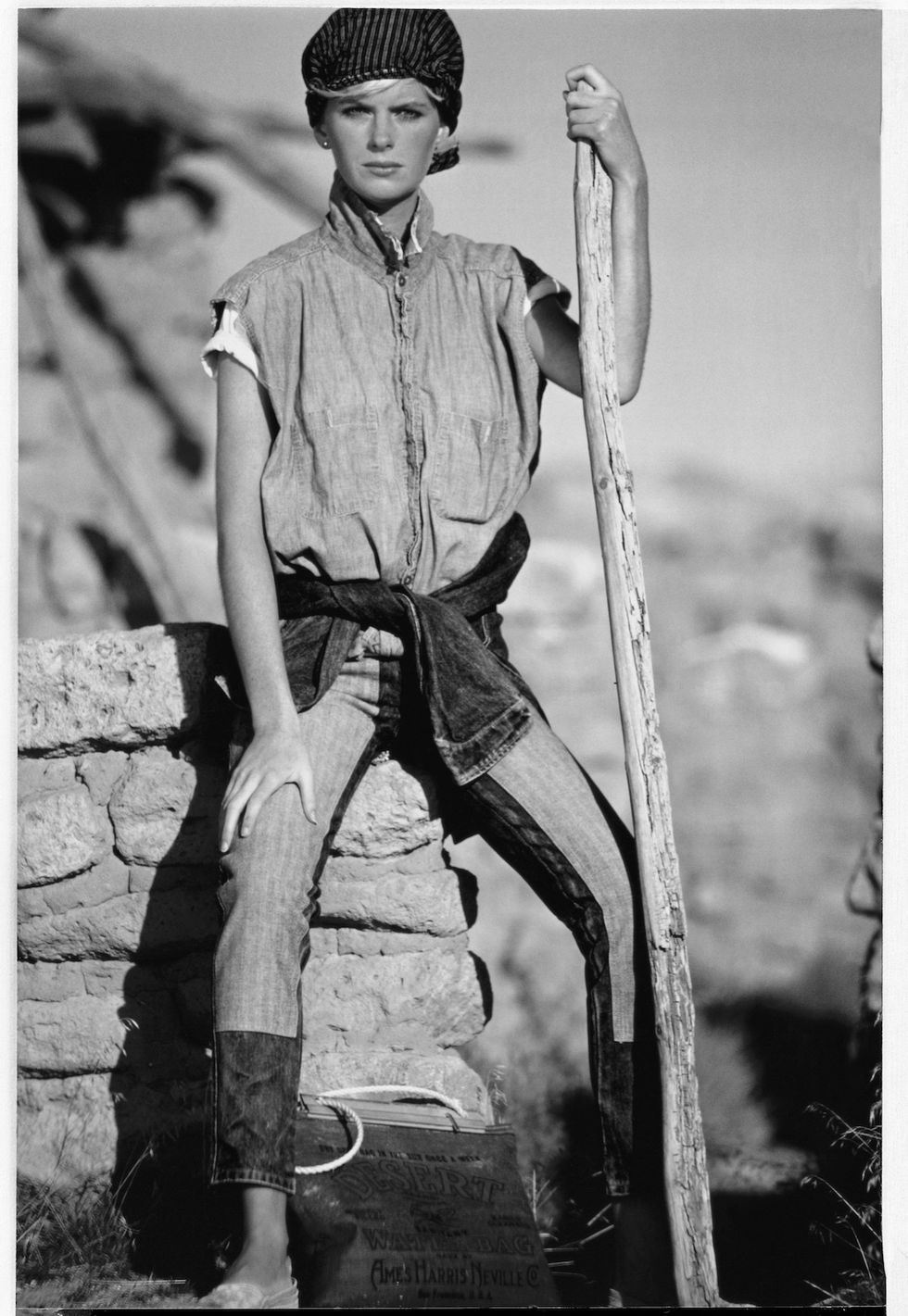 Deidre McGuire, 1981 Photography by Wayne Maser
How did you first start working with Ellen von Unwerth?
One day I saw pictures in The Face or Arena. They were beyond sexy. I looked at the name: Ellen von Unwerth. I looked everywhere for her and couldn't find her. I looked for three months. She was German, the magazine was English but the rumor was she lived in Paris. Finally, I had a meeting with her. She had on clothes that were way too big for her and a big smile. She had never shot a campaign before. She was a model. Her boyfriend was a photographer. They broke up and she decided to become a photographer. Her first campaign ever was GUESS.
We did a campaign in Rio with Naomi Campbell and Eva Herzigova. We had a big fight with Naomi because she refused to shoot with Eva. She wanted to be shot alone. Eva was new, she didn't speak English. She was crying. I went to Naomi and said, "I'll give you 10 minutes. You can either pack and fly back home, or you can stay here and shoot with her. I'm going to have a coffee and I'll come back in 10 minutes and you tell me." She was furious. She screamed at Ellen. I came back and she said, "Okay, I'm shooting." And we had amazing pictures. At the time my brothers were looking for me. They tracked me down and said, "Where are you?" I said, "I'm in Rio shooting a campaign at the beach." They said, "We have the best beach in the world in Santa Monica!" I said, "This is Brazil! This is emotion!" They said, "Sand is sand!" I came back and got fired.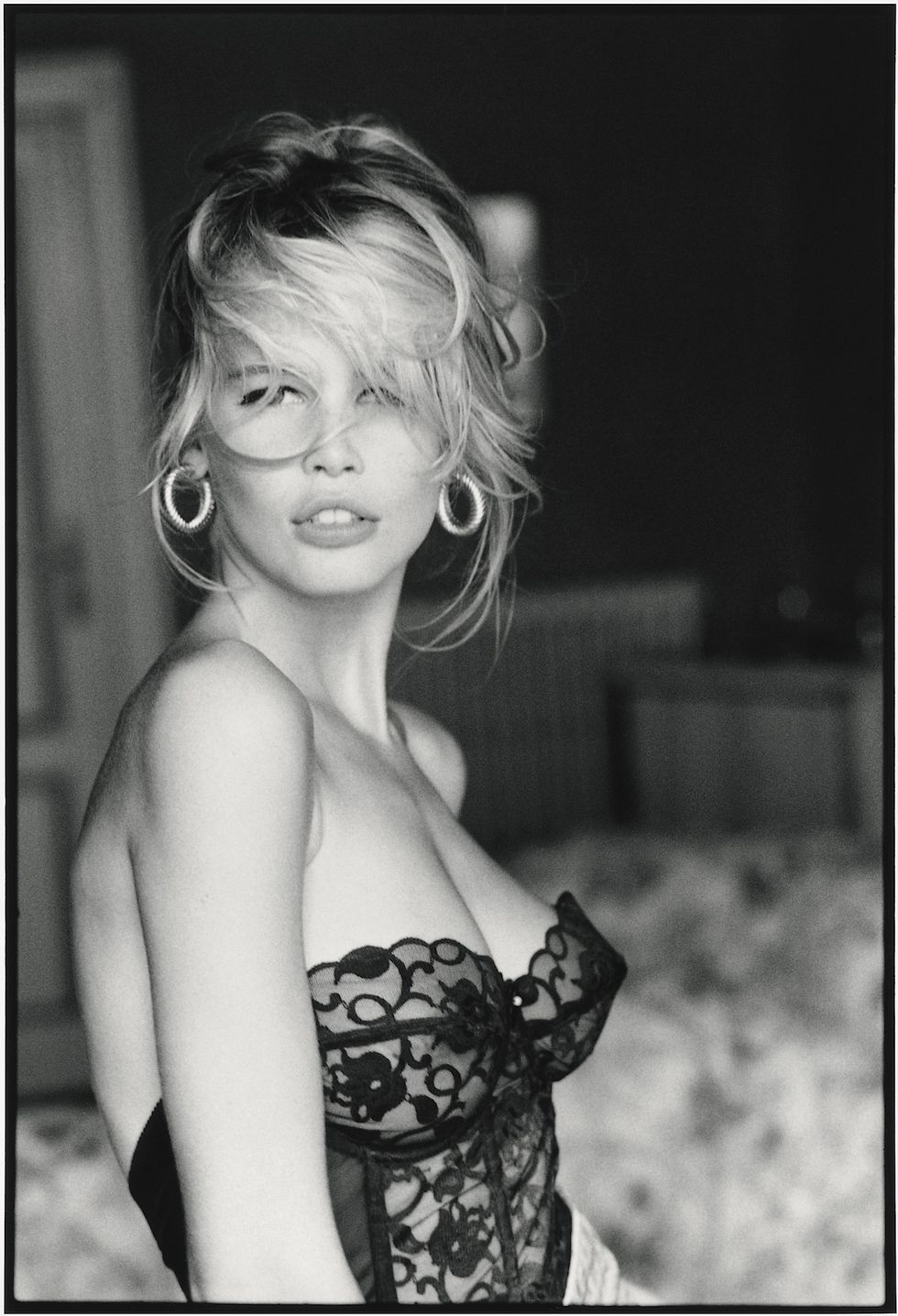 Claudia Schiffer, 1989 Photography by Ellen von Unwerth
How long were you fired?
3 weeks.
Not too bad.

They couldn't understand that you cannot recreate that vibe. You cannot recreate that essence that you feel there. It's the air. It's the music, the people.
Let's talk about Anna Nicole Smith.
She was Vickie Smith. I changed her name to Anna Nicole Smith, you know that? I found her in San Antonio. I was shooting GUESS Kids and she came with her son Daniel. I said, "Who are you?" She said she was a waitress at Red Lobster. Everything I asked her she called me "sir." She had never done pictures before. I had the kids' photographer shoot her on the spot. I took her to New York and got her an agent and changed her name. To me, she was Anna, but Anna Smith did not sound right so we did Anna Nicole Smith. At the time, Kate Moss was doing Calvin Klein, and she was 5'7" and feminine and skinny. Anna Nicole was 6 feet tall and bigger than life with boobs and shoulders. I instantly thought of Anita Ekberg in La Dolce Vita. I thought, "She doesn't even know how beautiful she is."
I was crazy about shooting her. She had such a magnetic personality, but you could see that she was fragile. Success came and she got recognized by people. She started taking sleeping pills because she couldn't sleep and mixing alcohol with them. I stopped working with her because I couldn't deal with that. I said, "We're done." After that she met the wrong people, and I think that was it.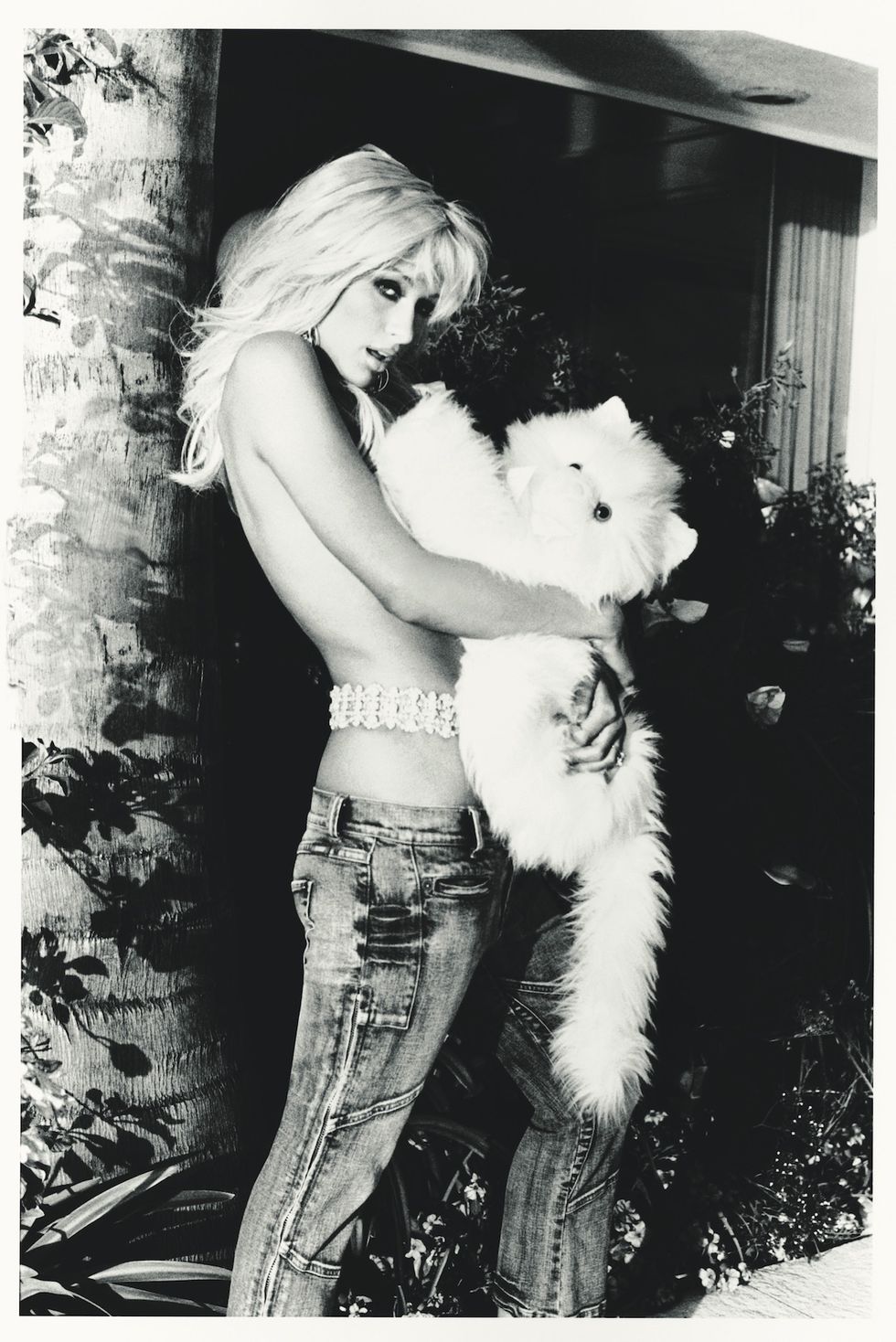 Paris Hilton, 2004 Photography by Ellen von Unwerth
Of course, another one of your most famous GUESS girls has been Paris Hilton.

Ah, Paris. That's an interesting story. I was there when she was born because I knew her mom, who was the best friend of my girlfriend at the time. One day I got a call from an agency. They said Paris Hilton would like to do a GUESS campaign. I said great and asked what the rate was. They gave me some astronomical number. I said, "Why don't you send me the covers she's done and the campaigns she has done." I said, "Do you have covers?" They said, "No." I said, "So what do you have to sell me?" They said she's in every magazine, and I said every tabloid magazine. I said, "What I can do for you is create an image for her and a brand. And for that, you should pay ME. I'm not going to pay you." They called two months later and said Paris really wants to work with you. They said they could charge 50% and I said no. Finally I met Paris. She had three bodyguards who I told to go outside. I started to show her the campaigns and she said, "Don't. I know every GUESS campaign. My dream is to be a GUESS girl." I said, "Call your agent and tell them you'll do it my way." She called and said I want to do GUESS, I don't care if I'm paid or not. And then we did campaign after campaign, and we created an image for her that she never dreamed of. She's a nice girl.
I'm a huge Paris fan.

I really like her. I bumped into her recently, and she could not thank me enough. She said, "Paul, you changed my life, you changed my career. You gave me a brand, which I did not have. I had the name of Hilton, but I did not have a brand."
It's such a crazy time in fashion and publishing. Is the image still as important as it was back then?
35 years of business, I've never seen such a transforming time as I see now. Still, I believe people do not forget a visual brand. If you do something exceptional, something iconic, something that will stay in your mind when you close your eyes, that's good. If you close your eyes, you see the image of Ralph Lauren. You see the image of Calvin Klein. You close your eyes and can see the image of GUESS. The chic, casual sexiness. It's always feminine and voluptuous, not ashamed of curves.
I think the brands that survive will be the ones that can adapt to both magazine and online. If you're still very traditional, you will not survive. If you stay true to your roots, stay true to your brand and give a good quality product without prostituting your brand, I think you'll survive. What won't come back to business as usual is shopping centers. That's over. Nobody wants to drive 30 minutes and wait in a parking lot at the mall. This is where we are today.
What's become the new standard for images and campaigns, do you think?
Today's models have Instagram. You have to talk to them and understand where their mind is. I've had models come to me and say, "I dream about these vintage GUESS pictures." I said, "You're 17, how do you even know these pictures?" They say, "Everybody knows the image of GUESS."
The kids are so nostalgic for those times.
The '90s are very much in trend right now.
Is that good or bad?
I think it's good. Look at CNN. They put on these series, The Sixties, The Seventies, The Eighties. Everybody loves to see that because they didn't live it. It was an amazing time we had. Me? I wish I lived in the '50s with Frank Sinatra, Sophia Loren and Marilyn Monroe. I didn't live that time.