It is quite possible that Samin Nosrat is the world's most charming chef. The James Beard award-winning author and host of Netflix's Salt, Fat, Acid, Heat has worked hard to demystify the world of cuisine in her quest to teach you how to cook. Her love of food is infectious and in boiling the process down to four basic elements has made even the most daunting recipes seem as simple making a sandwich. Effortlessly relatable and down-to-earth, it is easy to fall in love with Nosrat — and if the food is this good, why not? — Matt Moen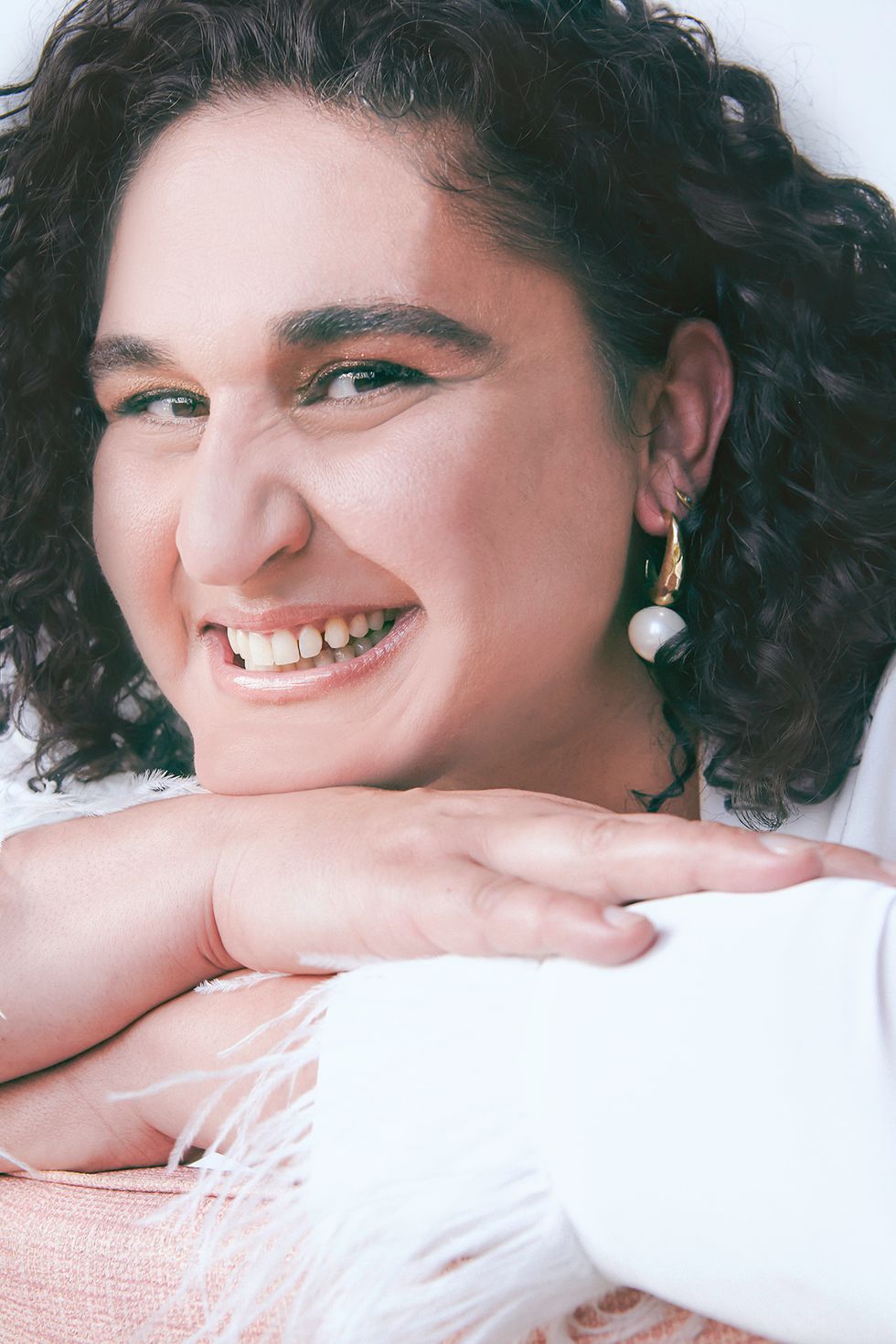 Top: Acler, Earring: Lili Claspe
What's the biggest misconception about you?
That I'm the warmest, cuddliest, person you've ever met. I mean, I'm plenty warm and cuddly, but I definitely am incredibly opinionated and have my grumpy moments every day, just like everyone else. I think people really feel like they know me from the show and that I'm positive all the timebut I'm a human who has hard feelings too.
What has been your best night out?
I love that question because it just made me laugh, because I was like, "Oh, I don't go out." My ideal night out is dinner at home at 5 PM, in bed by 9 PM. I 100% do not leave the house by choice.
What's your biggest irrational fear?
Oh, I have so many. I mean, I would like to believe that this is an irrational fear, is that I'm fundamentally unlovable, and that I will never find a partner.
Do you ever Google yourself?
Absolutely not. What kind of monster would do that? That's literally the worst thing I could possibly imagine.The other day I was in the car, and I was driving with my friend and public radio was on, and in the background, I heard somebody say "buttermilk." And anytime someone says "buttermilk," my ears perk up because my most popular recipe is buttermilk roast chicken. And then the next word that I heard was "roast," and I was like, "Wait, they're talking about buttermilk chicken on NPR!" So I turned it up, and then I realized it was me. And I was like, "Turn it off!" It was a recording of an interview that I had given two months ago, but I was like, "This is horrific," and my friend was like, "You don't want to listen to it?" And I was like, "Honestly there's no bigger way you could torture me, than make me see any information about myself."
You've never been morbidly curious about it?
Um, I think before I had a show, and probably even before I had the book, I had definitely Googled myself. I have an immigrant-child inability to accept a compliment, so I have zero desire to read anything positive about myself, so then all I would do is just look for negative things and that would be incredibly self-harming. So I feel like it's just best for my mental health to avoid.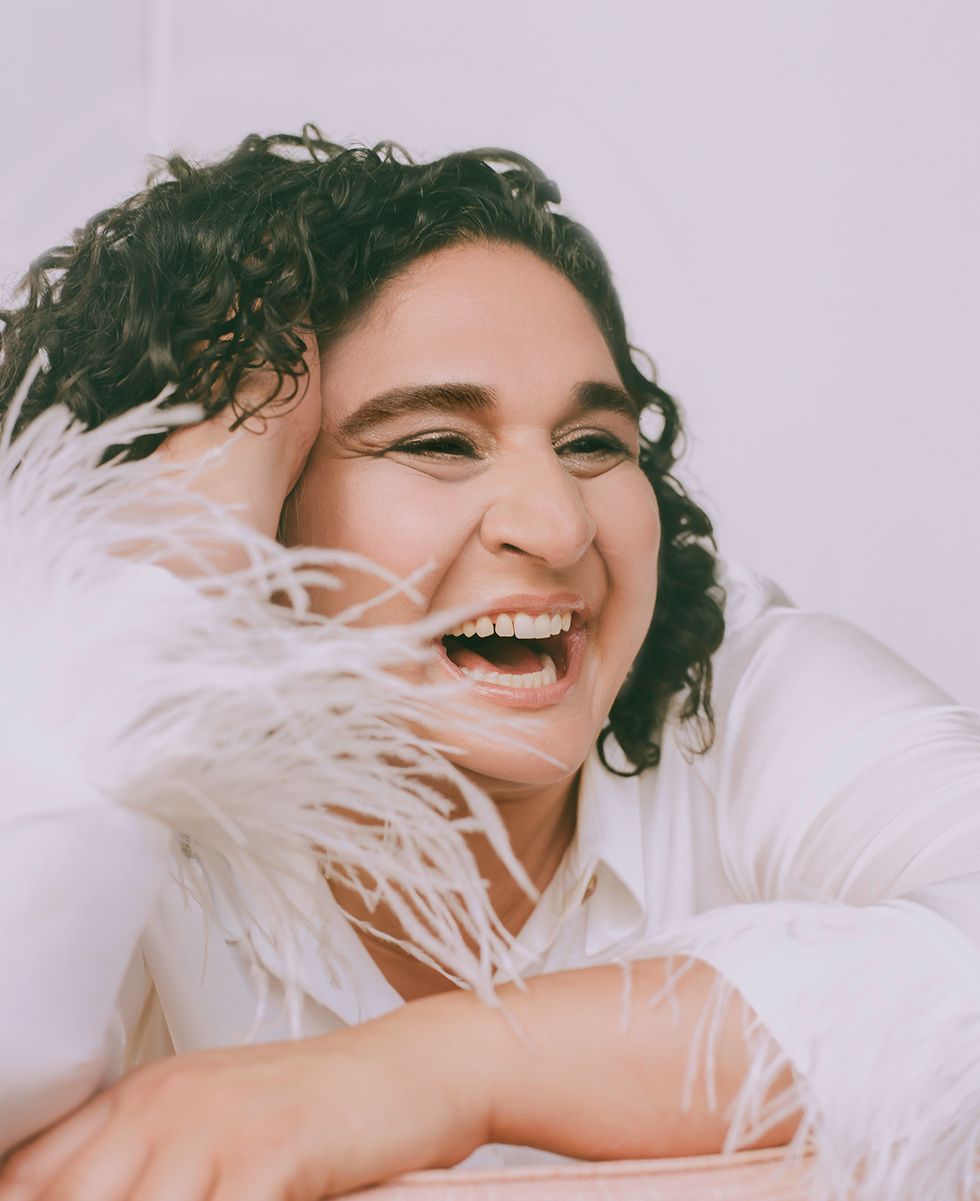 Top: Acler
What's your go-to karaoke song?
Oh! Obviously, 100%, no doubt, never changed, "Islands in the Stream" by Dolly Parton and Kenny Rogers.
Where do you want to be when the world ends?
With all the people I love, at a table, laughing and eating all my favorite foods.
What would you be eating at that table?
Definitely Mexican food. For sure pizza. Some ice cream. Maybe some tequila. Some good cheeses. Some beautiful stone fruit.
What was the last song you listened to?
I have Lemonade, the wonderful album by Beyoncé, on my phone. And every single time I plug my phone into my car, "All Night" because it's the first song alphabetically in my iTunes library. I have heard the first five notes of that song so many times. That's definitely the last song that I heard.
What gives you hope in 2019?
Oh, young people. Children, but also — the amazing young woman from Scandinavia, Greta Thunberg, the incredible climate change activist. Yeah, absolutely, 100% young people.