At the Balmain runway last month in Paris, Lindsay Lohan's classic hit single "Rumors" opened the show, setting the tone for a throwback playlist that was big on early-aughts tunes from the likes of *NSYNC, Britney Spears, and Christina Aguilera. But Olivier Rousteing, the brand's creative director, almost didn't use that soundtrack.
"I am telling you a secret that I didn't say to people, but at one point I wanted to play Donna Summer, because my collection was really glamorous," Rousteing tells PAPER. "But when I started to work on the project with Kylie [Jenner], and she was supposed to come to the show and obviously got sick so she couldn't, I was like, 'I want to talk to her generation, [since] what is vintage for her is not what could be vintage for me.'"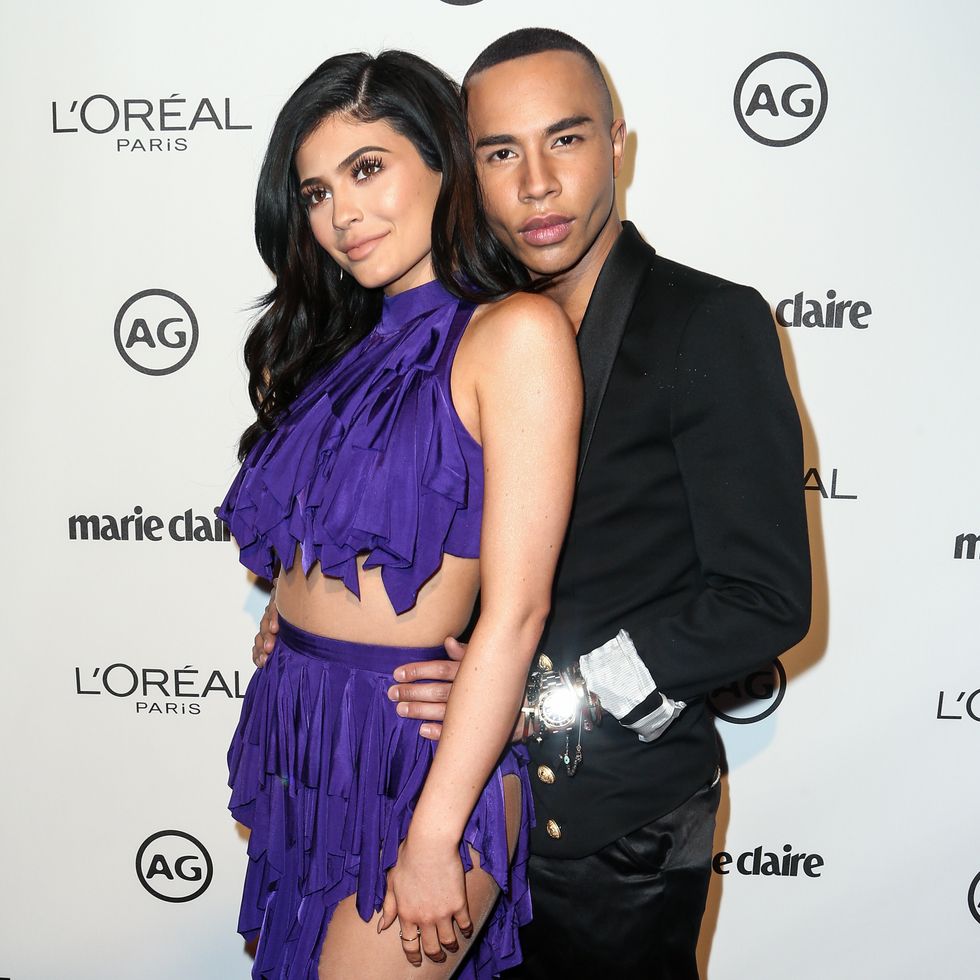 Kylie Jenner and Olivier Rousteing in 2017.
Indeed, he and Jenner ended up collaborating on a cosmetics collection for the latter's beauty brand. Because of that experience, he ultimately went with his gut and chose a playlist with songs from his youth. "Fashion pretends so much with music and pretends to please your front row because everybody loves '80s, the '70s, like you can see all the collections, 'Oh, inspired by '70s or '60s' and everybody's obsessed with that," he says. "But when I hear 'Crazy in Love' or 'Genie in the Bottle' or 'Oops...I Did It Again," it's already been 20 years and the reality is that I want to show that today, this is the new vintage."
As Rousteing reflected on the shift in gears for his Spring show's soundtrack, he also weighed in on his feelings toward Wonderboy, the documentary that goes behind the glitz and glamour to follow the designer and he embarks on a journey to discover origins and biological parents. At the time of our interview, it would make its premiere in just a few days in France during a live broadcast, before opening up in theaters in November.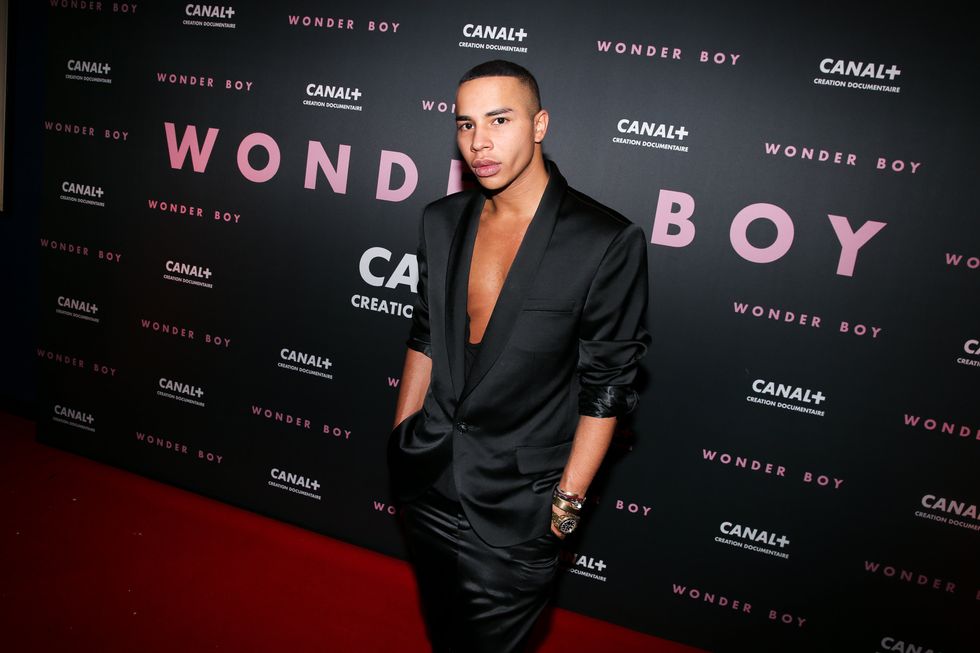 Rousteing at a screening of "Wonderboy."
Asked if he was nervous or excited about people finally seeing the film, he admits that his feelings veer more towards stress than anything else. "I am stressed because I played a character for so many years, in a way," he explains. "I put a mask on my face to make sure that people couldn't know who I am because I didn't really know who I was. Obviously I became famous for my selfies and my social media and my celebrity friends, but I realized that behind that there was so much more and that it was time for me to show what I was not ready to before."
Rousteing adds that in the documentary, you see him cry, smiling, and all things Balmain. "I am stressed, by the way," he quips. But if you think that he'll feel a weight lifted off his shoulders after the public finally gets to see the real him, think again. "No, I won't feel relieved because that's what everybody says, 'You'll feel more free after that. It's done,'" he says. "But the reality is that I found answers to my questions that might not make me feel, in a way, better but at least make me feel like I know exactly what happened. So this is the only thing I can say."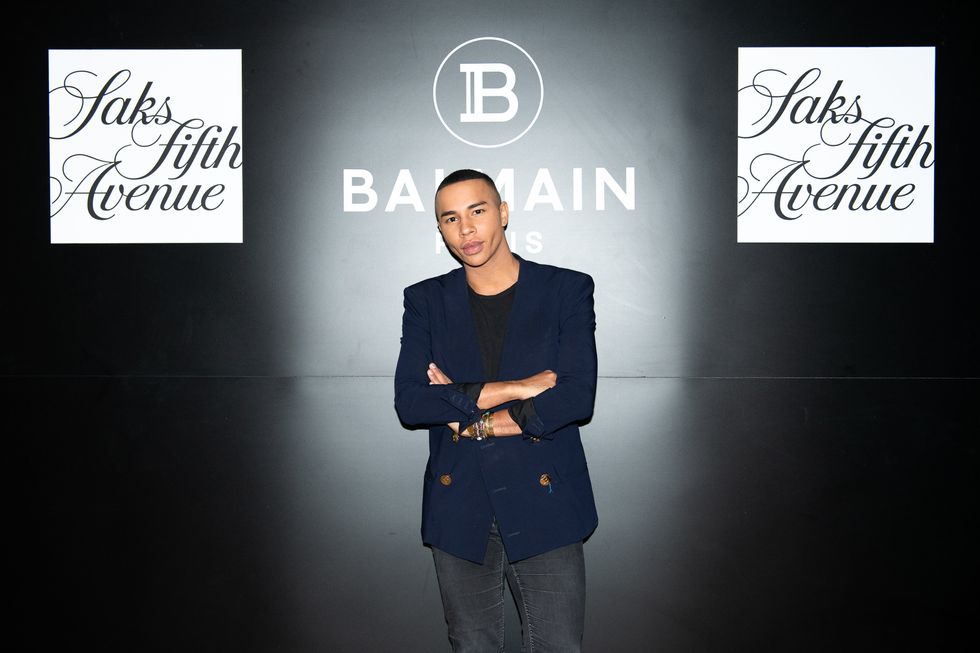 Rousteing inside Le Chalet at L'Avenue at Saks
Rousteing was in New York for only about 48 hours. Two days prior, he was in Lyon, France for the Global Fund Replenishment conference, after he was asked by President Emmanuel Macron to be a guest. The event brought together both government and private sector donors to pledge financial support in the fight to end AIDS, tuberculosis and malaria.
"I've worked with RED now for four, five years and I always try to find projects that where fashion can help," he says. "So, Mr. Macron invited me during the summer to this conference in Lyon, and I obviously said yes. And I can tell you I'm super proud because today we reached 14 billion dollars from around the world to help the fight against AIDS."
After our interview, Rousteing hosted a party at Le Chalet at L'Avenue at Saks celebrating Balmain's new "BBuzz Bag" and their new ready-to-wear shop corner. He danced the night away with friends and models to plenty of Donna Summer tunes this time around, before jetting off back to Paris to work on his men's fall and women pre-fall collections.