Between an Air Force Academy, military bases, and countless mega churches, Neil Grotzinger's hometown of Colorado Springs is built on a system of ascendancy and obedience. "I grew up around people who craved authority," the Brooklyn-based designer behind menswear label NIHL explained backstage at his spring 2019 runway show. "I never really identified with that. It felt strange."
The Parsons Fashion Design MFA graduate — who's also worked as a womenswear designer for Marc Jacobs, Prabal Gurung, and Diane Von Furstenberg — was first recognized for his artful wrestling singlets fashioned out of custom Sophie Hallette lace and colorful Swarovski crystal beads. In that debut collection titled "Masculine Effeminacies," Grotzinger superimposed erotic femininity onto a conventionally masculine silhouette, breaking through macho pretenses to present a new vision of maleness. Whether it makes Grotzinger feel strange or not, his handle on couture embroidery techniques, compelling sense of color, and fearless choice of silhouettes have him inching toward a position of authority on the codes of modern manhood.
"The idea of having authority is funny," he mused. "You may be in a position of power if you're in the military, but you're also a public servant." Grotzinger's spring 2019 collection "Subservient Authorities" sits right over the fine line between deference and dominance. Archetypes like the all-American quarterback and air force troop commander are simultaneously subverted and elevated. Case in point – silk football pants that crinkle with movement and military jackets fitted with elastic inlets to distort their seams and create a blouse-like effect.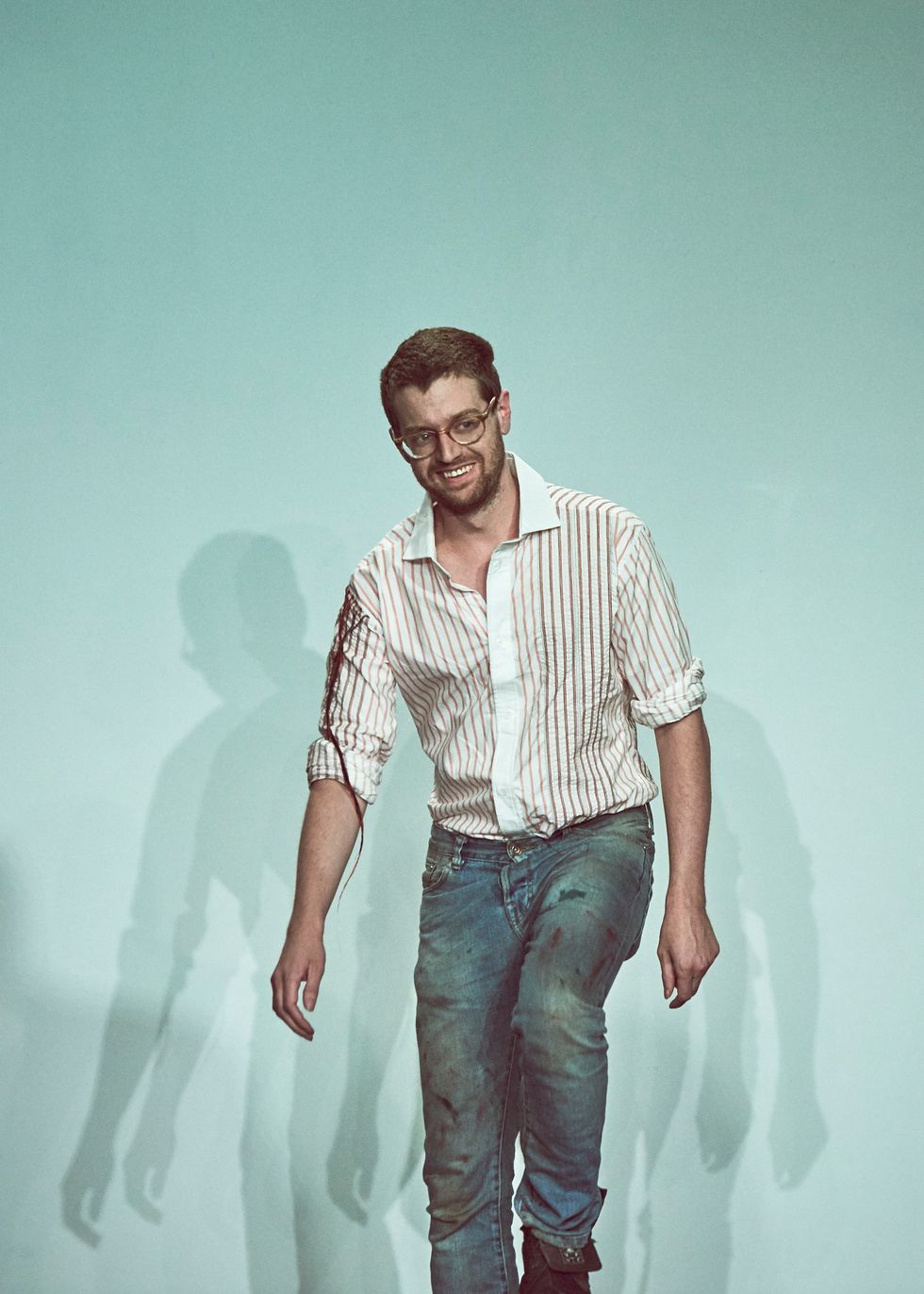 Grotzinger on the runway after his spring 2019 show.
"I'm both critiquing and participating," Grotzinger says. "I love it, but I'm also curious as to why these archetypes are the way they are." As men adopt gender roles throughout life, each old role submits to a new one. From this notion, a parodic, eroticized tone emerges in the collection. Strength and submission are at once sexy, farcical, and inextricably linked to masculine culture.
It's been a year since Grotzinger completed his MFA program at Parsons and fresh off his first solo show, the designer is reflecting on NIHL's potential to change the narrative around masculinity. "I'm working toward having the authority to share a different message," he reveals. "But I have to feel that the message is worth putting out." Thus far – it is.