Being a royal certainly comes with its perks and privileges, including inspiring a very passionate sort of fandom. One woman took her intense admiration for Meghan Markle to another level by spending $30,000 on plastic surgery to look exactly like the Duchess of Sussex.

Texas-based lawyer Xochytl Greer, who is a mother to three children, reportedly had intensive procedures done to cut down her weight and get a nose job to closely resemble Markle. Documenting her hefty transformation on ABC's Nightline, the 36-year-old mega-fan revealed she went through a rhinoplasty, liposuction on the stomach, inner and outer thighs, a bum lift, fillers under the eyes, lip filler, jawline filler and Botox.
Greer now claims that her own daughter confuses her for Markle, screaming "Mommy! Mommy!" every time she sees a picture of the princess.
"I really like her, I have always thought she was a classy person, she's very relatable, and I think she's absolutely beautiful," Greer said of Markle on Nightline. "Knowing the things she went through, that she didn't grow up with the perfect life and with family struggles made her even more relatable."
When asked what inspired her to take the massive step, Greer attributed it to sinking self-esteem after her post-pregnancy weight gain where, no matter what dress she wore or how much makeup she applied, she would never consider herself presentable.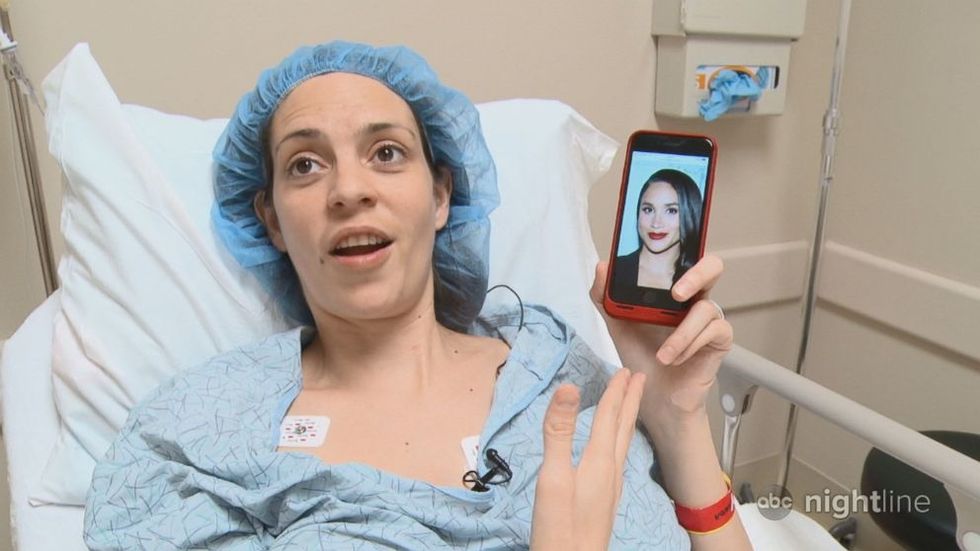 "When I look in the mirror, I'm happy again," she said. "I still see me, but a better version of me. I'm at the point where I feel I can put myself out there in the world again."
Greer's decision to model herself after Markle came from friends and strangers who would often claim she resembled the royal. "The plastic surgery just helps to give me more self-confidence on my outward appearance while I am fixing my inward appearance, you know, privately through therapy and things," she said.
But Greer's not alone in her fixation with Markle's features. A 2018 NBC report claimed that procedures designed to emulate the royal's nose were on the rise, with the "barely visible hump" being the primary reason for women wanting to get a rhinoplasty.
Dr. Franklin Rose, the surgeon behind Greer's transformation, also reportedly performed surgeries on women to make them look more like Ivanka Trump.
When questioned if there was any psycho-analysis involved before accepting patients who wanted to completely transform their appearance, Rose argued that none of his patients had mental stability issues."I have examined maybe 30,000 patients over this surgical career of mine, so you can tell very quickly who is a stable a patient or patients who have unreasonable expectations."