It would be hard to imagine the last few decades of fashion without the strong eye and distinctive hand of French fashion editor and image maker Marie-Amélie Sauvé. There are her sui generis fashion stories with Steven Meisel for Vogue Italia, her daring and poetic spreads at T: The New York Times Style Magazine (where she is currently Fashion Director) and of course, her career-long collaboration with designer Nicolas Ghesquière at Balenciaga and now Louis Vuitton. An eminent creative force within the industry to be sure, she does not, however, cultivate the global cult of personality like many other fashion boldfaces, and quite happily. And yet, "behind-the-scenes" (is anyone in fashion anymore, really?) would hardly be an apt description of her.
Thus, after contributing to nearly every major fashion magazine over the past 20 years, she is now launching her own imprint, Mastermind Magazine, where she serves as Creative and Editorial Director. The bi-annual (February and September), english-language title will be a mix of culture and fashion and will feature Sauvé's iconoclastic contemporaries (Meisel, Ghesquière, Bruce Weber, Stephen Shore to name a few) as well as up and coming talent and new voices she hand picks. Included in the premiere issue are interviews with actor/director Xavier Dolan and current Oscar-favorite Isabelle Huppert. Following the launch and inaugural signing at Bookmarc in the West Village last week, we caught up with Sauvé to get her thoughts on what it's like to produce her own magazine for a change, the heightened value of print in a digital world, and what she loves about New York.
What was the moment you thought you wanted to make your own magazine, and why now?
I have been thinking about creating a magazine for a long time. And I felt that now, especially when we seem to be going through a sociocultural revolution, it seemed like a perfect moment to launch.
Having worked with and contributed to a variety of publications throughout your career, what most surprised you about putting together your own?
It is a very different feeling for me to have my own publication, because you are working on the full picture always. You are in charge of the entire magazine, not only the fashion portion of course, but the editorial as well. Thus, you have to always be thinking about the full picture of the magazine, which ultimately I find more enjoyable.
Have you learned any new or surprising things about people you've known and collaborated with for many years, who are part of the premiere issue, that you may have thought you knew everything about?
Yes, in a way I learned about those I collaborate with all of the time because I wanted to work with everyone in a very different and new approach than has been executed in the past. It was important to me to showcase a different perspective from what you normally see from said collaborators.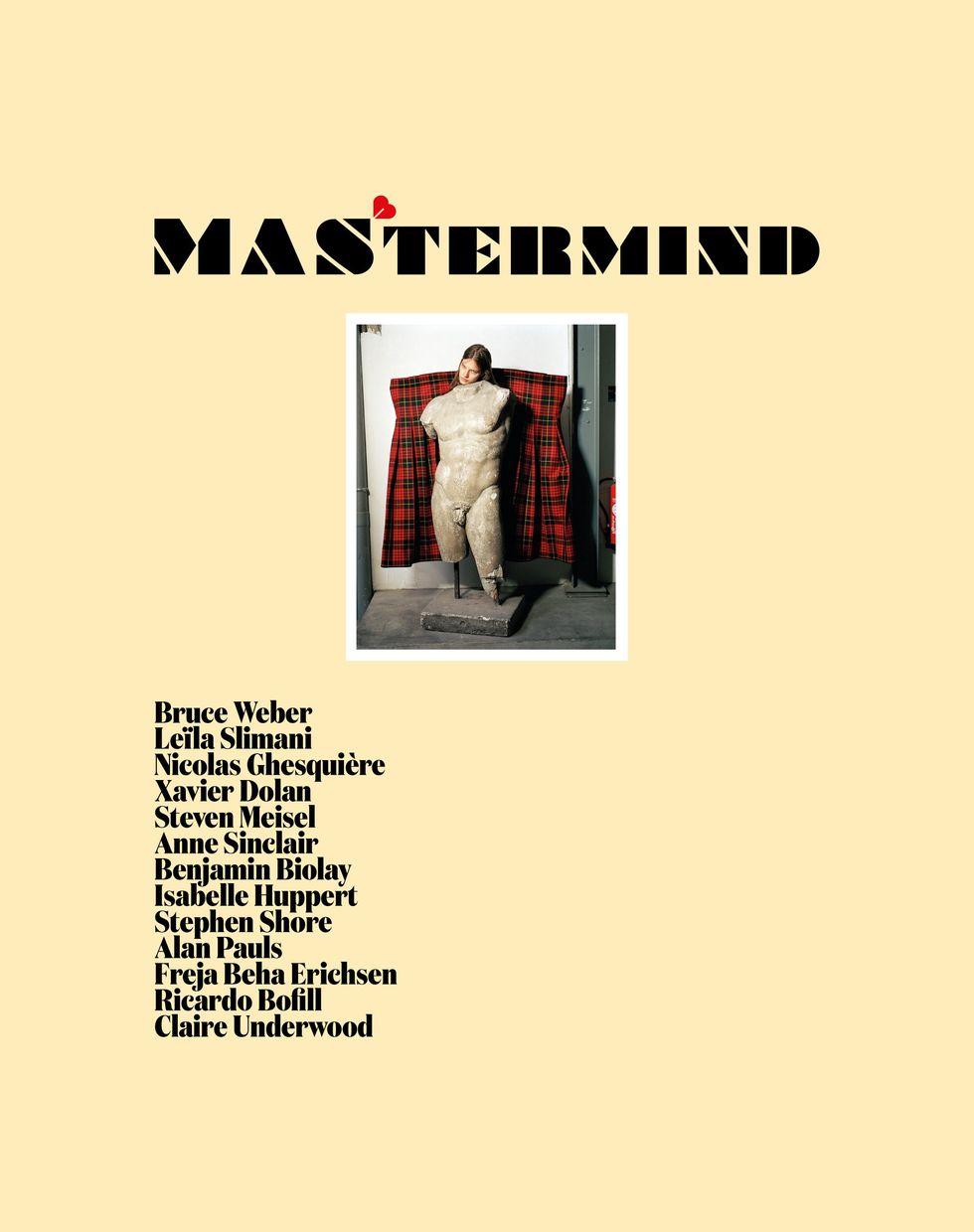 For the first cover, what did you want to project as a first impression to readers and on stands?
I went for this cover because I wanted to engage and provoke the reader. I love this photo because it provokes you to think and also attracts you to dive into the magazine. I love the idea of having a beautiful female face on a sculpture of the body of a man, it ironically connects to many of the topics discussed throughout the book and makes you think about what is happening in today's society.
What kind of magazines and media did you love when you were first becoming interested in fashion? And what titles, if any, did you have in mind when putting together Mastermind?
I have always loved the magazine Nova from the '70s. It was a multi-dimensional book that really challenged the reader, bringing forward many controversial topics during its time while also showcasing some of the biggest talents in the photography industry. I wanted to bring this sort of diversity, as well as this element of beauty mixed in with real topics when creating Mastermind.
I was also a big fan of the french publication Réalités, that was both beautifully designed and covered a broad range of topics.
Why was it important to you to publish in English and not French?
For me, it was important to create a global magazine and thus have a global audience. Publishing in English would help me to reach a larger and more diverse readership.
What would you hope a young person, engaging with fashion and whose life is very digital, could get from your print magazine?
I would love for them to have a different type of experience, because in today's society when we tend to look for everything online, it seems important to step back and to ultimately bring a sense of permanence to an impermanent and constantly evolving surrounding. To create a collectible object you can come back to and look at for years to come. And, of course, it is important to me for them to be inspired by the pictures and text.
I want to give the younger generation a moment in time with the magazine, an experience that seems difficult to have these days when we are constantly over-stimulated--taking a moment can feel like a luxury. It is important that they take time to touch the object and to read it.
Do you see print magazines and media becoming more of a luxury item? What is the value to you of experiencing fashion and culture on the printed page vs. digitally?
It is true, for me Mastermind was created as a book, which will have multiple editions. For me it creates a different and complimentary element, having both a print version and digital. I think it is good to be able to have a digital platform, and we will launch a site for the magazine, but also it is important to have the opportunity to collect an object.
Now that this issue is on shelves what can we look forward to in the next? Are you thinking that far ahead?
Of course we are already thinking about the next issue and we have the lineup going. For me, it is something you think about 24/7.
You were in New York this week for shows, what do you love about the city, fashion-related or otherwise? And what about New York is perhaps the most…challenging to you?
What I love most about New York is the diversity of people and cultures that fill the city. It has a vibrant mix, and feels fresh. However much I love the city, I think it would be hard to be there full-time.