When Kiran Gandhi was in sixth grade, her family asked her to stop wearing her long locks up in a bun. But Gandhi was too busy to let something like hair get in her way, and ignored the request. Nearly two decades later, she wrote a song about her signature hairstyle: "Top Knot Turn Up," under her musical moniker Madame Gandhi.
Set to a Brazilian trap beat, "Top Knot Turn Up" is a foot-stomping anthem about sweeping distractions out of your face and getting some work done. "One thing to know/I'm not here to please/Hair tied up I do it properly/My time is not your property," Gandhi sings.
"We expect women to look beautiful and sexually consumable for the pleasure of others at all times," she tells me on the phone from Los Angeles, where she's lived since 2011. "The idea of putting your hair in a bun is very Mulan-esque. We're always busy. From when I wake up, I'm working."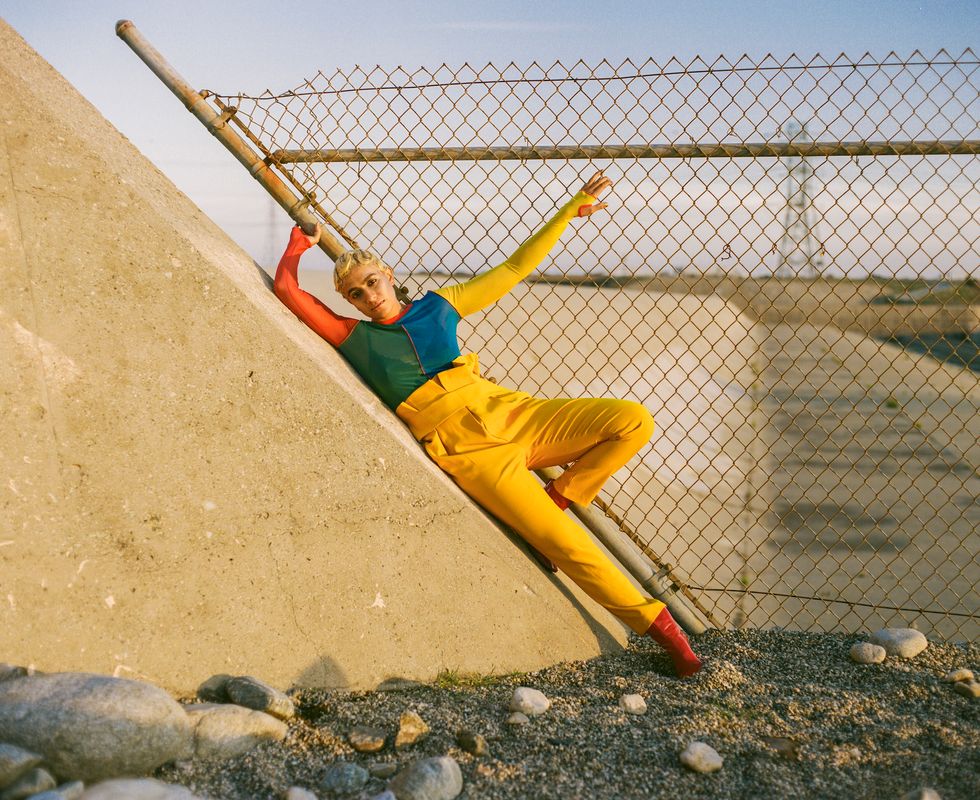 That's not an exaggeration. Gandhi, who triple majored in mathematics, political science and women's studies at Georgetown University and later received a master's degree from Harvard Business School, is a multi-tasker. She established herself in the music world after playing drums on M.I.A.'s Matangi tour in 2013. She has since drummed on projects with Kehlani, Thievery Corporation and Lizzo.
Her own music career has been more circuitous. Directly after undergrad, Gandhi went to work at Interscope as a digital analyst. About four years later, she got her period right before running the London marathon. She didn't have a tampon with her, so made a conscious decision to free bleed during the race.
Her choice made international headlines and led to a year of travel, talks and op-eds. People kept asking her to play her music at these events, so she made some. In 2016, Gandhi released her first EP. "It was called 'Voices' because it was the first time I used my voice," Gandhi says. "I had been a drummer my whole life."
"Voices" was the first part of a trilogy, with the newly-released "Visions" the second. Gandhi is currently working on part three, with the internal working title "Vibrations." "I'm still finding my voice as an artist and putting out small bursts of work," Gandhi says. "A full album feels like a statement. 'Voices' and 'Visions' are still sketches." The alliteration in the three EP titles is purposeful. "V is a reference to female anatomy," the musician explains.
The subtle reference to the vagina reflects the broader message behind all of Gandhi's work. "Value the feminine," Gandhi said. "If we valued the feminine as much as the masculine, gender wouldn't matter." She explained that people fighting against feminism are desperate to maintain a hierarchy of privilege with men at the top. "That's what my work seeks to dismantle," Gandhi says "It's not about putting women at the top, but about getting past gender altogether."
That message is not just directed at an American audience — Gandhi thinks globally. Originally from New York City, she lived in Mumbai for several years as a child and in Hong Kong during college, experiences that taught her how to downsize what she owns. Her parents raised her "not to keep a lot of clutter in the house," Gandhi says. "Every year we donated." She continues that practice by giving bags of her clothes directly to homeless people living on Skid Row in Los Angeles every few months.
Today, Gandhi travels a lot for work, performing and speaking in countries like India, Iceland and Denmark. Stateside, she just finished a West Coast tour. "I test new material a lot," Gandhi explains. "I share ideas into the mic and see which resonate globally because those are the ones I want to put on the record, into touring, into my messaging. Let boys be feminine: That's a concept everyone around the world can understand. Menstrual stigma is an issue wherever you go."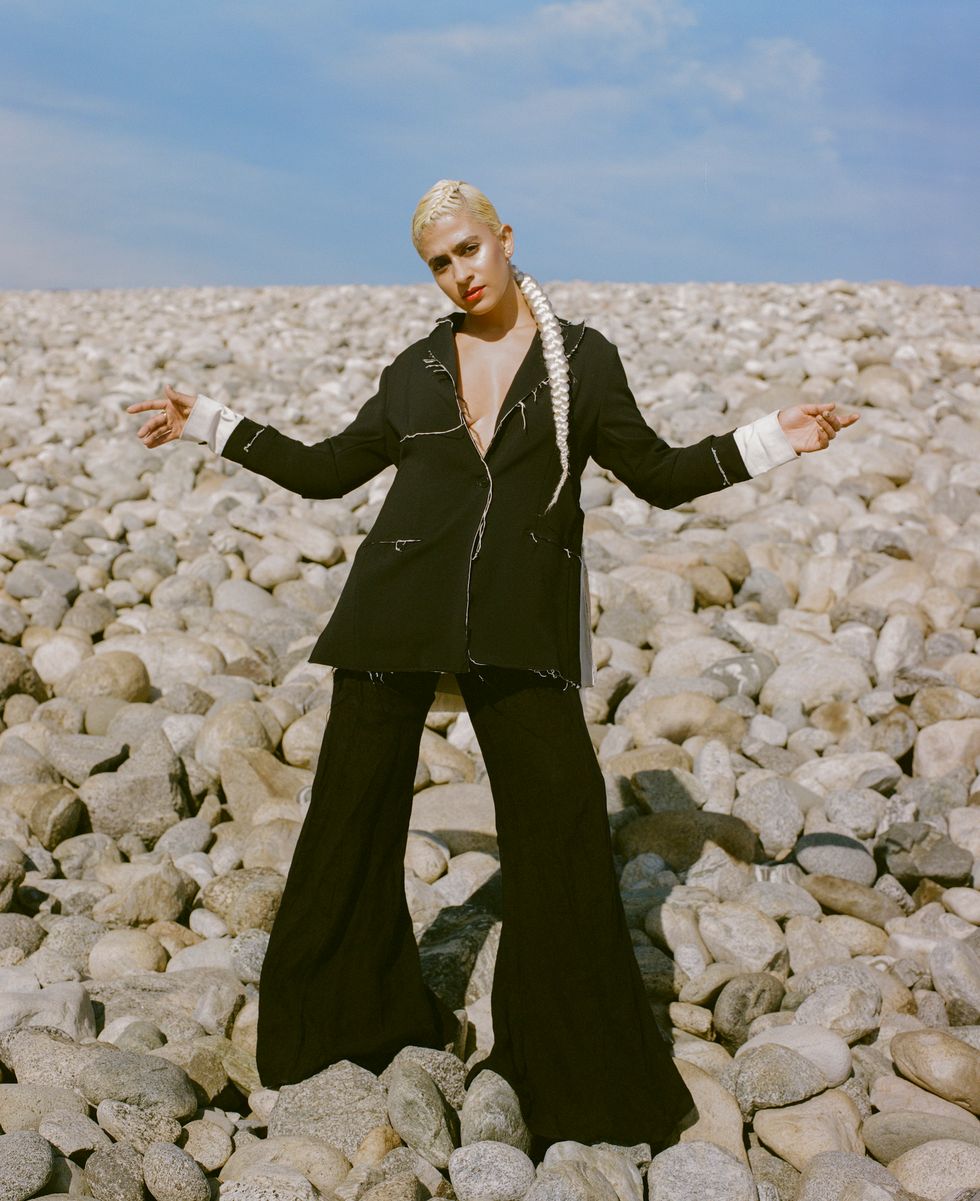 In making "Visions," Gandhi wanted to create music that empowers rather oppresses.
"Whenever I would go to different fitness classes, I would listen to the music, the trap, the EDM, the Top 40, and I love the musicality, the beats, the instrumentation, but the lyrics are so violently misogynist," Gandhi says. "And we tolerate it. The degree to which we have normalized sexism in our culture is so problematic." (For more "songs that you can turn up to without contributing to anyone else's oppression," as Gandhi said, check out her The Future Is Female playlist on Spotify, updated weekly.)
Other songs on "Visions" include "Bad Habits," an Afro-beat-inspired electronic joint about letting go of negative patterns in order to better serve society, and "See Me Thru," a trip-hop song about finding freedom in love. The video for "See Me Thru" is out today.
Speaking of bad habits, Gandhi keeps a strict no-drinking policy for herself and her team while on tour.
"It's a powerful thing that helps me stay focused," she says. "Super clean, super sober and staying healthy on the road. When you're making art, you get depleted." It's important not to hide that fact, either. "Some of the artists we think would be the hardest partiers, we find out that they actually have to do so much to keep it all together," Gandhi said. "I wish they would tell the truth. The kids think they're partying and going hard so that's what the kids do."
Staying focused is crucial for Gandhi, who approaches her art with the mind of an entrepreneur. "I diversify my sources of income," Gandhi says. "That's a huge thing that I recommend to any indie artist reading this." When she is not touring, and sometimes even when she is, Gandhi gives talks — one of her biggest was a TED talk about making music accessible in 2018 — and scores music for brands like Calvin Klein, Gap and Vogue. She credits this approach with allowing her to stay independent and put out her music herself.
In terms of goal setting, Gandhi dreams big, then plans on a realistic level. "I regularly ask myself: 'What are the biggest artists doing and how can I do it right now?'" she says. Lady Gaga's approach to her career has inspired her. "Whatever she is doing in a stadium she was doing in a tiny burlesque cafe," she muses. "A tight budget forces you to be creative."
Gandhi's 2019 goals included having merchandise for her EP and producing music videos, both of which she accomplished. She said many artists treat merch as an after-thought or skip it all together, but that's "a missed opportunity." She worked with NorBlack NorWhite, a women-run clothing brand based in Delhi, on her tour merch, which includes colorful linen and silk shirts, a color-gradient denim jumpsuit, patterned bandanas, socks and joggers, plus tops with phrases like "Let Boys Be Feminine" and "Own Your Voice" printed on them.
If that all sounds rather serious, know that at the end of the day, the key to Gandhi's approach to her work is simple: "I only do things that I really think will be dope."
Watch the new video for Madame Gandhi's "See Me Thru," below.
Photography: Kourtney Smith