The first time I set eyes on Theresa Caputo, best known as the star of TLC's Long Island Medium, she was having her hair teased at a photoshoot, a pick pulling her blond strands into a peak high enough to scale. Beyond a purported ability to commune with the dead, Caputo's Oribe-conditioned hair is her trademark, a miraculous teased bouffant that declares her Strong Island origins on sight. The style is a work of perseverance and studied engineering; she can get ready in less than an hour with the aid of Goldwell Double Boost Root Lift spray, Matrix Proforma hairspray, a rat comb, and an afro pick. The higher the hair, the closer to God — or like, wherever the spirits live.
Sunday marks the Season 12 Long Island Medium finale, a star-studded cabal that features Caputo giving readings (sessions where the medium relays messages from a client's dead friends or family members) to Melissa Etheridge, Tituss Burgess, Robert Patrick, Jillian Michaels, Marilu Henner, Kate Walsh, and a fellow TLC star, Buddy Valastro of Cake Boss. "Can we just backtrack for one hot second?" she chirped. "To think that Melissa Etheridge is a fan! She is legendary, for me, she is legendary. The fact that she knows my name is ridiculous. And It also goes to show that everyone, no matter who they are, everyone deserves, or more importantly needs, the gift of healing."
It is not ridiculous that stars like Etheridge know about Caputo. She's read for countless celebrities (recent televised clients include Kelsey Grammar, Jamie-Lynn Sigler, Olivia Munn, and Jim Parsons), made numerous splashy talk show appearances, written three books, and she tours often, performing live readings. And due to her deep reserves of charm, the show is massively successful; TLC has aired 162 episodes of LIM, and it's only been on the air since 2011. The network was unable to provide exact numbers for the recent season by press time, but past finales drew in over two million viewers (high numbers for cable) and caused frenzies on social media; videos of readings YouTube boast hundreds of thousands of views, and clips of Caputo's interviews with the likes of Ellen DeGeneres and Jimmy Kimmel go into the millions.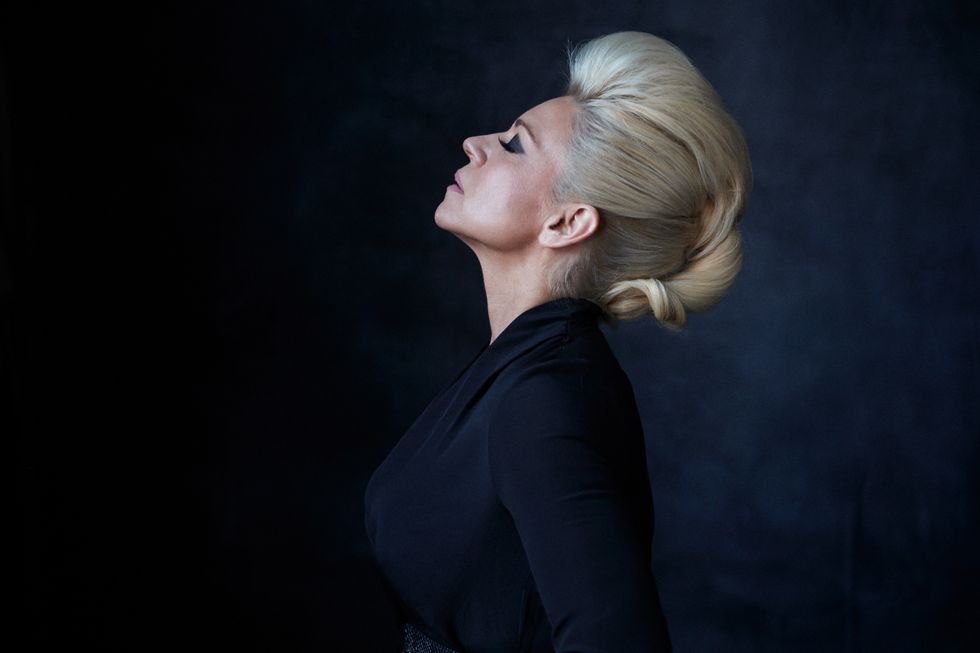 Top: COS
The fame may have come later, but for as long as she can remember, Caputo, 51, said that she's felt her "gift" — an alleged ability to channel the dead. During her childhood in Hicksville, New York, it made things complicated. "Sitting in the classroom was very hard for me because I would sense and feel things," she said. "All I wanted to do was get up and move around. You would be staring at the teacher and I would just see images. You have to understand at that time, I didn't really know what it was that was happening to me."
Caputo didn't fully comprehend the gift until her twenties, when she attended a "spiritual awareness class," which she described as a "safe place for me to share my gift with strangers." When she began working as a medium, all appointments were booked through word of mouth and a business card — she didn't even make a website until after Long Island Medium premiered in 2011. "Who was gonna want to come and see a medium?" she said. "I couldn't understand that."
"I was born like this, so I don't know any different. To me, it is normal."
Apparently a lot of people want to come and see a medium. Caputo's readings are wildly popular — at this point, she's essentially impossible to book. For the uninitiated, a standard session involves the channeling of a client's deceased loved one, and an interpretation of messages they supposedly send. Caputo says the dead don't exactly speak to her, but they communicate in visual symbols — someone eating oatmeal implies routine, a vision of the East and West Coasts shows communication issues, a hat pulled over a face stands for shyness. She even had her brain mapped on one episode to try and show what really happens in a reading. "I was born like this, so I don't know any different," she said. "To me, it is normal. I would always say, when I start channeling, spirit clears out my own personal thoughts, feelings and emotions. They replace them with signs and symbols for me to deliver messages." The test showed that when doing a reading, her brain goes into a "meditative state."
Caputo says she used to be overwhelmed by "spirit," but now that she's constantly working and traveling, it's become easier to tune out. But nonetheless, the heaviness of her work can take a toll. "I know how to release the energy and not hold onto it," Caputo said. "But for everyone I work with, it is hard, it is not easy. Sometimes in those moments, I just sit back and I say, 'Okay I need to say this because this is going to help them. This is what they are holding onto, what they need to release.'"
The show can be heavy, but it's lightened by Caputo's jokes, time with her dad and kids, and ridiculous reality show activities, like doing yoga with baby goats ("It actually soothed my back!"). But Caputo's own life hasn't been easy lately — in December, she and her husband of 28 years, Larry, announced that they were separating. Fans freaked.
"From the day I signed up to do Long Island along with my entire family, we said that we were going to share our life," Caputo said. "A gentlemen came up to me recently and said to me, 'I want to thank you for sharing what you are going through, because my wife and I were watching the show and we said that is us.' They put themselves in therapy. If it wasn't for the episode [involving marital issues] they would have never taken that step to at least try to work on things, and to express what they were feeling and what they were going through."
I said that it must be hard to go through a split in the public eye. "It is," Caputo replied. "But again, what I am doing is helping people."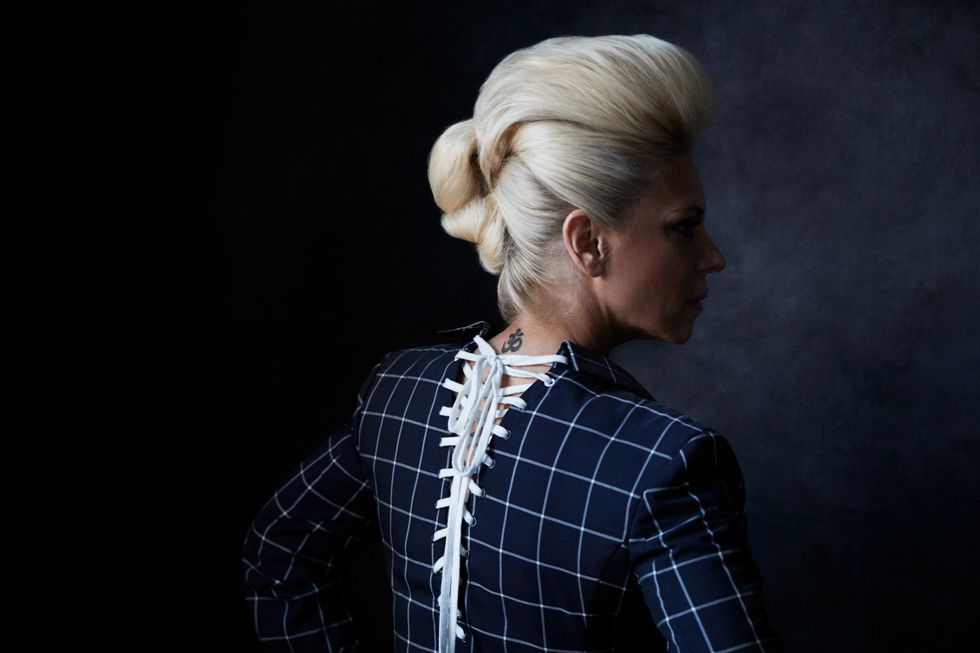 Dress: Monse
Over the course of our 23-minute conversation (the length of the drive in a Range Rover from a photo studio in Chelsea to Lure Fish Bar in Soho), Caputo made seven references to "helping people." Besides the fact that, like everyone on TV, she's more petite in person — Rosie O'Donnell called her "buffed and tiny" — she comes across much the same as her televised persona: affectionate, sweet, funny, heavily-accented. She also endearingly acknowledges, without prompting, that it's easy to dismiss her vocation. "Look, I'm the first one to say what I do is crazy," she said, laughing. "How could someone communicate with someone that is dead?"
"Look, I'm the first one to say what I do is crazy. How could someone communicate with someone that is dead?"
It is crazy, and if your eyebrows are indeed raised, you're not alone — mine are somewhere past my hairline. Caputo, like fellow famed mediums John Edward and Tyler Henry, has oft been accused of practicing cold reading, a technique in which one uses context clues from a client in order to seem knowledgeable about their dead relative, frequently shifting educated guesses into questions. Consider last week's episode of Long Island Medium, where Caputo performed a reading for a married couple, both of whom had lost their fathers. She asked if one was very young; the couple responded that both parents died in their fifties. Caputo immediately pivoted. "Spring chicken!" she joked. "I could go any minute! I'm 50!" Later in the same episode, she asked a young man if he wears jewelry, connecting it with the memory of his brother; the man, sitting less than a foot away, was wearing large earrings and a visible necklace.
Related | Tyler Henry: He'll Read You, But Not in the Way You'd Expect
For every detail Caputo finds in her readings, there's a vague aphorism, a query that could easily garner a yes. During an appearance on Live with Kelly and Ryan last year, she performed a live reading, telling the large crowd that she felt a "father figure who departed from the chest... he just tells me that he died suddenly." A woman cradling a sobbing young girl raised her hand in recognition. It's not exactly surprising that someone connected with the prompt — heart disease is commonly known as the leading cause of death for adults in the United States.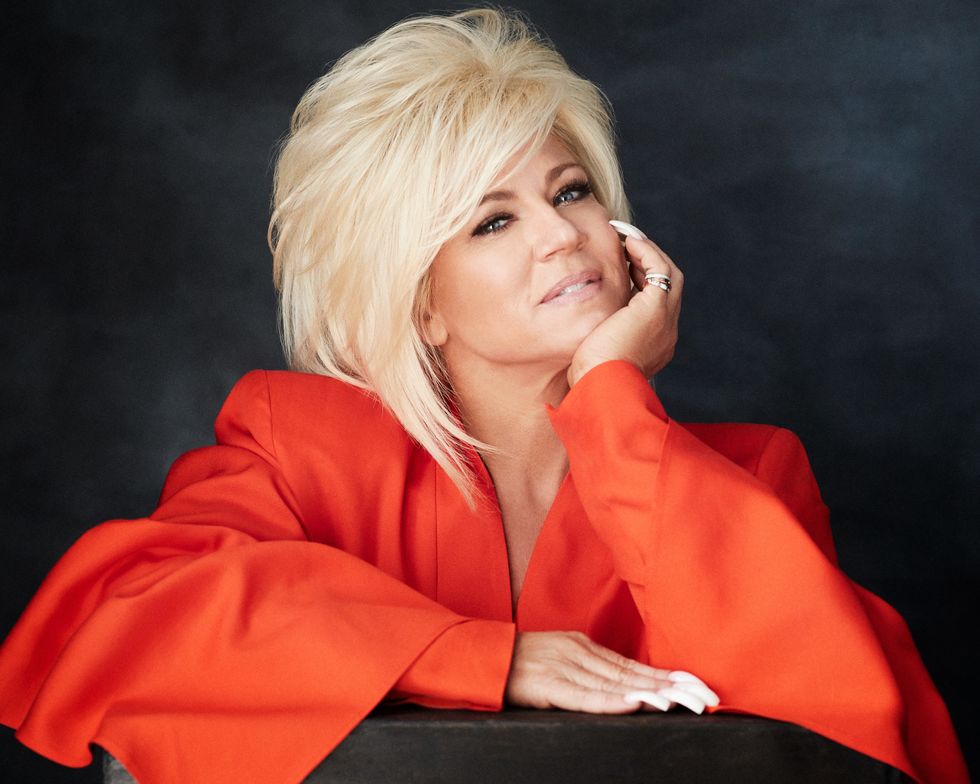 Pantsuit: Litkovskaya
In a piece on Caputo for Wired, former magician and famed skeptic James Randi described cold reading thusly: "The very best practitioners can pick up enough information in what seems like innocent, idle conversation to convince you that they know very specific things about you. The scientific phenomenon is called the Forer effect — giving credence to vague observations that seem personal. It's also called the Barnum effect, after that famous showman credited with coining the phrase: 'There's a sucker born every minute.'"
I asked Caputo how she responds to the skeptics. "There are a lot of common things that spirit might refer to," Caputo said. "I always say it is not my fault or spirit's fault that there are only so many ways that people can die and common burdens and guilt that we might carry. During my sessions, I want spirit to talk about things that not only no one would ever know about, but that you experienced. Because nobody can take away from you what you experienced or tell you what you experienced wasn't real."
Exploiting grieving people is plainly wrong. But real or not, Caputo's work certainly carries a great deal of responsibility — readings can affect the way clients see their dead loved ones, the way they see their own lives. "I don't look at it that way," she said. "I always say 'This has nothing to do with me, I am just the vessel spirit is using.' I tell my clients, 'It is up to you to take these messages and place them in your life, see how they fit, and how they can improve your life in a positive way.'" She concluded, "Nobody can do that for you. That is up to them."
Photographer: Richard Phibbs
Stylist: Kevin Breen
Hair: Jodi Donovan
Makeup: Genevieve Herr
Stylist Assistant: Guvanch Agajumayev
Video: Symone Ridgell