This is What You Missed Last Month (According To Linux), in which nightlife it-girl Linux takes us behind the velvet rope and into the VIP section of Scene-City. Through her extreme (sometimes exaggerated) lens, Linux gives us the tea on what really happened at every party-of-the-century that floods our Instagram feeds. (A note from the author: don't take what she says too seriously — she's just a club kid after all).

They say, "all's fair in love and war," which must be why each February all New Yorkers' rules of candor are tossed into the trash. What are the odds that the two most brutal yearly happenings, Fashion Week and Valentine's Day, happen in the same month? How on Earth does one balance the two? Not so fast investing all your energy into securing a mans for that candle-lit dinner at The Nines — you've got a Vogue party to go to! Good luck dedicating your paycheck to buying your new lover some diamonds — you've also got to go to Loewe and buy your own look for their party you're crashing. (We all know the PR girl who sent you the flyer at the afters last week is never texting you back, in factshe's probably fired by now!)
The only foolproof way for an it-kid to garner triumph in February's affairs of love and war is simple: Throw those morals right out the window! Have to text your bestie's nemesis who handles reservations at Indochine? She won't forgive you, but at least you'll have an entree to IG-Story on the 14th! Do you so badly want to go to the [Redacted Canceled Fashion Designer] show but you're worried about your reputation? Diet Prada posts 10 times a day, this too shall pass!
And don't worry, my curious readers. While the despicable Socialites and Fashionistas of 10001 spent 28 days backstabbing and trampling over one another towards victory in love & war... your favorite journalist (me!) tagged along. All month I lurked in the shadows, disguised as the scenesters we love to hate, and quietly attended each and every New York happening. As a servant of truth, I've brewed all the tea that went down at these scandalous hotspots... and honey: it's scalding!
Rest assured that I, Linux, the New York Downtown It-Girl, am nothing like them… I'm one of you! I didn't even want to be at these mega-fabulous celebrity-filled parties. This was all for... uh... research purposes!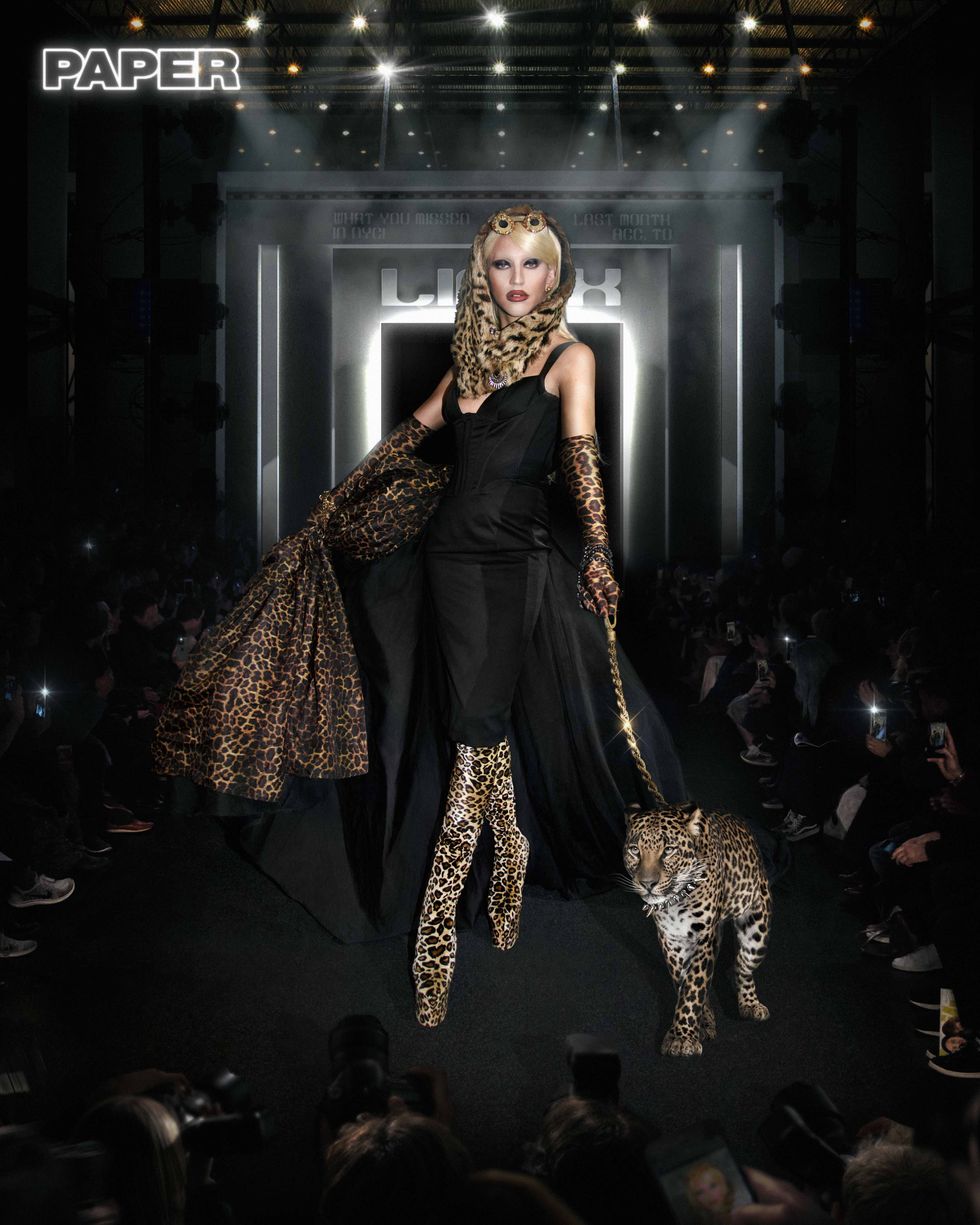 February 9: Christian Siriano
Every New York Fashion Month starts with a visit from Christian Siriano. We know it, we expect it, we love it. Project Runway star Christian Siriano invited the who's who of who's left to Gotham Hall to show off his Fall 2023 collection. I could tell you all about the floral fashions that stomped down his runway but I know you're really here for the front row! I was plopped next to the usual Nightlife/Fashion Crew, seated next to queens like Gottmik and CT and nightlife cool kids Leigh Lezark, Austin Smith and Ty Sunderland. After the NY-C-List got settled in, a swam of flashing photographers around a redhead at the entrance alerted all of us that the real stars had arrived. Taking a closer look, we realized it was none other than Lindsay Lohan. Yes... Lindsay Lohan! What a gag. After millions of photographs, Lindsay was quickly escorted to her seat next to us where we all one by one whispered to one another "omg…I can't believe... Lindsay Lohan!"
After the Hollywood legend sat down and her show ended, the fashion show began. New York legend Dianne Brill, however, did not make it to her seat in time, but all of Gotham Hall got to admire her head-to-toe ensemble and self-emblazoned "BRILL" clutch from our seats.
After the final look came down the runway and the crowd applauded for Christian, we piled into a Siriano Sprinter van and headed to the afterparty at the Edition Times Square. There, Gottmik performed something Y2K (this was a month ago, how should I remember?) and Ty Sunderland DJ'd something even more Y2K. Somehow hours went by and by 8 PM I was on the Edition terrace in Times Square drunk out of my mind chain-smoking with Lindsay Lohan and a bunch of talent managers. No matter how many jokes I told... I did not get a gig! (But Lindsay did laugh.)
February 10: Dion Lee Afterparty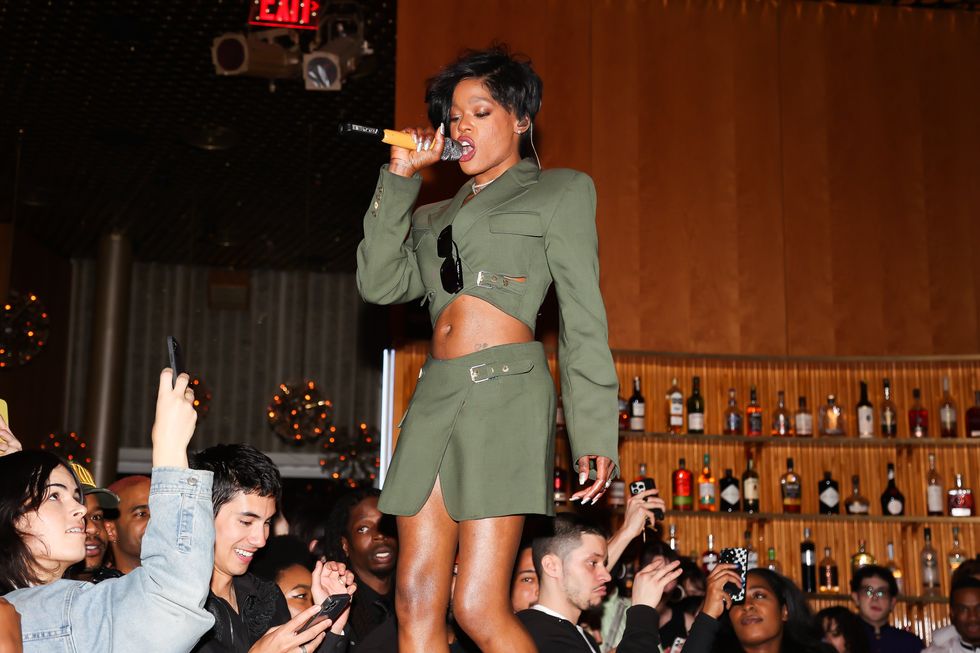 Photo via BFA/ Thomas Razzano
If anyone in the scene is an enigma wrapped in a riddle and cash, it's Dion Lee. The Australian designer was first introduced to me in my Bushwick home at one of my many COVID-era raves. Since meeting, I've seemed to run into him anywhere the BPM passes 140; at too-cool hotspots such as Unter, the green rooms at Basement or the 10 AM yurt afters at Nowadays. It's easy to find him around — that is, besides during Fashion Week. I reached out, as I do every season, to attend his show and afterparty to no avail. After weeks of radio silence, I finally took the hint that it was a big N-O. Most with a speck of pride would give up... but honey, I am more than a chimp with a typewriter. I am Linux and this is The Nightlife Bible. The only thing that will without fail get my party-crashing ass to attend an event is telling me I can't go! I'm sure my invite just got lost in the mail.
On Fashion Week Friday, Dion Lee invited everyone (besides me!) to Boom Boom Room to celebrate his Fall 2023 show. Everyone in NYC with a functioning ketamine habit pooled into the Standard Hotel elevators and up to the top floor to party with the designer. If you're a routine reader of mine (as I'm sure you are) then you've come along with me to countless events at this venue. If you're new here: it's where Solange and Jay-Z got in that fight! But what made this night different from most at Boom Boom Room was that, instead of being filled with LA celebrities or the entire Vogue office, the congregation mainly consisted of Bushwick ravers and transgender Parisian supermodels. Simply put: the crowd was cunt. The room was packed, but thankfully there was no wait at the open bar, as most attendees were likely dosing GHB. Around midnight, the bartenders began clearing the unused bar, which hinted that whoever was about to perform would be converting it to something with more value: a stage.
Finally, as the music cut off and we heard her iconic voice, the secret show was revealed to be Azealia Banks. In seconds, the most talented person to come out of New York City hopped onto the bar in a two-piece army green number and began performing for us. One thing about Dion Lee is he will always align himself with talent, and Banks rapping at his afterparty was no exception. By the end of "New Bottega," the tranquilizer crowd did their best to applaud, and the K-gods spoke to me in my thoughts, letting me know it was time to go. In fact, by 2 AM I don't know if anyone there even knew where they were! Kudos to Dion for throwing a fashion week party that only I will probably remember. All I could keep thinking to myself that night was, All these people got invited and not me? But as I write this now, I am immediately reminded that it's because I write party reviews like this!
February 11: Honey Dijon Teksupport
There's nothing I love more than going to a non-Fashion Week party smack-dab in the middle of Fashion Week. Long-running production team Teksupport is no stranger to throwing killer parties. For as long as I can remember, Teksupport has been one of the few bumpin' bashes for breeders this city has to offer. For a full week in February, Teksupport put together a lineup of iconic DJ's including Diplo, Bedouin and Honey Dijon. Out of those three, the standout evening was easily that which belonged to Honey Dijon.
The event took place at The Glasshouse, an innovative venue boasting floor-to-ceiling windows and unobstructed 360-degree views of the Manhattan skyline. The city was especially excited to see Dijon as this was the fashion-icon and DJ's first New York appearance since being awarded a Grammy for her part in Beyoncé's Renaissance. I had hundreds of Fashion Week things going on that day, but that didn't stop me from arriving promptly at 11 PM. I was quickly reminded just how straight Teksupport parties are. Thankfully, however, Honey Dijon was in the building to save us all. For two hours, Mother played her best heavy-hitting house for the thousands of attendees on the top floor of The Glasshouse. Dijon's talent combined with Teksupport's otherworldly skill in lighting and sound made for the ultimate New York night to remember. Needless to say, it was the best homecoming a girl could ask for... Honey Dijon said so herself!
February 15: Paul's Dolls' One-Year
After 52 weeks straight of throwing a party meant for the girls, gays and theys, the night had finally come to celebrate a whole goddamn year of my weekly party: Paul's Dolls. I remember when I first spoke to you, my fabulous readers, about Paul's Dolls last spring. At that point, I had only the slightest idea of what this party could become. Wednesday after Wednesday I joined forces with the most notable New York kids to help bring this night to life... and girl did it work! At Paul Sevigny's nightclub Paul's Casablanca in the heart of Hudson Square, everyone who's anyone got together to celebrate my baby turning one. I think what this city loves so much about Dolls is it isn't too stuffy or uptight. To so many, this night could only be described as a Weekly Downtown House Party. When a Drag Race girl is in town? They go to Paul's Dolls. When Fashion House is in town? (Mugler, I'm looking at you!) They go to Paul's Dolls. Bitch, even fucking Snooki goes to Paul's Dolls! Somehow the vibe is so correct that you totally forget you're at a bitchy nightlife menace's ego-stroke! So with that, I'd like to end this month with something different: a thank-you.
Every week you've managed to show up and show out at my very first solo weekly, and I've been moved. Seeing your glittering faces each week at Paul's Dolls and experiencing such a magical night with you all so often is a total honor. When it comes to Paul's Dolls I know one thing's for certain... you definitely didn't miss it!
Photography and styling: Airik Prince
Art direction: Chris Correa
Dress and gloves: Christian Cowan
Shoes: Pissy Pussy
Scarf: Adrienne Landua
Glasses: Smiley Goods
Jewelry: Heart of Bone