This story was intended to run as part of a larger feature on hip hop's rising stars in our Break the Internet issue. In the event of Lil Peep's tragic passing, PAPER has decided to publish his interview today to celebrate one of music's brightest lights— an immensely talented and all-round magical human being. Our thoughts are with his family and friends, Peep shall be deeply missed.

Seemingly overnight, Lil Peep burst onto the hip-hop scene as a bleached-blond, inked-up teen from Long Beach, NY, captivating fans with raps about missing the girl he seduced in gym class. While his eccentric aesthetic may initially capture your attention, he's more than proved his lyrical chops with his debut album, Come Over When You're Sober, Pt. 1 (released to rave reviews earlier this year), as well as a successful tour running through November. With his indisputable authenticity and talent for accurately summarizing your feels, Lil Peep is truly the emo hero we need.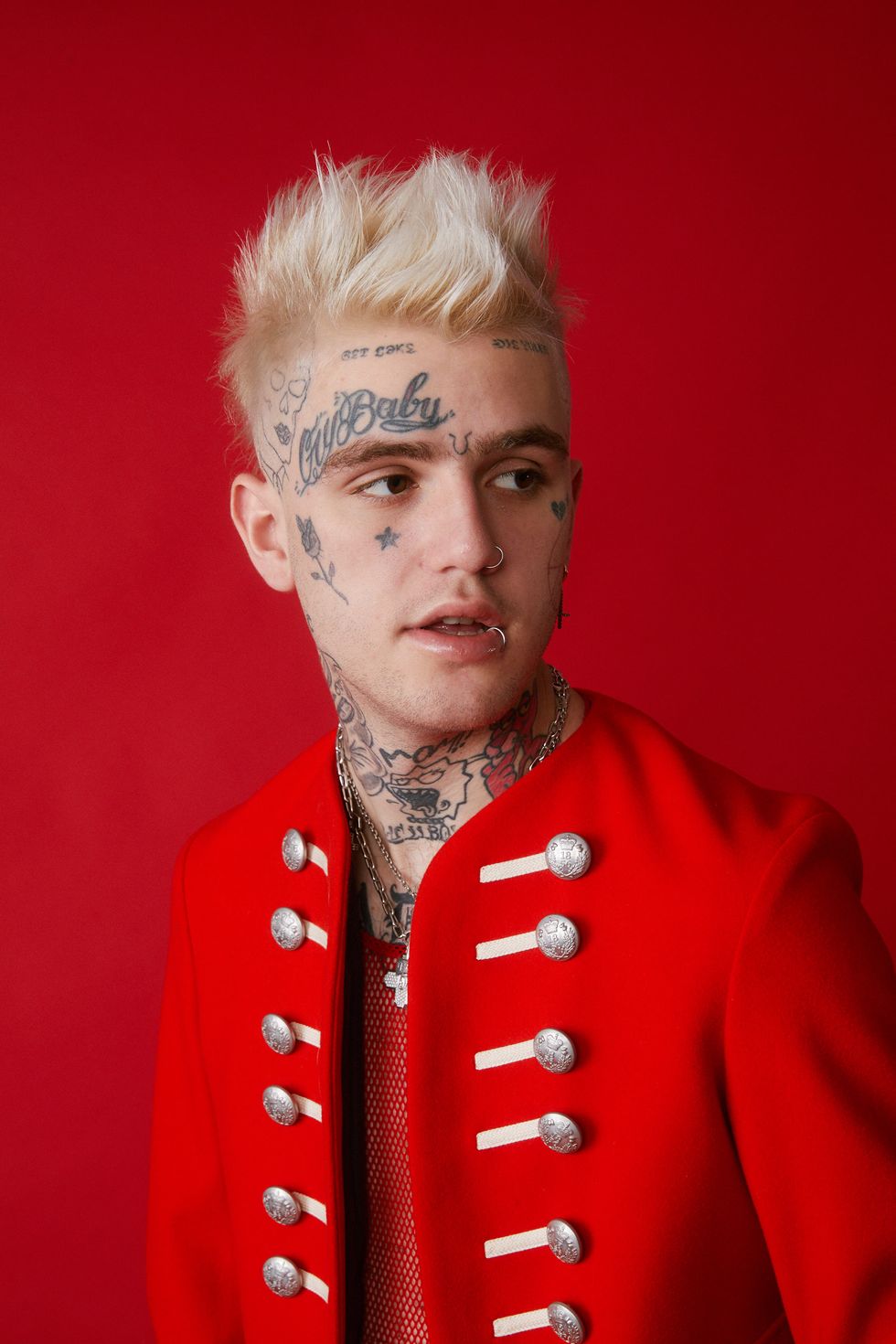 How's tour life?
It is very comfortable and nice.
It's comfortable? I thought you would have said it's wild or it's lit.

It's a little bit more wild when I'm at home. When I'm on tour I get to focus on work, but when I'm at home I really go crazy. I guess I'm always kind of crazy, but a little bit less crazy on tour.
What's changed for you? Personally, professionally, since the mixtape phase. How have you evolved?
Just taking myself more seriously and realizing that people actually fuck with it. It's also made me spend more time, not just making a lot of songs but making good songs. Quality over quantity.
I feel like a lot of young artists have to do that nowadays, just pump out the tracks.
Yeah, it's just content. Having a lot of content is very important. It has to be out there so that people can find you. If there's only one or two videos for three songs, it's hard for people to find.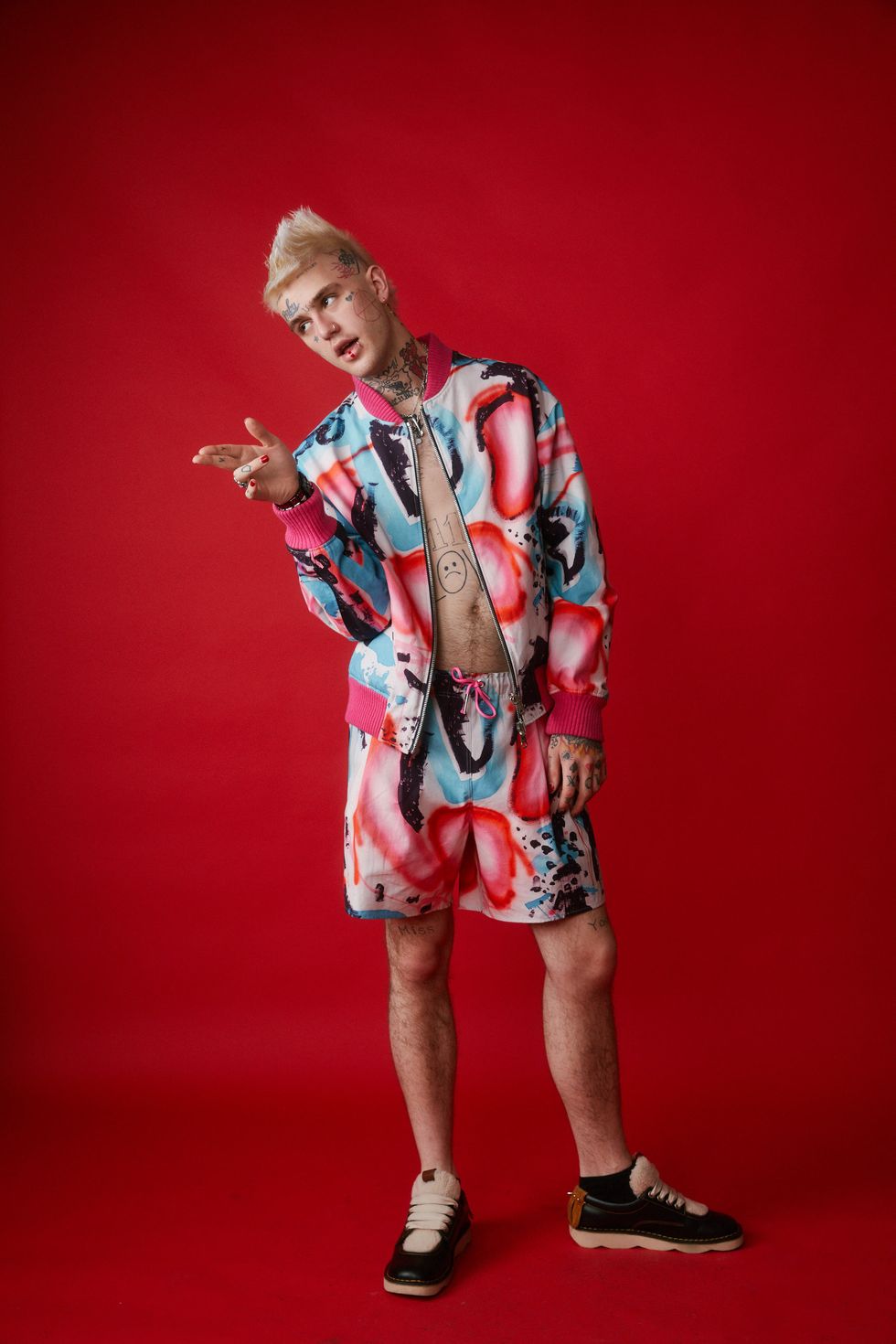 It must have been a lot of pressure to be constantly creating.
I never really thought — well, I did think that the shit was really good — but I didn't really know how the music industry worked or anything, so it wasn't really pressure. I didn't know that you could just record songs in your bedroom then millions of people would hear it and it could take you places. I was just making music to make music at the time.
Now that you've put out Come Over and the press has started coming in, it's interesting to see how you're being defined, how they're trying to fit you in a specific box. What's that like?
It's just interesting for me to see how everyone takes it, because I'm still having trouble trying to explain it to people. When people ask me what kind of music I make, I freeze up. They're just confused by my description.
What are your go-to adjectives? What do you say?
I say it's alternative hip hop.
Do you feel like they're struggling to get you?
No, people get me. People understand my message is positive and at the end of the day, I'm just here to make music that I enjoy and that other people enjoy. I think that's why I have such a loyal fan base.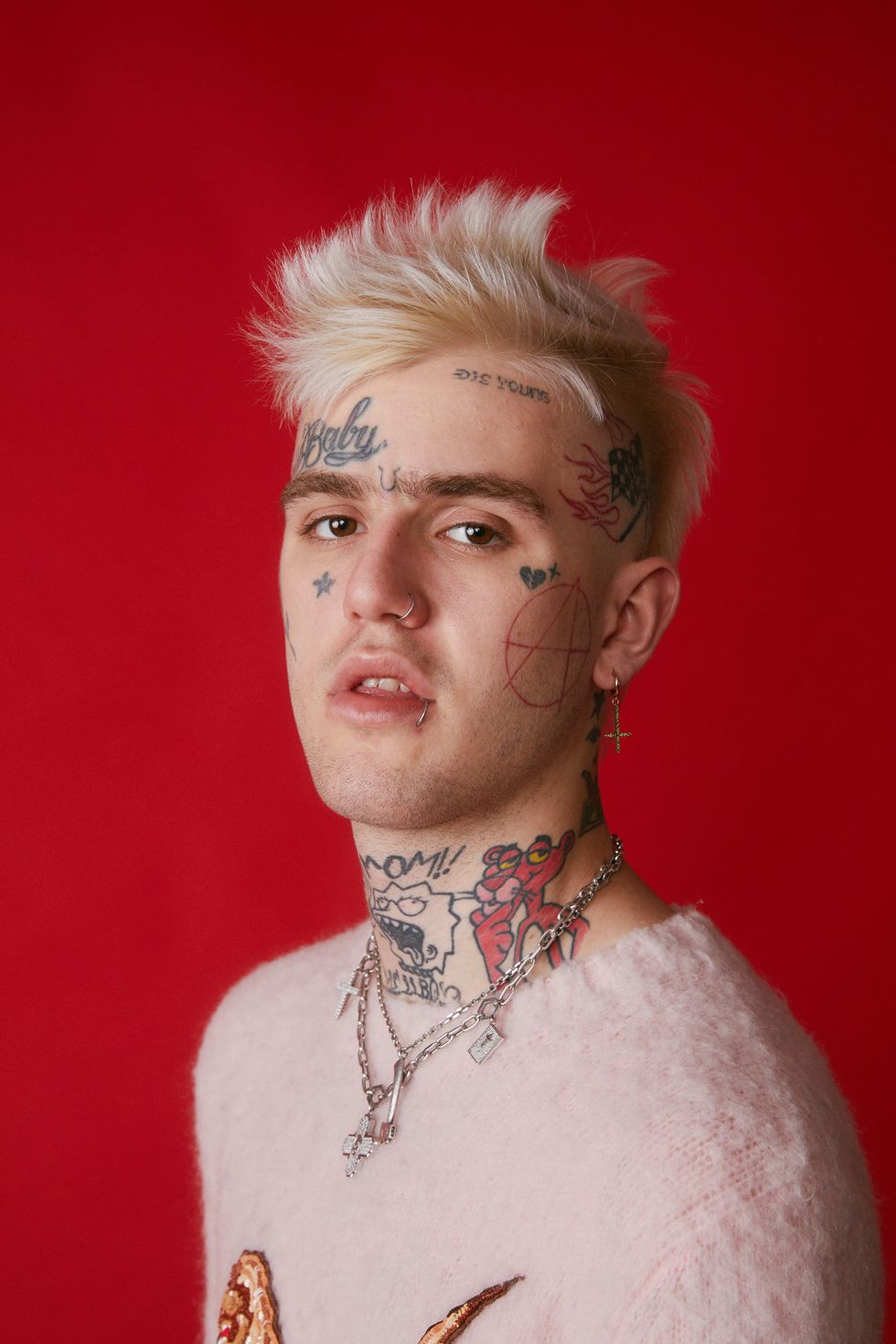 How has it been, getting used to that intense attention?
I'm totally used to it now. It's constant, all the time now. It's every single day. There are multiple occasions where I had to deal with it, so it's kind of second nature now. I don't remember taking pictures with eighty percent of the people that I have taken pictures with.
Do you enjoy it?
I don't mind it. My friends think it's kind of rude of the people to come up to me and treat me like an object. For me, if I saw my favorite artist in the store, I would probably just tell them three words and walk away. I hate the whole thing of when I turn around and there's a flash in my face of a camera and we haven't even spoken yet. It depends on the fan and how they approach me. That's part of the reason I actually moved to London, because it's a lot different over there. When people see you on the street, they'll call my name and then walk away. It's no bother at all. They don't really want to bother you for pictures or anything.
More genuine?
Definitely.
I guess it's all about proving your experiences with pictures now, isn't it. How much do you invest in social media?
I love Instagram. Instagram is my favorite technology ever. I can follow all my friends and see what they're doing tonight, follow my favorite artist and see what they're doing. I just love Instagram.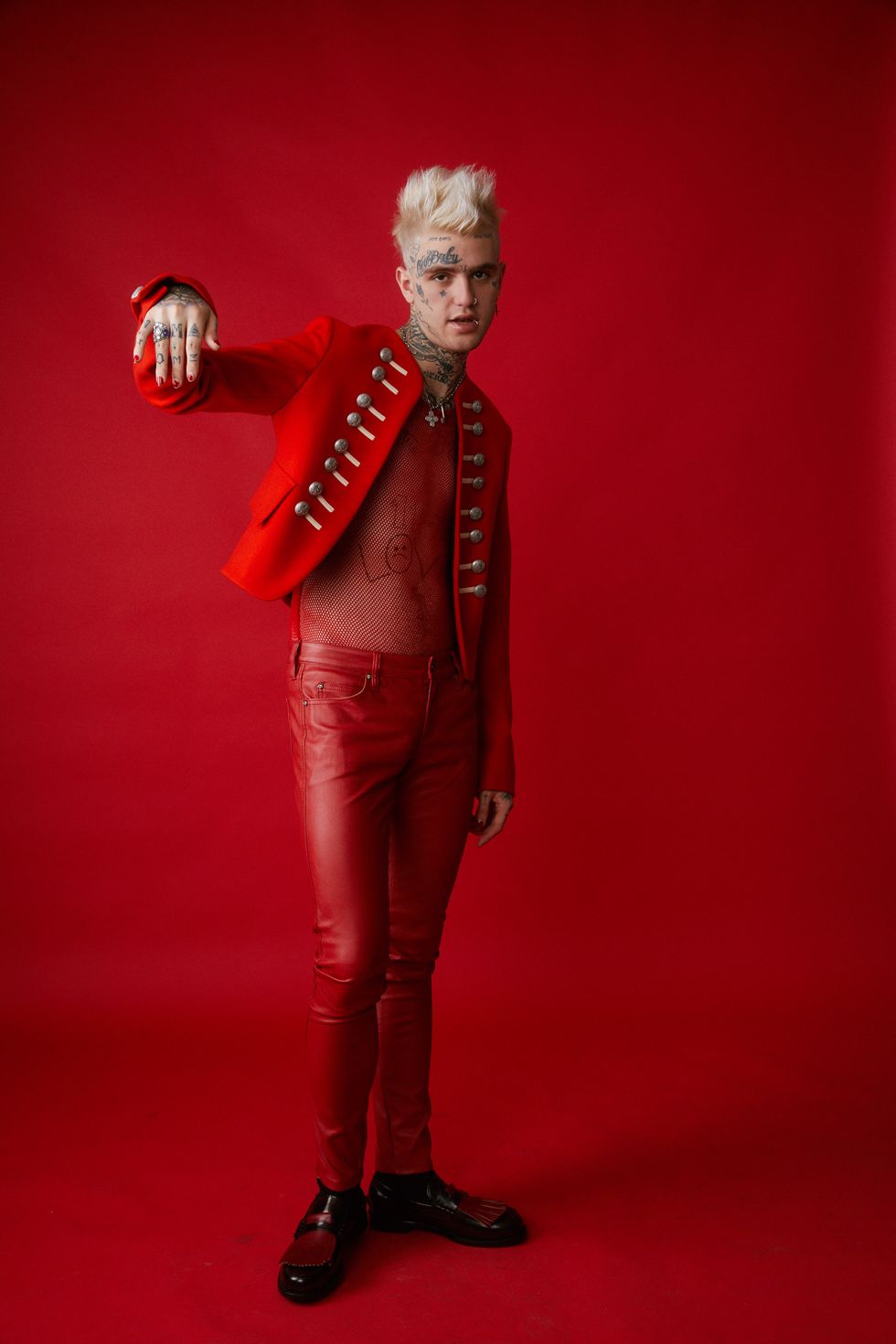 Well, in the past few days you tweeted about Wayne, Future and Bobby Shmurda. I'm curious what it is that draws you to these different rappers. What is good hip hop to you? What makes a great rapper?
The artist. Their background. How true their lyrics are and how much emotion they put into their lyrics. Just the whole vibe. I do a lot of research on the artist and I really like to know about them. That makes me a lot more interested in their music. I just like to listen to people who I feel like I know. I don't like the whole 'fake it 'til you make it' thing. I like when people have really been through a lot of stuff and then they put that into their music.
Who is a living legend to you?
I like meeting people on a genuine level. Like, "Ok, if this person wants to meet me and I want to meet them, let's do it." I don't like forcing things.
Who's the person?
The person…I don't know, there's a ton of people. The main person would probably be Anthony Kiedis.
Do you care about industry respect? Other artists recognizing what you're doing?
No, I actually hate that. I think the exact opposite way. I hate forced features. I hate features that were put together by labels and stuff like that. I just want to have my friends featured on the album and my friends making the beats so that it becomes its own entity in itself. It's what makes people like Pharrell and stuff like that. People who are just always being themselves. With becoming an individual artist, you're not put in a box.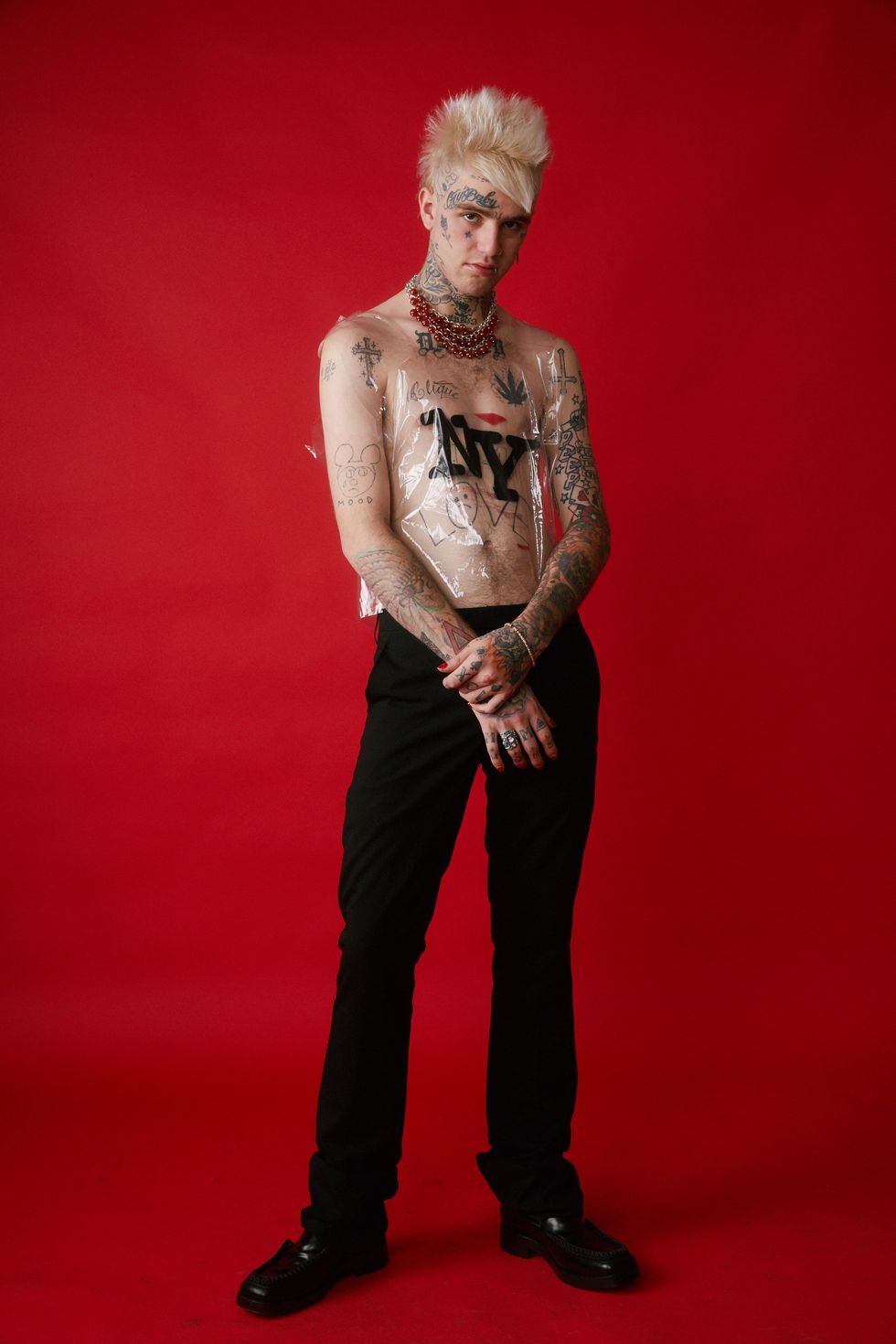 What box would you like to be in?
I already know what people are going to think of me. It's just that I tried to help people through my music. I did it all with my friends, and it was very organic.
It's easy to tell that authenticity is a big thing with you.
Yeah. There's a lot of big artists that really want to work with me right now. I just don't want to do that whole thing of saying I have this co-sign and I have a feature with this person so I'm mainstream now. I'm just trying to build my own thing up with my own friends.
If you went mainstream, how would you feel about that?
If I went mainstream I would be fine with it, if I did it with my friends. I'm not going to do it with help of co-signs that were forced. I just don't want to be an industry plan, at the end of the day.
At the same time, there might be an Anthony Kiedis or another rapper that says, "Peep is so great, you need to check him out" — totally organic.
Very true.

You've been very open about your sexuality. I think of all entertainers, rappers have it the hardest when it comes to talking about themselves beyond the hyper-masculine, rock-star lifestyle. How was that experience for you?
Like I said, all the people I'm surrounded by would never be affected by me letting them know that. I'm surrounded by good people, and I surround myself with good people. At the end of the day, it really didn't change much in my personal life at all. If anything, all my friends aren't going to care about that. I would say it's a good thing, too, to be proud of that.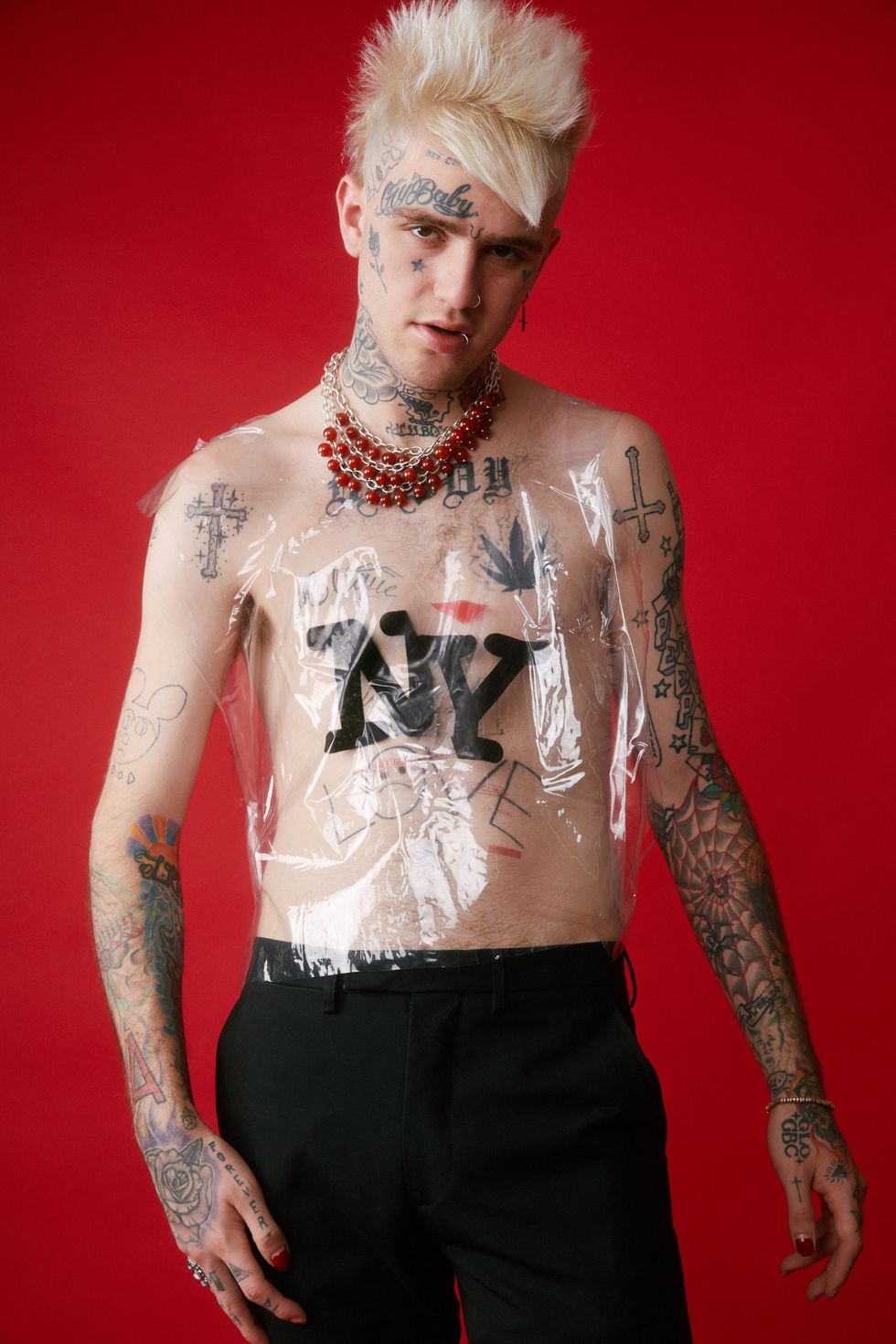 I know you're close with Makonnen, who was subjected to criticism via peers in the industry after coming out — namely Migos in Rolling Stone . Did that make putting it in the public sphere even more intimidating?
It can be intimidating, but you need to just be brave and confident.
You just put out this album where you got a great response from your fans. What else is important to you as an artist?
I want to go deep into fashion, I want to go maybe into acting, there's a lot of stuff I would like to go into. I just want to try more shit and become more well-rounded when it comes to whatever I'm doing. I want to do a lot of different things and dive into different worlds. I feel like I'm a creative and I want to take advantage of that. Sometimes I'll be watching a movie then think to myself that I could do a better job.
Who in particular would you love to work with across music, fashion or film?
At the end of the day, if it's someone who believes in me, I would fuck with them. We'll see how that works out. I have no idea...I gotta get the money for my momma.
Is she proud of you?
Yeah. She's a first grade teacher, so it's great. She's very proud of me.
If you feel like you are struggling with addiction and could use some support, please call the Substance Abuse and Mental Health Services Administration on 1-800-662-HELP

Photos by Eric T. White / styling by Jason Rembert / grooming by Pierra Lortie