When rock icon Kathleen Hanna — who's played in iconic bands like Bikini Kill, Le Tigre, and The Julie Ruin — met Tina Kampor, it was a moment of total synchronicity. Hanna, a longtime outspoken advocate for global equality movements and women's rights, first connected years ago with Kampor (pictured above), the founder of growing nonprofit Peace Sisters, and the rest was history.
Kampor's work through Peace Sisters was born from spending well over a decade in Togo, West Africa, seeing the gendered educational divide firsthand while employed as a teacher. She worked tirelessly on the ground to uplift young women before getting back to the U.S. with a mission to never forget what she witnessed. Hanna attended board meetings for what ultimately became Peace Sisters, which funds educational opportunities for girls in Togo, and became an official ambassador. The musician eventually created a GoFundMe page for them, raising more than $9,000.
Hanna decided to partner with Kampor more officially, and the TEES4TOGO project was born. "It was natural to align with another woman's work who already has a structure in place, who already has everything set up," Hanna told PAPER. "Typically, a lot of people have very little funds so it makes sense that boys go to school and girls don't, and girls take care of housework and stuff like that," she added, noting the gender imbalance of Togo's educational climate.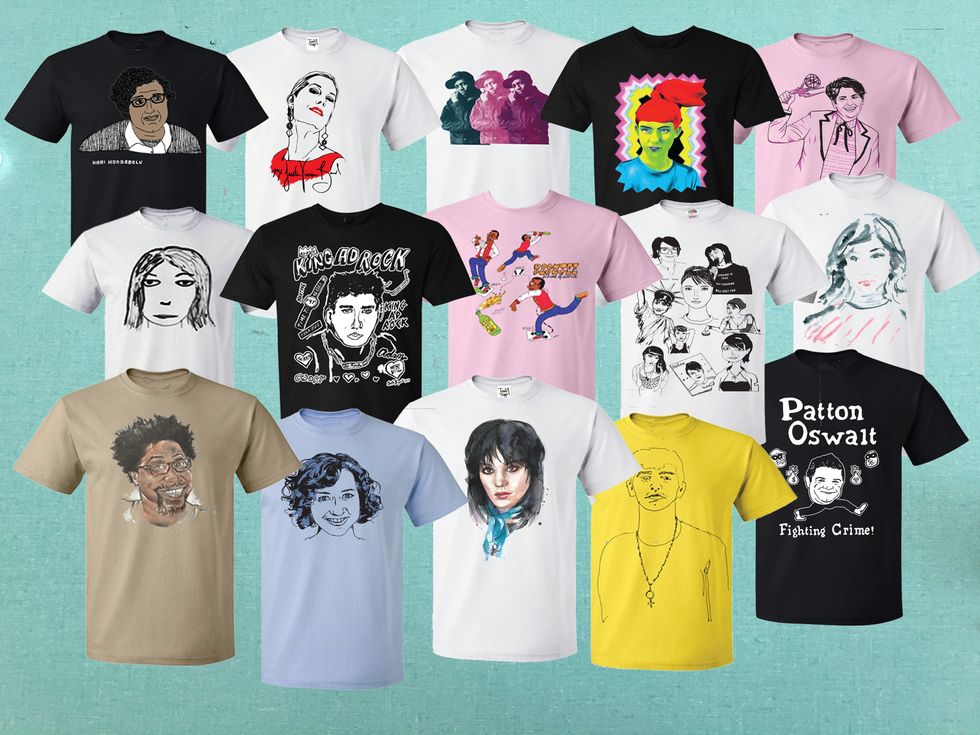 For the T-shirts, Hanna enlisted the help of famous friends, including former Le Tigre bandmate JD Samson, Joan Jett, Justin Vivian Bond, her husband Adam Ad-Rock Horowitz of the Beastie Boys, Kim Gordon, Sleater-Kinney's Carrie Brownstein, Patton Oswalt, and more, to collaborate on animated designs of their faces. The sustainable tees serve as rock royalty collector's items, and for $40 a pop, they also fund an entire year of a girl's education in Togo, including books and necessary supplies, such as lamps. One hundred percent of all proceeds go to Peace Sisters, so the more sold, the better the conditions become for Togo families. Girls who received lamps reported a 70 percent improvement in grades, simply because they could see at night to study.
"This isn't just affecting the young women who are involved in Peace Sisters," Hannah said. "It's also affecting the entire family; allowing them to cook later in the evening, to read later in the evening, to do things that they want to do in the house and have more family time because it's not pitch black. It's stuff like that that I wouldn't even think about. Tina has educated me, and we've had long conversations about me having to check my privilege with what I expect."
PAPER caught up with Hanna to talk more about the TEES4TOGO project, launching today on tees4togo.com, what she's learned in the process of creating it, and new music in the works.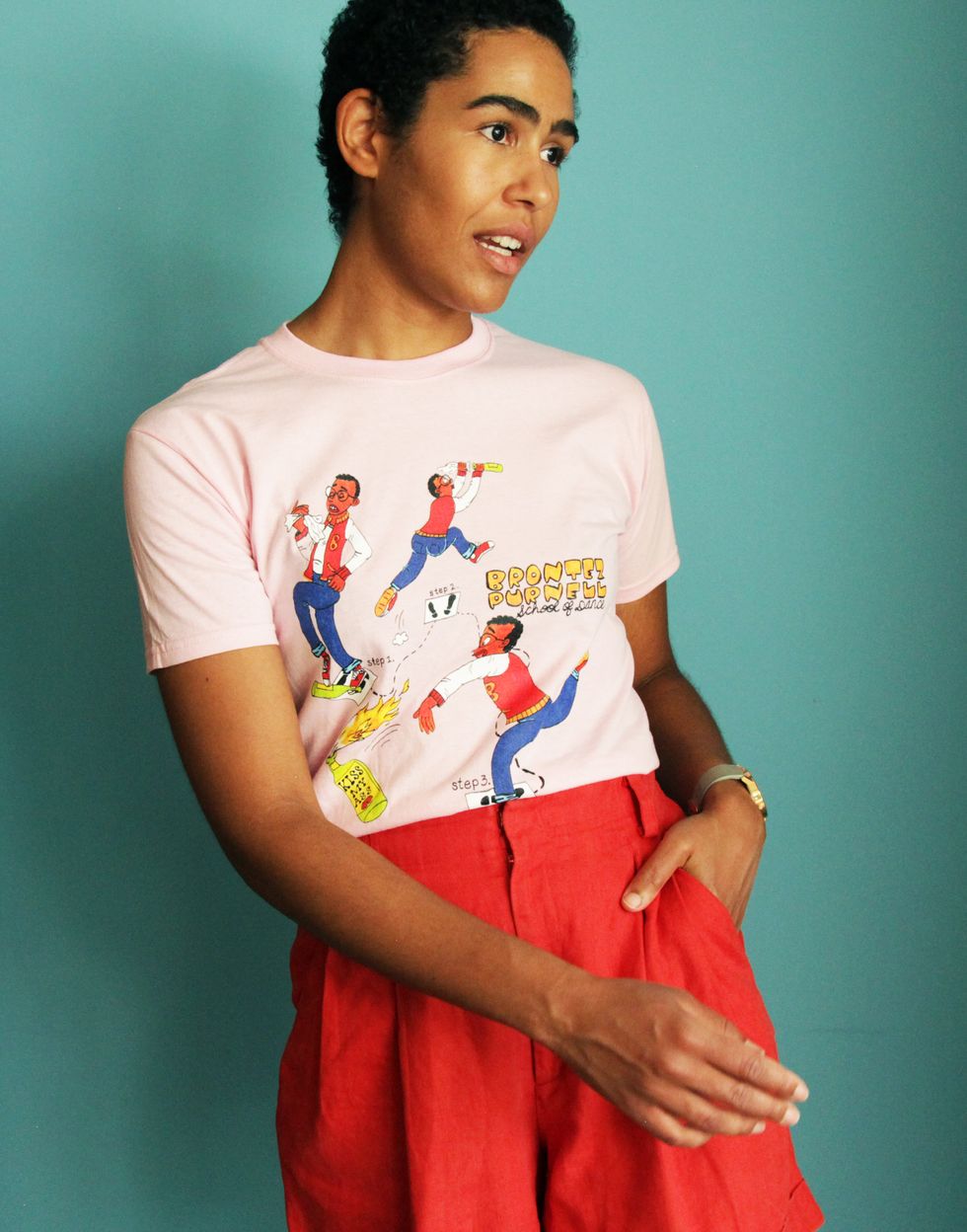 How did you first get involved with this project?
In certain places in Togo, the idea is that women are caretakers, and are meant to have babies. Tina and I met through my landlady here in New York, and two years ago, she gave me a flyer outlining Peace Sisters' mission. She was an educator in Togo for 16 years before launching Peace Sisters, and for me, it was natural to align with another woman's work who already has a structure in place. I totally believe in what she's doing and am 1,000 percent behind it. On the education issue: When there's a choice, typically, a lot of people have very little funds so it makes sense that boys go to school and girls don't, and girls take care of housework. Clearly that's an imbalance in a lot of places, but in Togo it's particularly a bad problem, and that's one of the reasons why Tina started Peace Sisters — because she was a teacher in Togo, and basically grew up there and saw firsthand what it was like.
"Without education, we're not going to see the read the stories [...] see the plays or hear the songs of these girls and women."
What else did you learn from Tina about her experience in Togo?
She was seeing the educational divide, and she was like, "I can't live with this, I can't deal with the fact that all of these girls' dreams are being totally squashed." The whole thing is having to get married very young, and not really seeing any future for yourself because you can't read and write, you can't tell your story. That's been a really huge motivation for me, if we're talking about having women and other marginalized people finally having our voices heard, what does that mean if poor women and women from Africa are not included in that conversation? If they're not heard, then it's not a real fucking conversation.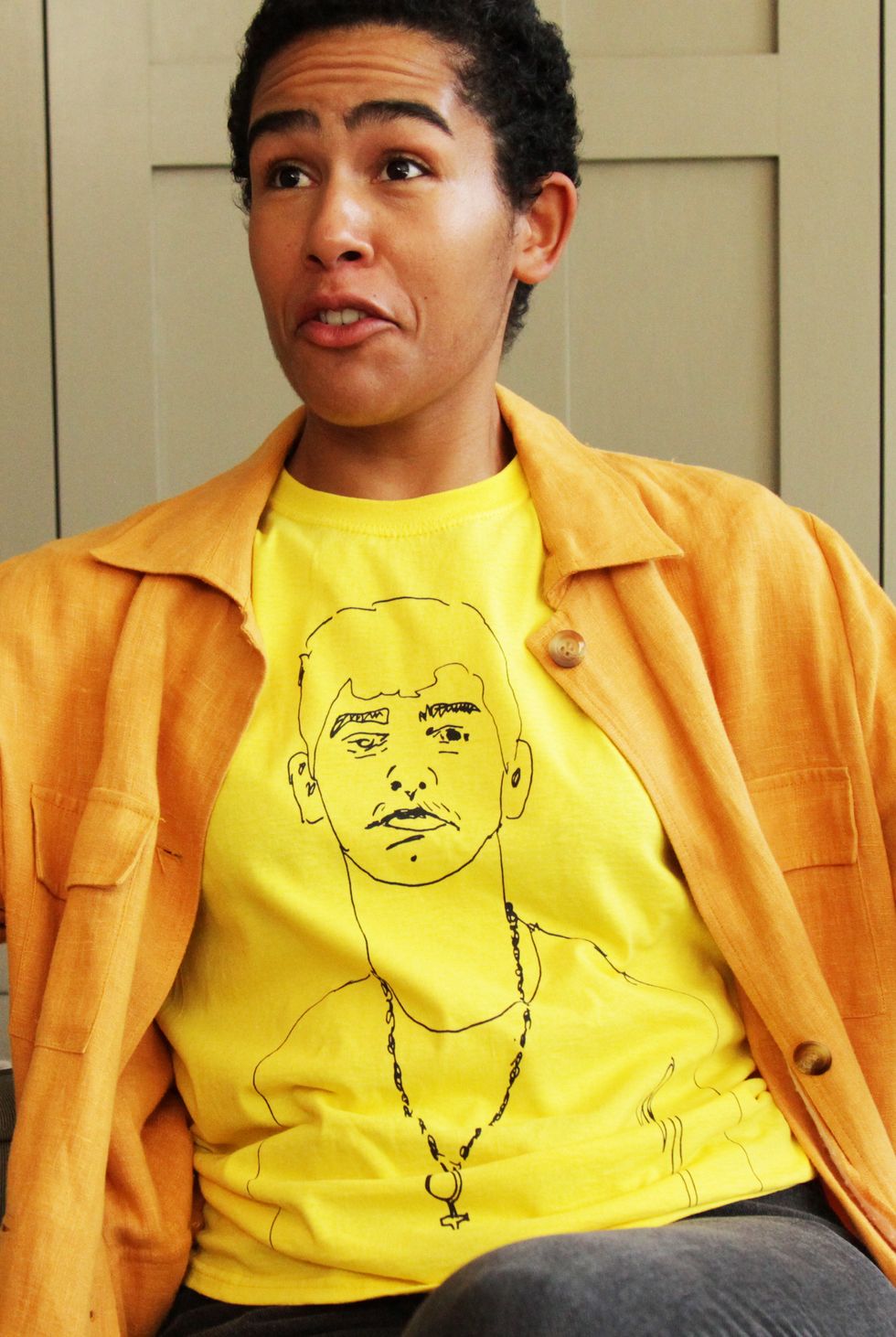 Yes, the conversation about education needs always to be intersectional and inclusive.
Yes exactly! It's like when you garden: if you plant the same crop over and over it basically kills itself and kills the soil. Without having a lot of different people involved, it just becomes a monster that eats itself, and it doesn't thrive or change society. And without any education, we're not going to read the stories. We're not going to see the plays or hear the songs of these girls and women, and anyone else without access to education, for that matter.
So, you decided to call some of your famous friends to help with the cause.
I felt really lucky to have this opportunity. It feels good to give and to be in a position to sit and think, "Okay, what can I do? Oh, I know Patton Oswald on Twitter!" He has a million followers! If I can sell even a thousand shirts to his followers, that's a thousand girls going to school for a year. This project comes at a really great time for Peace Sisters, because I'm hoping to raise the money to not only keep the program going so that all the girls who want to go to school from Togo, West Africa can, but also so that they can go onto college if they want to.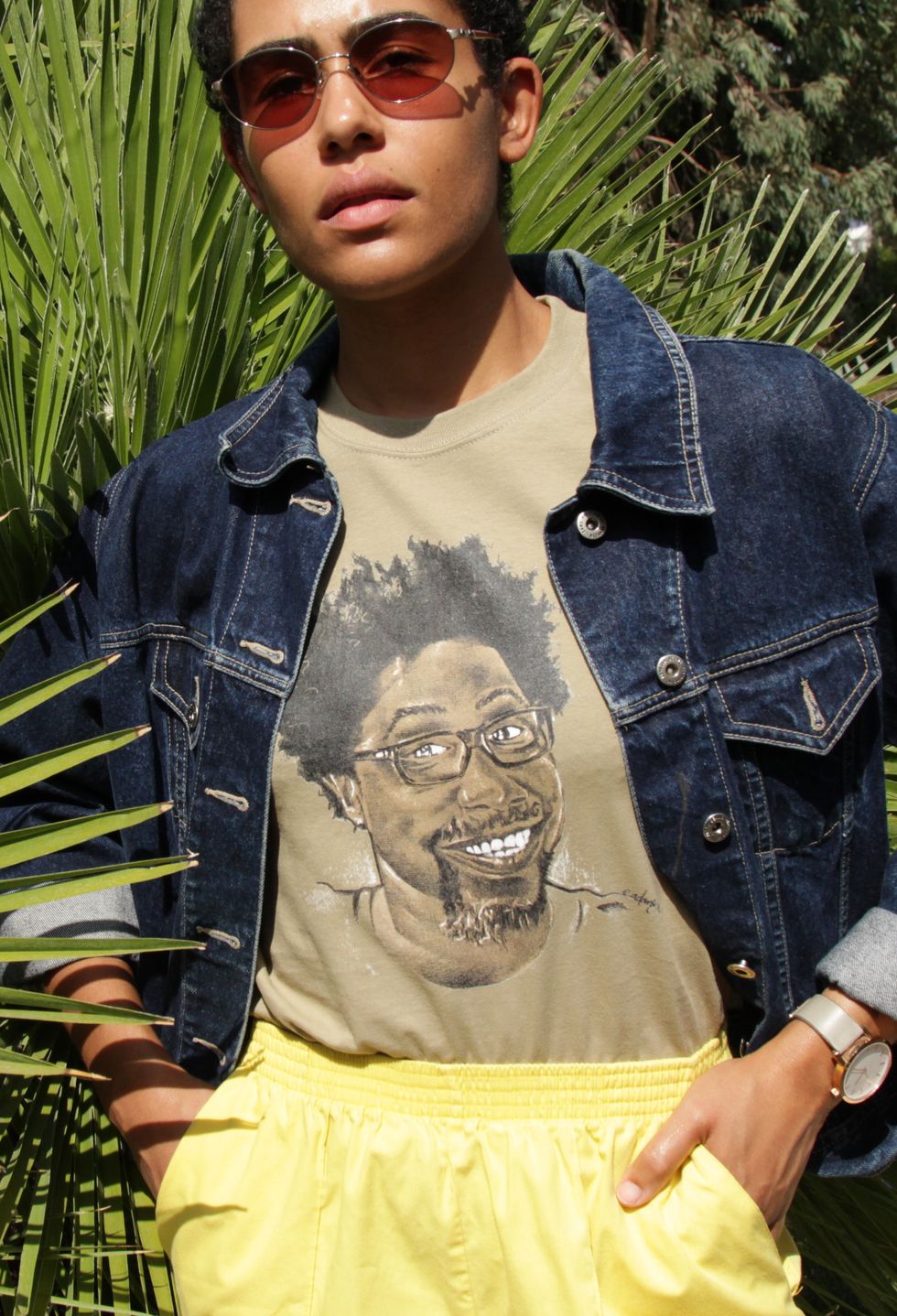 A $40 T-shirt to support a girl's educational advancement might be little to those of us with privilege in America, but it's life-changing for them.
Totally! When I was doing research, I found really great looking shirts with very similar faces of people that were like $60 and I was like, "No, I actually have to hit home." But also, a lot of people are making shirts that just aren't ethical using anybody's likeness without their permission. It's important to me to also make a statement about that. All of the people that are involved in this project are collaborating together to support Peace Sisters as an organization, it's not just an I'll get my friend to draw a picture of Joan Jett and put it on a shirt — Joan Jett is behind it. I just got my Joan Jett shirt today and it's so gorgeous.
The shirts are also not made in sweatshops, which feels important to mention.
Yes, the added benefit is that they're sweatshop-free, and every single person who's involved with TEES4TOGO, from the artist who collaborated to the performers who are pictured, everyone's given permission. I actually started [researching] a few years ago not knowing who I was going to donate to. I also really care about environmental racism and what's going on there, but I was having trouble figuring out exactly what the appropriate place to donate to is. Then I met Tina and really enjoyed her company, and soon I started going to board meetings to learn more about education, and I was like, "Wait a minute, why don't I do my t-shirt project with them?" This is a no-brainer. This is the way this activism should happen.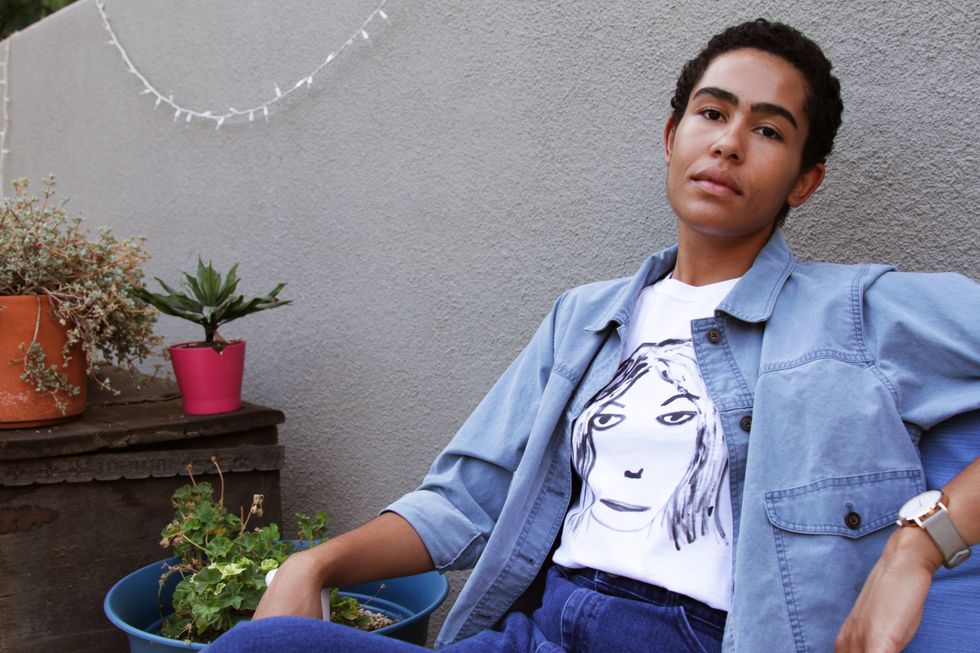 Are you planning to visit Togo anytime soon to see what's happening for yourself?
I'm planning a trip in 2020 to Togo with Tina because she's like, "You just have to be there and then you'll understand." She always makes this half-smile at me and is like, "We'll go to Togo and then you'll totally get it." What I get so far is that she's an amazing person and when she talks about it still, she cries. She gets teary, and she'll say, "I left Togo and I said I'm not going to forget these girls." It's 15, 16 years later and she hasn't. Now she's the CEO of an organization that started out with $4,000 and is a very small thing that we're trying to make bigger.
I have to ask: Are you working on any new music?
I should mention that Bikini Kill is now on Spotify and other major streaming platforms. In the beginning, a lot of those platforms just felt like a big rip-off to independent artists, artists even who get fewer hits than Bikini Kill. We were just a small label with one person basically running it: our drummer's sister. But music has evolved to digital mediums for younger generations, so it makes sense to have Bikini Kill's music be accessible to them. I love the fact that I have 15, 16-year-old girls and kids from all over writing me saying they just discovered Bikini Kill for the first time. That stuff is like 30 years old, but to these kids who write me, it's brand new. Also, I am working on a collaboration with one of the women from Savages that I'm excited about, but I don't know how that's going to turn out; I don't know if they're going to want to use it or not. So you're the first and only person to know that.
Lead Photo: Jason Frank Rothenberg / Model Photography: Vice Cooler