Ecuadorian artist Kablito is a few rosés in at SoHo in Los Angeles, where she's now based, when PAPER calls her up. Discussing the solo sexuality of her new video, "Yo Nunca te Quise," premiering today, she realizes: "I'm in my late twenties, and I've never had this conversation with anyone until now. I'm like, how?"
In the bedroom of an out-of-town friend, Kablito and a crew of women filmed a video in which Kablito gets vulnerable. The song, co-written with her manager, MLKMN, the Mexican musician and label runner of Universal subsidiary Broke Kids, reflects on getting caught off guard by catching feelings. "I feel for this person because the sex was really good," Kablito says. "That's why the chorus is like, I never wanted you, and now I want to go back. But I don't want this person; I want to be single."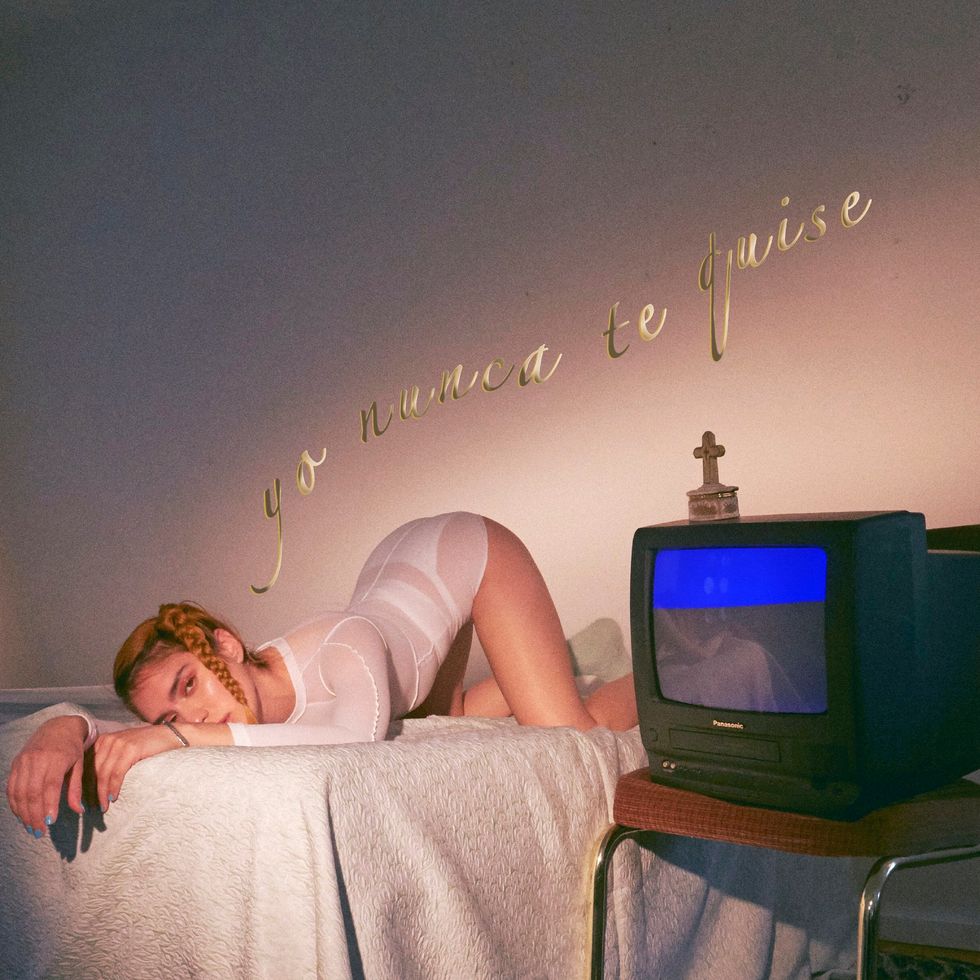 Photography: Kristen Jan Wong
That contradictory state is mirrored in that the video is "basically a sex tape" of Kablito masturbating. "I thought it was a really cool thing to talk about masturbation and sexuality in women and girls. Its a topic that we don't talk about," she says. "Maybe because we're Latinos, but I've never talked to my family about that."
Imagine if, as preteens, we had been given some education about self-pleasure alongside lessons on health and sexuality, I wonder out loud. It's going to happen anyway, so why not be informed? Kablito agrees: "It would be really cool to, after I put this video out, empower girls to make videos of themselves really feeling themselves, like singing along to the song."
Lyrically, some have confused the song as implying a "fuck you" vengeance. Kablito finds that funny; truth is, "Yo Nunca te Quise" grew from personal experience, like much of her music, including "Vete de Aquí," released in May.
"I think that all of my songs, even the last one I wrote, they are places that I'm at or things that I've experienced," she syas. "When they're about to come out, they become a reality. Because this is what I'm going through — this whole exploring yourself and sexuality thing."​
Kablito admits it's only recently, after a difficult and life-altering breakup, that she's more intensely exploring her identity: "Now I'm single and enjoying that side of me, exploring myself. Why did it take me this long? I missed out — really hard," she laughs.
Pinpointing the reasons why is somewhat besides the point. What matters now is that Kablito is coming into her own, focusing explicitly on songwriting as she gears up to release a second EP by the end of 2019. Moving to LA a few years back marked a turning point in her career; after a life spent knowing music was her thing, she finally committed to her craft full time.
Making the jump into the uncertain life of creative work with no guarantee of success can be scary for anyone — but for Kablito, it seems an especially big risk. She knows what it's like to lose everything: Growing up, her father was a wealthy shrimp exporter, but later he lost it all. Suddenly, her family was poor. Kablito's mother left Ecuador to work 80 hours a week in the Bronx, sending money home to fund her childrens' schooling. Later, Kablito, then 15, and her family — save for her father, who currently lives an intentionally humble, religious life in Ecuador — relocated to New York, then eventually moved to Minnesota.
"I've lived two lives. I've been really fucking wealthy, and then really fucking poor," she says. "So I have a very double-sided reality because I've been both things. I used to live in a one-bedroom with two siblings and my mom, in someone else's house that we rented in the Bronx," she says.
The 2018 EP Telenovelawas an early product of her newfound dedication to music; that collection of experimental R&B tracks marked her first time writing completely in Spanish. She'd always wanted to write and sing in her first language, but with little Latinx community around her in Minnesota, she couldn't find her footing.
"It was just a weird time. I was always trying to make Latin music but it wasn't like it is now, [when] Latin music is hot and popping," she says. "I was like not in the right place at the time — like literally, physically, in the right place. It felt harder to pursue something like that, living where I was."
She later moved to New York and found her gente. Arriving in LA soon after, she was ready — and not long after debuting Telenovela, she began to access the connections she needed to make the music she'd imagined.
"I feel like I needed to get that out of my system," she says of Telenovela. "This experimental '80s whatever — because I love '80s and '90s. Now I'm focusing more on the style I want to make, and my artistry is more dialed-down. I know people who can help me make the music I want to make. Before, I didn't know anybody."
Kablito earned the attention of MLKMN through that initial EP, though, as well as his signee, Puerto Rican musician Alvaro Diaz. She also earned herself a spot at the all-women songwriting camp organized to produce the soundtrack for the TV show Vida. Two of the three songs she wrote there made the cut, and she also connected with Jarina de Marco, who wrote for and also guests on the show. They've recently chatted about making music together.
"It's been a long buildup to this," Kablito reflects. "I feel like this year is really crucial for me. Everything I'm going through, the changes — a lot has happened. I'm processing a lot. So I feel like this next EP is going to be a lot about that... a little more personal."
Photos courtesy of Kablito