The multi-talented Janelle Monáe shook the Internet to its core this week with the drop of new visuals for her upbeat, bubblegum-pop track "Pynk" off her forthcoming Dirty Computer. Hailed as a "queer masterpiece," the Emma Westenberg-directed video featured Monáe and a cabal of beautiful women dancing to the Grimes-assisted track in a pink-hued desert, in a pink-neon lit roadside diner, in a pink-colored bedroom and riding in a pink convertible. Monáe recently told Zane Lowe in an interview that Dirty Computer will be an "extremely vulnerable" album, and this video felt both psychedelic, celebratory and a little punk in its visual exploration of female sexuality. Notably, Monáe and her dancers wear eye-popping, vulva-shaped pink pants that open up just like the real thing.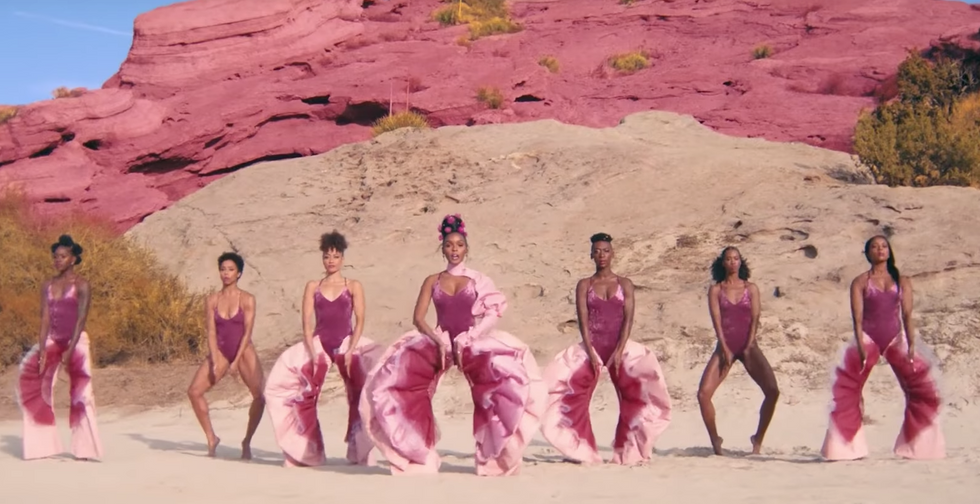 At one point, actress Tessa Thompson even pops up through Monáe's iconic pussy-dressed legs.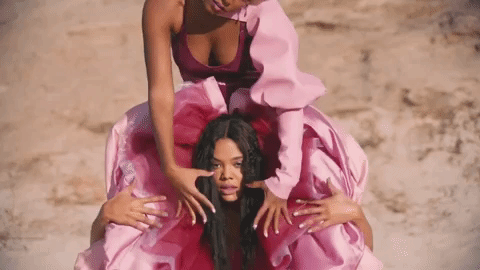 So who was responsible for this earth-shaking look? We caught up with Dutch designer Duran Lantink about how this major moment came to be (and whether he plans to make any more pairs of the pants):
How did this collaboration come about?
Well, my friend Emma [Westenberg] called me, and she was directing the video for Janelle. She asked me to pitch five different pussy sketches within 24 hours. And I was actually building up an exhibition at the museum here in Holland, but I still wanted to do it. I started googling vaginas to find the right material and colors, because I'm not really specialized in vagina lips. So, that was sort of a challenge.
Janelle really loved the first sketch, and then they called on a Monday and said, "Super, now you need to make seven and they need to be in L.A. by Friday." I am from Amsterdam, so it was completely crazy, but we did it anyways. I called a few people for assistance and we created a micro factory. It was a 24/7 job, and it was special to do. From then, we decided that we needed to fly to L.A. instead of sending it to them so we could work on the plane. We worked from the plane, to the car, and on the set. It was insane, but it was really fun to do. Then we did the fitting, and she was super happy with it.

Were you on set for the shoot?
Yeah, we were all on set for the shoot. The night before, we did the fitting and adjustments in the trailer. We couldn't even sleep because at night we would make small changes to make it fit better. And then in the morning we went to the set, which was really cool, and we were able to dress her up and enjoy the whole time there. The choreography was really cool, and everything was super nice-fitting. And she was so sweet and it was really nice to see my friend directing the video.
What was it like seeing the way the choreography incorporated the pants?
It was so cool because I had no idea what the plan was. Emma told me that it was going to be for a dance, but I didn't know what the specific movement would be. It was sort of like searching in the dark. And then in the end, I saw it come together and she popped open her legs and I thought, "What the f**k!" It was so good! It worked perfectly. We were all screaming at that moment, everybody was screaming. [screams loudly for effect] We had goosebumps all over, it was really great.
What was it like seeing the response online? Because people were obviously freaking out.
It went viral, and nobody knows who I am, so that's funny. It's really nice, especially for Emma, to see that there's so much attention on the video. I think it's well deserved for their video, and also the message that they want to give. I'm looking forward to the next project.
What else are you working on?
Well, I just finished a cover shoot for King Kong Magazine with a photographer that I work really closely with. I've also worked on a project which involves transsexual sex workers in Cape Town. I design collections for them. We did a campaign, and a big shoot, with a big show in Amsterdam Fashion Week. And now, we're planning to do our next show in Cape Town Fashion Week, with the transgender models. We're going to bring the show to South Africa to make them the really big stars of the show. And then I'm working on a collection, and I'm probably going to be work with Emma on a new video clip, as well.
Any plans to make more of the pants if anyone ever requested them?
Yeah, I should be. But I don't know, Janelle's probably going to kill me if I do it for other people. I have, like, five in Amsterdam, and one of them is the ultimate pussy pants. That's the one with the most fabric in it, with different sides and layerings of the fabric. They're really soft and cushy.
Watch the video for "Pynk," below:
Photo via YouTube