If the handful of digitized, cyberpunk, space leggo sneakers you can see on Happy99's Instagram (@happy99.online) looks to be the stuff of an anime club kid's fever dream it's because they pretty much are. These hyper-real renditions of the unearthly creations may not be available IRL just yet but for the artist, Nathalie Nguyen, who's better known online as the "3D sorceress," this fantasy project has become her mission.
After starting the mostly nonexistent shoe line with boyfriend and collaborator, Dominic Lopez, (@thdomsolo), the artist's passion is also kind of a great love story. Sharing an interest in anime and Sega DreamCast, the couple conceived this project as a way to shift focus from what was once a long-distance relationship. "Dominic and I got together and wanted to invest in a passion project that would keep us balanced and stable," Ngyuen tells PAPER. "We founded Happy99 to prove to all of our friends we weren't just hiding in a love-nest watching Netflix."
In the interim, Nguyen grew a following on her own Instagram handle (@spicy.obj), featuring 3D renderings of herself in astounding beauty looks and nail art in addition to promoting her one-of-a-kind shoe designs. As for what inspires each design, Ngyuen says they "pick and pull treatments from shoes [they] like (and sometimes dislike) and make new systems based on them." Toeing the line between the over-the-top ideas and more wearable designs, the collaborators continue to negotiate each idea with what works on the feet.
Tricked out with everything from jets to coils, rollerblades, and knobs to molted metals all strapped with buckle closures or suspended on gravity-defying soles, these designs are transcendent, science-fiction imaginings of what footwear can be. "We figured we could start conceptualizing these ideas in a 3D space because our passion wasn't in manufacturing and producing consumer goods, it was showing our work as artists," Nguyen says. As for producing their product in real life, it's still a challenge to create samples with all custom parts that don't completely break the bank for the emerging brand.
For Happy99's Spring 2020 show at New York Fashion Week, the designer hosted a screening and pop up, featuring a five-minute video runway show that sees digital renderings of Happy99 models walking along the intersection of Forsynth, Division, Eldridge, and E. Broadway in New York, Chinatown. Opting for a real, familiar place over futuristic landscape was intentional and adds to the surreal quality of their work.
"We hatched the plan for this sometime last year and toyed around with different ways to put it together," Nguyen says. "We considered everything from VR headsets to a fully interactive game using Unreal but ultimately decided with confidence that a traditional video format would be the best way to showcase our work."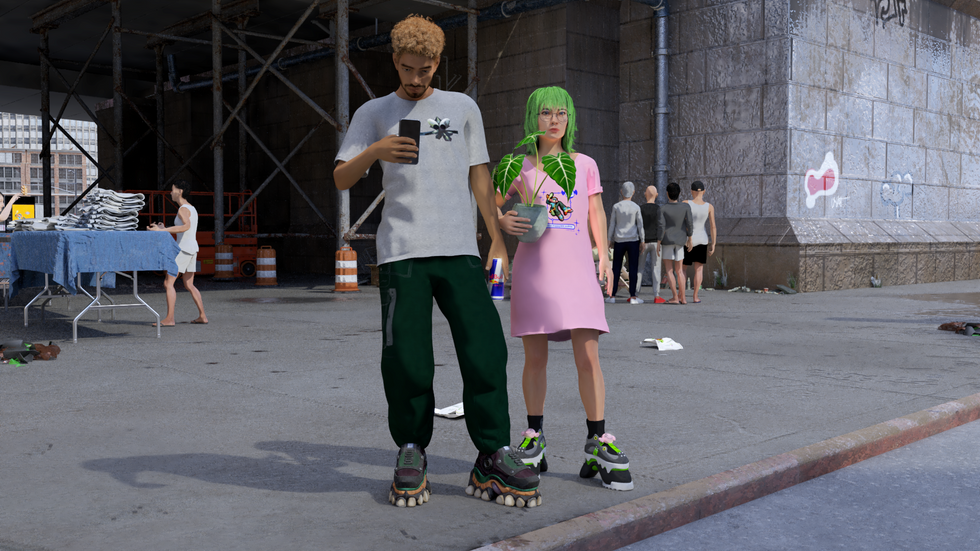 Bringing on Stephen A Mayer (@s_a_mayer) to construct and simulate the garments along with Radimir Koch (@rvdimir) to build the environment and world, the video came together and realized their world on-screen. The intricate process required that they sculpt each model's faces individually without 3D scans to then animate each outfit to interact with their bodies as they walked. In the hyper-realistic video, no texture is spared in the fabric, skin, surrounding buildings or objects.
Photos courtesy of Happy99