Google's data editors have pinpointed 2018's top 10, most-searched Halloween costumes. The list ranges from DC Comics character Harley Quinn (rather of-the-moment per Margot Robbie's portrayal in Suicide Squad) and characters from the video game Fortnite to witches, unicorns, and pirates. Naturally, we paired each archetype with a runway counterpart, so you that can glean some high-fashion inspiration for your Hallochic look. See the complete list, below.
1. Fortnite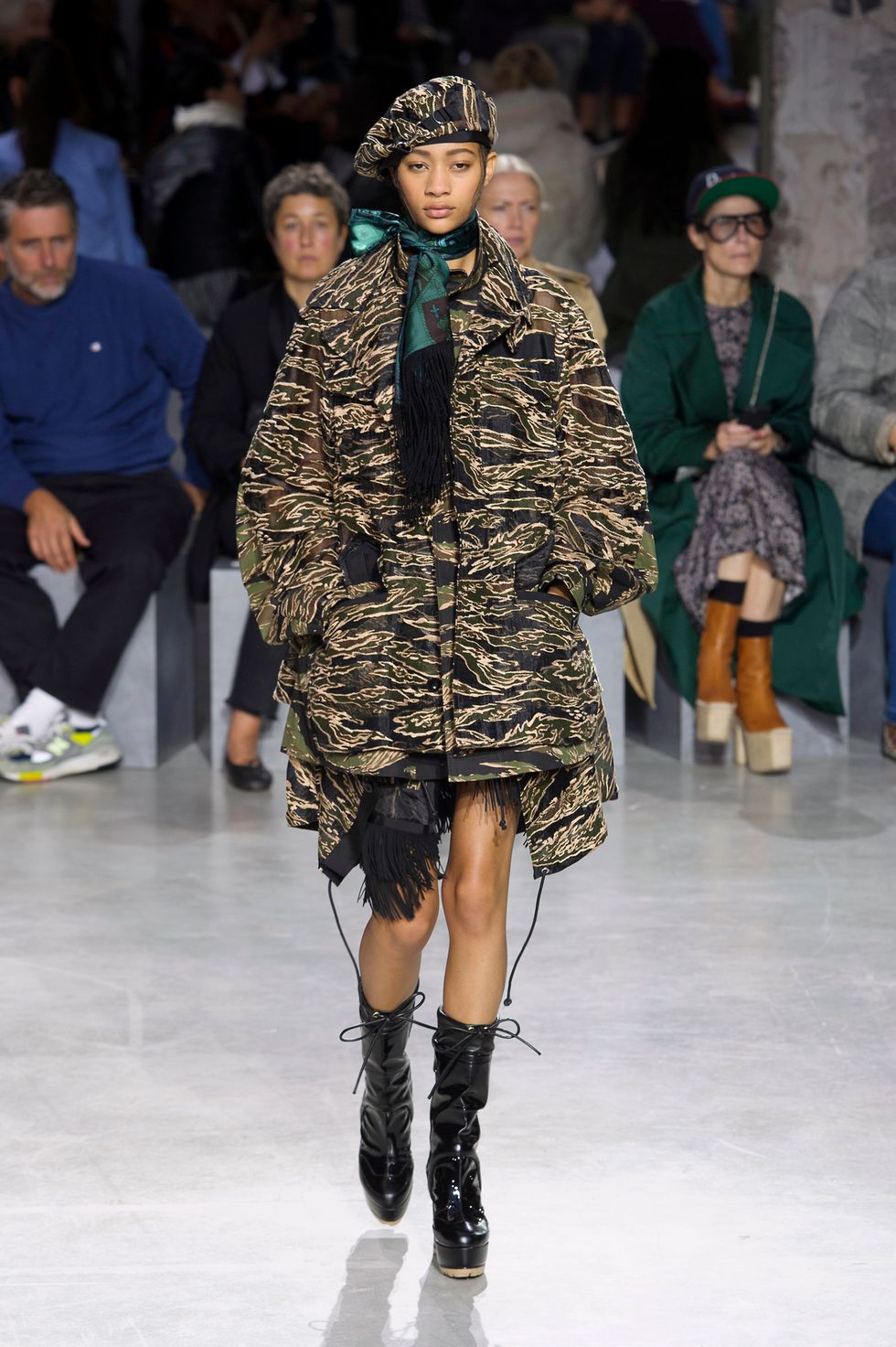 Sacai spring 2017
It took several Google searches for us to fully understand what Fortnite is... Somewhere along the line a character from the video game dressed in military gear popped up, so we give you a Sacai-G.I. topped with a beret. Lift it with some platform heeled boots like Chitose Abe did and you've got yourself a next-level look.
2. Spider Man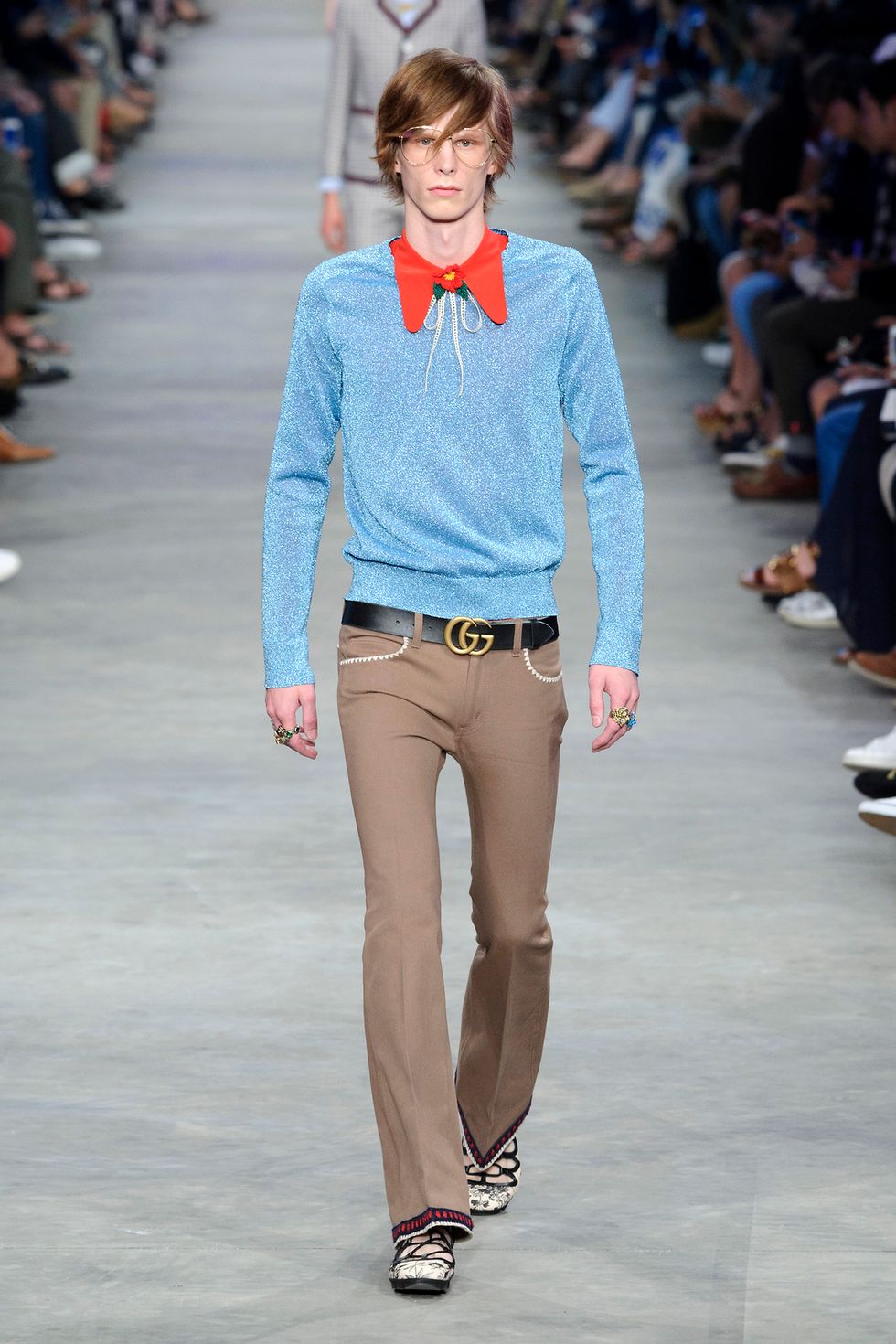 Gucci spring 2016
In an ideal, parallel universe, Peter Parker is a slightly androgynous, style maven that gives off major Gucci nerd-vibes. Take a page from Alessandro Michele's book and put a '70s spin on one of America's favorite superheroes.
3. Unicorn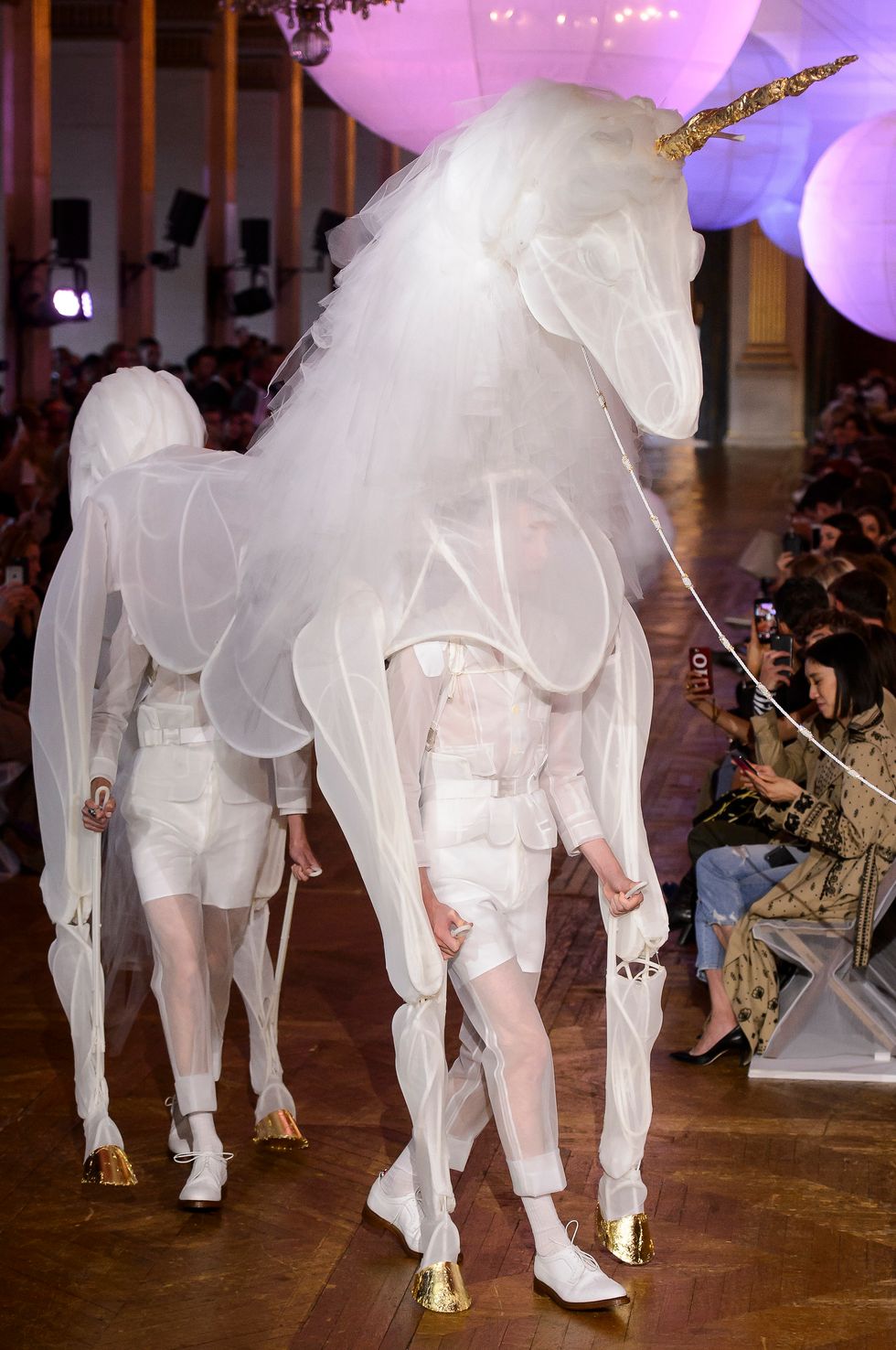 Thom Browne spring 2018
Looking for a couple's costume? Thom Browne suggests a hand operated, semi-transparent unicorn with a gilded horn and hooves. You may have to keep a third person on standby. We can't image it's easy to navigate a party in one of these.
4. Dinosaur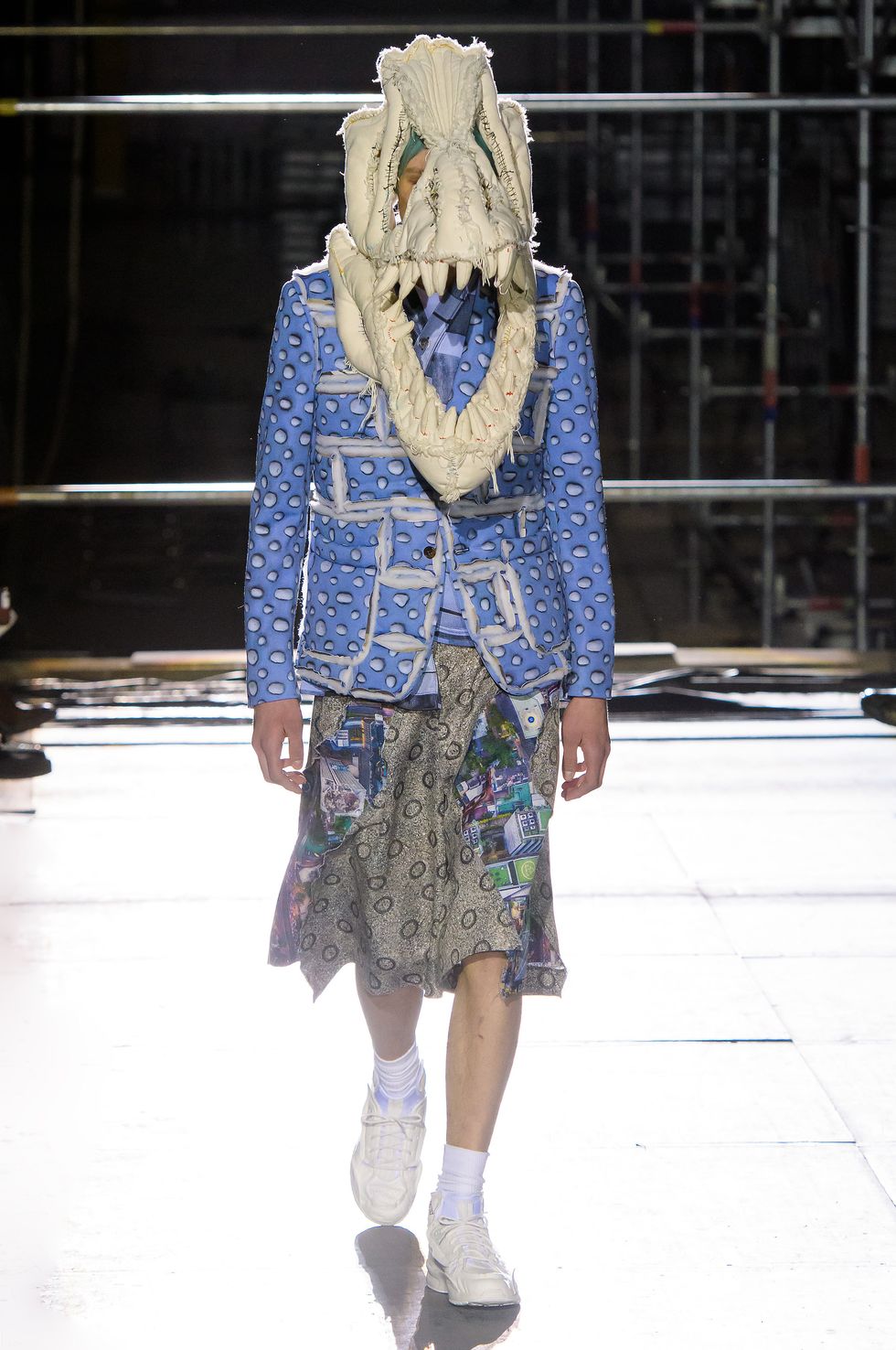 Comme Des Garçons Homme Plus fall 2018
When in doubt, headdress it out. Earlier this year, Rei Kawakubo sent models wearing surmounting, stuffed dinosaur masks down the runway in a nod to childhood innocence. What better way to revive your inner kid than a giant T. Rex headpiece?
5. Witch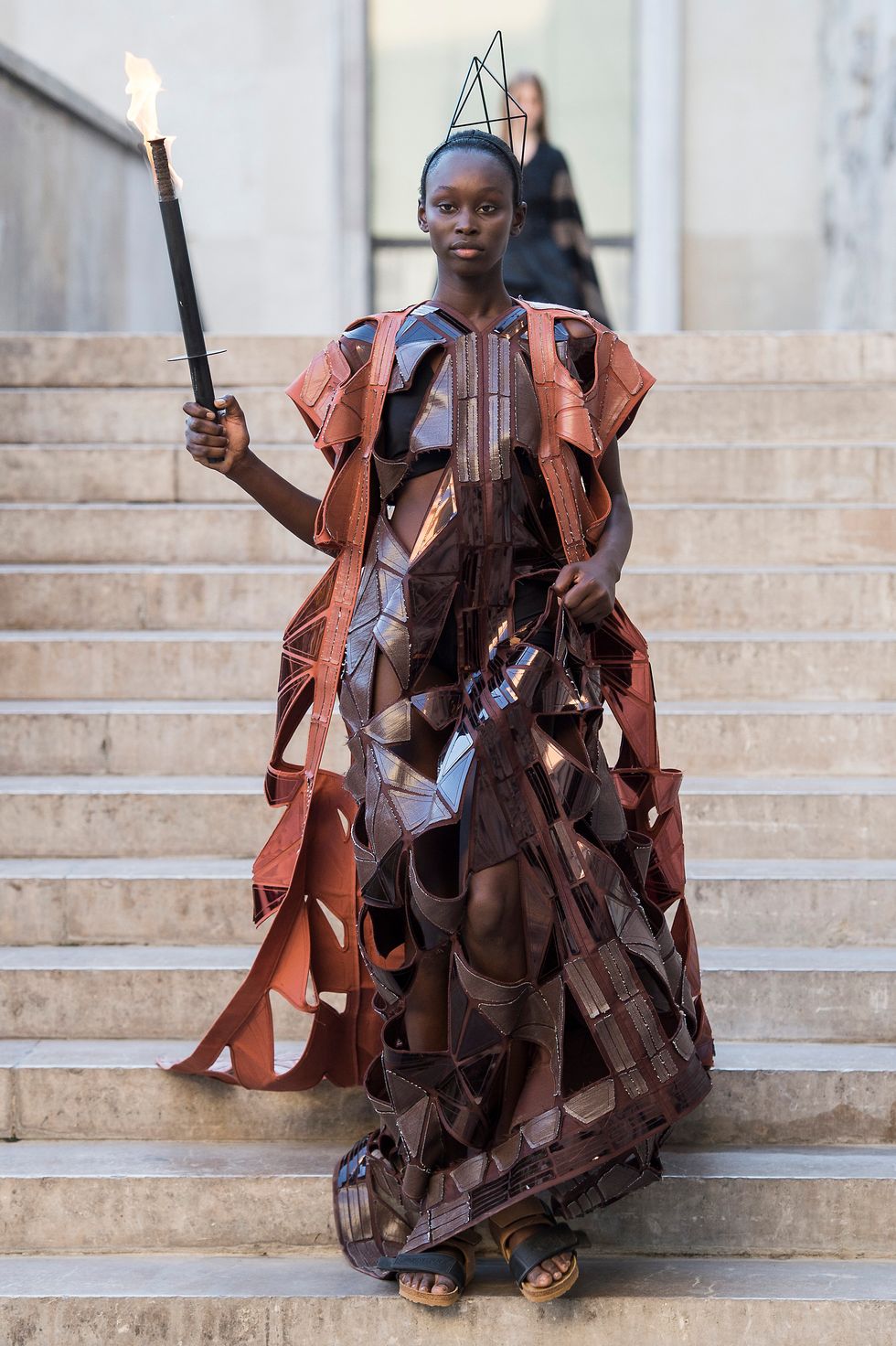 Rick Owens spring 2019
Rick Owens' enchanting spring 2019 show ignited Paris (quite literally — there was a burring pyre in the middle of the set). We're not advocating that you carry a flaming torch around like Subah Koj, but her cutout dress-coat combo and conical fascinator make for an undoubtedly witchy ensemble.
6. Harley Quinn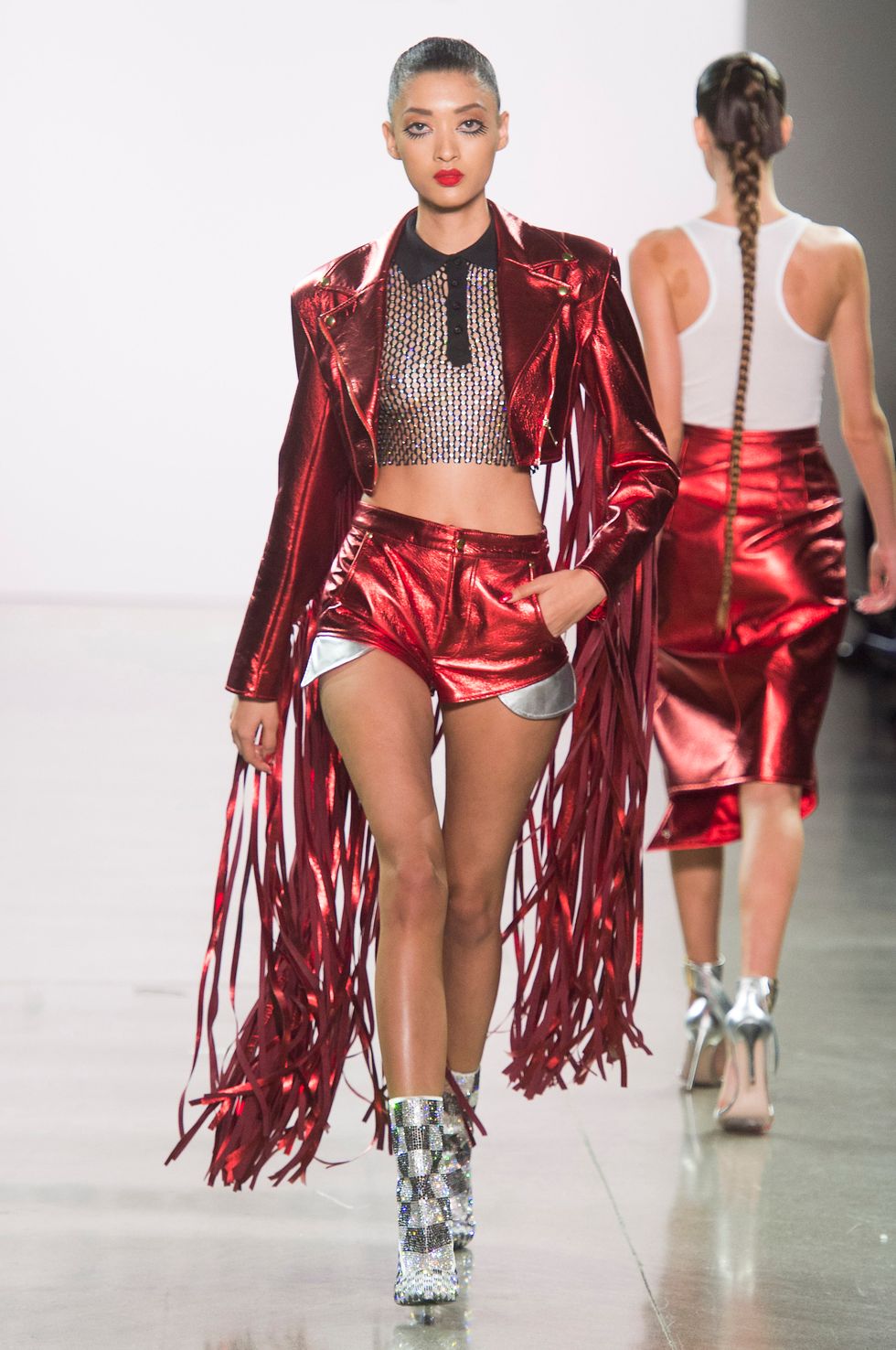 Christian Cowan fall 2018
Margo Robbie's portrayal of Joker's accomplice Harley Quinn in Suicide Squad has fans fully invested in Quinn cosplay. With a powdered face and bold lip, Christian Cowan's metallic jacket and hot pants in fiery red are luxe trade-in for costume store version.
7. Superhero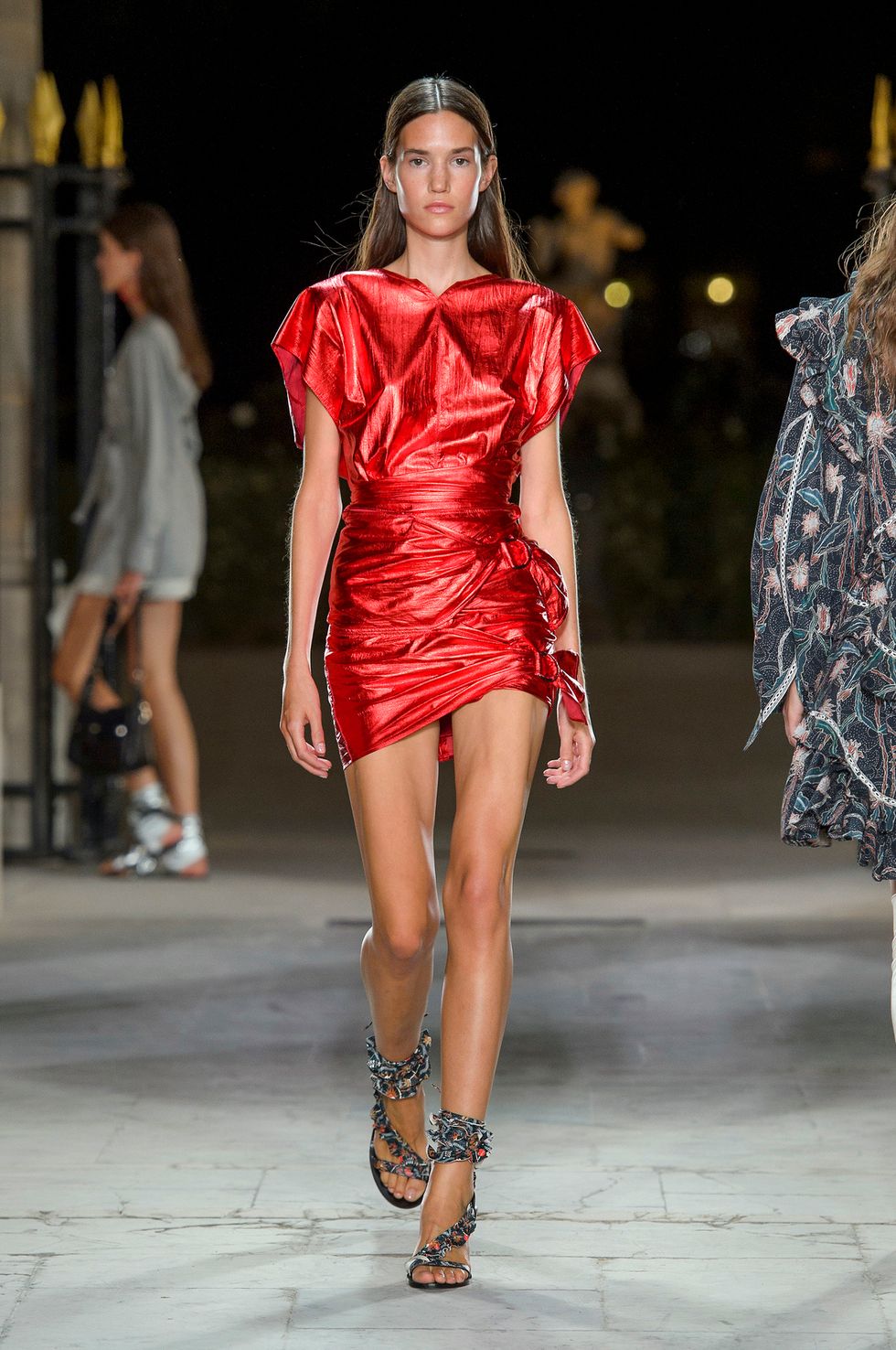 Isabel Marant spring 2017
Wonder Woman is without a doubt, fashion's favorite superhero (and by-far the most malleable when it comes to costumes). A shiny, red wrap skirt and draped blouse like these from Isabel Marant are the perfect cross between costume and party look.
8. Pirate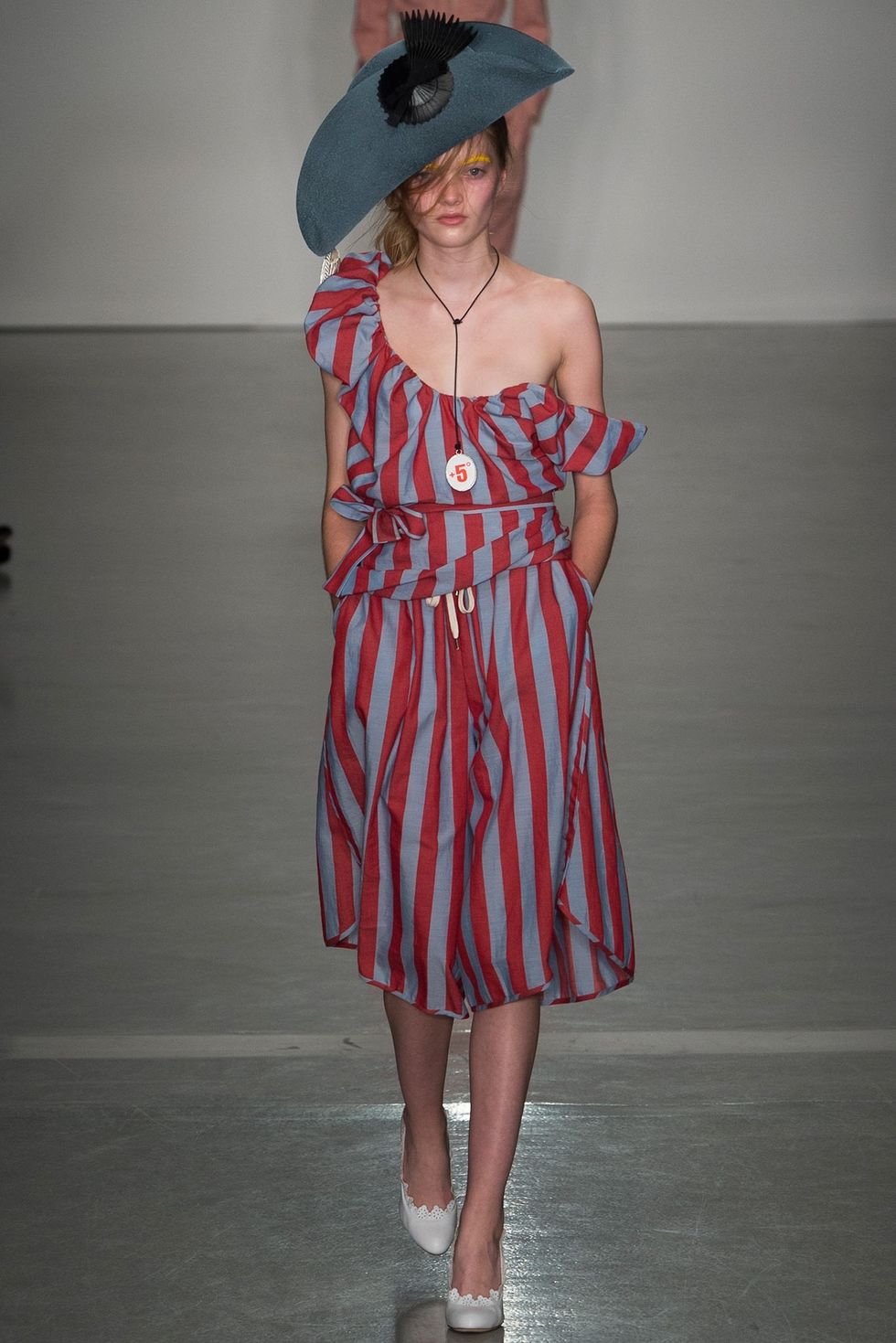 Vivienne Westwood spring 2015
For an English rose's take on the pirate, Dame Vivienne Westwood suggests a tricorn hat and a nautical stripped dress. Add an eye patch, a stuffed parrot, and false sword for a kitschier rendition of Halloween's favorite seafaring raider.
9. Rabbit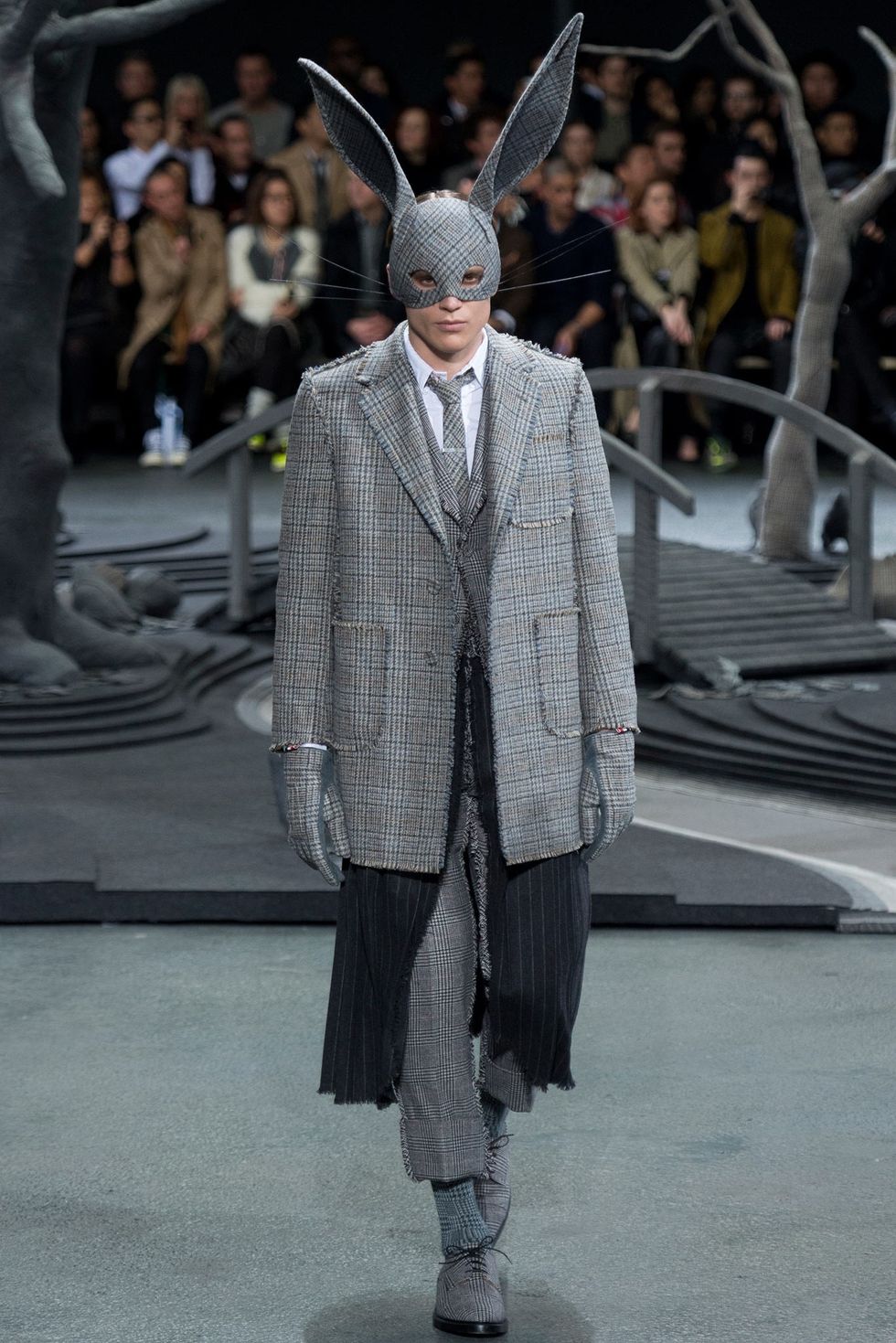 Thom Browne fall 2014
If White Rabbit from Alice's Adventures In Wonderland was a regular at The Pool, Thom Browne would be his go-to suit maker. Stephen Jones' glen plaid mask, complete with pointy whiskers, turns the sweet bunny rabbit into a slightly sinister masquerade caricature.
10. Princess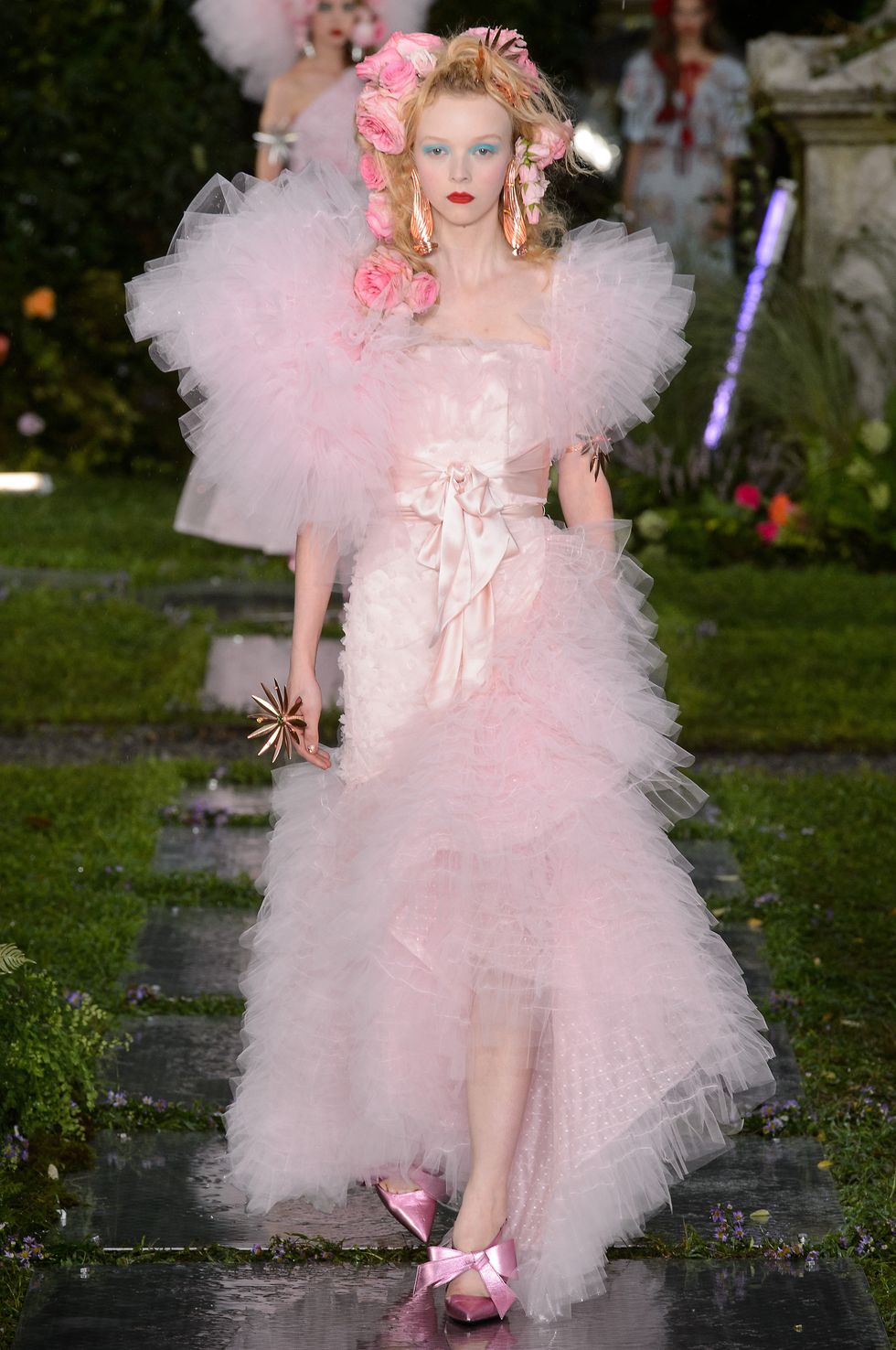 Rodarte spring 2019
Kate and Laura Mulleavy are masters of woodland nymph glamour. Engulf yourself in layers upon layers of frothy tulle and fasten fresh roses into your hair for a regal, fairy princess look like those from the duo's spring 2019 collection.