When we talk about about jet-setting DJs, hopping from party to party and festival to festival, cooly surveying the dance floor from behind a pair of shades, odds are the man you're picturing is Guy Gerber. The sharply tailored Israeli DJ can often be found behind the decks at some of the world's coolest clubs, at helm of the underground techno scene's most in-demand functions. Whether it's playing a 12-hour marathon set for revelers at Burning Man or soundtracking the picture-perfect sunset over the beaches of Ibiza, Gerber's hypnotic blend of deep house has long remained his ever-evolving constant, serving as an anchor for a producer who can even tout P. Diddy as a collaborator.
"It's obviously very frustrating that the actions of one sociopathic criminal can effect the lives of so many people but for us, it's business as usual as we press ahead for out third wonderful edition," says one of SXM Festival's organizers. "Will you see images of stylish, beautiful people having the time of their lives on beaches, boats, villas and jungle etc in our promo material? Of course, this is the Caribbean lifestyle and this already happened in real life! The difference to Fyre is that our beauty is built on reality and hard work – not delusion, crass fantasy and fraud. We only use genuine footage from our festival and our island – no #instabullshit."
We caught up with Guy Gerber to chat about his party RUMORS, the changing face of global nightlife, and what to expect next from a producer that historically has thrown us nothing but curve balls:
What are you currently working on?
A few different projects actually. I have a sort of acoustic album project with some more indie elements that i've been recording for the past 3 years that's really exciting, we recorded everything from bass to piano to drums and have been working with some really talented people. I'm also working on a pop project with Rodaidh McDonald, who produced a lot of amazing bands including the XX, and another (more classic) Guy Gerber electronic album that I just started recently. There's a lot going on, but I'm really happy to be spending a lot of time in the studio.
How have you seen the global party scene change in recent years? Is there a shift away from Ibiza as the center of the action?
Actually, no. The party scene in Ibiza has grown bigger and bigger, but as someone who's been a part of this World for many many years, I think it's just a little less cool and has become more mainstream. Deep house used to be a more niche, but now it's much more of a global genre; people travel to Mykonos, Ibiza, Rome, Vegas, all for the music - it's more of a global scene than it's ever been. I still love it, but it's definitely evolved into something different.
How did RUMORS first gift started? How have you seen it evolve over the years?
It all started as a chat group in WhatsApp. It was me, and a few girls I knew in Ibiza, and the group was called RUMORS. We were just having fun, not taking anything too seriously, talking about local rumors in Ibiza.
Eventually I wanted to start a party where I didn't have to commit to lineups, or set times, I just wanted to get back to the feeling of old Ibiza; that was really the original concept. So RUMORS became this small, free party on the beach, and we had three amazing years, until the police came and shut it down. Obviously the party had become way too big, and we had to find a new home in Ibiza, which led us to Destino, our current home.
I think, in some way, a lot of other parties in Ibiza began doing the same thing we were doing with RUMORS; all the decoration in the DJ booth, the flowers, the "hippy" vibe and aesthetic, it all became much more common than when we started, so I started to take the brand around the World.
In general we put a lot more effort into the RUMORS parties outside of Ibiza in terms of the event curation, we were the first people to take over Los Angeles' Chinatown, which is extremely special, and began doing interesting things like Great Suffolk Street in London. We have upcoming RUMORS in Tel Aviv, Tulum, New York, Mykonos, and even now in Las Vegas, so we put a lot of focus into these events around the world, making them as special as they can be.
I'm really inspired to take RUMORS to new places, where parties aren't so common. Las Vegas for example is really exciting; there hasn't been this type of underground residency there, and I love to push the boundaries in a city like that.

What do you think is the biggest challenge DJs' face today?
The biggest challenge for sure is that anyone can Shazam all the tracks you're playing. Anyone can immediately download anything, and then play it themselves. Song selection used to be a bit more of an art, but nowadays you need to be much better at mixing and DJing so that when people come to see you they can't just copy and recreate in the same way.
Obviously it's really hard to make a whole new set from one week to another, but you still have to play in a unique way every week. It's about finding the balance between music that people know, and music that only you have access to.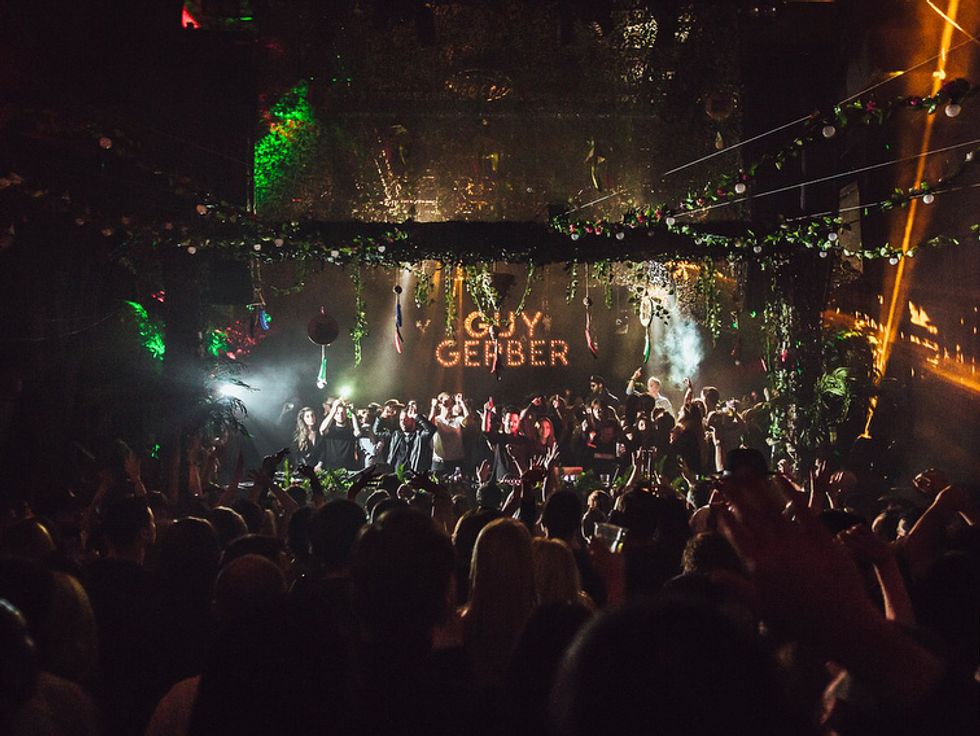 Photo via RUMORS
What has been inspiring you musically? Spiritually?
Musically I'm a really big fan of Cigarettes After Sex; I really like that whole Nick Cave kind of vibe. Spiritually… last year I quit a lot of negative things in my life. I've been trying to look a bit deeper into myself and wanting to channel the person I was before success became a part of my life. So I would say the most inspiring thing to me spiritually right now are the musical sessions where I've really been trying to find the innocence that I used to have, there's magic in that, and I think it's something a lot of successful artists strive for.
I hear that you have a particular interest in fashion, where does that come from?
When I started touring, I didn't necessarily have great style… or any style for that matter. But after visiting a lot of interesting places like Berlin, Tokyo, London, Paris, I started to get it; I also had a girlfriend back in the day who was really into fashion so I think that helped.
As an artist, everything you do is a statement, and your life becomes art. If you're focused on aesthetics in your music, there should be aesthetics in what you wear too. It's important, but I can tell you it's not cheap...not cheap at all!
What can we expect to see from Guy Gerber in the future?
I have a really big project coming up that i'm excited about (I'm not sure i should even be saying this yet), but it's called RUMORS ROSÉ. We've partnered with an amazing French winery to create something very exciting - you'll hear all about it very soon.
Recently, just to keep myself sane, I try to focus more and more on making the type of music I grew up on. More song-based music with lyrics and guitars. To me, performing with my guitar is really interesting and different, you have to pay more attention to detail, and practice a lot. Last time I performed acoustically, at the Hollywood Bowl, it was one of the most exciting moments of my life. I'm definitely thinking about this type of music more and more, and thinking of starting a new record label focusing on interesting indie music that's not completely electronic. I'm definitely trying to keep myself headed in that direction.
Photo: Kayla Varley
Styling: Soaree Cohen