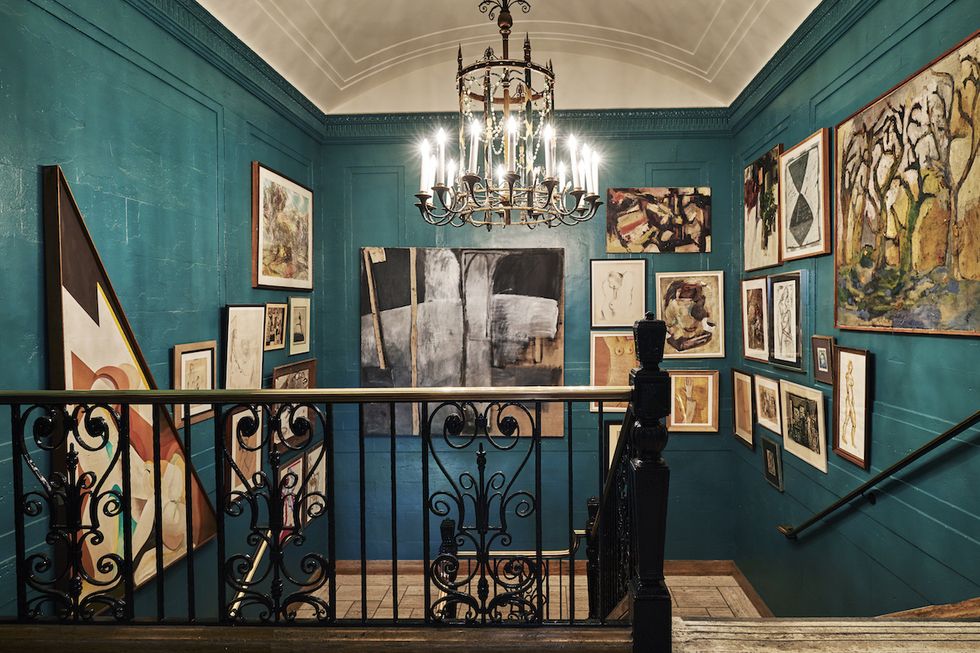 For those of us lucky enough to live in New York, we're inundated -- to the point of being paralyzed by choice -- by cool places to eat, drink, shop, hang, visit or explore. Not only are there thousands of old school gems and old-ish favorites but every week brings a million new openings. Hotels, in particular, occupy a tricky space in our lives. There's a ton of glamorous grande dames, cool mainstays that haven't lost their luster and countless buzzy, new properties opening their doors each year. But as much as savvy hoteliers over the last few decades have realized the value in creating hotels that locals also want to hang out in -- and upped their design, lobby, food and beverage, and nightlife programming games as a result -- interest from New Yorkers can often be fickle since we don't actually stay in any of these places. Often, in our minds, a cool hotel bar is interchangeable from a cool bar anywhere else. And for every hotel that leaves its mark on the city by creating lobbies, restaurants or nightclubs that continue to pack in a mix of locals and tourists, there are scores of others that burst onto the scene with a lot of fanfare, only to flame out and recede in the background months later.
But every so often a hotel comes along that has just the right alchemy of partnerships, reputation, design, programming, food and more that its odds of making a big impression on the New York scene are nearly assured. This winter, that hotel is the Freehand, the latest location of the Sydell Group's successful 'chic hostel' concept that started in Miami and has spread to Chicago and L.A. before making its way here.
In its latest iteration, the Freehand is offering a greater breadth of room options, with guests being able to choose from affordable hostel-like room shares as well as traditional private king and queen rooms and even suites and a massive penthouse. Their new home at the edge of Flatiron/Gramercy is in a building that was once the George Washington Hotel, originally built in 1928. The bones of the space, which include stunning plasterwork, wood paneling and caryatids (those sculptures of women that often serve as columns and other support structures), have been beautifully restored by Roman and Williams, the team comprised of Robin Standefer and Stephen Alesch who have been the brains behind each Freehand's eye-catching design. In the midst of this old school New York opulence, Roman and Williams worked their signature magic by pairing American craftsmen, Mid-Century and California minimalist furniture throughout spaces like the Gallery (the lobby hangout area where you can drink coffee or cocktails in front of those caryatids), the George Washington bar (a dark, wood paneled room for sipping craft cocktails and light bites) or the Studio (Gabriel Stulman's North African and Middle Eastern-inspired restaurant). Still to come is another restaurant from Stulman, Simon and the Whale, which is expected to open on the ground floor this weekend and aims to be their neighborhood spot; a Smile To Go outpost; and the latest installment of the brand's popular Broken Shaker cocktail bar, which will open on the roof this spring. There's also a partnership the hotel has with Bard College that brings an artist-in-residence fellowship program to the hotel and art pieces throughout the common areas and rooms created by students and alumni from the school.
With fashion week around the corner, it'd be easy to assume that the Freehand would be gearing up to host various after parties, dinners and previews but they're (perhaps wisely) choosing to take it easy and eschew the velvet rope madness in favor of offering a more low-key, comfortable alternative. Instead of hosting any private to-dos, they're hoping to be that cool, comfortable retreat where you escape from the scene and curl up with a nightcap or some of Stulman's smoky eggplant flatbread in a beautiful -- but unintimidating -- room. And, based on a recent weeknight visit where the crowd looked cool -- but chill -- and the the George Washington Bar, Gallery and Studio were buzzing -- but not claustrophobically packed -- it seems like all of the pieces are in place for the Freehand to achieve just that, whether during fashion week or long into the future.
Photos by Adrian Gaut