Fever Ray's Karin Dreijer is both the seductress and the seduced in their newest music video, "Kandy," the latest single to drop from their forthcoming album Radical Romantics. The song will be nostalgic for many fans of The Knife, using the same steel-drum synths found on The Knife's early work and a familiar, enduringly creepy visual concept that pays tribute to the "Pass This On" temptress-at-the-mic video. The song is co-produced by Karin's brother and The Knife bandmate Olof Dreijer, who co-stars in the video as a bedazzled flute player. Karin Dreijer plays a glimmering pink-suited siren (paired with Fever Ray's famous blood-shot eyes and patchy blonde mop) who is on the musical war path to seduce a nine-to-five worker-bee, also played by Karin.
Director Martin Falck and Karin Dreijer's collaboration on "Kandy" is strange and impeccable, tapping into uncomfortable emotions that are simultaneously tender and unpleasant. In a timeless, glittering toxic love story, "Kandy" can embody many definitions: something sweet to suck on, a love that is harmful, a romance that is all-consuming or someone you simply need in your mouth. Grotesque, charming and humorous, "Kandy" is a nebulous concept that runs through the veins of every character, connecting the Radical Romantics visuals from past and present music videos into a shared, weird universe.
Karin Dreijer and director Martin Falck gave PAPER an exclusive behind-the-scenes look at the shooting of the videos for both "Kandy" and "What They Call Us — and told us about the world they've created and how the characters, many of whom are played by Dreijer, intersect and relate with Fever Ray and even Dreijer. Read on to learn all about the Fever Ray universe.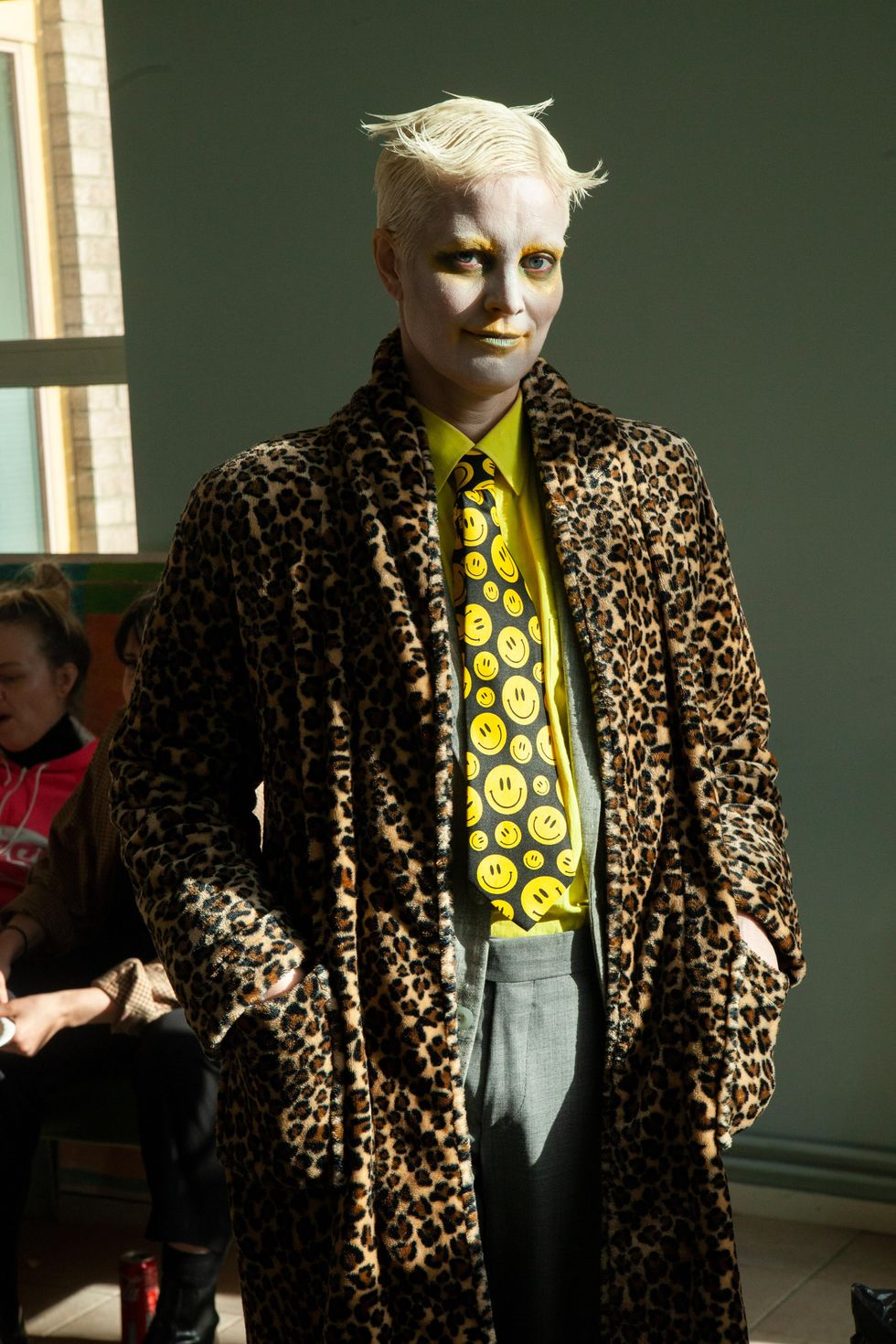 Karin Dreijer taking a break.
Photo by Nina Andersson
What is the story of this collaboration?
Martin Falck: We found each other through fun. We have a lot of fun together. It was a very long time ago that we met, but it was instant fun. Safe fun.
Karin Dreijer: You were at my 30th birthday party. That was a long time ago. And it took a while before we started to work together.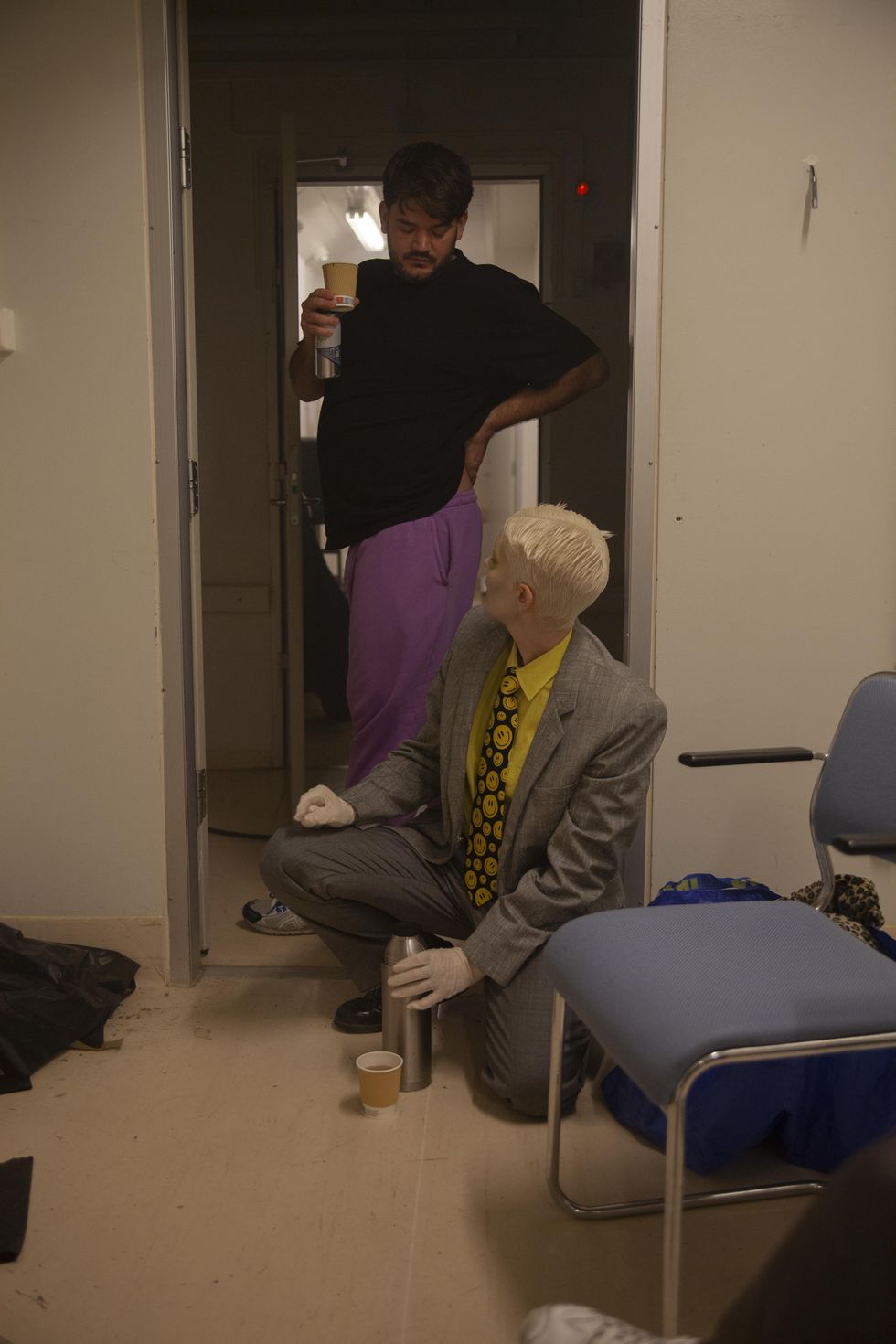 Martin Falck and Karin Dreijer discussing a scene in the video.
Photo by Nina Andersson
When you set out to create "Kandy," was the visual storyboard integral to the project, or did the visuals come later?
KD: We started almost two years ago. Before the album was finished, we were talking about what kind of world we wanted this music to take place inside. We were always sending each other images and pictures and films, saying, "Oh, we have to do this sometime." So we were collecting a lot of things. Martin is very good at finding what my music is about. When I'm into making the music, it's all feeling-and-emotion-based. Martin has the words and can put words on my feelings and emotions and then we transfer them onto characters and setting.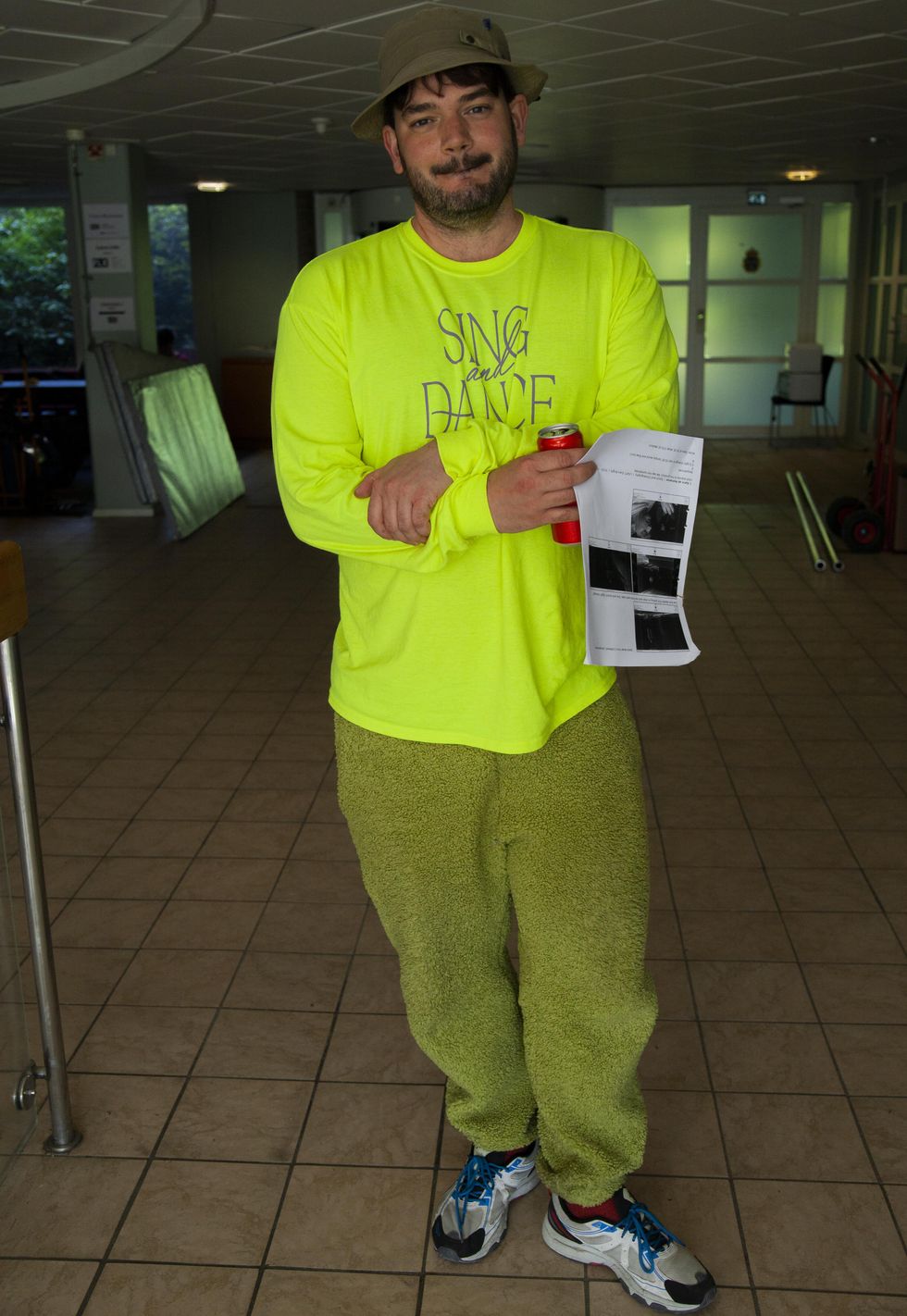 Martin Falck directing.
Photo by Nina Andersson
One of the two main characters, the performer in the shimmering pink suit, seems to be having this cabaret/burlesque moment on stage. And I get eerie strip-club vibes, especially with the name "Kandy," which I interpreted as an exotic dancer's name. Am I picking up on something here?
MF: It's really whatever you pick up on. But yes, I think that sounds about right. We were thinking about it as an office after-work party. But now, when you say that, yeah, it does have some burlesque vibes going on.
KD: We also thought it was fun because Olof, who produced this track with me, is in the video, and it's a little bit of an homage to the "Pass This On" video we did 20 years ago.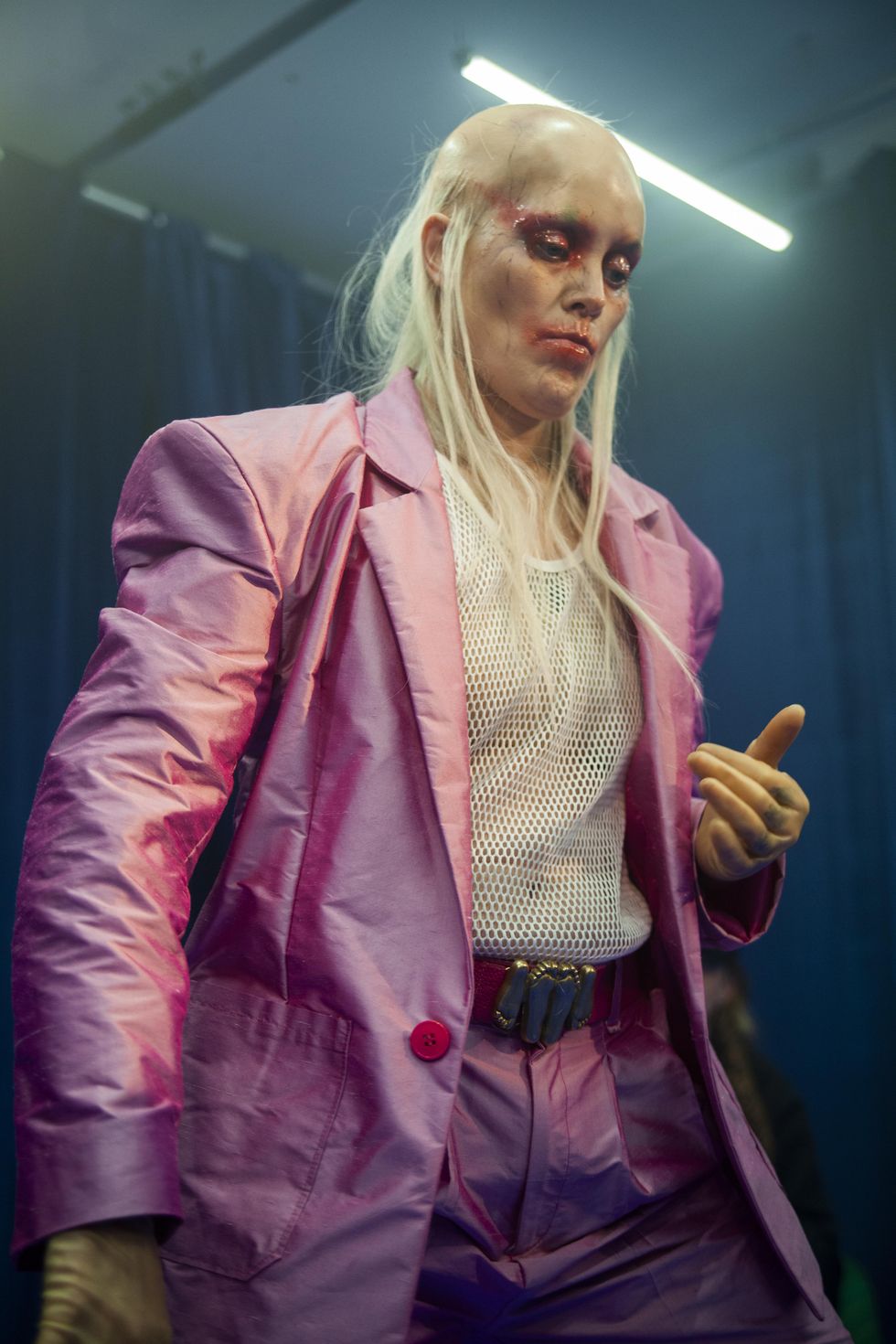 Karin Dreijer dancing.
Photo by Nina Andersson
When I listened to "Kandy" for the first time, I found it to be vaguely reminiscent of The Knife's early work, like "Heartbeats" and "Pass This On." Is there any sonic connection between these projects?
KD: We used one of the synthesizers that we had on one of our older albums. So yeah, I think it can have similar sounds. I wanted "Kandy" to be like this seducing, slow song. So I was telling Olof the vibe I wanted to have, I said, "Imagine Julio Iglesias." And he got it.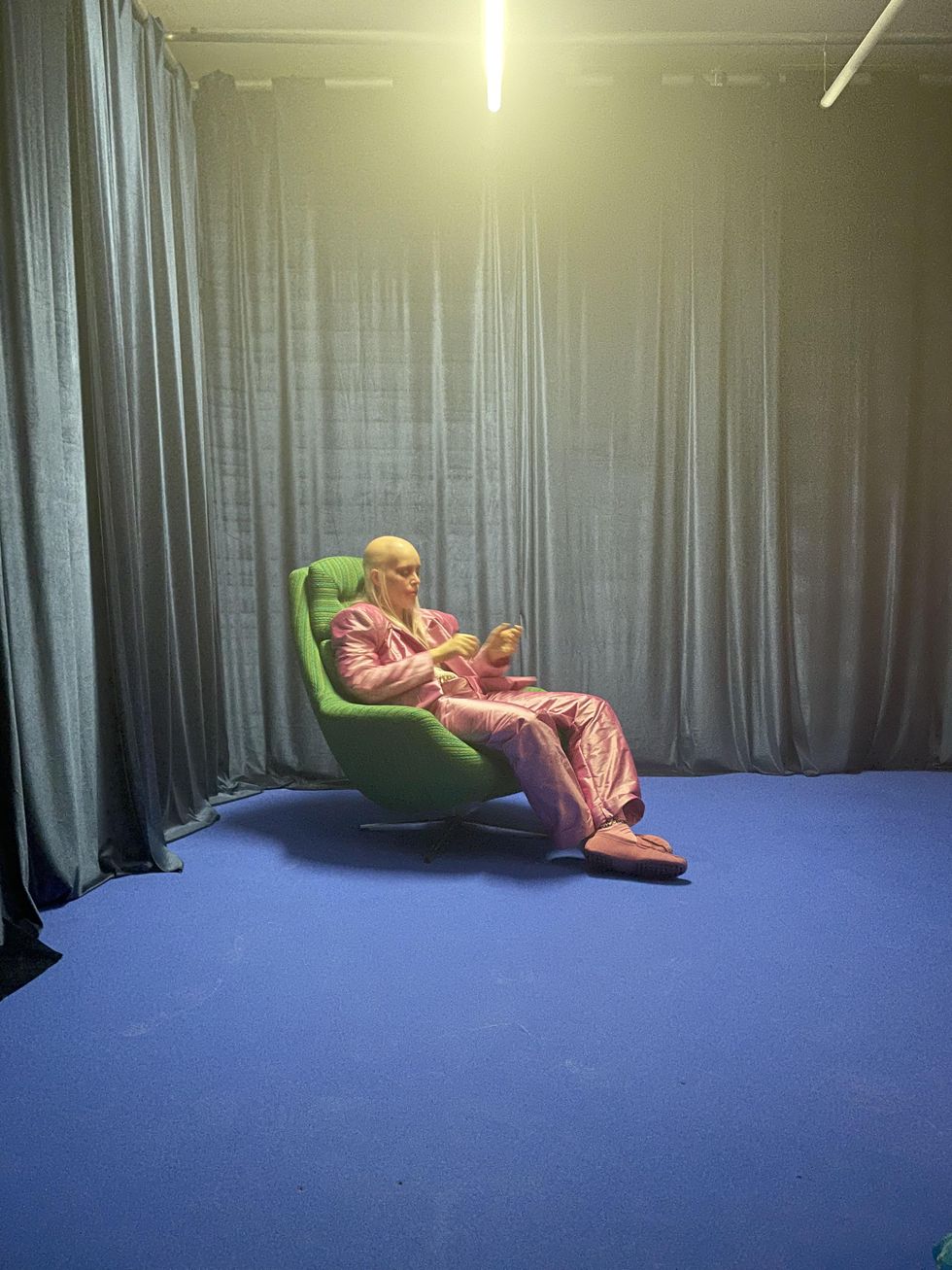 Karin Dreijer on the "Kandy" couch.
Photo by Martin Falck
Who are the other characters in "Kandy?"
MF: The tie person is from "What They Call Us" video. So it goes from the office and to this after-work party. All the characters are part of one emotion. Because as humans, we are complicated. We have a lot of different feelings and sometimes it's easy to talk about personal traits as different characters. So it's almost as if you can have a conversation with yourself. In this video it's, Do I dare to love this amazing, pink, beautiful, long-haired person in front of me? The pink person and the tie person, they together decide to let go of their shame and they fall in love and have a good time together.
KD: We call the pink character "Romance," and "Romance" is trying to seduce the one in the chair. It gets the tie person very excited.
MF: Because it's fun to be seduced.
KD: And it's very exciting to be in this room. But the main character in the chair, they know this pink character "Romance" is probably not the best pick for them. And might be toxic.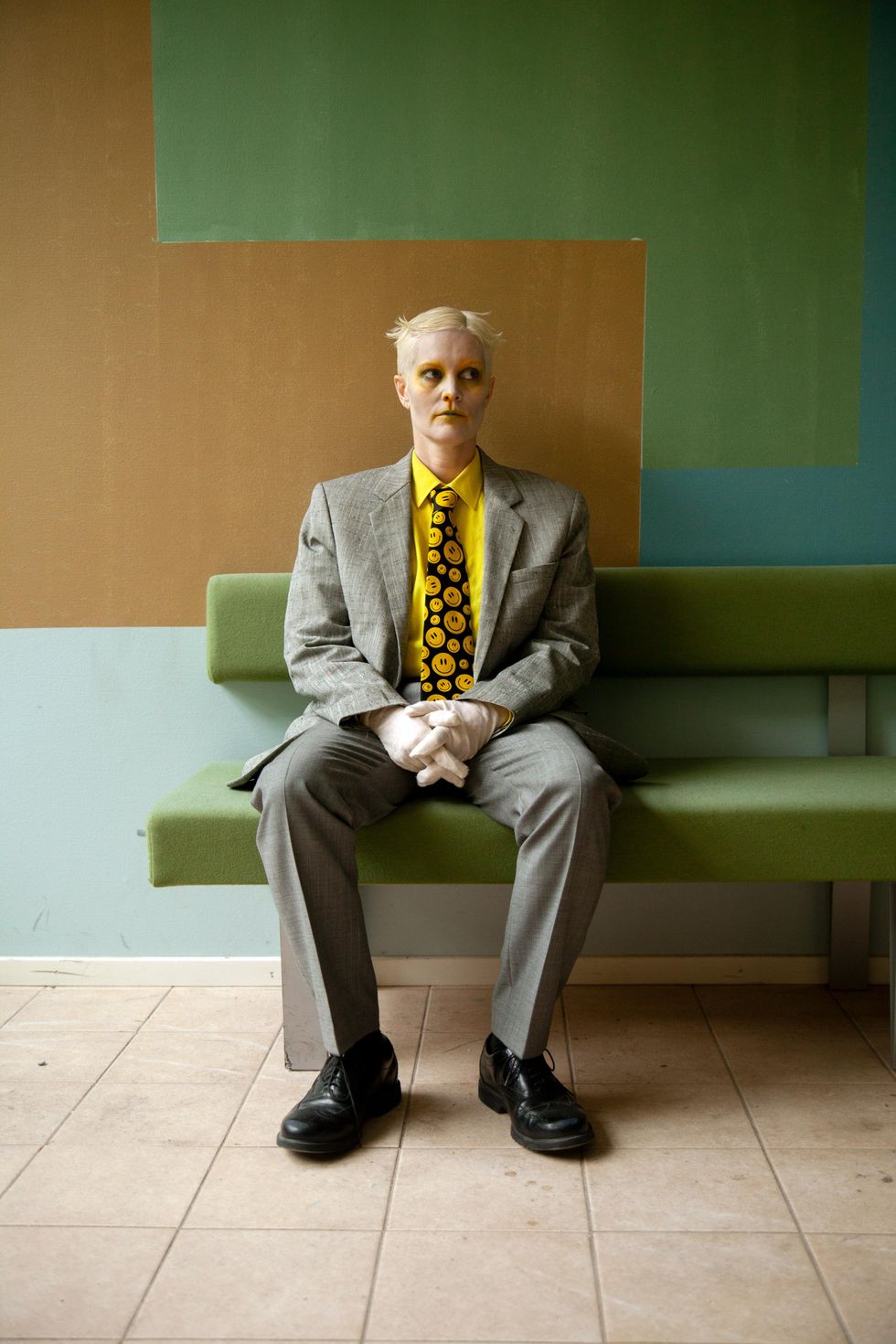 Karin Dreijer taking a break.
Photo by Nina Andersson
So all the Fever Ray characters live in the same universe?
MF: Yes, we try and keep all of our characters in the same universe. Strangely, I think it's a place where both me and Karin can feel kind of free. When we do this, we feel very free. It's a lot of work, but it's a free place to be.

KD: Yeah, otherwise we wouldn't do it because it's so much work. It has to feel important and fun.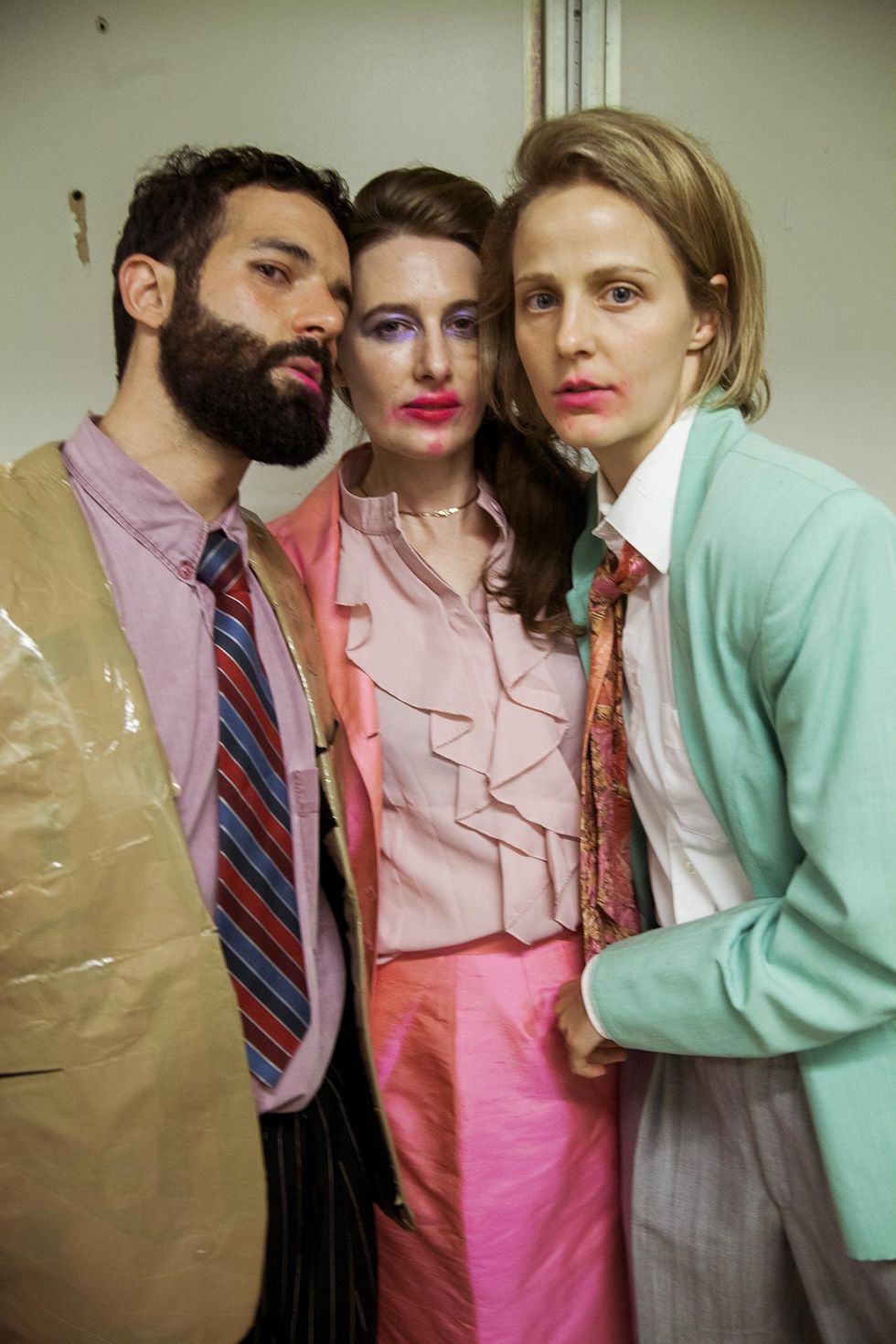 Dancers Víctor Pérez Armero, Hana Erdman, and Louise Dahl getting dressed.
Photo by Nina Andersson
Who or what is "Kandy?"
KD: Early on, we talked about the main character mixing a love potion and trying to find the equation of how to be in love. The main character has a lot of struggles with finding out how to exist in a love setting. "Kandy" is being used for a lot of different things, but it could be something good but maybe something that's not so good for you. "Kandy" is nice, it's like sweet things in your mouth. Both these two characters are very oral creatures. They both want to put the other in their mouth.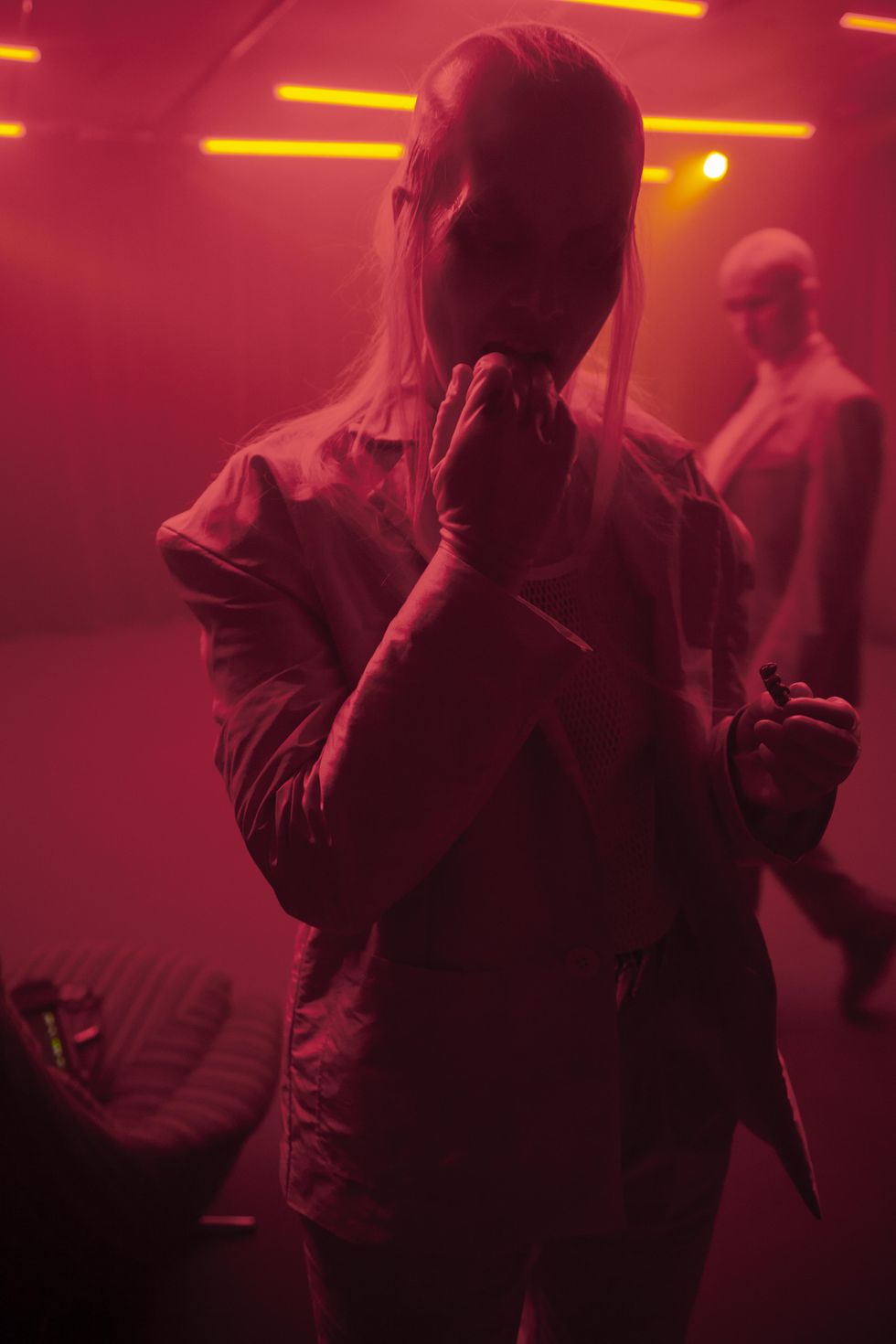 Karin Dreijer preparing for their dancing scene, choreographed by Agnieszka Dlugoszewska.
Photo by Nina Andersson
There's a scene where the two lovers are on top of each other and really, it's a Karin-on-Karin moment since you play both characters in the video. Is there a part of this scene that is about your relationship with yourself? How do the characters in the universe relate and intersect with Fever Ray, and then also to Karin?
KD: The characters are ways to try out emotions and feelings. If we want to dig deeply into a feeling or emotion, if shame, desire, passion, attraction or the feeling of having to break out of something, they can be used to find out and try out various emotions of my own.
MF: In a way, it's also a game. Some are just thoughts where we say, How far can we go? It's like a play. And we have a lot of humor when we talk about these things. It's deadly serious and a little bit dark, maybe, but very humorous.
KD: It's a good way to deal with difficult fates. When you're dealing with heavy stuff, it's so much easier and more fun to do it with a bit of humor.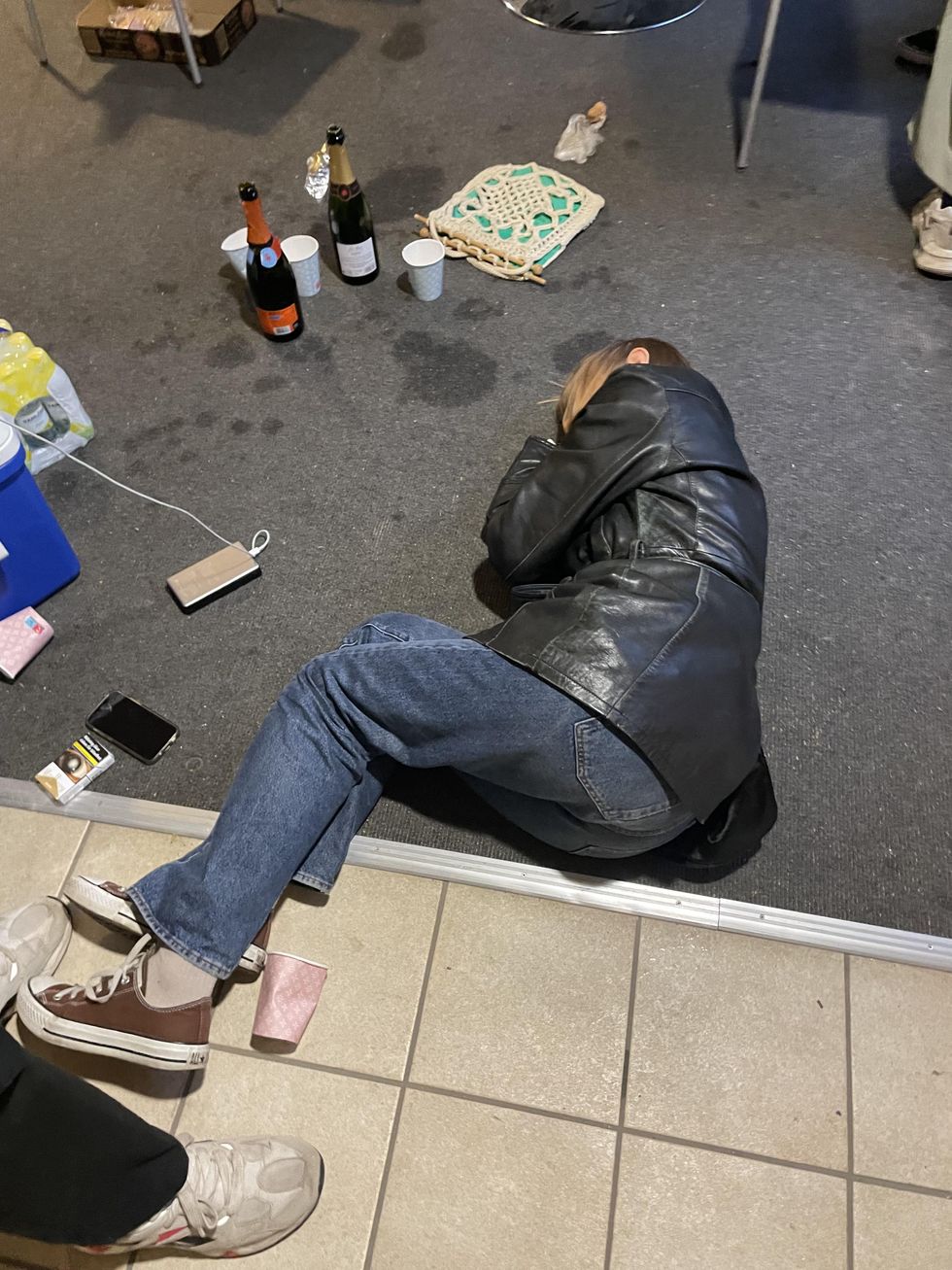 Photographer Nina Andersson passed out on the floor at 5 AM.
Photo by Martin Falck
Are there any small moments in the video that people might not pick up on the first watch but actually have a lot of thought behind them?
MF: There's a condom machine in the room. They used to be in a lot of gay cruising rooms and toilets.