"Most of my life, I've been told, 'You gotta be glamorous,'" says Dylan Sprouse. "But that's not who I am. I like being hands-on with the process, making a mixture, using the paddle. That stuff might seem unglamorous to other people, but I've come to love it. That's so much of what I think is the signature of a brewer."
Recently back in New York after six months of filming in China, the teen star-turned-master brewer is sitting on the sidewalk outside his new Williamsburg meadery, All-Wise — a tobacco pipe dangling in his mouth and his shoulder-length golden hair tied up under a baseball cap. Opened to the public a month ago, the space has been a passion project a few years in the making for Sprouse, along with his close friends Doug Brochu and Matt Kwan. And they're right on time: according to the latest beverage industry reports, mead is the smallest, but now fastest-growing, category of alcohol on the market.
Sprouse's eyes electrify when he geeks out about mead, the beer-like honey wine believed to be the world's oldest alcoholic drink — you may remember it from Lord of the Rings or Game of Thrones. A low-key history buff, Sprouse's interest in bygone European civilizations, along with some of his own Scandinavian heritage and love of fantasy video games, led him to discover the stuff while living at his family home in Long Beach, California. "I was weaned on sagas and historical tellings — my brother [Cole] and I were always fighting with swords and having fun outside that way," Sprouse says. "From the Bronze Age and Iron Age to the Medieval period, mead is always mentioned."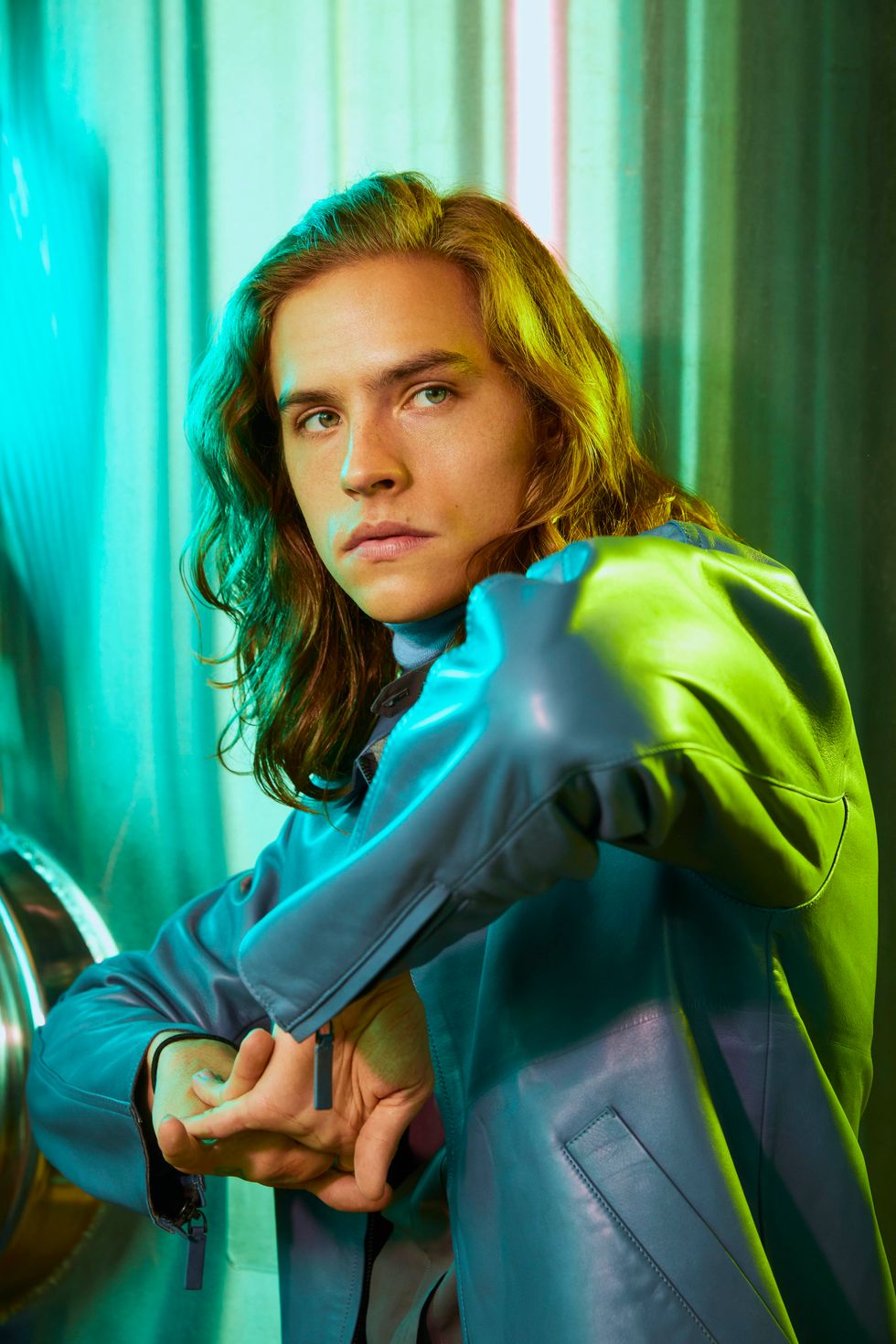 Full Look: Berluti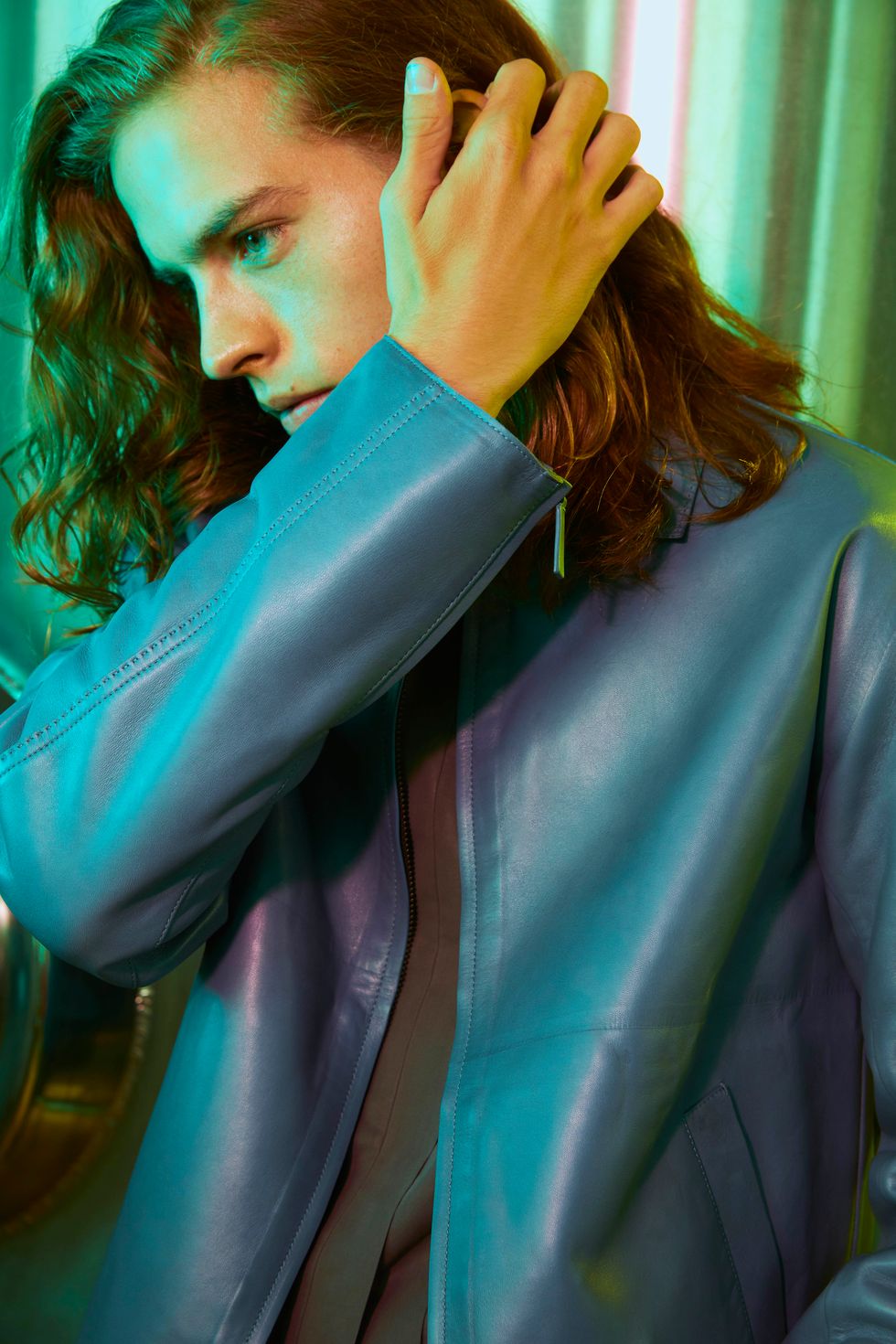 Full Look: Berluti
Sprouse officially started experimenting with brewing at 16, thanks in part to his father's lax policy on underage drinking. "My father has more of a European mentality on alcohol in general, so for my 16th birthday, he brought me a brew kit," he recalls, "He said, 'You know what, since you're so interested in it, you can brew it, but I get to drink it.' And of course I'd have some here and there." After developing a taste for mead, he searched unsuccessfully for professional outlets to learn more, continuing to tinker with his formula, and talking to other homebrewers ("like the heathens and pagans who make it primarily").
The image of Sprouse rubbing shoulders with pagan mead homebrewers is a far cry from the memories preserved in the minds of his similarly aged fans: many of us remember first seeing him as Adam Sandler's five-year-old sidekick, Julian, in the 1999 comedy Big Daddy. And even now, Dylan, and his twin brother Cole, may still be best known for their roles on Disney's Emmy-nominated Suite Life of Zack and Cody — a show that, at the height of its cult following, spawned books, a movie, tons of merch, and even video games.
"I like being hands-on with the process, making a mixture, using the paddle."
After Disney's spinoff series, Suite Life on Deck, stopped filming in 2011, the brothers moved cross-country to New York City to attend New York University's Gallatin School of Individualized Studies, where Dylan graduated with a four-year degree in video game design. While the brothers pursued "normal" life on campus (with fewer scandals than many of their contemporaries), Cole has since returned to network television with a main role on CW's teen drama Riverdale. Dylan, meanwhile, has taken a different path — taking on acting gigs here and there, but diving headfirst into brewing as the way to bridge his varied creative interests.
Opening a meadery wasn't a totally new goal for Sprouse. In fact, he never stopped brewing, even while in college. Throughout his four undergraduate years, the budding brewer experimented out of his dorm room — ironically, he was president of his residence hall for a year — spreading the gospel of mead to his newfound guinea pigs. One of those lucky (or unlucky?) first tasters was Sprouse's former classmate Matt Kwan, who now serves as All-Wise's chief financial officer. "Dylan introduced me to mead in college through his homebrew batches," Kwan remembers. "I like to try all different types of alcohol at least once. After tasting it in college and seeing how easy it was to drink, I immediately liked it."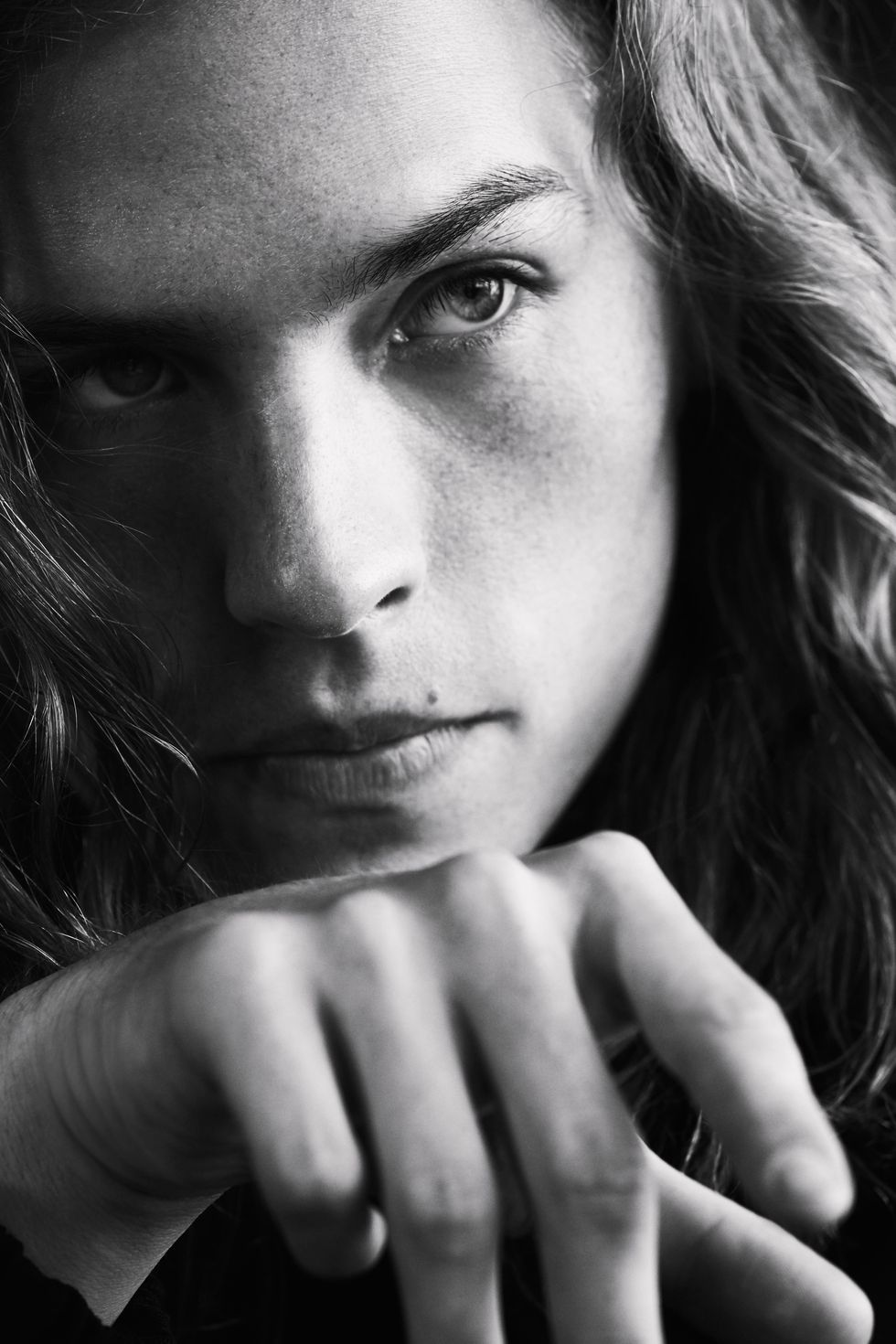 Full Look: Ovadia & Sons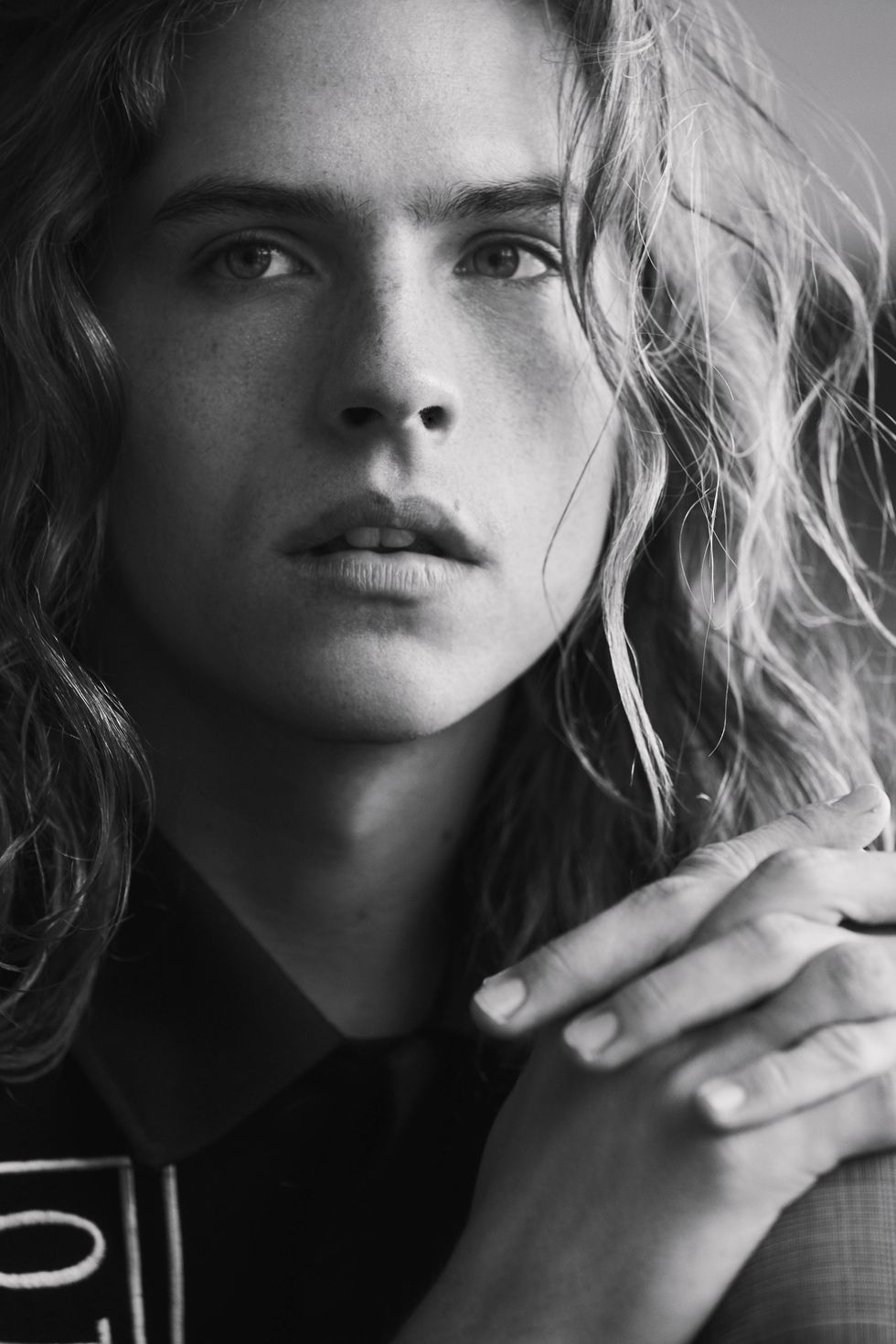 Full Look: Ovadia & Sons
Handling financial and administrative matters for the company, Kwan sees Sprouse as a friend, but also a smart and shrewd business partner: "Dylan's a natural businessman. He and I get along quite easily and can differentiate friendship from business when needed." Beyond the mead, Sprouse was integral in the creative direction of the brand, which he credits in part to his diverse set of educational pursuits. A minor in figurative painting gave him an critical eye for design, which he leveraged in conceptualizing All-Wise's simple bottling and label, while developing video games taught him how to craft a consumer experience from start to finish—something he put into practice with the buildout of the meadery.
"The design that I mocked up on the bottles and in the space in general reflects our philosophy, which is touching a little bit on the antiquity that is mead, but formally moving it forward into modernity." Sprouse explains. "We want our, at least, the aesthetic of the bottle, to be a little bit provocative. And what I mean by 'provocative' is that like we give you virtually no information on the bottle."
"We want our, at least, the aesthetic of the bottle, to be a little bit provocative."
True, those sleek black bottles, marked with the company's distinctive logo of three red triangles, offer little information on their contents. But the concept is simple: while many meads on the markets are cloying and syrupy, with sugar added back in, Sprouse and his partners wanted to reimagine the drink in its most elemental, approachable form. At All-Wise, the mead is produced simply from raw and unfiltered New York honey, aged in Hungarian oak ("the lightest impartation of oak," he adds). The meadery currently produces two bottlings—a basic Show Mead, and an experimental Oolong Mead that's been fermented with subtle but floral oolong tea—both showing off a pleasant straw color, notes of vanilla and citrus, and super-dry palate perfect for pairing with food.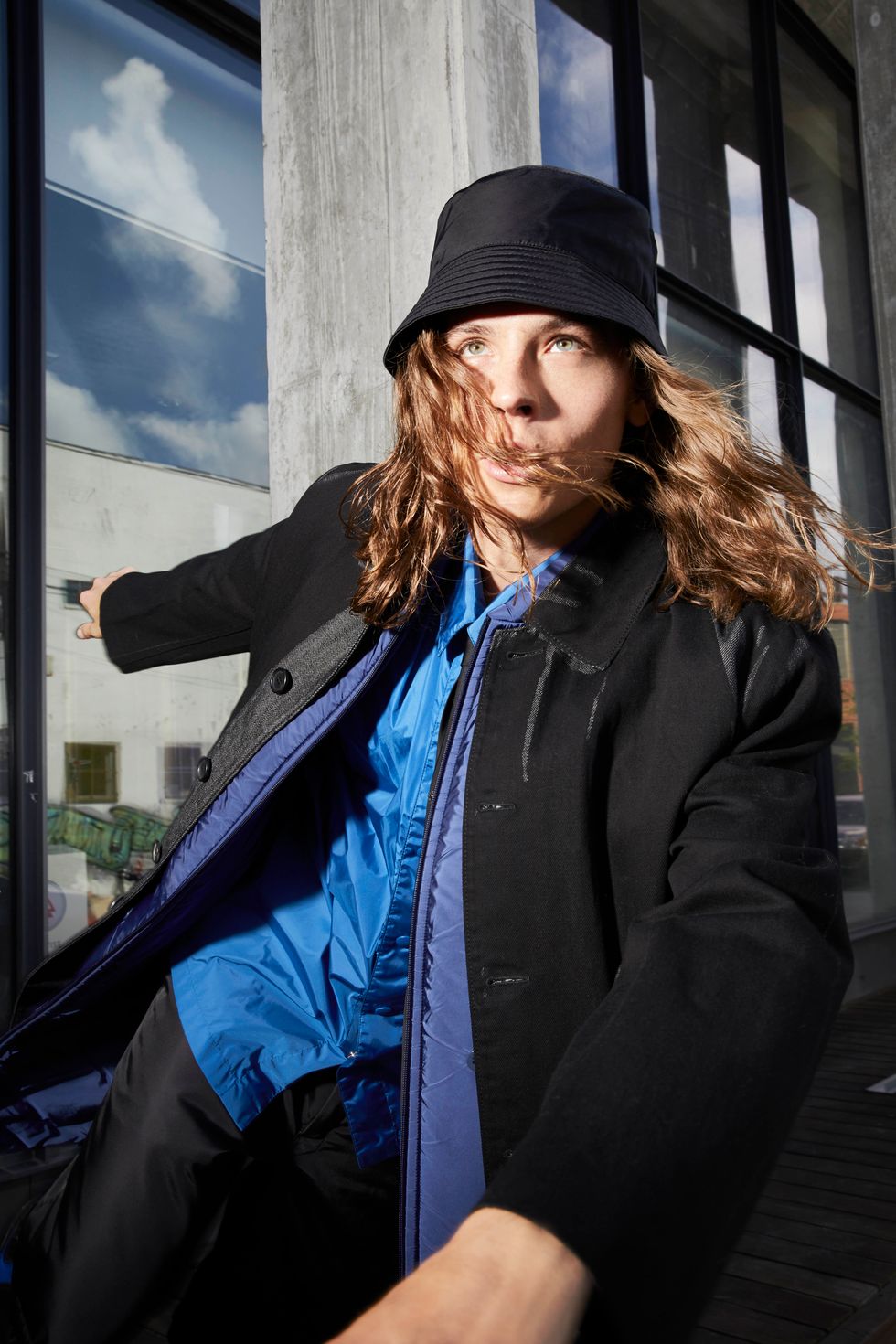 Full Look: Prada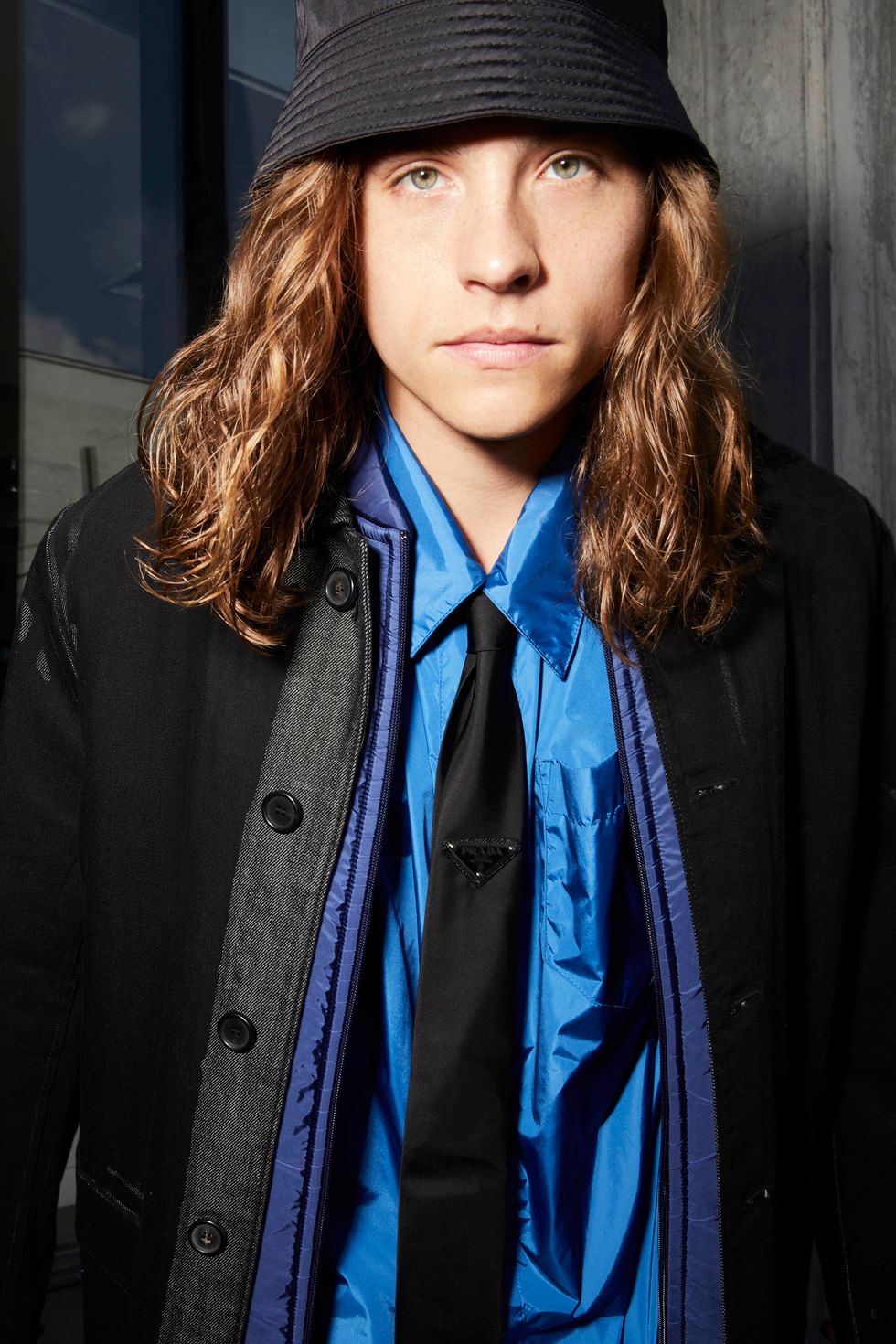 Full Look: Prada
"We are very, very minimalist with our approach to mead," Sprouse says. "We are probably the most dry, crisp, and light-bodied mead on the market, despite being 11 percent standard alcohol. We're using a wine yeast, so we drink like a white wine, but our flavor profile is in between a beer and a wine, and in that way we're just modernizing."
For all the early success of his mead business, Sprouse won't be getting out of the acting game anytime soon. Signing on to an ambitious fantasy romance film by Chinese director Xiaolong Zheng, the actor has spent the past six months on set in China — he'd never been there before — assuming the role of an ordinary citizen who risks his life to save a princess, played by actress Guan Xiaotong. Sprouse says he saw the movie as an opportunity to both challenge his acting ability, but also branch out to a booming market.
"We are very, very minimalist with our approach to mead."
"Going back to my love of fantasy and Medievalism, [the film] takes place during Genghis Khan's reign. So, this was excellent for me," he says. "China's also the biggest mover and shaker in the industry right now. They have their fingers in almost every large production. As an actor, I think it's forward-thinking to do Chinese anything right now. And I just knew it was gonna be something that was outside of my comfort zone, something that would be very cool, right? I mean, we ended our last week in China with us riding horses in the Mongolian hillside for two weeks."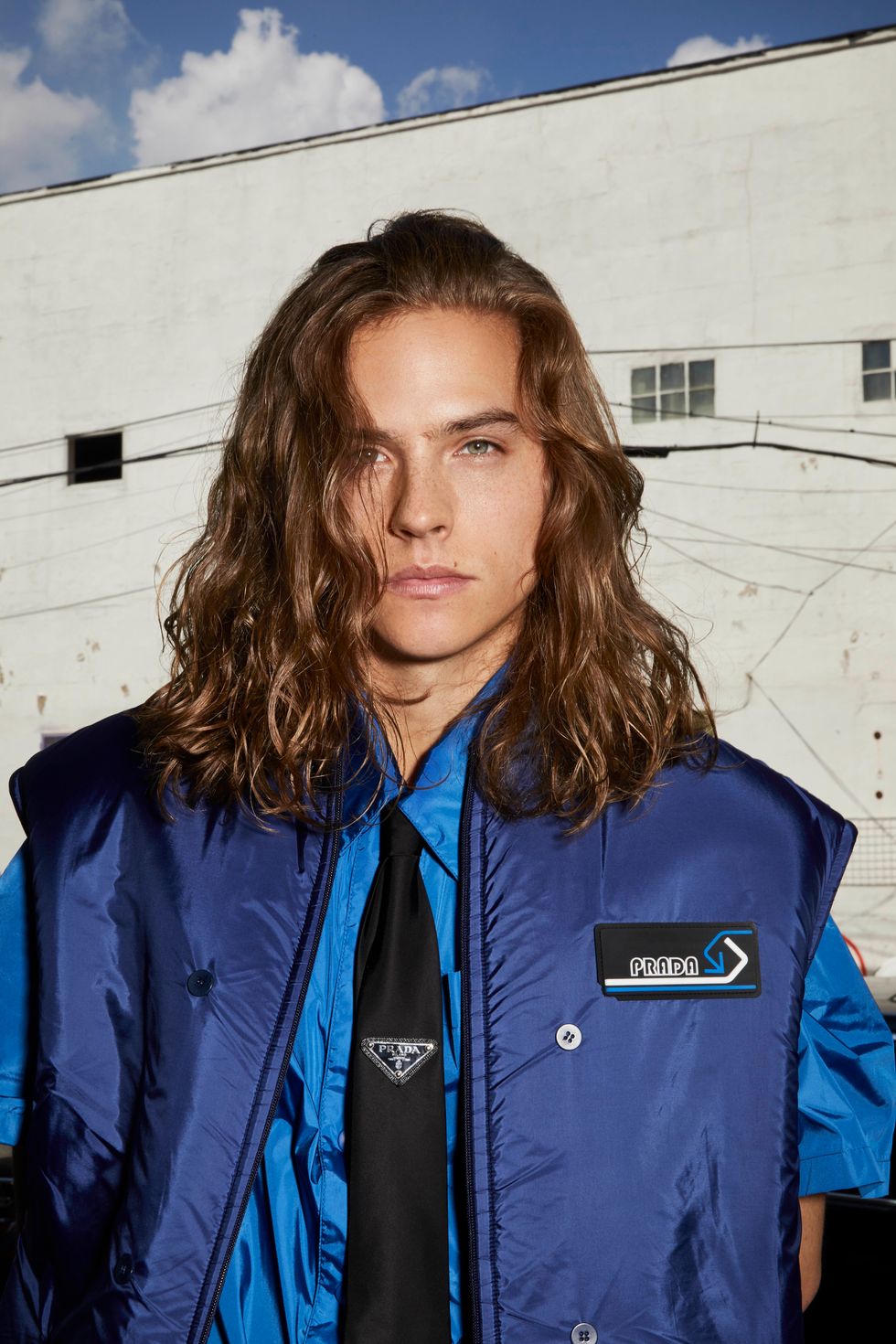 Full Look: Prada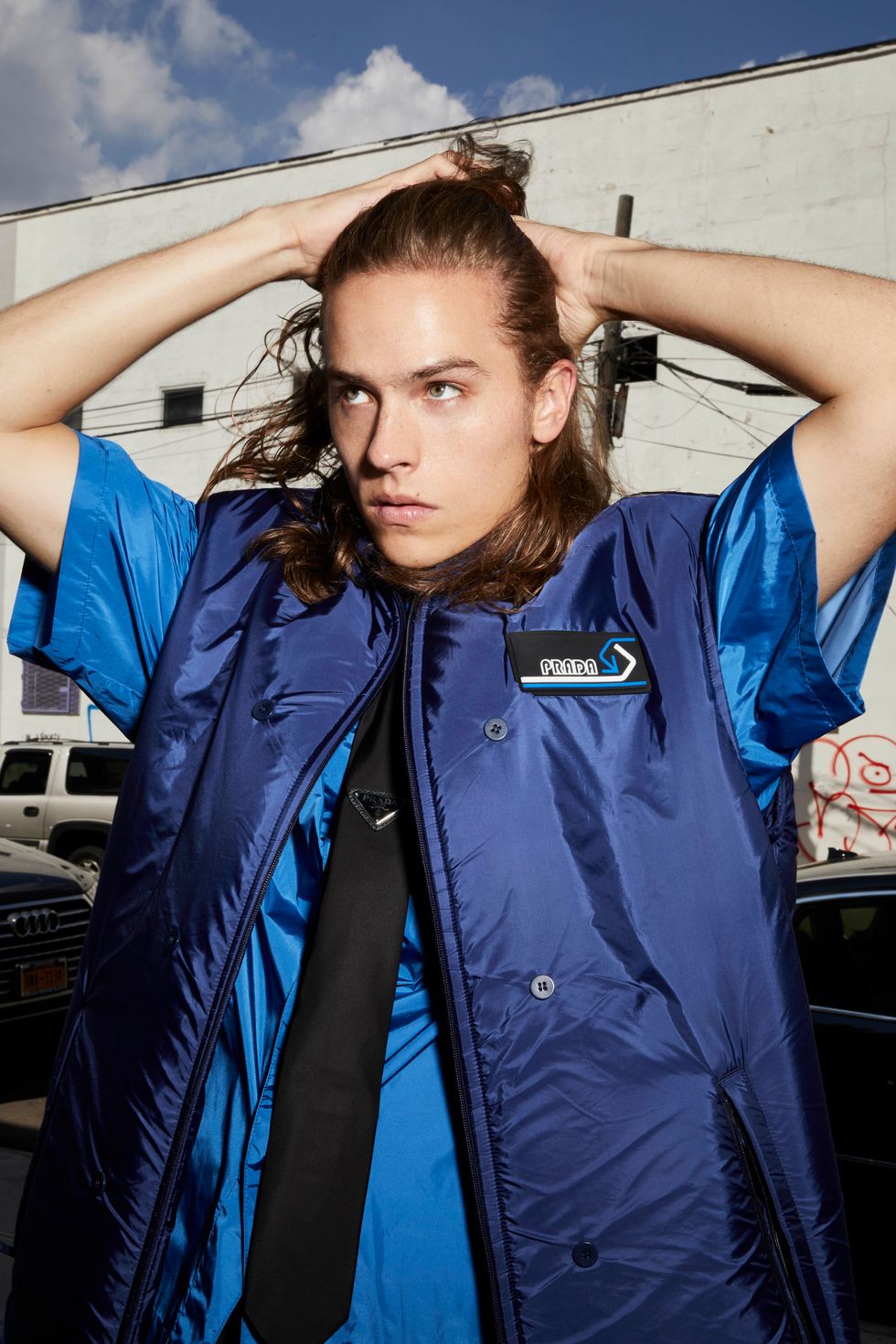 Full Look: Prada
Not one to shy away from a challenge, Sprouse had to learn Chinese for the role. "I don't speak a single word of English in the film... which is crazy, considering I'd never studied Mandarin." And then there was the physical aspect: waking up at 5 AM every morning for martial arts training, horseback riding, and language lessons — all before a full day on set. "I feel much more disciplined now," he admits. "And I'm in the best shape of my life. I lost 30 pounds, which, I didn't even think I had 30 pounds to lose."
"I'm officially an adult, and my childlike excuses won't really work anymore."
Given the time-consuming nature of mead, Sprouse is able to delegate work to his partners while away for filming. "The good news about our brewing cycle is that we're a three-month batch process, so I can be away for a period of time," he says, adding that All-Wise is a family-run operation with many of his friends involved now in the process, from Brochu running distribution and brewing to Kwan helming finances and even helping out with brewing. But restless as ever, Sprouse is eager to get back into the swing of things. "Looking at our space, I can already see a lot of improvements that we need to make. This is a way for me to put my time and my energy into something I love doing while I'm being selective of my roles."
It goes without saying that Sprouse has outgrown his "teen actor" label, something he's acutely aware of. And he's ready to accept that responsibility. "Now that I'm gonna be 26 in a month, all the bullshit's kind of over," he says. "I'm officially an adult, and my childlike excuses won't really work anymore." Ah, who doesn't love some character development from our teenage heartthrobs? Especially when they age as well as a bottle of fine wine, er, mead.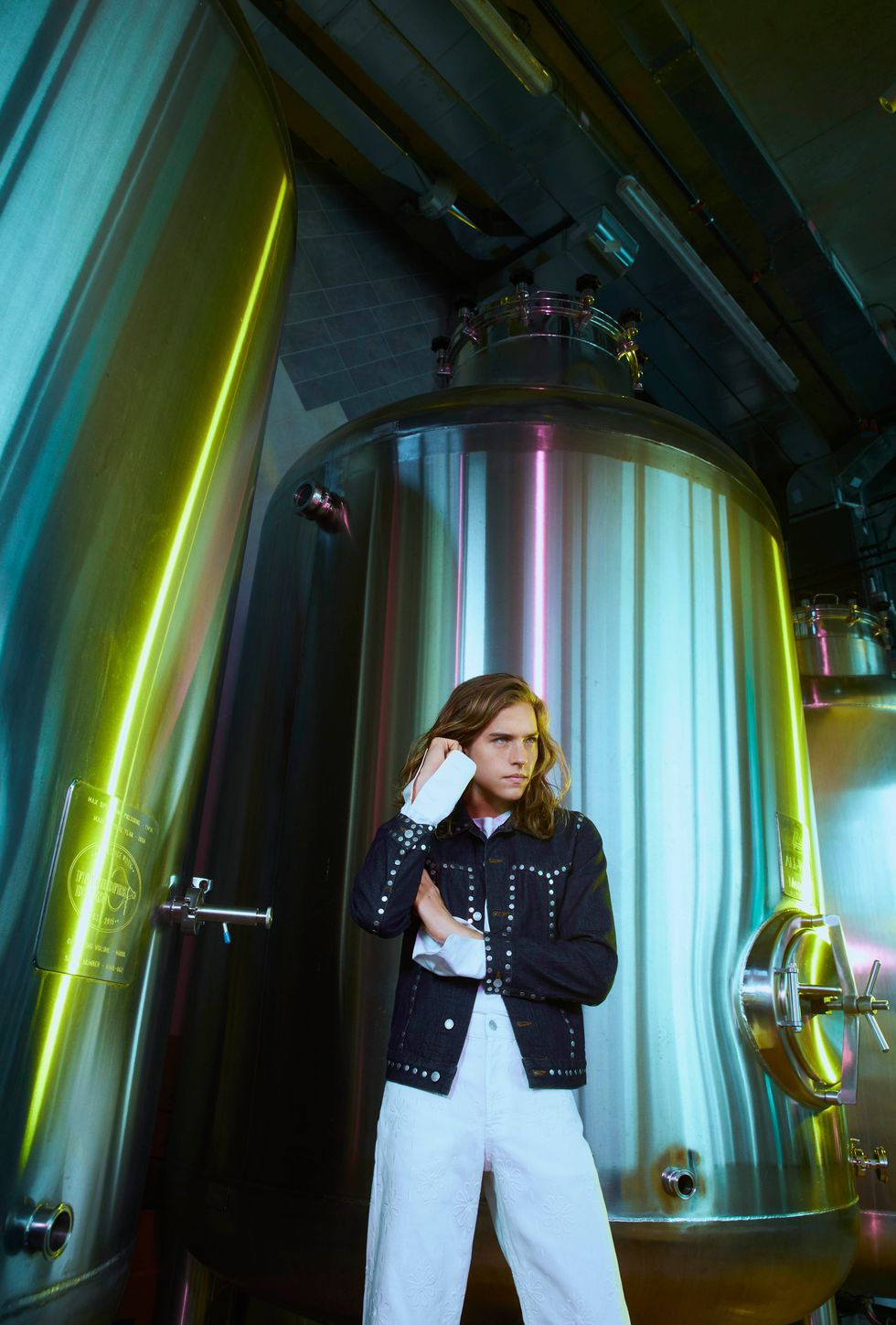 Full Look: Dries Van Noten