Dress by Elenareva. Shoes by Christian Louboutin.Fantasy, mystery and sensuality are so deeply ingrained into the mythos of Dita Von Teese that it's hard to imagine a young woman — one who revered the alabaster-skinned leading ladies of old Hollywood from her small Michigan town — named Heather Sweet, once existed in her place. As far back as the age of 15, when she began working in a lingerie store, Von Teese was fascinated by the studied, off-kilter beauty and hyper-femininity of 1930s and '40s cinema idols like Betty Grable and Dita Parlo (from whom she takes her name).
Over the years, these early interests, coupled with her background in ballet, and forays into historical costuming and costume design, conflated to become Dita Von Teese, a persona so organically constructed that it is almost impossible to tell where (and if) the fantasy ever ends. The burlesque star's eponymous debut studio album stretches the carefully developed illusion even further, framing the raven-haired provacateuress as a clear-eyed master of the seductive arts; a woman who revels in her unbridled sensuality, and recognizes the power of her passion. Performed in collaboration with French singer and instrumentalist, Sébastien Tellier, Von Teese's album is a technicolor synth-informed offering that dutifully marries elements of French pop with contemporary R&B, and an oddly sophisticated sense of ribald. Beyond that, it also marks Von Teese's first true and proper foray into the world of music.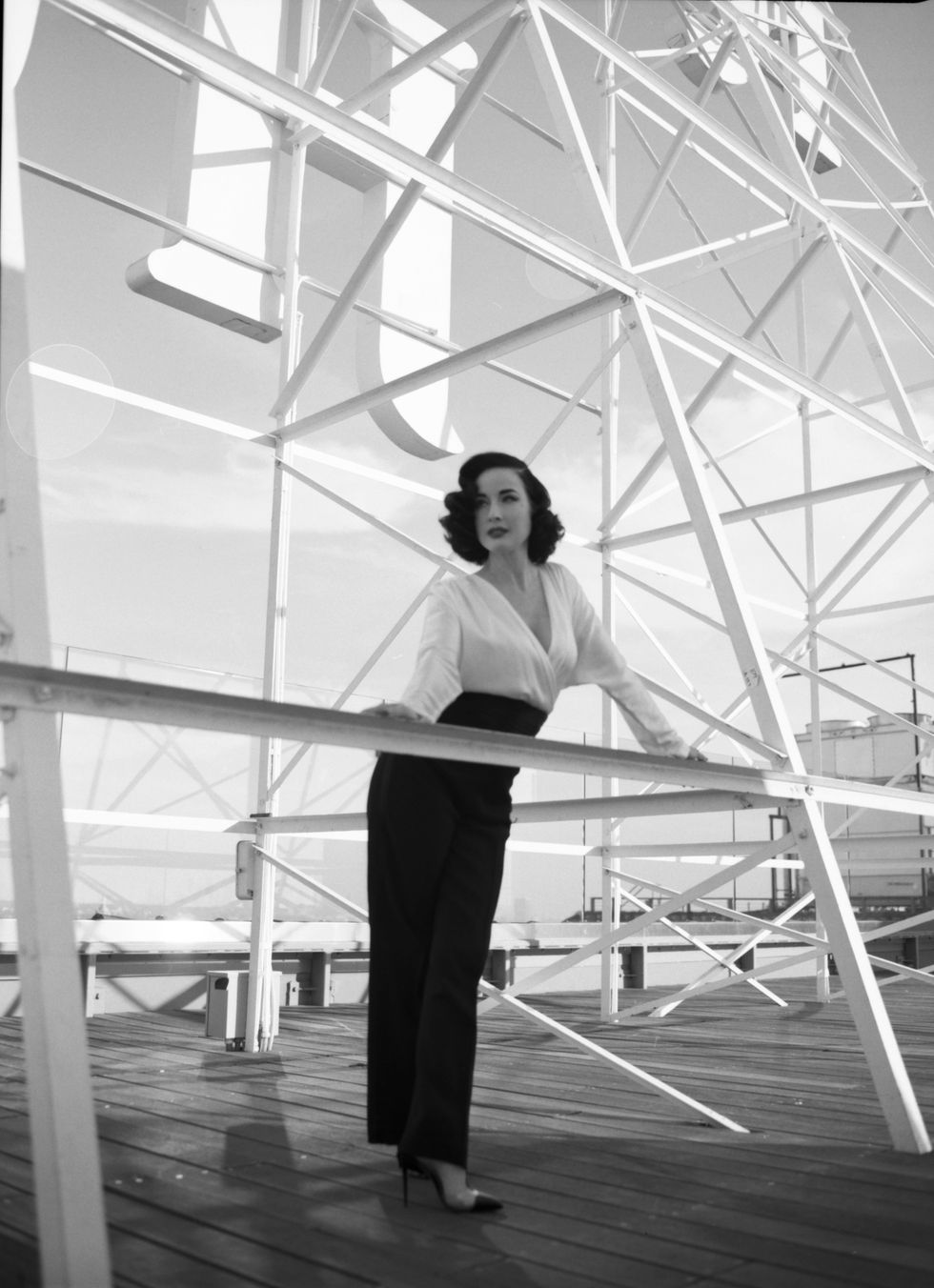 Blouse: STYLAND, Pants: Vintage, Shoes: Christian Louboutin
"I'm not a singer," Dita Von Teese nonchalantly admits of her freshly released self-titled project. Perhaps it would be an odd revelation (particularly in an interview about an album release) were it not for the fact the 45-year-old entrepreneur is indeed much better known for her illustrious burlesque career and impeccable fashion sense than she is for having a singer career. In truth, the latter just so happened to fall directly into her lap. "I am not looking to break into music," she told PAPER on no uncertain terms. "I'm not even used to talking about my music and my voice. Still, I've always had this fantasy about recording some songs. I remember when I was 18 or 19 and first started posing for vintage style pin-ups, I discovered a compilation record with all of these bombshells on it: Brigitte Bardot, Jane Mansfield and Marilyn Monroe. I loved the idea of doing something like that too. I remember hearing that Marilyn Monroe used to record just one line at a time, that she couldn't really sing either...That kind of gave me the idea that maybe I could do that too."
Were it not for Von Teese extending an invitation to Tellier for her 2010 performance at the Crazy Horse in Paris, the album may never have come about. "I had a French lover that had played his [Tellier's] music for me one night and I became a fan When I was performing in Paris, I was making a guest list for the premiere and I invited Sébastien to come. I had recorded a couple of songs already and that is actually what he saw me lip sync that night. We met very briefly after the show, and then a couple of years later I get this email out of the blue. Sébastien reached out to me and told me that he had composed this entire album for me, so I guess you could call it an artist and muse collaboration. I couldn't imagine walking away from a chance to step out of my comfort zone and work with an amazing artist like him. I was actually really worried that he would think that I could sing like the night I performed at Crazy Horse, because I did record those songs one line at the time and it took me months to do them. I remember him telling me, 'this album would not work with a singer,' and that helped me find my confidence."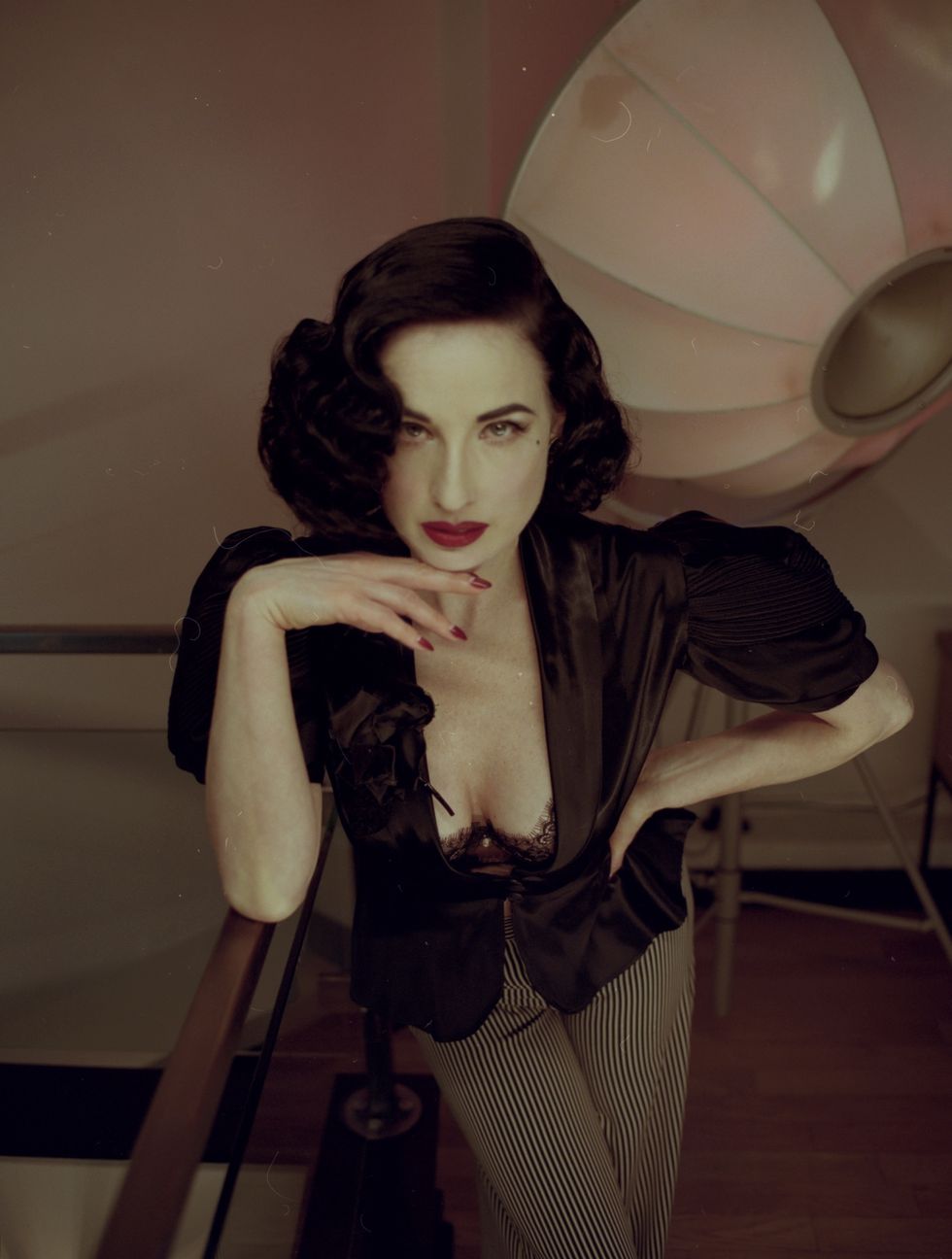 Jacket: Vintage, Bra: Dita Von Teese Lingerie, Pants: Halston
While Von Teese is certainly stepping into the realm of a completely new type of entertainment with music, it's up for debate whether the album truly falls outside of her performative comfort zone. According to Von Teese, many of Tellier's lyrics reflect his idea of who she is, specifically within her stage persona. "He called me a 'fantasy factory,' and there's definitely a lot of eroticism in his lyrics for me," she shared. "In the beginning he would also ask me lots of questions about my life, and we would spend time together in Paris and in Los Angeles. I could tell that he was studying me." Indeed, dreamy, '90s-facing, offerings like "Porcelaine" illustrate a natural creative chemistry. The duo float lazily across the notes of a hazy, down-tempo melody, trading romantic whimsy over a track inspired by Von Teese's flawless, porcelain skin (of course).

"It was nice for me to work completely under the guidance of Sébastien and his producing team," Von Teese said of the recording process. "I'm so used to being in total control with my burlesque shows, but it was really nice to step away, and put myself in a vulnerable position. I'm not a technical singer at all, and so I'd be asking questions and taking guidance and trying to learn and sing the lyrics the way he wanted. He would send me demos of him singing the lyrics so that I could listen to that and follow that. We would go into the studio, sometimes in Paris, but mostly in LA, and I would usually do two or three lines at a time, especially with the French songs. I'd translate all the French as best I could and then ask him if I was correct. I lived in Paris for a short time, so I do understand a lot of French, which helped a lot when recording, but it's quite different speaking "taxi cab" French and translating French lyrics. Honestly, there are some words in the songs that I still stumble over."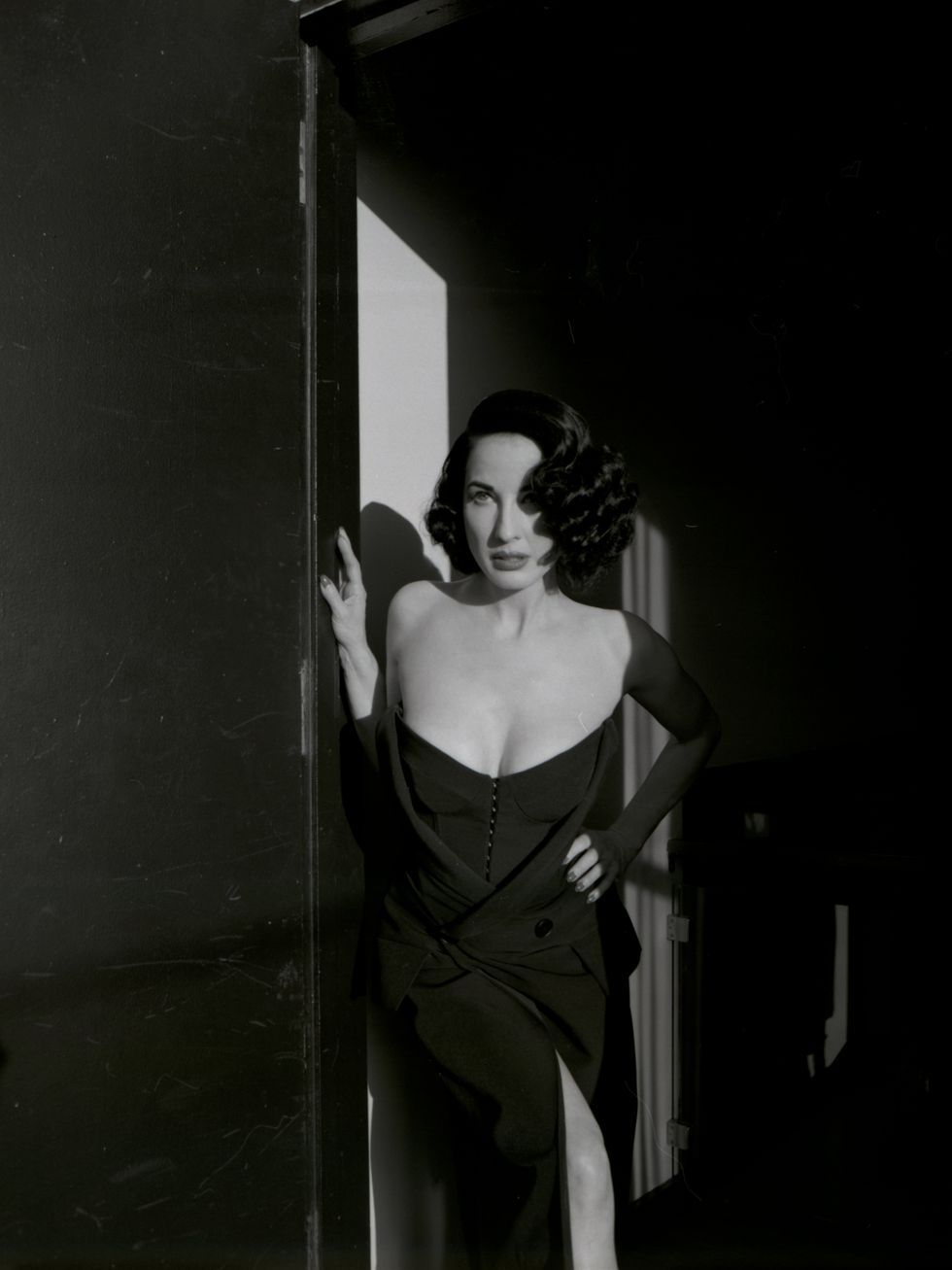 Dress: Elenareva, Shoes: Christian Louboutin
Still, Tellier and Von Teese's occasional bilingual lyrical flirtations are not the album's coagulation point. Rather it is Von Teese's individual sensual quests that become the captivating focus, and the narrative thread that connects her music to her existing persona. In songs like "Rendez-Vous" she adopts the breathy sing-talk croon of a modern day Marilyn Monroe, detailing an afternoon of forbidden passion with a lover in the same way one might confess an ill-informed (but completely worth it) dalliance to a close friend. Alternately, offerings like "Fevers and Candies" and "Dangerous Guy," detail the thrills and ills of reckless eroticism while still cleverly framing Von Teese as both the seducer and the seduced.

"I felt a sense of softness making this project," she explained. "I think there's a lot of that present; it's very stripped down from my usual slick and glamorous image. The idea of this record was soft sensuality, something that's more like who I would be with people that I know very well, and with my lover. I think that this album has a lot of the real me, under the veneer of the image that I created."
Listen to Dita Von Teese by Dita Von Teese and Sébastien Tellier, below.
Photography: Sasha Samsonova
Styling: Jessica and Kelly
Video: Gus & Lo
Hair: Tony Medina
Makeup: Gregory Arlt
Splash Photo: Tuxedo: Alexander McQueen, Bra: Dita Von Teese Lingerie