Popularity is relative, and especially in the digital age. You could have hundreds of thousands of followers online, but be completely unknown in the streets — massively famous on Instagram, YouTube or Twitter, but lack any kind of real, authentic cool in person. For our new series, Coolest Person in the Room, New York-based photographer Megan Walschlager pinpoints all the people whose energy is contagious regardless of their following count or celebrity. Meet Steven Monroe, the LA-based talent manager and Old Hollywood aficionado you need to know.
Tell me about your job.
Well, I work for Maverick Management. I work for Larry Rudolph and Dan Dymtrow — they manage Britney Spears, Aerosmith, Ty Dolla $ign and Kim Petras. I'm a day to day manager and most of the time I focus on Kim Petras. I've been working with her for over 2 years now — since the beginning of her career when she dropped her first song "I Don't Want It At All." I've been with her ever since. My job is basically anything and everything. There's no task too small. I'm all hands on.
In terms of my career, I've done many different things, not just music. I've worked in TV and films. I did a lot of award shows when I first moved to LA.
I first started working for some random, wannabe fashion modeling agency that never went anywhere in Los Angeles. Typical. But I met a lot of people along the way. Luckily, I met someone during that time who also worked with Larry and that's how I got into that. But she was a talent executive for a lot of different TV shows and award shows, so after we stopped working with that agency, she kept in contact and started hiring me for a lot of award shows. Like we did the the Streamy Awards, which is an internet based award show; we did all of the Miss USA and Miss Universe pageants.
Really?! What did you do for that.
Yeah. I worked directly with talent only because that's all I like to do — work only with talent. So I worked with like all the celebrity judges and the co-hosts like Giuliana Rancic and Andy Cohen. The judges I worked with throughout these shows included NeNe Leakes and Wendie Malick, Christina Milian.
I met other people through doing those shows and then they would hire me for doing other events. I did a BET Love & Hip Hop award show, the 2017 Oscars — the one where everything got fucked up at the end [Laughs]. I worked for Lip Sync Battle for a couple years, working with Chrissy Teigen and LL Cool J when they were the hosts, and other A-list celebrities.
And this was all alongside working in management as well, so I kind of dabbled in everything. I was working as a server still at the Macaroni Grill in Seal Beach from the day I moved to LA til probably 2014. So all during that time I was a server and bartender and I went to school for TV & Radio Broadcasting at the Academy of Radio and TV Broadcasting. I went there for a year and studied how to be an anchor basically, because that's what I wanted to do when I first moved to LA.
As you move to LA and different cities, I think you kind of figure out different things and other ways you can make money in the industry, so I kind of got out of that pretty quickly and liked doing different things with talent — like working in management and learning that side of things and working with award shows and seeing how things work behind the scenes.
During that time, I was working as a server and an intern, making like maybe a hundred dollars every few weeks doing nothing basically — not necessarily learning too much, but slowly I was able to get more and more work. Then my old boss brought in Steven Tyler as one of her clients and that's really how I learned a lot. He's very hands on and involved, and he's been in the industry for over 50 years. I'm glad I got to work with him — someone who's a legend, you know? And learning from him, now I can like do anything at this point.
So that's how you met Steven.

Yes. And then I worked with him for a few years. And in that time I learned a shit ton about how to work with an A-list artist — and see how different people are basically.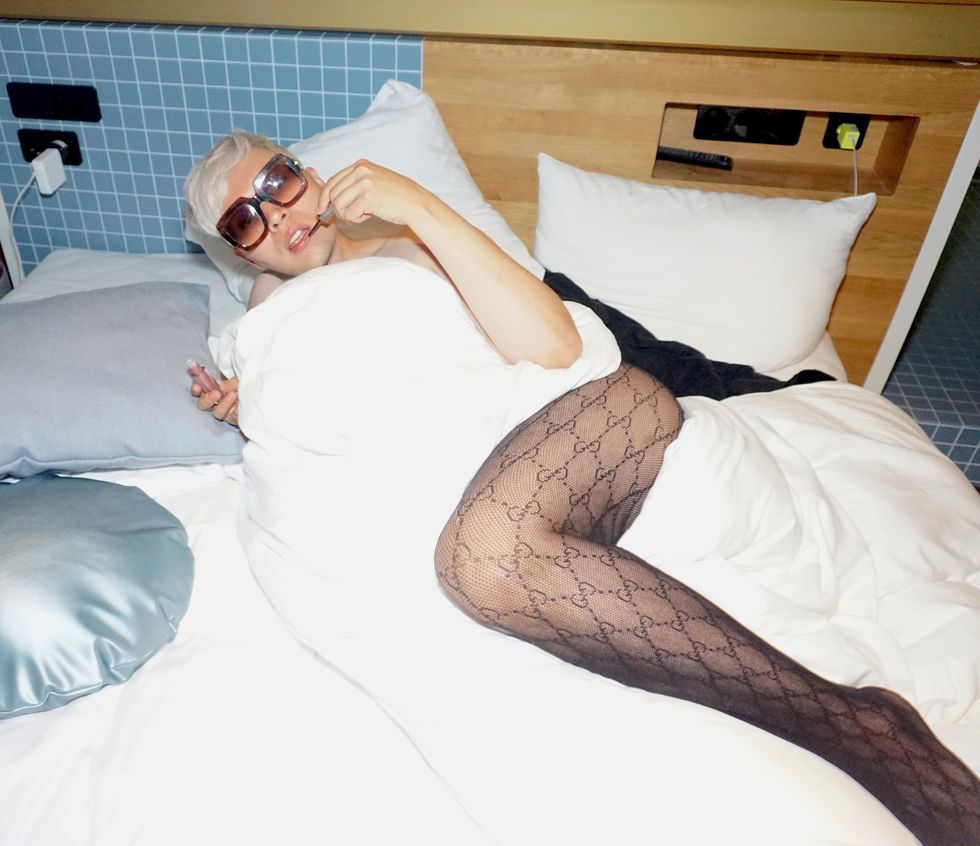 Photo by Megan Walschlager
So you're originally from Arizona. Tell me about the transition to LA.
I am from Phoenix, Arizona and I was born on December 4, 1988. I moved to LA in 2011 — I know the exact date: June 1, 2011. I had literally just broken up with my ex-boyfriend. I wanted to move to LA sooner, but I had a boyfriend and that was just crazy. I was just serving at a Mexican restaurant in Arizona. I saved whatever I could save in those 5 months — I think it was like a couple thousand dollars. I was craigslisting when craigslist was a big thing...
I feel like people still use craigslist.

I feel like they do too, but it's sketchy now.
I was searching for apartments. I moved from Phoenix to Long Beach. I lived in Long Beach for like 3 years. I left Phoenix in my silver Dodge Neon with my dog Furby. I took whatever I could fit in my car, so just nothing but clothes and bins. I found an apartment with some girl. I had never met her. I just saw pictures and was like this is fine. It was like $500 a month, and I was like, "Ok this is a lot of money, but we can make it work." So I saved a lot of money and then the day of the move I drove to LA, crying the whole way, like, "What am I doing?!"
What was your inspiration for moving to LA?
I always wanted to work in the entertainment industry. Whether it was music or TV or film or whatever. Or even being on TV. I was just obsessed with that and I wanted to try to make that happen. I needed to go. I think if I wouldn't have done it then, I wouldn't have done it. So I did it and I moved and it was very stressful, those first few months. I literally had no money, no friends. I had a flip phone. I had one of those slider flip phones and all I could do every night was look up FML.
What do you mean?

You remember that website FML? I could only look up people's FML stories. Like, "I fell down the stairs today. FML."
All I did every night was read that. And I laid on my air mattress. I slept on an air mattress for probably a year because I didn't even have enough money to buy a bed. But for that whole summer — like the second day I woke up there I was like, "Ok, I gotta find a job." So I spent a straight month driving around applying everywhere. Like even Chipotle. I just needed money to start coming in. And so after like a month I finally got hired at the Macaroni Grill. And everything went from there.
But before came to a point where I didn't have any money because all of my money went to rent, so I didn't have money to even eat. I was so skinny. I ate one meal a day. I would drink water all day and then eat the dollar Jack in the Box tacos for dinner. That's all I had every day. I remember even stealing my old roommates pasta and going next door to Papa Johns and asking if I could have the red chili pepper flake packets and parmesan packets. I would make red pepper flakes, parmesan and noodles and I would have to ration it out because I would literally have to live on a dollar or two dollars a day because I didn't have any money until I finally got a job. I remember when I finally got a job I splurged on Chipotle and had a burrito bowl and I felt great.
But that whole summer I remember feeling just so homesick and I was like, "Is this gonna work? Am I gonna have to go back?" I almost felt like I had to go back, but I didn't want to go back. Literally all I did was read books — like my roommate's books — and lay there with my dog. I didn't have a laptop or anything. And then someone gave me a chance and it all happened. And that someone was the Macaroni Grill.
I really admire your drive. You are one of the hardest working girls in show business — as goofy as you are, you are truly always working and getting things done.
Yes I am, I am always working.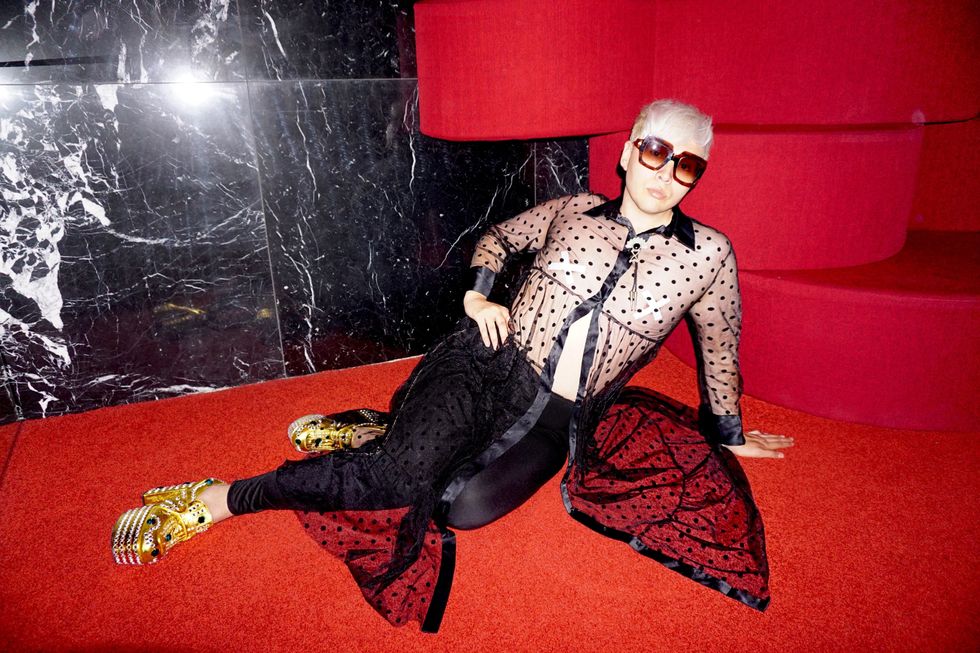 Photo by Megan Walschlager
And I don't think people always notice that about you because you're always having a good time.

People always think I'm having a good time, and I am, but you need to learn how to mix good time and work. Like I can have a good time and check an email. I feel like a lot of people can't do that or have fun at the same time as doing work. And to me, like, checking an email or taking a call is not that difficult. It's not like it's taking away from your time really. You're always going to have to work. I'm one of those people who, like I'm never going to have my phone off. I'm never going to go on vacation for two weeks and not check anything. And there's people who will do that and I always wonder how they manage to keep those jobs.
I guess I'm just a different kind of person. I come from just having to work, work, work. I've had to work since I was a teen. I didn't have any money growing up and I always wanted the finer things in life, so the minute I was able to get a job, I started working.
What was your first big purchase?

When I was young I was always saving my money. I used to have to wear hand me downs as a kid and I hated it. I didn't want to be that way. When I was able to start working, I was working a lot. I was going to high school and working as a server. Like I would go to school, get out at 2 o'clock, start my shift at 4 and close at 10 PM. And the next day it would be the same. And during the summers, I would work 6 AM to 2 PM and go back to work at 4 PM and work til 10 PM. So I always had that mentality of work, work, work because I needed money, so I had a lot of money at 17 years old.
My biggest purchase, I think, was a pair of Dolce & Gabbana jeans that were like $1500. I was just like, "Yaaaaas." Do I have them now? No. But I was just buying myself everything I wanted. I bought all the Dior sunglasses I wanted. Obviously I still do that now, but I'm more cautious because I have bills now. But before, I spent all my money on all that bullshit stuff that I still love. Now it's more like, "Where's that outlet at? Who's got the eBay find?" I don't go to Ross for Less unless I have to.
Do you get to pick your clients as a talent manager?
Well, luckily, when I stopped working with my old boss and Steven back in 2017, I went full on as an assistant with Larry. Maybe three weeks after I got hired, they brought Kim on as a client and they needed someone to be her day-to-day and they asked me if I was interested and I was like, "Yeah of course. This is a big thing. Not just because she's trans, but this is a big deal in the music industry right now. She's going to break boundaries and be an A-list pop artist."
What do you think is the most surprising part about your job?

It's not glamorous at all. I like to think in my head that it's glamorous when I'm doing it, but it's never glamorous. It's a lot of emails and calls. I'm always on the fucking phone — every day of my life.
You have a signature style — big sunglasses, something sheer, a heel — how did we get here? Who are some of your style inspirations?

My style inspiration is myself. I started wearing high boots and some kind of heel years ago now at this point, I hated the way I looked when I just wear flat shoes. I don't like a flat shoe. I look short. Sheer — I've always just been comfortable with myself, so I always love to wear a nice see-through top to show the nips. I also love to wear black and I love a legging. You can make a legging look good with anything, anywhere. You can make it look fancy, you can make it look casual, or you can wear it as your pajamas. All in one. You can jump out and go to the club — throw on a big shirt and a boot, and you're good to go.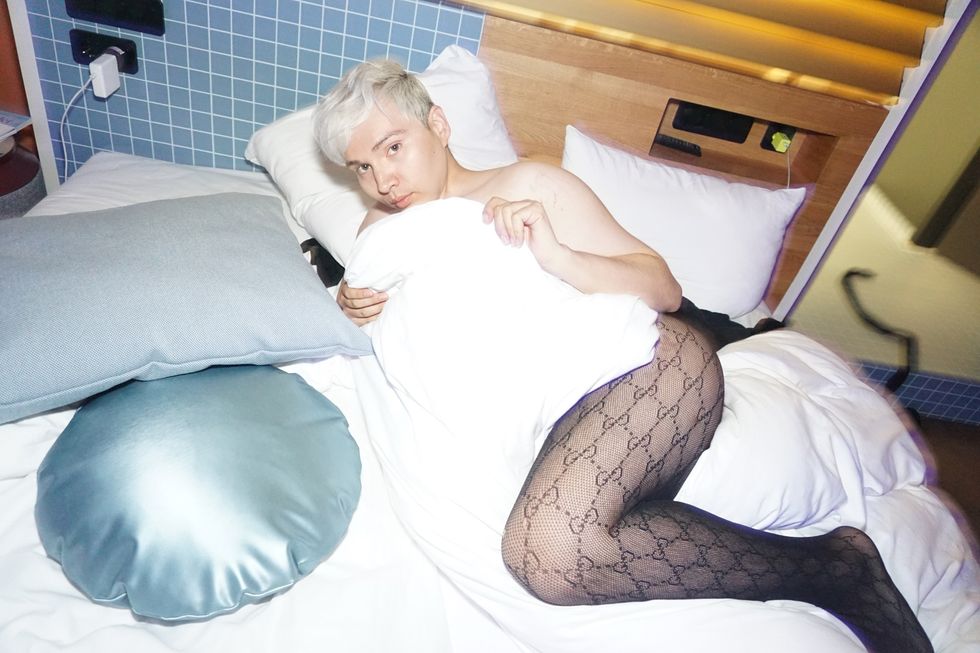 Photo by Megan Walschlager
I also know you have a deep obsession with Marilyn Monroe.

I wouldn't say obsessed, but I adore her.
What do you love about her?

I think just like a lot of gays — we love tragedy, we love chaos, we love a conspiracy. Did she really kill herself or was it murder?
You do spend a lot of time watching old Hollywood conspiracy videos on YouTube.

I've always been obsessed with old Hollywood glamour and just old celebrities in general. There's always something crazy or secret about all of them. I've always been weirdly obsessed with that stuff — like I'd rather learn more about that than actual history [Laughs]. As far as Marilyn, I've just always been obsessed with her as a young age.
From a young age — probably like my early teens — I never liked my last name. I remember going through phone books when I was little looking for a cool last name, or something similar to my real last name that sounds cooler. I would just look up names in phone books and try on like "Steven Zumez" or just something that I thought sounded cool. Then I was like, you know what? I like Marilyn. It's Steven Monroe. So that's how I got that and I've been going by that since my early teens.
What is your relationship with nightlife?
I love it. I think ever since I moved to LA, I've simmered down in a way. In my early twenties I did a lot of partying — I used to do a lot of drugs and a lot of everything. Then I calmed down when I moved to LA because I was like I need to focus and I need to work and make money. And now that I'm kind of in a position where I have a secure job and I'm making money, I'm more open to going out. And obviously you always want to keep growing and make more money, but I don't have to worry about finding extra jobs and make more income.
As far as going out in LA — it's very, how would you say it? I don't know. I just go to the Soho House a lot.
What do you think are some of the coolest places in LA?
If you wanna really have fun and really get crazy — this is typical — but The Abbey is actually really fun. If you want something a little cooler, like a nice dark place to have dinner with a close one or some friends, maybe like try The Nice Guy, which is a nice formal, business-y restaurant to have some food. It's really dark so you can't see anyone.
Those are the places I like to go to. I feel like recently I've just been hitting up West Hollywood a lot more than I should probably. I think every weekend I'm out there going to some club. I don't even care where I go. It could be like Mother Lode or something for cheap drinks to get crunk and then we go somewhere else.
When we go to New York though, NYC does have a lot of fun clubs. Places that are a lot cooler than anything in LA.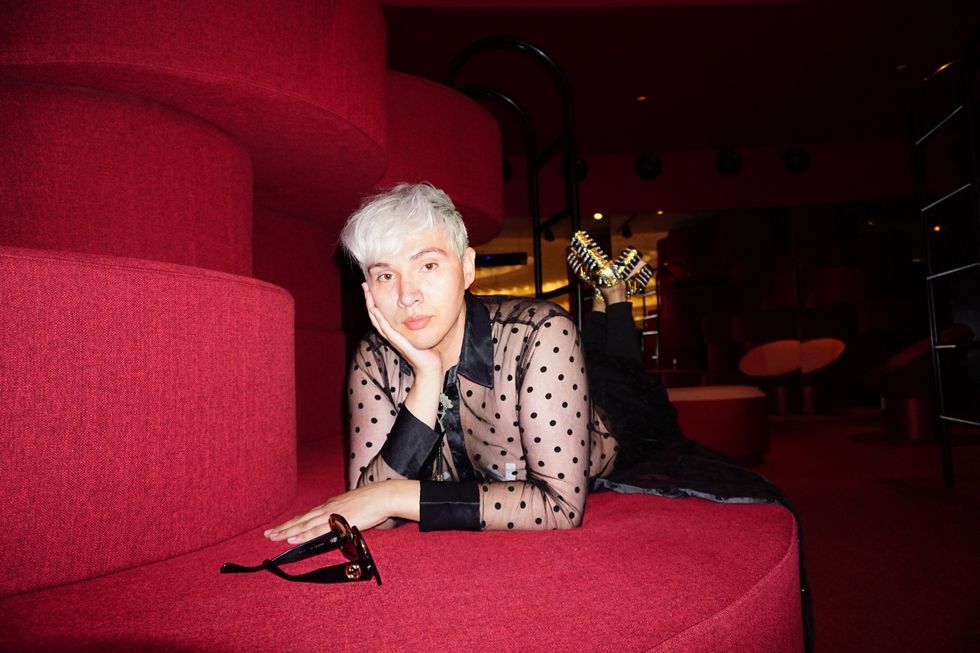 Photo by Megan Walschlager
I'm surprised you didn't mention the Hollywood Museum.

Oh, yes. That's probably my #1 place. I'm still a very touristy person in LA. Actually anywhere I go. I'm a very touristy person that loves to go different new places — or the same places. But the Hollywood Museum is really fun.
I'd never even heard of it before you.
No one ever really hears about unless I talk about it. I like to bring anyone that comes to visit there. And it's really cheap to get in. It's only $15. They have three floors of different celebrity memorabilia and clothes from different celebrities like Judy Garland, Marilyn Monroe. And every time they have a new exhibit — it changes consistently. One time they had the Marlyn exhibit and it was like stuff from her old house — it's just really cool.
That building was actually the old Max Factor makeup studio where all the old actresses back in the day like Lucille Ball, Elizabeth Taylor, Marilyn Monroe obviously, Greta Garbo —they would all go there to get their makeup looks. Max Factor was the one that developed the first makeup for Hollywood — he was the key person for everyone's looks. So everyone's looks you see on TV back in the day were all designed by him.
If you ever go with me, I know exactly how we should do it. There's a 45-minute video and a full tour around all the rooms where they all used to get their makeup done. I recommend it to everyone.
What is your go to drink when you're out?

Vodka soda with lime, please. Tito's vodka soda with lime.
What's your favorite song to hear when you're out?

Whenever I do hear a Pussycat Dolls song I go crazy. Or like "Damaged" by Danity Kane. That is a very good song. Cuz we're all damaged somewhere.
Do you have any going out rituals?
Clean the cooch. You never know what's gonna happen. Make sure you smell good.
As far as getting ready for going out or just in general, it's kind of the same. Take a shower. Do my hair. But I like to take my time. For example, if it's morning and I'm getting ready for work, I like to have my coffee. I can't talk to anyone, can't do anything unless I have my coffee. Then I slowly get ready. Take a shower. Do my hair. Put on those eye gels. Sit for a moment. Throw on some leggings and a tee shirt and I'm off to work!
Have you ever been starstruck in your line of work?
Surprisingly, no. I thought I would have been, but when you're actually just working and meeting these people you're working — so you're in a different mindset. I'm not one of those people screaming like, "Oh my god, I'm gonna faint!" I thought I would get like that, but it never really crossed my mind to be that way. I just saw them as people.
I even met J.Lo one of my all time queens from when I was little. I was obsessed with her. I met her and worked with her and was not starstruck. I was just like, "Hey, what do we need to get done?"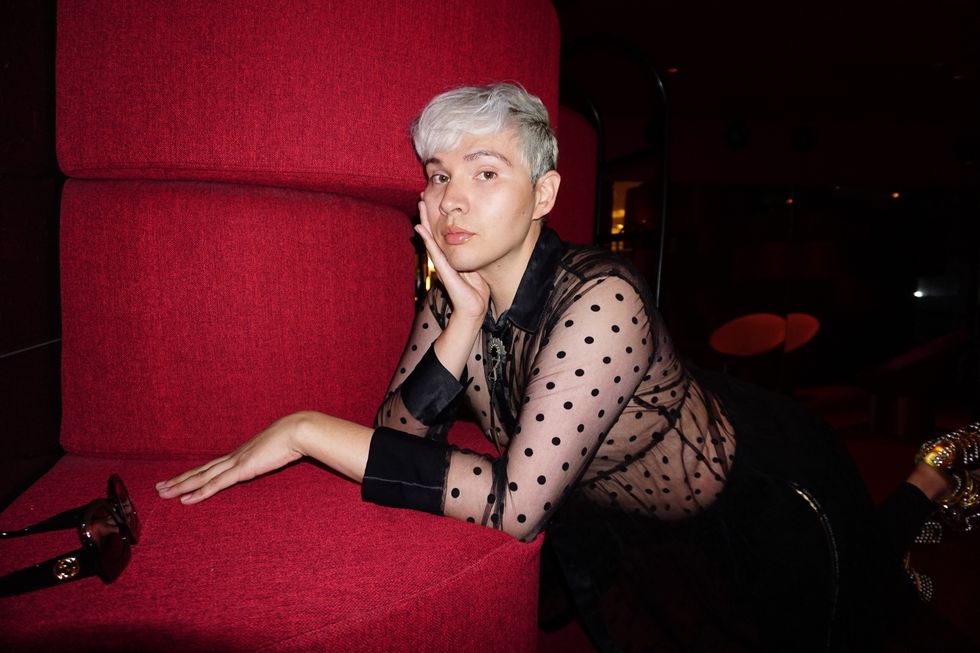 Photo by Megan Walschlager
Have you ever worked with someone who you don't think their public persona matches up with who they are IRL?

Isn't that everyone? That's all of us. We don't match up.
What is next for you?
Getting ready for Kim's next big fall, North American tour. I'll be pretty busy with that until the end of the year. And hopefully I'll find a husband in that time. Or even a boyfriend.
What's your best life advice?

Be you [Laughs].
I don't know. I feel like I'm a big dreamer. So I guess, dream as big as you can because it always comes true. I also believe in a lot of manifestation stuff.
Are you living the life you envisioned for yourself in Arizona?

I think I am. But it can always be better. I think where I'm at now — things will always keep growing and I will keep getting bigger. There will always be things that get in the way, but you just have to fight through it. I think I'm going through that now, but I'm doing fine. You know, in the next three years I want to buy a property in LA. And I don't necessarily want to have a family, but I want to find someone on my level or higher that will help... financially. A sponsor that will sponsor me. A sugar daddy.
Oh I should tell you about my first real gig!
What was it?

My first gig was interviewing Vivica A. Fox. So when I was in school at the Academy of Radio and TV broadcasting — every week we had to do a 30-minute broadcast and I was always like, "I wanna be the anchor!" And everyone always knew Steven's the anchor. Every week. Same cast. I would always come in all glammed and ready to go. But I used to work with this girl and she used to work for NBC — she worked for one of the directors — but her job was sourcing topics. And she was trying to work on her own career — like she would lie and say it was for something, but it never really went anywhere, so it was like we scammed our way in. Well, she scammed. Not me.
Anyway, she had this opportunity to interview Vivica A. Fox and she was like, "Hey, I know you wanna do this type of stuff, would you want to do this interview? We're gonna go to Vivica A. Fox's house in the valley and we're gonna do an interview." And I was like, "What?! Vivica A. Fox?! Okay!" I was so excited, I was prepping myself at home, practicing how to talk and how to look in the cameras. So we got there and she took forever. I was amazed because she lived in a townhome and everywhere you looked it was her — like photos, movie posters, everything. And she came down and was so beautiful — she looks exactly like she does on TV. So we did the interview with her and just talked about her upcoming things and I got to sit down and have my one on one with Vivica A. Fox. And that was like my first actual gig. It was actually taped, but I never saw the tape.
Do you still want to be a new anchor?
Not a news anchor, but like a celebrity gossip. Like E! News was always my thing. Like Andy Cohen or Giuliana Rancic was my icon. Not like a news anchor though — where's that gonna get me? I guess I could become like an Oprah. She did it. But, I always wanted to have a talk show. I guess it's never too late. You can do anything at any age.
I think you would be an amazing talk show host actually. Who would be your dream guest?
If she was alive still, Marilyn. We would have to have a three-part series special with that bitch. Give us the tea. I would also like to interview Britney. And Miley would be a good one. And the Kardashians obviously. I would want the full family on.
You resemble Kris Jenner a bit.
People tell me that all the time. Especially when I had black hair. I don't know if it's the glasses or the grey shit I wear all the time or what.
I think because you're the momager.
Right. Even the people in the office call me momager. And when I walk into the office, I'm not just like everyone else. I'm not wearing jeans like everyone else. I'll walk in that bitch with a full on coat dragging on the floor, with my Gucci gold shoes and some see-through leggings and a sheer shirt, walking in there with style. You've gotta dress who you want to be. People take you more seriously when you're more comfortable with yourself. You've gotta dress who you want to be. And I'm not trying to be like everyone else. I'm my own person and I have my own look. People always say, "You're something else, aren't ya?" Even Larry.