It seems there is no red carpet more political than that of Cannes Film Festival, which in the past week has seen invited women stand together to promote female inclusivity in filmmaking, signs to raise global awareness about the coup in Brazil ("Brasil is not democracy"), dozens holding a moment of silence for Palestine in the wake of the Israeli massacre, and now, a protest against racism in French cinema.
In a sea of black umbrellas, Balmain-dressed Black actresses banded together to walk the carpet in the pouring rain, before congregating on the famous steps. All 16 actresses were demonstrating against the consistent racism plaguing the French film industry. They claim directors and casting agents inform Black actresses cannot portray educated professional characters like lawyers. They are also reportedly oft asked if they speak "African."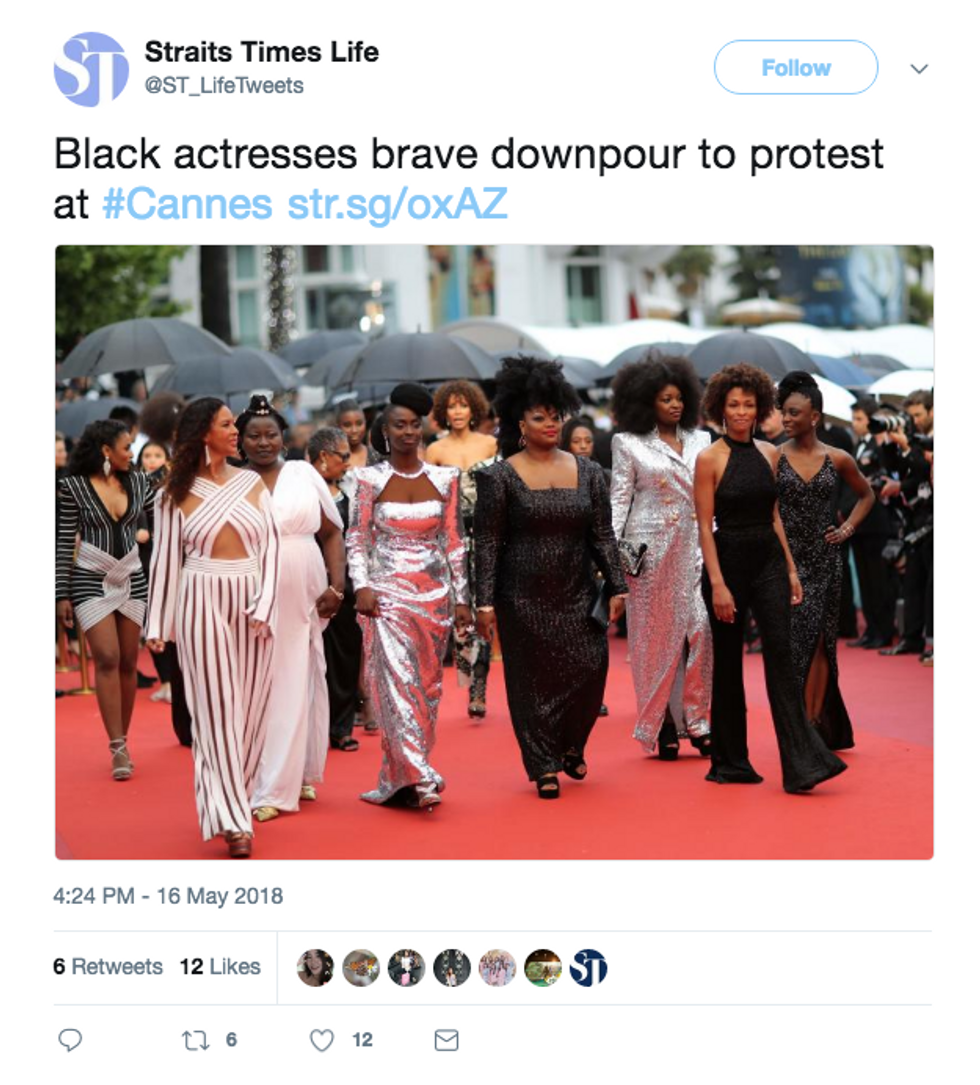 The women, including actresses Nadège Beausson-Diagne, Mata Gabin, Maïmouna Gueye, Eye Haïdara, Rachel Khan, also published Being Black is Not My Job, a book which outlines the discrimination and lack of diversity of diversity in French film. The crew moved into the same formation as the 82 women-strong Cate Blanchett-led protest on Saturday, which also included Salma Hayek and Kristen Stewart, and advocated for equal pay, opportunities and an end to harassment in Hollywood.

French-Lebanese actress Manal Issa also held up a sign reading "Stop the Attack on Gaza" at the premiere for the latest Star Wars flick yesterday, to protest the killing of Palestinians by the Israeli military. Palestinian filmmaker Annemarie Jacir told the crowd: "Today we stand here in solidarity with people who have lost their lives and loved ones. I want everyone to hold hands and show that we have a human connection with each other and resist being dehumanized and silenced."
As she walks the red carpet for "Solo", French-Lebanese #actress Manal Issa holds a sign reading "Stop the Attack o… https://t.co/vkkmyS04H7

— Ammar ABD RABBO (@Ammar ABD RABBO) 1526430210.0
Whereas the BAFTAs and Golden Globe's were used to address gender disparity in film specifically, the Cannes red carpet is being utilized by attendees to address all kinds of social justice and political issues.

Image via Getty
Sign Up For The Morning PAPER