Toni Breidinger, a 19-year-old Hillsborough, California native, has found her footing in sport generally considered to be a spectacle of masculine energy: car racing. Toni got her start racing against her twin sister, Annie, when they were just nine-years-old.
"My dad took me and my sister to a little go-karting school. We tried that out a couple times and we really liked it, so he got us our own go-kart," Toni said. Her father got an additional go-kart — since the sisters were arguing over whose turn it was to drive the first one — and he realized they might as well race.
In the 10 years since, Breidinger has swiftly risen the ranks to compete at racing's highest level. After mastering the go-kart and developing her skills, Breidinger shifted gears to compete in United States Auto Club (USAC) midget car races about four years ago. She cemented her reputation as a ferocious competitor with a division championship win in 2016 — a "career highlight" — and a legacy as USAC's all-time winningest female driver.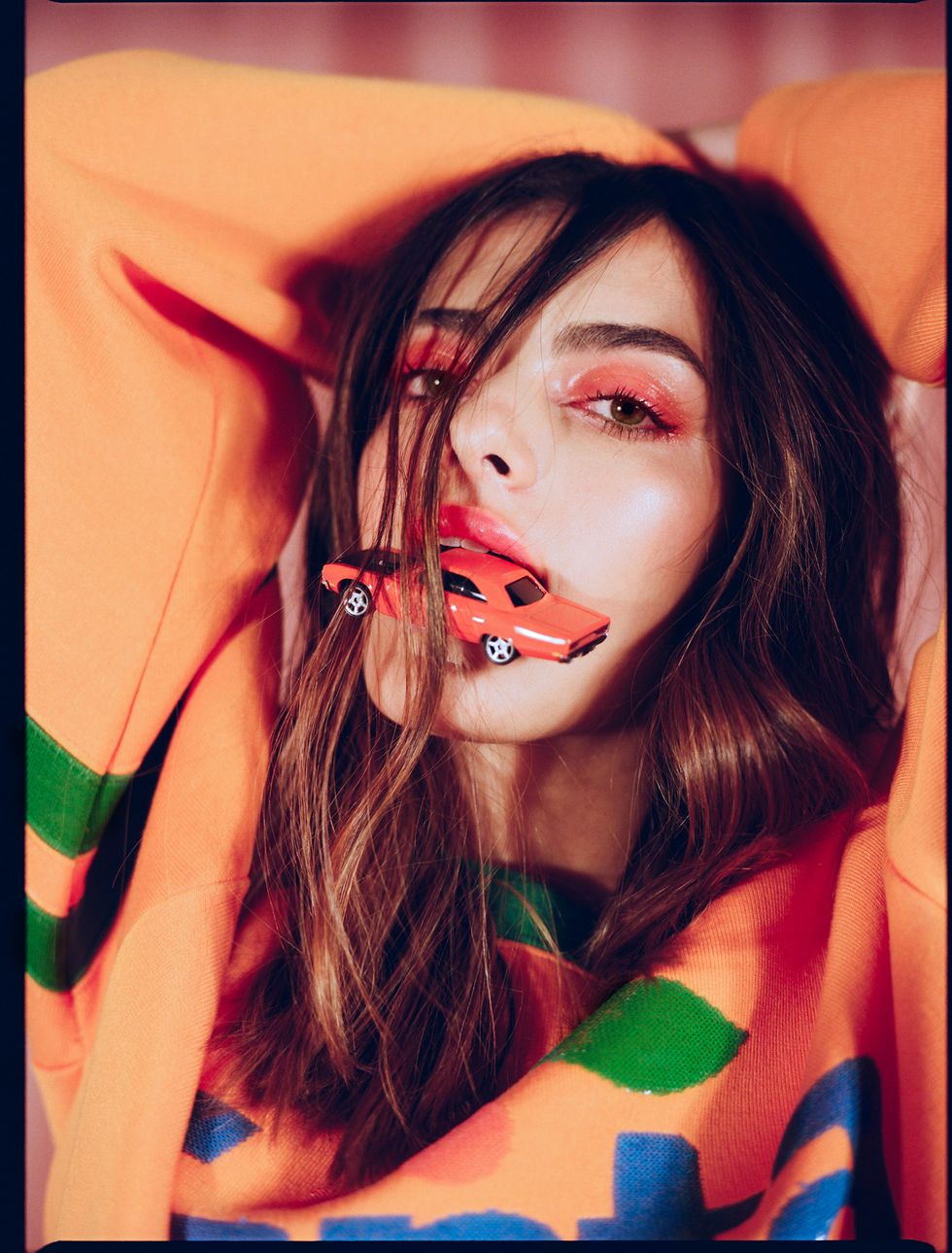 Top by Marc Jacobs, Pants by Fenty Puma, Shoes by Marc Jacobs
Having recently pivoted to driving stock cars — enclosed vehicles that more closely resemble the automobiles you'd encounter in everyday life — Breidinger is currently racing late models in anticipation of competing in NASCAR's most cutthroat contests. With her winning streak and unshakable focus, it's no surprise that Breidinger is already inviting comparison to Danica Patrick, the highest-finishing woman in national NASCAR history.
"Danica has really paved the way for other female racers, so it's nice to be called that in a way," Breidinger said. "But I also want to make my own name for myself, and I don't necessarily want to be in someone else's shadow or compared to someone. I want to be the next Toni Breidinger."
Related | Chloe Kim Is Dominating the Halfpipe
Like Danica before her, Breidinger is advancing the visibility of women competing in sports traditionally considered to be expressly for men. Though her mere participation in the sport is, in itself, a radical act, it's a factor that seldom crosses her mind.
"Probably the biggest struggle would be getting people's respect, and not necessarily just because I'm a girl, but just because anyone has to prove themselves so they race you more clean and hard," she said. "I race with mostly boys; I'm usually the only female in the race. As soon as the helmet comes on everyone is just a driver. Gender is irrelevant at that point."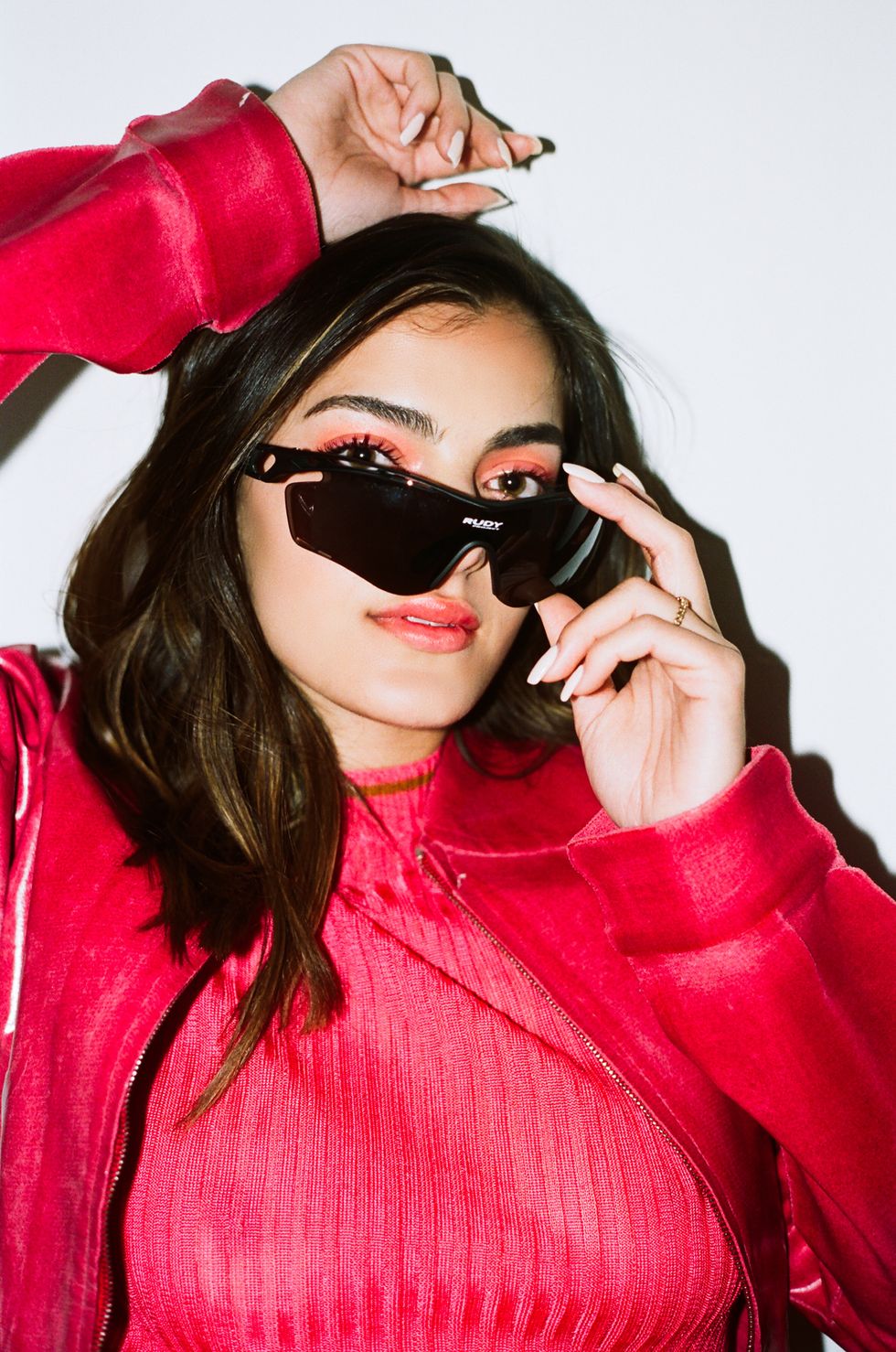 Top and Jacket by Acne, Sunglasses by Fenty Puma
The zeitgeist seems to agree with Breidinger's stance that motorsports aren't inherently masculine. A recent spike in vehicular-related references — including Rihanna's motocross-inspired SS18 Fenty x Puma collection, cyclist-inspired tops from Off-White (whose trademarked stripes mimic those of road surface markings), a new collab from Supreme and Fox Racing, and last but not least, the cheeky track "MotorSport" by Migos featuring Cardi B and PAPER cover star Nicki Minaj — suggests the aestheticization of racing is in full gear.
Breidinger's off-track interests include working out "at least once a day," hanging out with her friends and participating in a vegan diet, citing her passion for animal welfare. ("Racing really takes up my whole entire life, so I don't have too much time for other things," she admits).
Veganism is a lifestyle choice also shared by Colin Kaepernick, who became a lightning rod for controversy following his on-field protests in which he kneeled during the National Anthem, a gesture meant to symbolize his refusal to "stand up to show pride in a flag for a country that oppresses black people and people of color," in his own words.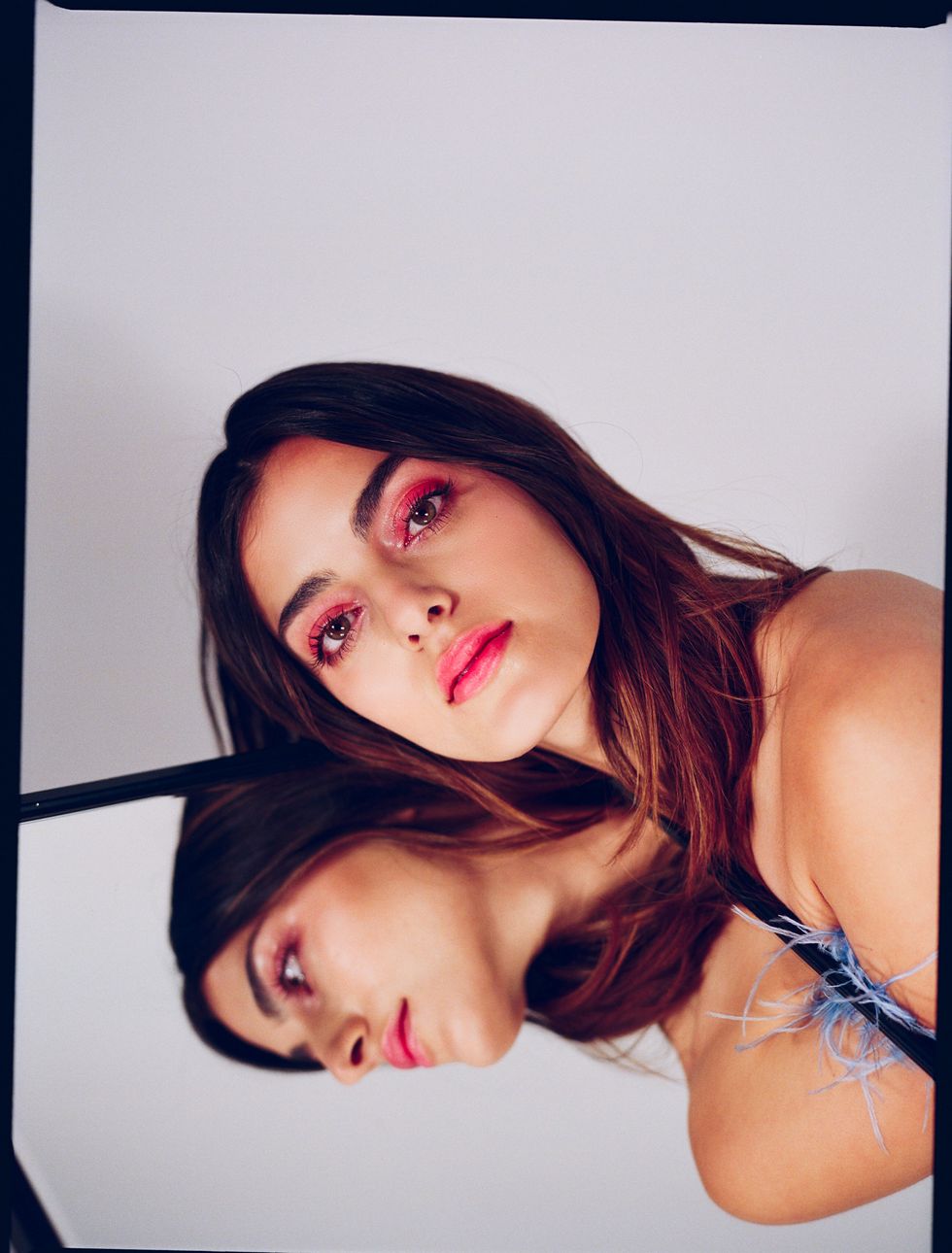 Top by Adam Selman, Jeans by RE/DONE Originals, Shoes by Christian Dior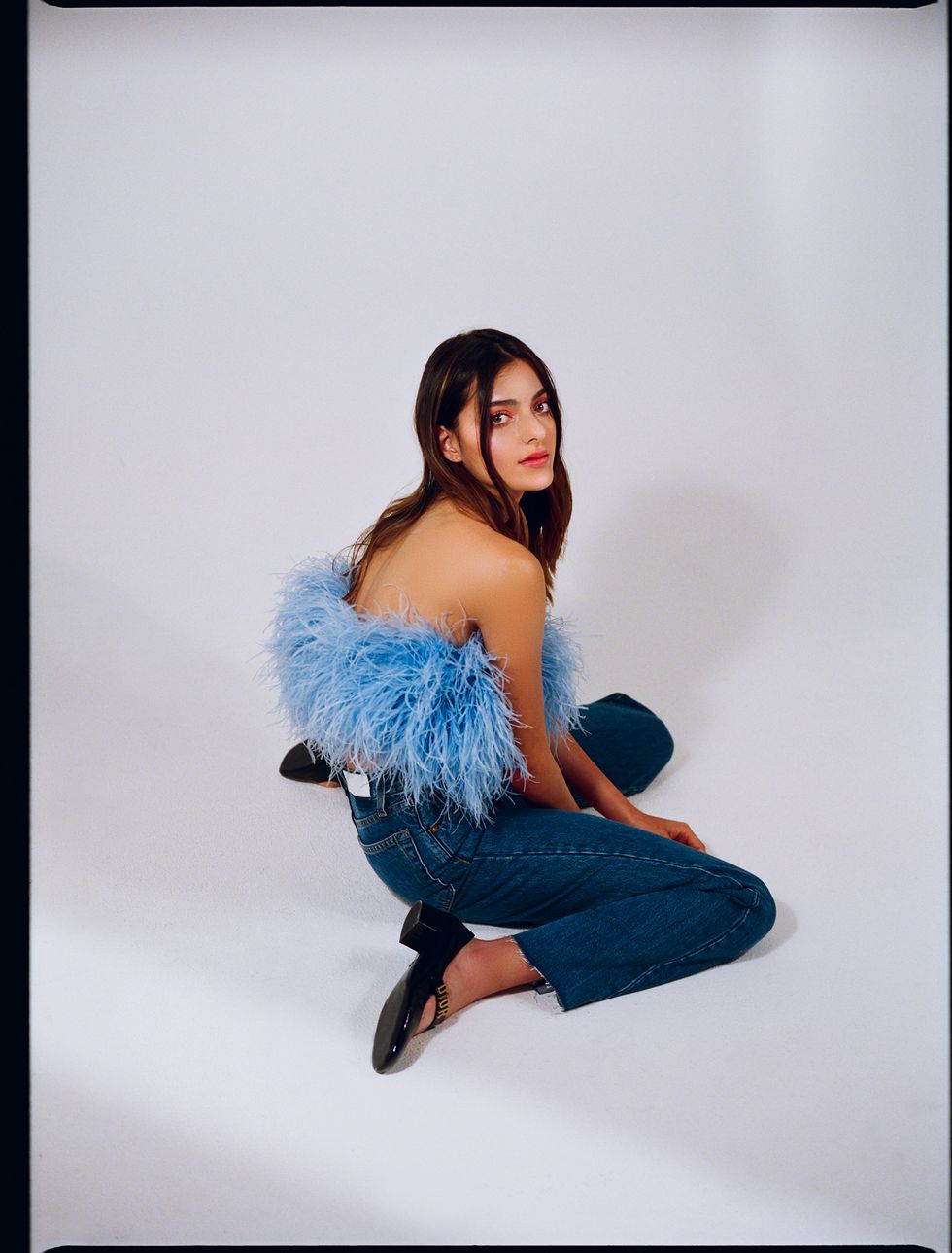 Top by Adam Selman, Jeans by RE/DONE Originals, Shoes by Christian Dior
But not all athletes and organizations are interested in utilizing their platforms to amplify social causes. In the case of NASCAR, several team owners first expressed a zero-tolerance policy toward anthem protests in September 2017; NFL owners followed suit just last month, instating a policy that leaves anthem protesters liable for punishment or fines. (NASCAR CEO Brian France endorsed Trump prior to the 2016 election and campaigned on his behalf).
"I really like how NASCAR emphasizes the importance of standing for the National Anthem. I think that's something really cool that the sport does. I think, you know, with all the teams lined up for the National Anthem, that's really impressive and I think it shows really great respect to our country," Breidinger mused.
Related | Leo Messi Is the G.O.A.T.
When asked to expand on her political beliefs, Breidinger offered the following: "I don't usually get involved with politics. I don't really know too much about it, so I don't really put in my input because I'm not like super educated on everything."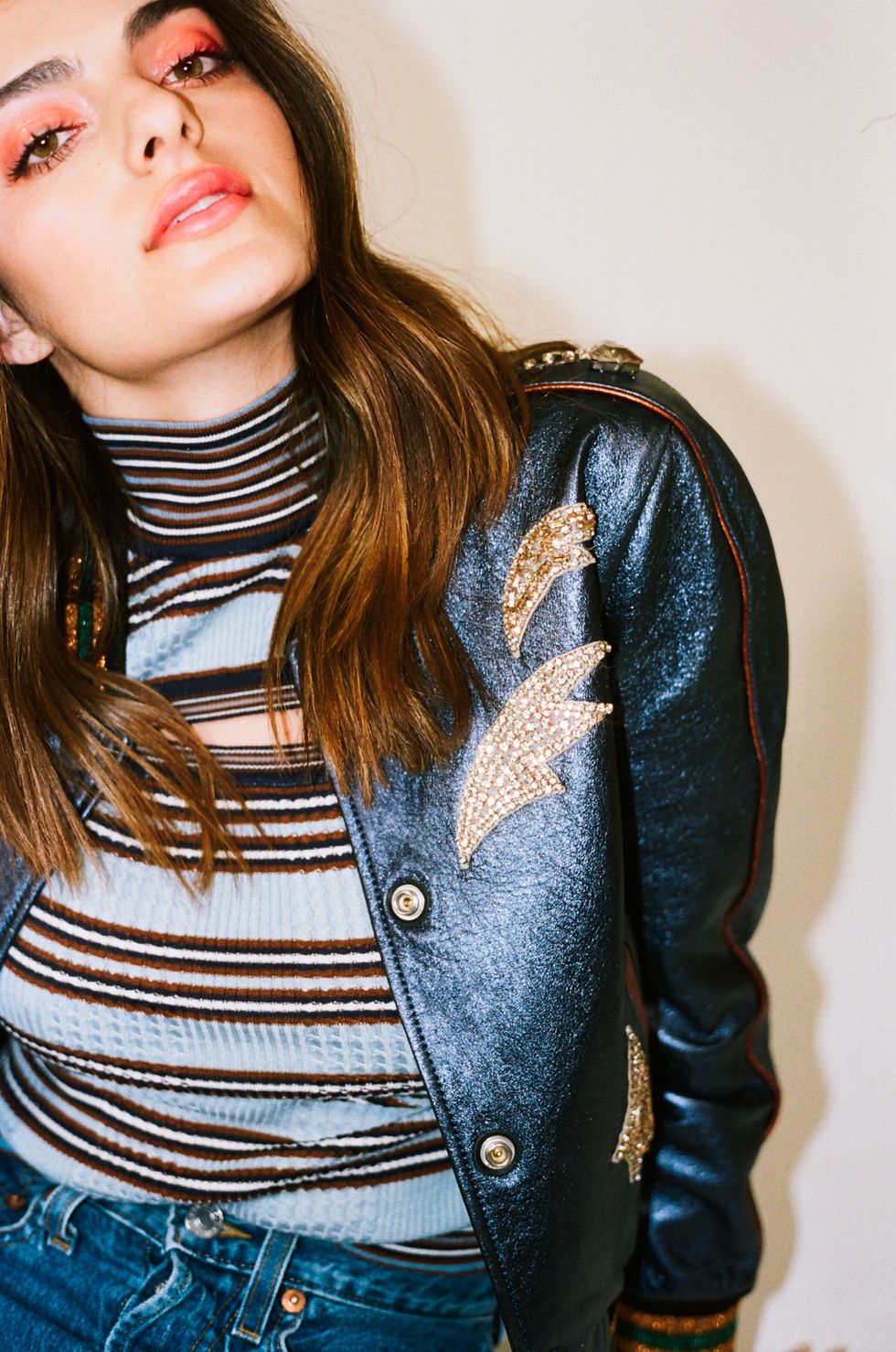 Top by Fendi, Jacket by Coach 1941, Jeans by RE/DONE Originals
For Breidinger, the highlights of the sport are two-fold: both the excitement of the race and interaction with the sport's passionate fans are equally intriguing to her, she says. And though races may be a whirlwind of sensory overload, Breidinger is well-versed in finding her zen prior to putting the pedal to the metal.
"As soon as the engine turns on for me, I have to, like, become someone else. Any of the butterflies or the nervousness that I have just goes away and I become completely focused on the race that's ahead," she said.
With USAC's winningest record for a female already under her belt, we can't help but think Breidinger is headed for big things — at full speed.
Photographer: Leeor Wild
Stylist: Tasmin Meyer Ersahin
Hair: Korey Fitzpatrick for Exclusive Artists using IGK Haircare
Makeup: Colby Smith
Video: Symone Ridgell
Props Stylist: Taylor Russo
Stylist Assistants: Sophie Olszak and Krystal Sullivan
Location: Dune Studios