Incorporating life-size ponies, trolls, and Ninja Turtles, Norwegian artist Anja Carr explores how images manipulate the conscious mind — when a picture supersedes a once-held memory, or when images create their own memories that didn't exist before appearing on our feeds. At first evoking childhood nostalgia, Carr's fusion of performance, sculpture, and photography is, once you take a second look, often unsettling; something is always warped in translation.
"In the process of making these objects flat and fitting in a frame — like a photograph — they become deformed and blend into each other," Carr explains. "They are traces of my performances, but in a way I wipe out the original stories they were part of, like images sometimes replace our memories. I think seeing so many tiny fragments of stories in our web-dominated reality makes us confused sometimes. I wonder how it affects us to see so much of the world through images — flat surfaces — and how it deforms our sense of reality."
Ahead of a packed 2019 calendar — shows in New York and LA, a performance tour of Japan, solo exhibits in Lillehammer and Bergen, Norway, a group show in Moscow late in the year, plus the managing of PINK CUBE, a nomadic exhibition space — PAPER caught up with Anja Carr to learn more about her past and future work.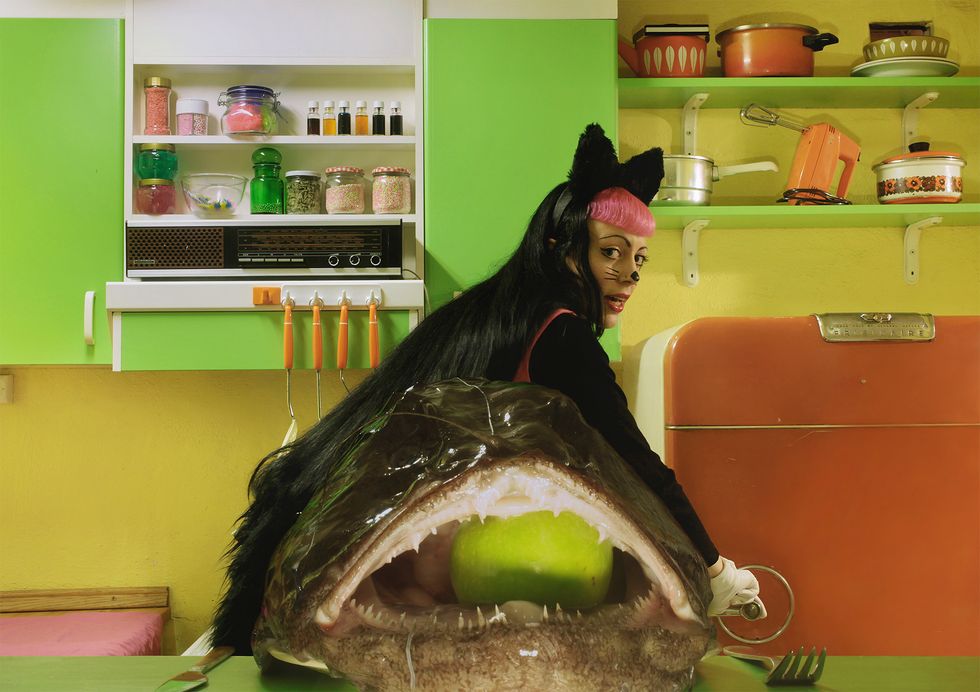 Can you tell us more about your background as an artist? I know you started in photography at a young age, and during your studies in Bergen, Berlin, and Oslo, you branched out into other media. What drives you to keep exploring? How would you describe your work now?
Most of my work is still connected to photography or the role of images today — even when the media is not photography. One of my series from 2018, Flattering Flat (personal belongings), consists of costumes from my performances and personal belongings squeezed into self-made aluminum frames... With this series I am trying to find out what a picture actually is, or where the limits are.
For the last six years I've also worked with a photo-series documenting performances in my self-made costumes, that are almost like sculptures, sometimes with just my face sticking out...
One of those performances took place at Fotogalleriet in Oslo in 2017, where I tried to be a sea-anemone, holding different everyday objects in my tentacles: a phone, a shampoo bottle, a toilet brush, etc. I was thinking about all the plastic waste that end up in their little world deep down there in the darkness. Sometimes I feel a bit like these tiny, pink creatures, trying to face those big issues and in the same time struggling to grasp all the impressions we get through the eternal feeds on our phones, that so often interrupt us, as we try to juggle it all.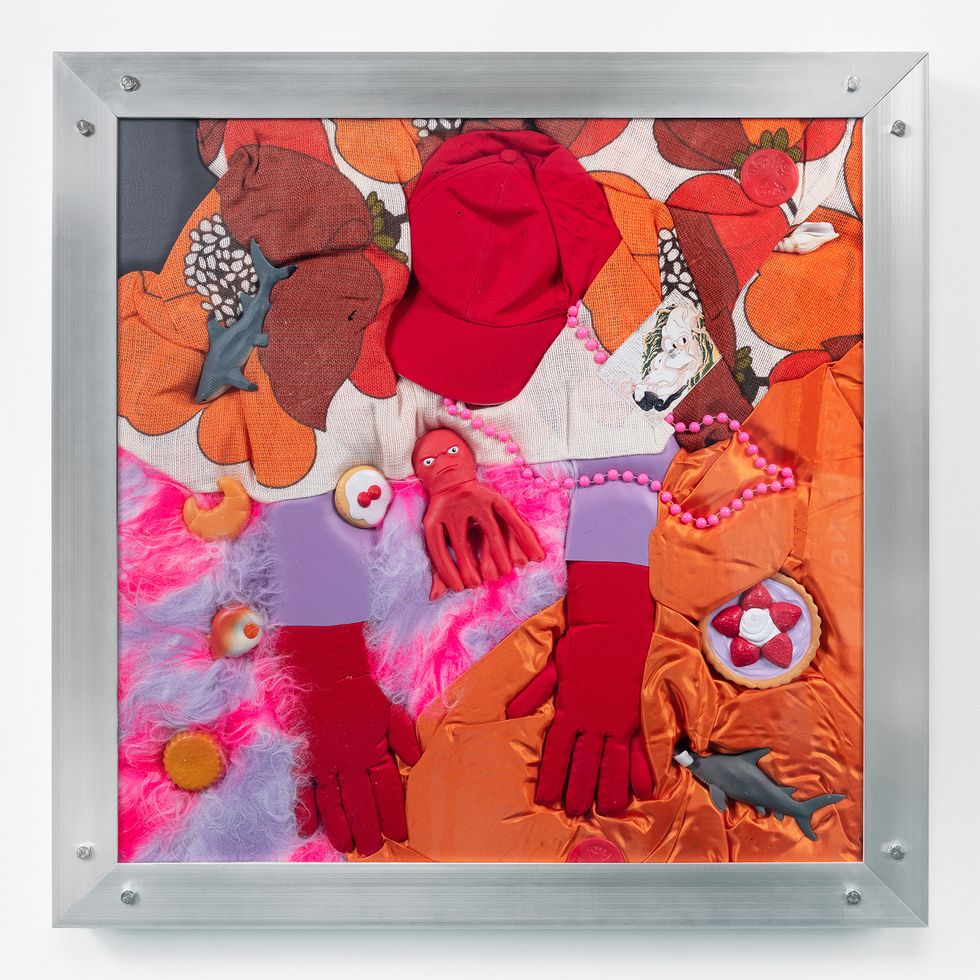 It's been eight years since you founded PINK CUBE in Oslo. How do you feel today about its original mission of gender equity for artists? Has the space contributed to that mission as you'd hoped — and is there still work to do?
I have set up 22 exhibitions in the pink space, always with two artists or artist groups, so at least I've tried — and just spreading the message has an effect too, I suppose. There is definitely a long way to go still — a very recent report shows that male artists account for 94 percent of sales revenues in the Norwegian secondary market in 2017. But in general — at least here in Norway — people seem to be more aware of the problem now than when I started PINK CUBE back in 2011. Like UKS in Oslo, where all of last year's solo exhibitions were by female artists.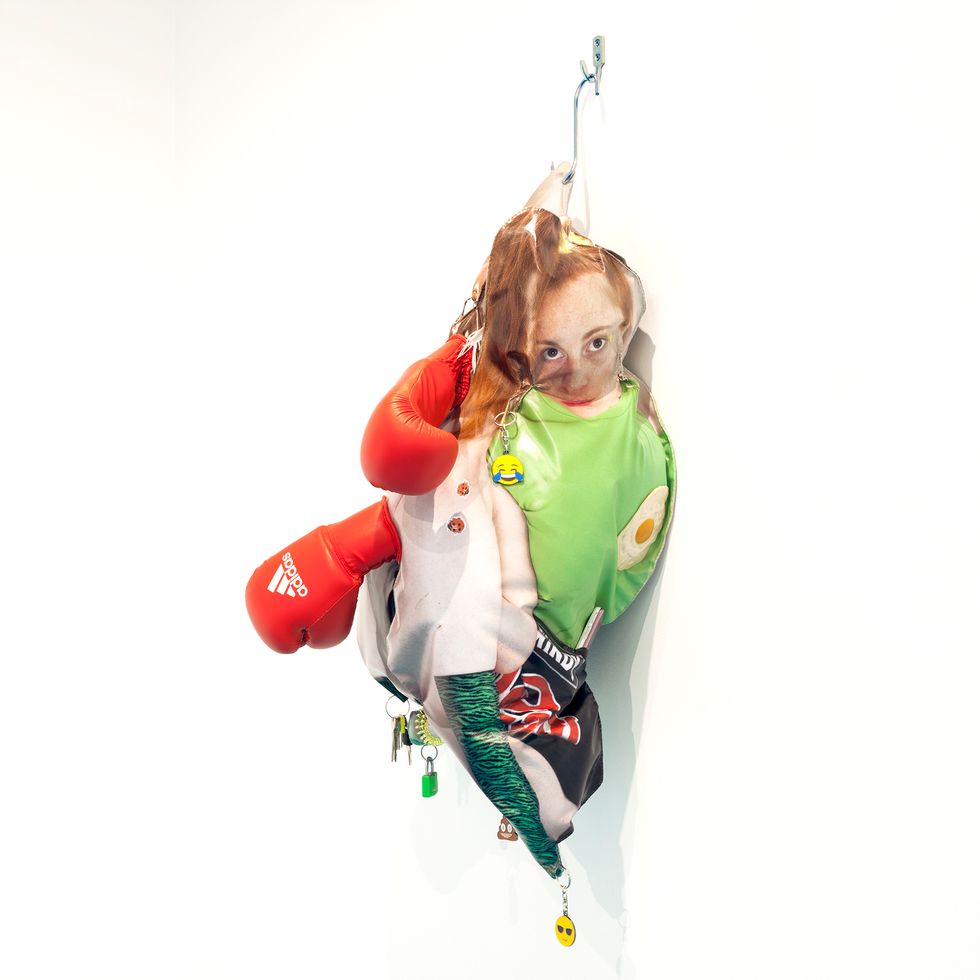 The overall effect of this warped photograph is so unsettling, and the aesthetically happy elements don't subdue but instead contribute to that disturbing feeling. Can you elaborate on this work?

It's also a reflection on how much we see the world through flat surfaces these days, which I mentioned in relation to my framed costumes — that was part of the same show. I invited six different artist-colleagues to be my models for this 2018-series and this isConstance Tenvik. The objects attached to the wall-sculptures remind me of their work and personality, so it's a kind of a collage of portraits. I am fascinated with how the big amount of images we see — when spying on people online — creates a picture of them in our heads. We think we know them better and forget that Internet shows no truth.
Three portraits of each person were printed in 1:1 size on PVC — the material often used for big banners with smiling faces in the advertising industry. There's something quite grotesque in the way we all tend to be our own cover-girls nowadays! Cut out from the background the images were sewn together by hand. Again, there's a deformation going on. Instead of making costumes and objects flat, this is the opposite — my attempt to make photographs three-dimensional. A failed translation I suppose — images are never the same as reality. Even though we know this all too well, we still tend to believe in them.
I realize each work has its own specific purpose, but can you speak generally to the reason for incorporating child-like references, then distorting them somehow? What does it mean for you? Does your own childhood influence these works in any way?
I find the toy-industry quite disturbing — how the toys are still divided so much in girls' toys and boys' toys, and I like to challenge that. Also, it's a good excuse to work with bright colors — it makes me happy and I think it would be silly to only work with things you are disturbed by when you do it for a living. The ambivalence connected to grownups and toys is quite fascinating — distinctions between the child and the adult spheres are sometimes quite fabricated, I think!
My pony sculptures in actual pony-size became a selfie-hit on Instagram in 2017 when displayed at The National Art Exhibition; they refer to the subculture of bronies — adult, mostly male fans of these toys, originally meant for young girls. I like how online forums make it so much easier for narrow groups like this to grow big, which the brony culture definitely has in the last few years. All of the children's figures that I make my own versions of were figures I knew as a child, and I think it's interesting to try and translate them into my adult life.

I've noticed a lot of anthropomorphic characters in your works. Can you tell us more about why you tend to incorporate them?
So many of the characters from the toy-industry are anthropomorphic animals so, again, it's the fabricated distinctions between the child and the adult spheres and the toy industry's disturbing gender roles I'm investigating. In one performance my hybrid of Donald and Daisy Duck attempted to start a tiny, electric toy car — but I was way too heavy — and shared flyers with the texts, "Boys Don't Cry" and "Ducks Don't Fly." I am fascinated by the fact that these Disney characters only have jackets and shoes and no clothes on the lower parts of their bodies, and how most children's dolls usually don't have genitals, which looks very strange. So my character's had genitals: a white strap-on, almost invisible in all the white feathers of my costume.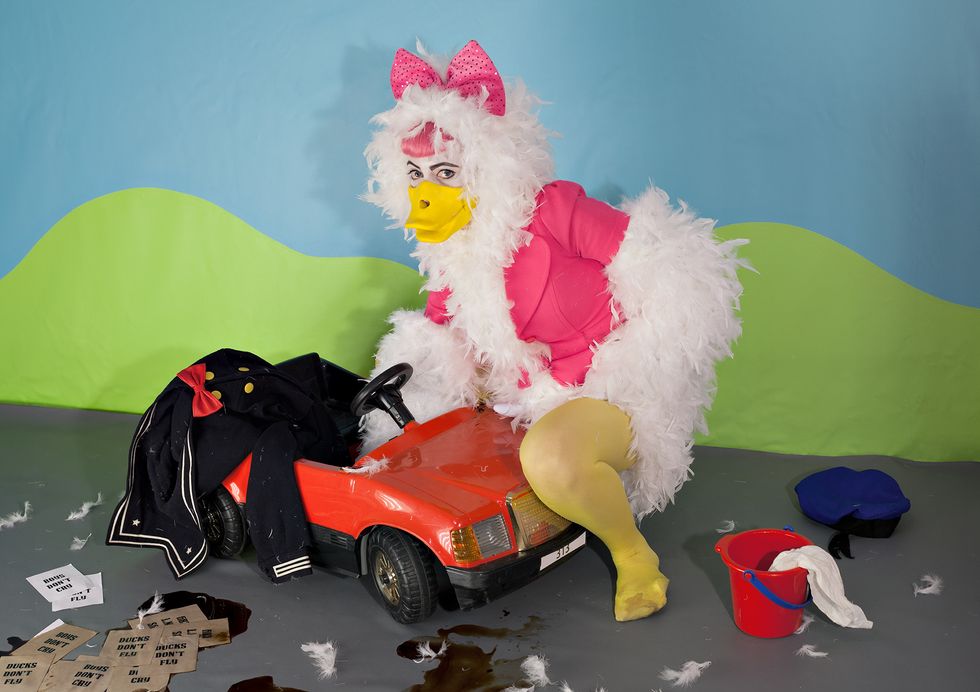 What can you share about your solo exhibition at Ghost Gallery in Brooklyn?
It will happen later this year, as Ghost Gallery is first going to open a brand new space in Los Angeles in April, and I'm happy to be part of their first exhibition there as well — it will probably be quite a packed group show! For the show I will create a new photo series that will explore food as a material, something I keep coming back to... I think it's so fascinating with all the food pictures people post online. Why do we have the need to share the food we eat through images? It's like another form of selfie: "Look what I'm about to put in my mouth!" Food is so perishable, perhaps that's why we need to capture it before it disappears.
Any other plans in the works?
I will do a solo exhibition at Bergen Kjøtt in Bergen — the second largest city in Norway, where I grew up. I haven't had a solo show there for six years, and the building is a former meat factory, which coincidentally relates to some of my work, like when I use bacon as material for sculptures. I think I need to further explore meat-based materials for this exhibition somehow.
I'm also participating in a group show at Triumph Gallery in Moscow, A perfect shelter, in December, curated by Marina Bobyleva. There will be a new performance tour as well — I'll travel with the same group as the US tour in 2015, when we did individual performances in NYC and Miami. This time we're going to Japan!
In June I have three exhibitions coming up in three very special and different venues — one in Norway and two in Slovenia. The first one is a solo exhibition at Oppland Art Center in Lillehammer, Norway where I will make a site-specific installation in a "glass room" that looks like a cage. And I'll take part in a group exhibition titled Instinct in the big Cankarjev dom, the largest cultural institution in Slovenia in the capital Ljubljana. Eat This! is the title of the third one, with the same curator, taking place in a former peep show with its original interior intact — Račka Gallery in Celje.