Angelyne is the legendary Hollywood star famous for being famous long before Paris Hilton and Kim Kardashian. In fact, Angelyne probably invented the vanity billboard when she plastered her own image on billboards around Los Angeles promoting her album in 1984, which led her to starring in movies, TV series and eventually being spoofed in The Simpsons.
Speaking from her home in the hills, Angelyne says in her soft whisper that she believes in destiny — she was meant to be a star. But while we all know this LA '80s icon for her buxom bosom, her pink corvette and of course, her billboards across Hollywood, she is lesser known for her art.
Related | LA Landmark Angelyne Is Famous For Being Famous
Besides being an actress, a pin-up model, a musician and a candidate for California governor, Angelyne is a visual artist who paints countless self-portraits of blonde nudes, which are going to be on show at de Plume Gallery in Hollywood on July 7th. Dozens paintings will be on view, offering insight into the life of the iconic fantasy girl, behind-the-scenes.
Though she likes her privacy, Angelyne spoke to us about snobbery in the art world, the Hollywood Reporter expose and how much she charges for selfies.
What art are you showing in your forthcoming exhibition?
Well, it's my body of work and I'm always adding to it. I have some paintings which are innocent, with that wide-eyed look, breasts showing, which have been on billboards. I have some self-portraits where I'm wearing bikinis, and some that are nudes. They're all very innocent. Do you know the difference between naked and nude? Naked is sexual, but nudes are works of art. That's how they're referenced and labeled in the art world.
"Do you know the difference between naked and nude? Naked is sexual, but nudes are works of art"
How long have you been an artist?
I have been painting since I was a child, but before I was famous, I went to an art gallery with my paintings and they said: "We love it, but we can't use it because you're not a name." I said, "I'm just going to have to get me a name." You know what I mean? I had to get my name famous. The art world is very snooty and picky, I just had to conquer that and I did.
You also conquered your public image, which is genius.
I made my name famous, but I think it was destiny, don't you? When a person is running a race, and if they know they're going to win, they don't try as hard. So sometimes, it's better not to know what's going to happen. People get lackadaisical about it.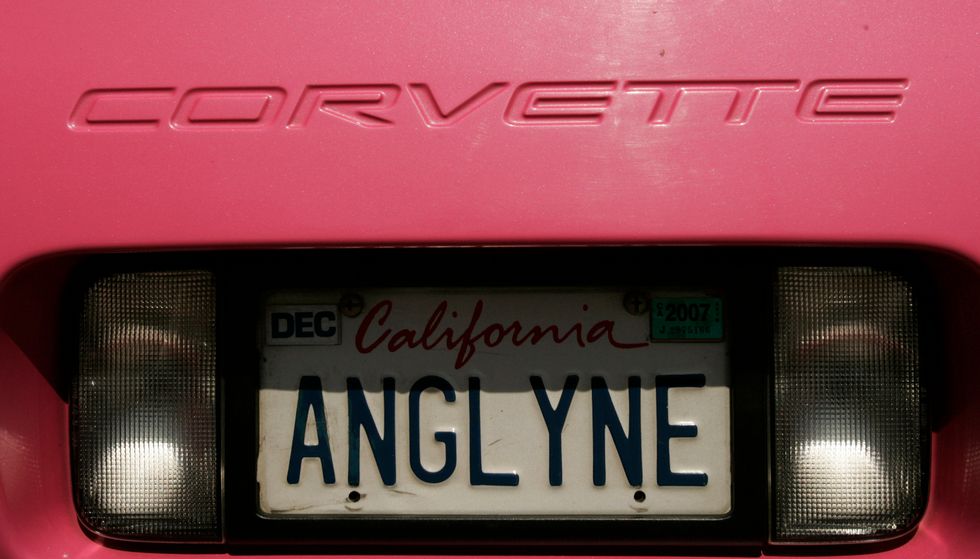 You're right.
I'm always right! Don't forget that. Aren't you going to ask me why I like LA?
Okay, why do you like LA?
Because I own it! People own things they love because they take good care of them.
"I'm always right! Don't forget that."
Do a lot of people approach you in public?
Yes, but I have got a fast car, so I can get away. When you are loved that much, you need to get away for space. Don't you need space?
You have never fallen out of love with LA?
No, I have to keep sprinkling it, it changes so much. I don't want to say "it wasn't the way it was," I have to send it good vibrations and love when I drive around in my pink corvette.
Do you do selfies with fans?
I charge $25 for pictures with my fan over my face and charge $350 for a picture without my fan. I say 90% are very polite. My pet peeve is when people take photos without asking and feel entitled just because I'm famous. That's not cool. People who do that don't end up having good luck. People have to be respectful of other people.
Why do you wear a fan for the $25 selfies?
I am trying to make the most money from my image without selling out to a corporation. I'm not driven by money, but we are girls who love shopping, love the freedom of getting what we need and I love doing my art. People can get bored with beauty, so I'm trying to dole it out slowly to make the most of what I have to give to the world.
"I charge $25 for pictures with my fan over my face and charge $350 for a picture without my fan."
Is it true that you are working on your memoirs?

There was an article that came out about me recently and all the information was completely wrong. It got so much attention, I thought it was good. I've made it myself and I want people to know that anyone, if they really want to, they can do that. The inspiration I want to infuse into people is something I really quest to do.
Have people underestimated your intelligence?
It's higher intelligence. I have to speak to people on their level and raise their consciousness a little higher. The awareness I want to impart into people is so they will be fertile for the next thing I want to do, which is raise them a notch higher. I know I can do that, dole it out. People can email angelynebillboardqueen@gmail.com and they can meet me and ride in my car if they can explain how I have inspired them to do whatever. They have to write something. We pick some winners. People come from all over the world. They have to come to LA. I meet the most amazing people when I give rides, every one of them. I am able to raise their consciousness and give them confidence to do even better. That helps me to influence them. They're star-struck so they're open minded for things. When I was younger, I always said, "When I become famous, I'm going to do it for good, spiritual reasons, values for the human race, culture." I really wanted to do that. But don't get me wrong, if somebody fucks with me, it's all over. I have to add that, you know? Everyone is a country and a planet into themselves.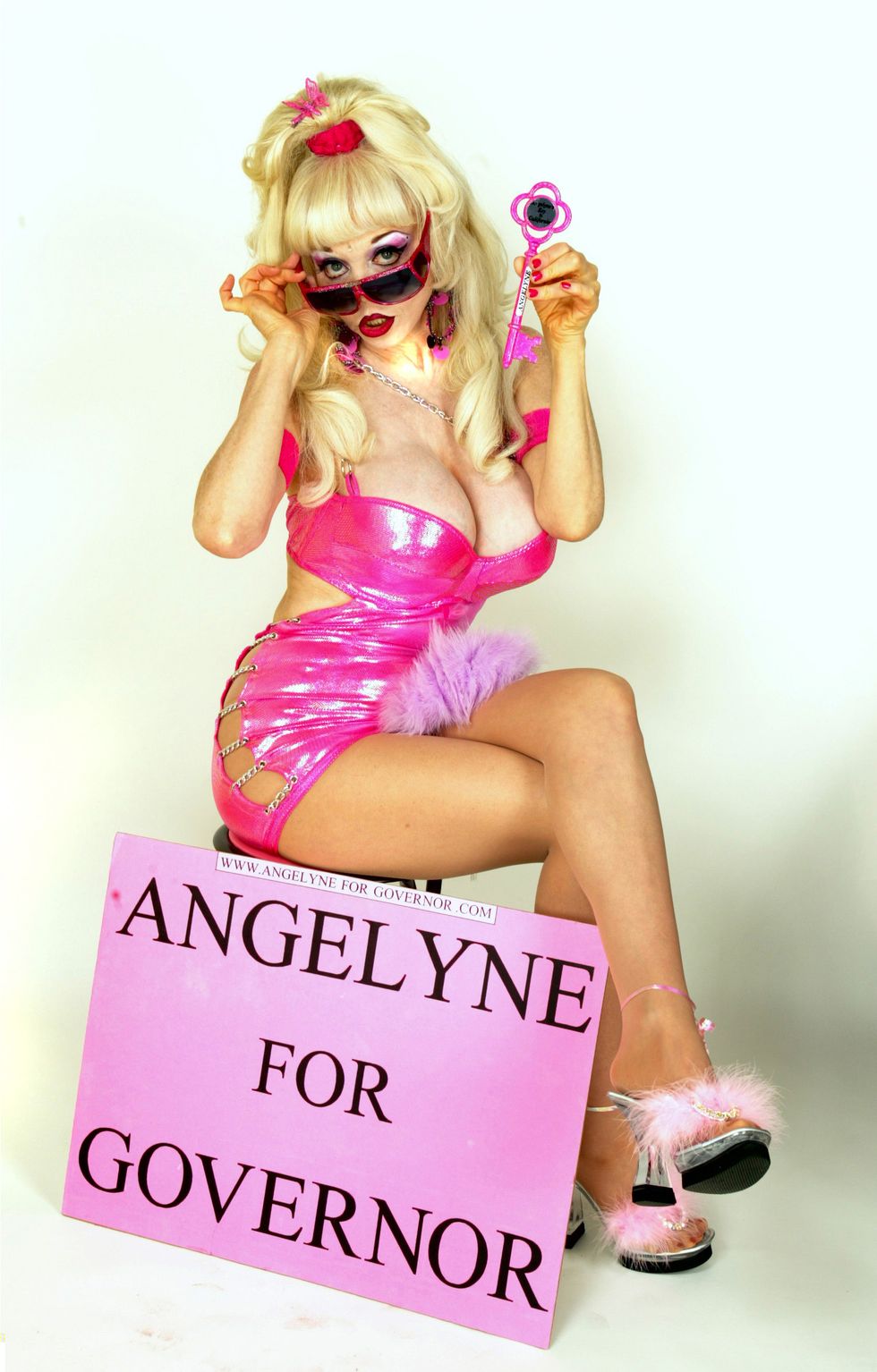 People say you invented "famous for being famous," is it true?
I have no idea what the hell they're talking about, all I did was do what I want to do. I set a pathway, I just wanted to beautify the city with my billboards and inspire them with my image. I don't mean to be rude. I police my image. I am my own manager, I do have people working for me. I have a band of lawyers. I'm not about the money, I don't want to sell out to anything or to connect to anything but Angelyne and what she stands for as a person.
If you stood for one thing, what would it be?
To feel good all the time. That's the big Angelyne picture. In fact, why don't you call this article "The Big Angelyne Picture?" I use that a lot when people try and decipher things emotionally, psychologically, physically — what is the big picture? All the layers beneath that picture are drama. If someone got a film contract, the big picture is that it was their destiny, meant to be. But the drama is there was an audition, haggling for a rate, the contract. But the big picture is always there.
Are you influenced by artists, or are you looking inward for inspiration?
I observe things and think, "How would I do it?" Marilyn Monroe is a bombshell and we have similarities, but I look inward and ask myself, "How would I have done that different? What would I embellish on?" That's how I function. I don't want to copy someone, I want to do it my way.
Photos via Getty