Since the announcement of their sudden split after twelve years together ten months ago, Angelina Jolie and Brad Pitt have kept relatively quiet aside from a few official statements from their teams.
Pitt finally told his side of the breakup story in a revealing "Sad Brad" GQ cover story cover story, in which the actor shared that to cope with being separated from his family, he was listening to a lot of Bon Iver and Frank Ocean and getting heavy into ceramics.
Now, Jolie has opened up in an emotional new cover story for Vanity Fair's Style Issue. The 42-year-old actress spoke with the magazine about the making of her new film about the Cambodian Civil War, focusing on being a good mother to her six children with Pitt, and recovering from the trauma of her breakup from Brad.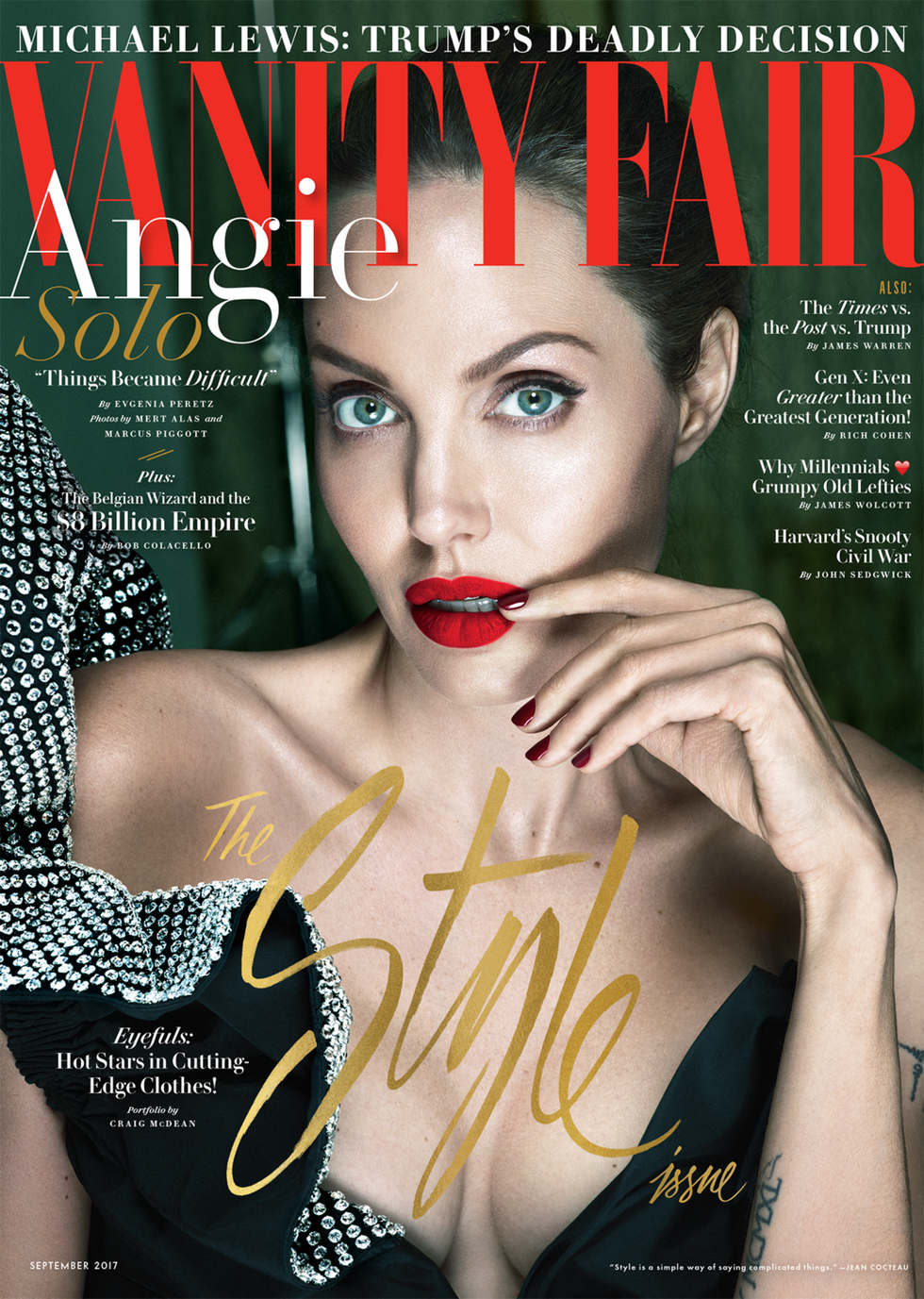 After living "out of suitcases" in a rental home for nine months immediately following the split, Jolie and all six kids have just begun settling into an 11,000-square-foot mansion in the Los Feliz neighborhood of Los Angeles "It's just been the hardest time, and we're just kind of coming up for air," she told Vanity Fair. "[This house] is a big jump forward for us, and we're all trying to do our best to heal our family."
"Things got bad," Jolie says of the time leading up to her seemingly sudden split from Pitt in late 2016. "I didn't want to use that word. . . . Things became 'difficult.'" She adamantly denies rumors that the family's jet-setting lifestyle had contributed to the erosion of her and Brad's relationship, saying, "[Our lifestyle] was not in any way a negative. That was not the problem. That is and will remain one of the wonderful opportunities we are able to give our children . . . They're six very strong-minded, thoughtful, worldly individuals. I'm very proud of them. They've been very brave. They were very brave."
Jolie declined to share more intimate details about why exactly she and Pitt broke up, wanting to maintain some semblance of privacy and normalcy to protect her children. "I was very worried about my mother, growing up—a lot," she explained. "I do not want my children to be worried about me. I think it's very important to cry in the shower and not in front of them. They need to know that everything's going to be all right even when you're not sure it is."
She also added that she and Pitt still want the same things when it comes to their children. "We care for each other and care about our family," she said, "and we are both working towards the same goal."
Read the full interview here.
Image via Getty