It's been no secret that the break-up between everyone's favorite Hollywood couple and once notorious adulterers Brad Pitt and Angelina Jolie was somewhat calamitous. Not only did it emerge Pitt was being investigated by Child Services, but reports of his alcohol issues and a possible affair with co-star Marion Cotillard also came thick and fast. All in all: not a banging time for Brad. So how has he fared since? Not well he reveals to GQ Style in his first, very dramatic, interview since everything collapsed.
While, sure, the profile mostly steers away from discussing Angelina directly, this is one of the greatest profiles I have ever come across. It sounds harsh, but Brad comes across almost comically sad. Or pretentiously sad. Like he studied how to be sad to try to be happier. He's in therapy (which he "loves), he's taken up "manual labor" ("For me I'm having a moment of getting to feel emotion at my fingertips."), he uses metaphors to describe every aspect of his life and the world ("I believe we're all cells in one body; we're all part of the same construct. Although a few of us are cancerous."). Sad Brad is so, so much.
Of course, it's also incredibly depressing. The man that was forever referred to as "A-List" and the "sexiest man alive" tells the reporter he wishes he could "change his name."
"I just felt like Brad was a misnomer," he says, "and now I just feel like fucking Brad."
Brad worries that his children will see false stories in the tabloids and believe them, or their friends will. Brad doesn't want to be high anymore (despite reports that he was only recently getting high and listening to Bon Iver), or drunk, even though he enjoys wine "very, very much." Brad has replaced alcohol with cranberry juice and now has the "cleanest urinary tract in all of L.A., I guarantee you!" Brad guarantees you. Brad is not having a mid-life crisis ("No. It isn't that."). Brad isn't shocked by darkness anymore, he knows "that's just [him]". Brad finds solace in sculpting, although he admits it's "very, very lonely".
"For me every misstep has been a step toward epiphany, understanding, some kind of joy," he says, once again pondering the meaning of life. "Yeah, the avoidance of pain is a real mistake. It's the real missing out on life. It's those very things that shape us, those very things that offer growth, that make the world a better place, oddly enough, ironically."
"And by the way: There's no love without loss. It's a package deal."
Look, you've got to read it to believe it. Absolutely floored.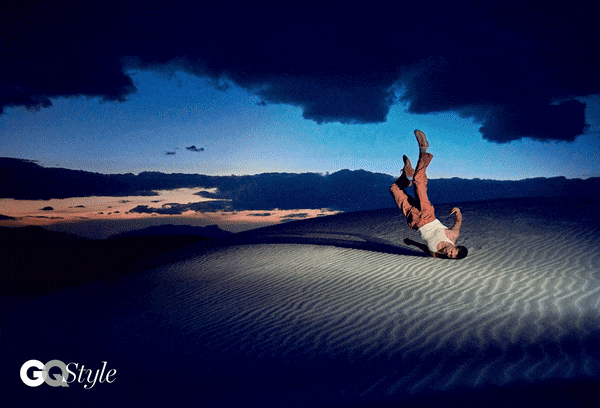 All images by Ryan McGuinely for GQ.