Throughout March and April, renowned Black trans performance artist Travis Alabanza is touring the United States. They're adored in London's local queer scene, and released in 2017 their debut poetry book Before I Step Outside, which became one of the year's top trans literary books. Following their New York show this past Friday with special guest ALOK, another esteemed gender non-conforming artist, the two have written each other letters about their rare, intimate friendship. Read, below, and catch Alabanza at one of their live U.S. shows (Click here for more information).
Travis Alabanza to ALOK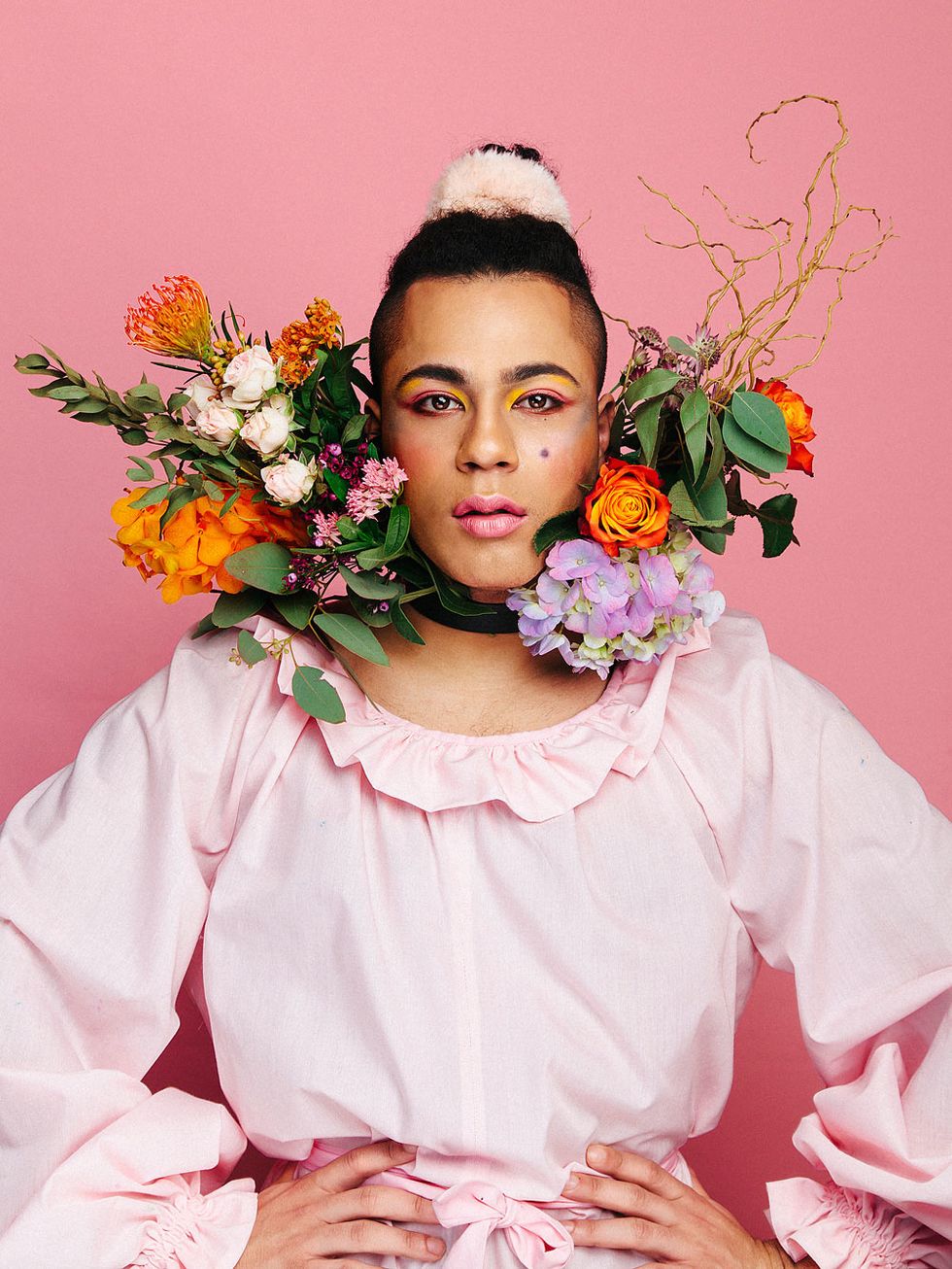 Dear Alok,

I think this is the first photo I recall of us together touching so closely. Intentionally. Intertwined. Connected in hands, in flowers, in bloom, embrace, and I think about how maybe we were scared to touch before. Almost as if when two things with great power touch then maybe it will explode. Break each other down. Switch off. Stop working.
I think after I realized I could exist, I realized soon after that the world tries to tell you that you must be individual. That you can only exist as one. That the freak, the outcast, the different, the non-conforming, the mixed up, the messed up, the dangerous is only that because there is no one else like them. I remember being told as a little kid that "there is no one else in the world like you, you are positively unique," and expected to feel calm after hearing that, but instead feeling terrified. Scared on how the world places you as one, on your own, fending and fighting for yourself and never thinking someone could think out loud the same way as you. When I see this photo I think of a friendship that reminds me there can be others like us. That a friendship can hold differences, things that are supposed to push us away, but also remind us that we are not as unique as we need to be. That I can see you in me. That you can see yourself in mine.
The world will make us compete and battle to be the only one, to be the different thing, to individualize, but I see in these photos us saying we are not the same and we are. That I do not want to be on my own, that being on my own will not work, and that it is only together that we can be. In these photos I see the freak, the weirdo, the outcast, the awkward, the punished, the dangerous, the mixed up, the messed up: and then I see another other'd holding me in that. Saying you are allowed to be those things and I love you because of it, not despite it. That you are beautiful because of this, not instead of it. When i see these photos it reminds me i'm not alone, but more importantly, that I do not want to be.
That being alone and strong and independent is not the end goal, and that our friendship is the journey and also our destination.
ALOK to Travis Alabanza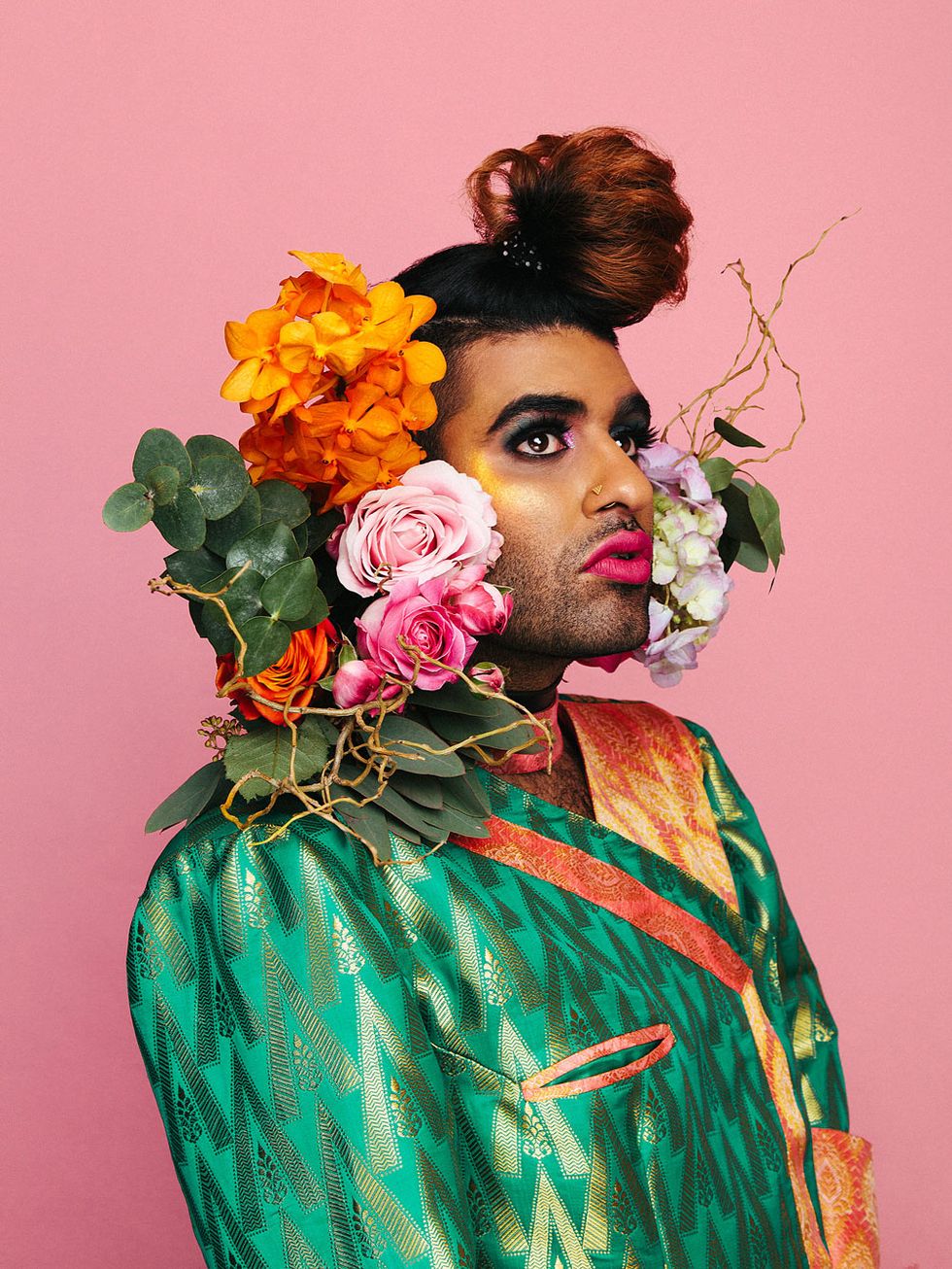 Dear Travis,
You know how we have that joke that I'm like the TV disembodied white femme narration voice a la Sex in the City? Well when I met you for a drink that afternoon in London the narrator in me was like, "And in that moment Alok looked outside the window at the snow falling on the street and knew that their life would never be the same." *cut to the credits* Which is my way of saying that I didn't know I was possible until I met you.
Every day your artistry, your style, your humor, your composite remind me that I am a "we." You know that loneliness well: of walking down the street and being the only, constructed by their stares and jokes. Now I can look at our photos and your poems our looks (!) and remind myself I am not alone. What a delight it is to be real! I can wear no makeup and dress and you still see me for me and for the first time in a long time I am able to just, "be." Travis, your art invites us to just be. Gives us permission to rest.
Welcoming you to New York City this month — by which I mean passive aggressively micro-managing your daily schedule, reminding you to take your multivitamins, and inviting you into my wardrobe (now that's sisterhood!) — has been just what I needed. Which is my way of saying that I need you. That I could listen to you perform the same poem for the rest of my life and I would still think it was groundbreaking. Which is my way of saying: through our relationship I've been able to experience joy, euphoria, transcendence! Walking down the street with you in completely practical 5-inch heels just having everyone stare at us and not giving a hoot because we are together! I wish streets that celebrate you. I wish stages that embrace you. I wish a world that loves you as much as I do. And I won't stop fighting until it does.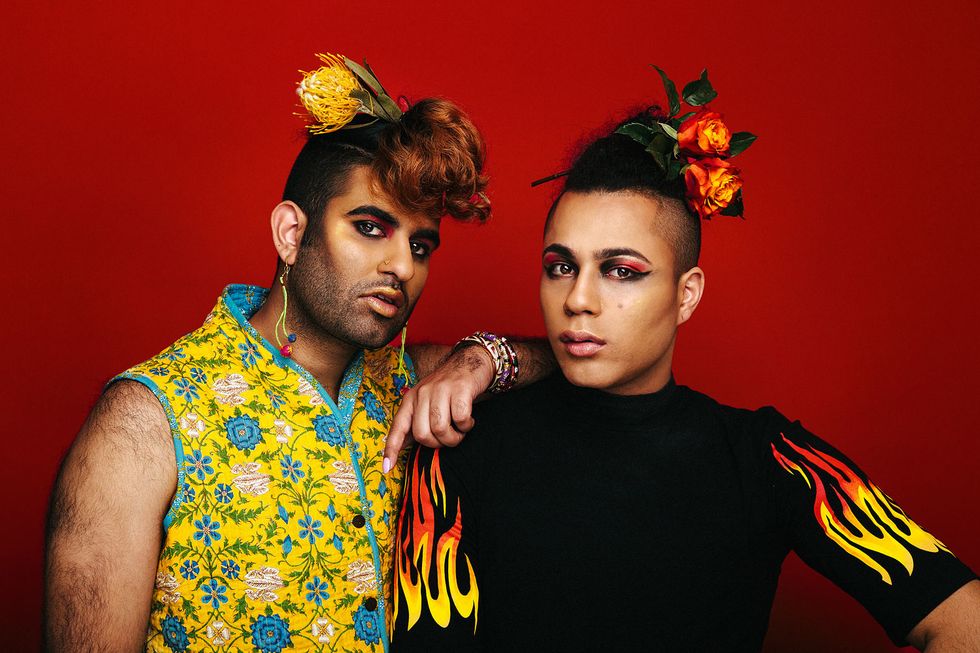 Photography: Eivind Hansen

Beauty: Umber Ghauri