The world might be ending, but people are still falling in love. There's comfort, actually, in retreating to a significant other, kicking back and watching the planet's season finale while lying naked in bed together, Netflix and chilling the apocalypse. On the title track of Brooklyn-based Australian musician Alex Cameron's excellent new album Miami Memory, two lovers vacation at climate change ground zero, frolicking in Florida's rising waters and getting cellulite massages as fireworks explode into the polluted air above them.
"I wanted to have a droning sense of overwhelming potential for disaster," Cameron tells me over Skype from Amsterdam, where he's rehearsing for a European tour. "I felt like I had to recognize the kind of chaos that's surrounding us all consistently. No matter where you go, no matter what country you're in, it's extremely chaotic right now. I know that from touring. And if there's a city that sums up that chaos it's Miami, because it's right on the floodline."
With its catchy entendres about ass eating and tsunamis, "Miami Memory" contains seedy wordplay about impending doom as well as grand romantic gestures. The entire album is dedicated to Cameron's partner and collaborator Jemima Kirke, the visual artist and actor known for portraying Jessa on Girls. It chronicles a relationship that's deep and dark, but blissful against the odds. Opening track "Stepdad" is about Cameron becoming a guardian to Kirke's children from a previous relationship. Later, on "Divorce," he predicts the inevitable agony of their breakup down the line.
"I think there is something inherently sad about love," Cameron says. "You kind of have to support each other in your sadness. I tend to mask my sadness and depression from everyone else except Jemima."
It's not just them against the world. The battle is more internal than that. "It's us against our demons. We've formed a bond over supporting each other through those traumas. I think in a big way love is about finding someone who you have a threshold for what drama's come along with them."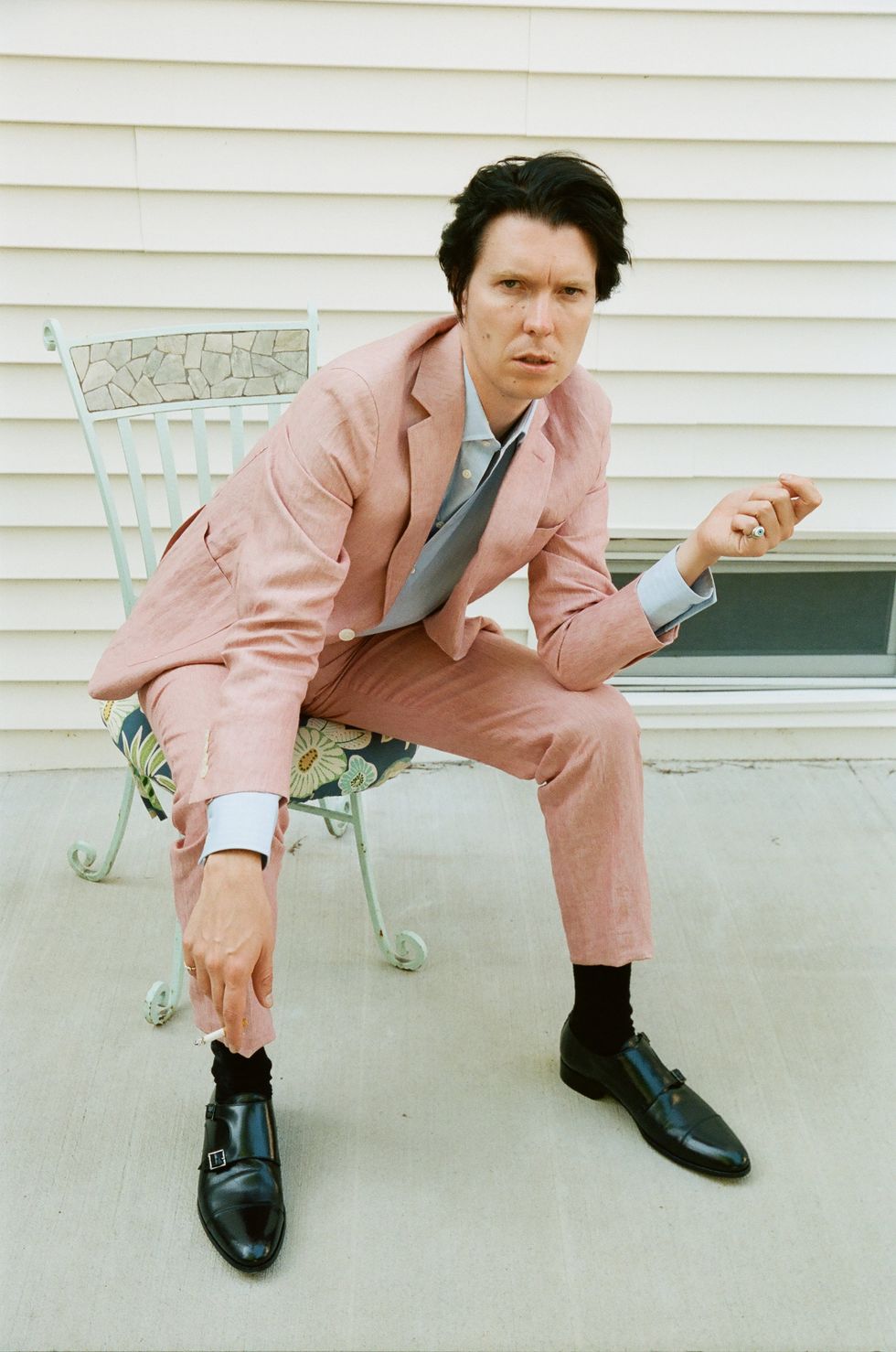 Love songs, even of the nihilistic kind, are new territory for Cameron. He's more known for caricaturish showmanship than sincerity, and the performance art hasn't gone entirely out the window on this record. He and his "saxophonist and business partner" Roy Molloy (an icon of the online crane appreciation community) launched Miami Memory with a comedic 12-hour livestreamed telethon where fans phoned in and pre-ordered copies while chatting with Billy Joel and Tina Turner impersonators. Their stunt fell slightly short of an ambitious sales target, but this ultimately made for more entertaining viewing.
Cameron's previous albums Jumping the Shark (2013) and Forced Witness (2017), two provocative Bruce Springsteen-turns-incel interrogations of masculinity, were written in character. At least you'd hope so. He describes them, interestingly, as like novels helmed by "unreliable narrators." First person perspective songs like "Real Bad Lookin'" and "Marlon Brando" misogynistic personas, in a playful and occasionally controversial effort to pick apart and examine male behavior patterns his fellow artists and musicians prefer to ignore. Cameron would beguilingly adopt these personas on stage, bantering along happily with Molloy and escalating the 80s synths.
Embodying bad and creepy men in his music, Cameron says, was "probably a way to overcome having to behave like that myself" in real life. It goes without saying that listeners weren't always in on the joke, and that many of those old lyrics when taken on face value are objectively offensive. Many fans were drawn to this duality, and Cameron recording an album without the artifice is not necessarily what they wanted or expected.
"Honestly, it felt like the more natural thing to do was more character work, because that's what people were coming to my shows for," he admits. "The reason Miami Memory is the way that it is, is because I wanted to put myself on the line for Jemima. I wanted to show her that I didn't have to hide behind anything."
Cameron remains interested in gender politics. Miami Memory tracks like "Bad For the Boys," which amusingly considers the plight of MeToo-ed men who have fallen victim to the "PC brigade," tread the familiar fine line. But they're written from a sense of remove that Cameron presumably feels in real life. Mostly, Miami Memory benefits from a female gaze. You get the sense Kirke has opened Cameron up to new perspectives and experiences. "Far From Born Again" (the title rhymes, in the chorus, with "she's doing porn again") is a song written in support of friends in the sex worker community that Kirke introduced him to. "Gaslight" considers traumatic experiences Kirke endured with previous partners.
"That song is my attempt at giving her a sense that I understand what she was talking about," he says. "The lyrics are like, real things people say. If you're hearing any of those lyrics in your personal life or your relationship, you might be a victim." (We then engage in a discussion over whether the past tense of "gaslight" should be "gaslighted" or "gaslit," settling on the former because the latter sounds too much like Gen Z speak for a really good party.)
Kirke sounds like a fun apocalypse buddy. She and Cameron were first introduced as potential artistic collaborators, and she has directed and starred in several of his music videos, including a short film for "Marlon Brando" starring comedian John Early. For Miami Memory, Cameron says, "she was there the whole time," writing and painting while he wrote the songs on an electric piano in Rockaway, Queens.
"The good songs, the ones that made the record, were the ones where she came over my shoulder and said 'Wait a minute, what's that? Play that again,'" he explains. "When I write something for her and I know it's good, the first best feeling is the excitement. If I were to play her a song that really meant something to me, I would almost cry while I was playing it. That's the first good feeling. The second good feeling is when the person you're playing it for is crying."
Writing the album, Cameron realized he had permission to create something pure. "It could be a testament, a statement of love and that's a real thing, that's tangible," he explains. "I'm not trying to trick people into my music and I'm not trying to write a pop song that hopefully works because it has the right keywords in it. I'm just writing music for her and it's completely free of any industry bullshit."
On Skype as in the recording studio, Cameron tends towards deadpan humor. But icecaps are melting, and he's in love. On certain topics, there's no time left to tell anything but the truth. "I'm deadly serious about her," he says of Kirke. "I didn't know a relationship like this existed. I doubted that it existed. It came out of nowhere, and it just stuck." The end is nigh, but they give you hope, right?
Photos courtesy of Pitch Perfect