"I am a rapper who happens to do drag," says Aja, who famously competed on season 9 of RuPaul's Drag Race and season 3 of Drag Race: All Stars. The assertion arrives as a flurry of Drag Race alums make forays into music, from Jiggly Caliente to Trixie Mattel, but Aja's perspective is what sets her apart from the pack.
Real name Jay Rivera, the Brooklyn-based artist's forthcoming EP, In My Feelings, is Aja's first big statement as a rapper with six tracks, including the previously released highlight "Finish Her!" She describes the forthcoming EP's sounds as "hood, yet intellectual," and today's new single "Brujería" exemplifies that.
Related | Trixie Mattel Goes Full Country In 'Break Your Heart' Video
In the music video, we see Aja paying homage to Yemaya, the mother of Santería who rules over the sea. The Assad Yacoub-directed visual serves up plenty of instantly iconic looks and furious ballroom production courtesy of New York's own DJ Mitch Ferrino. "What's good, ma? Let me give you a reading," Aja says like a warning, as she dances wildly in an ominous cave.
Watch the PAPER premiere of Aja's "Brujería" video, and unpack its witchy references, below.
This video is an homage to Yemaya. Who is she?
Yemaya is the mother of Santería. She watches over those she protects in a very maternal way. It wasn't until a few years ago, when I established my drag collective, the Haus of Aja, that I realized how much I resonated with Yemaya. Being maternal and protective comes from within; we could all be Yemaya if we channel her. I really wanted the "Brujería" music video to honor Yemaya by showing a lost girl who is need of guidance. So on the beach, Yemaya, played by me, embraces her and she finally feels found.
Related | Drag Superstar Sasha Velour Premieres 'One Dollar Drags'
What's the concept for the video? Was it shot on location?
This video was so much fun to make. I creative directed the video, and director Assad Yacoub really brought it to life, along with costumer, Florence D'Lee, who killed it, honestly. We shot on location in Los Angeles at a beach, in a nature preserve. We also shot in a cave, which happens to be the exact Batcave that was used in the '60s television show. The video was a labor of love. This crew came to work, and I think you can tell by the quality of the video.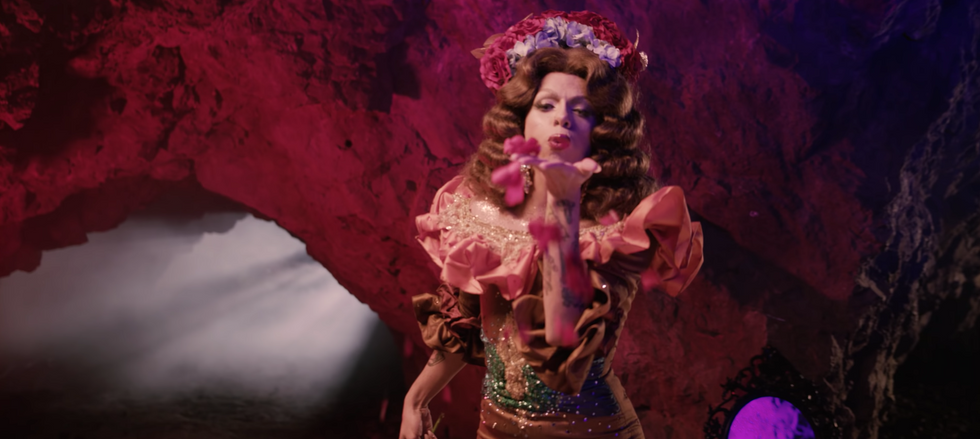 Lyrically, what's the story behind "Brujería"? Do you consider yourself a Bruja?
I think anybody could be a witch, or a bruja. Like Yemaya, being witchy is a quality that can be channeled from within. Lyrically for "Brujería," my goal was to combine witch references in the media with actual historic witch figures, like Marie Laveau. People often view Santería and brujería as some kind of dark art, but the practice of both are really quite beautiful. It was fun to try to connect my religion to mainstream examples of witchcraft like American Horror Story: Coven and Sabrina, the Teenage Witch.
"I am a rapper who happens to do drag [...] I will not be confined."
Tons of queens are releasing music, right now. What do you hope to contribute through your work?
The thing that I hope people takeaway from my music is that I am not just a drag queen. I am a rapper who happens to do drag. Even though the art form of drag is a celebrated medium, we continue to pigeonhole drag artists and, often, only allow them to be successful in the confines of drag. I will not be confined. My In My Feelings EP is my reminder to everyone of that fact. You can think what you want to of me, and you believe what you want. However, after you hear In My Feelings you cannot tell me that I am not talented and that I am not smart.
Related | Aquaria: The Unreal Housewife of New York
Who are you rooting for on this season of Drag Race?
Season 10 of Drag Race has been crazy. I'm rooting for New Yorkers, Aquaria and Monet x Change. I love Miz Cracker for her wit, and I'm really happy my Season 9 sister Eureka O'Hara is the getting the recognition she deserves. Eureka is really talented, and it's about time that people realized.
Aja's In My Feelings EP is out May 11th.
Photos Courtesy of Aja