Call Me By Your Name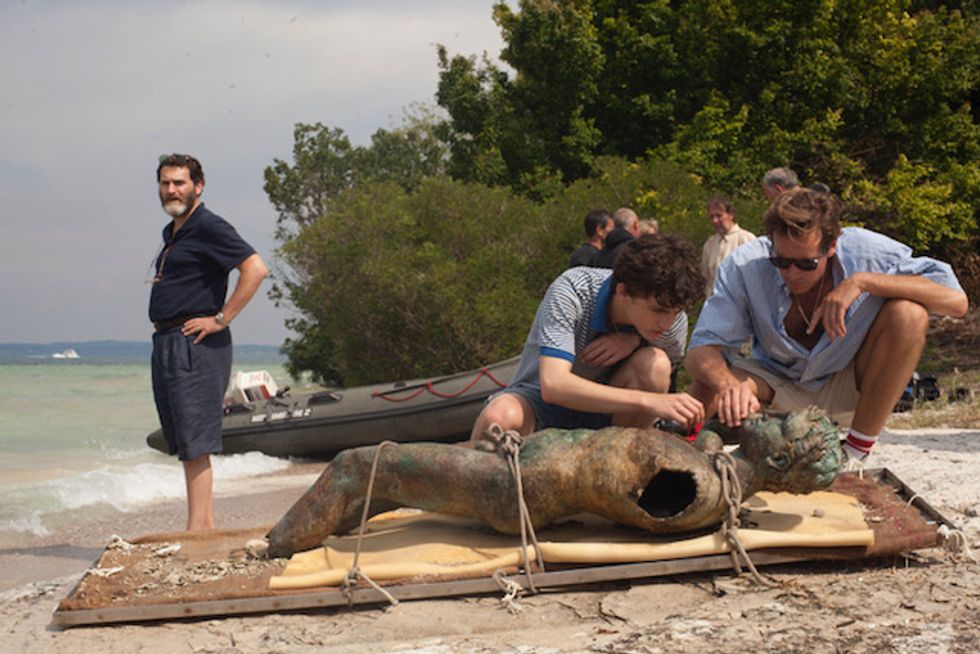 Courtesy Sony Pictures Classics
Set in the north of Italy in 1983 at a sun-kissed villa, ripe with peach trees and mountain-spring-filled lakes, a professor (Michael Stuhlbarg) is awaiting his new assistant to help him for the summer. Oliver (a sensational Armie Hammer) arrives -- handsome, brash, smart, confident -- charming men and women alike. The professor's precocious 17-year-old son Elio (Timothée Chalamet) who spends most of his time off by himself reading or transcribing music is initially irritated by Oliver but slowly discovers himself hopelessly lusting over him. Director Luca Guadagnino (I Am Love) is great at creating sensual environments to frame his dramas and this setting is romantically sumptuous. Based on a novel by Andre Aciman, it's an extraordinary, gorgeous, heart-shredding film with an astounding, utterly fearless, performance by Timothee Chalamet, whose awkward pangs of love are palpable. There's a scene later in the film when Elio's father (Stuhlbarg) talks honestly to him about the pain of heartbreak that made me catch my breath it was so stunning.
My Friend Dahmer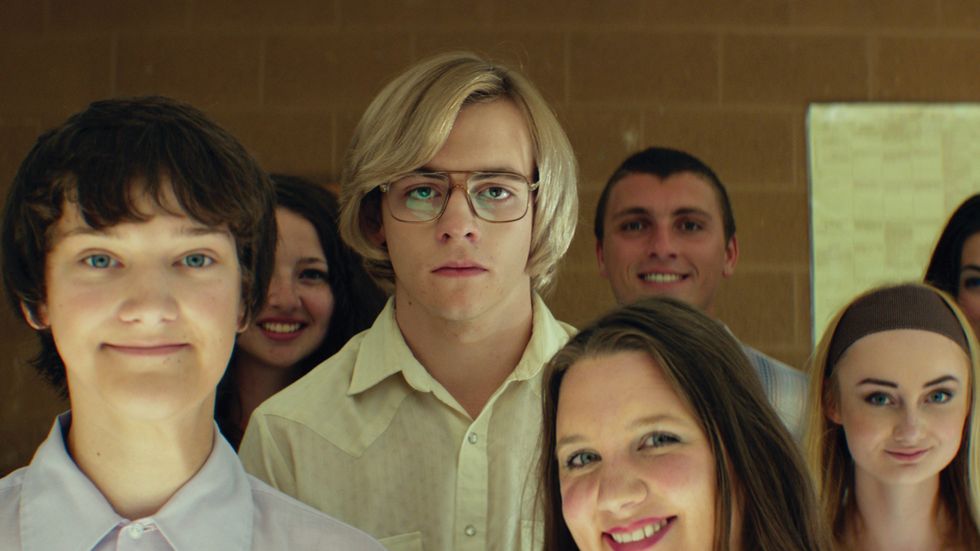 Ross Lynch gives a haunted, sad, scary, and unforgettable performance as young (future serial killer) Jeffrey Dahmer in this electrifying film by Marc Meyers based on the graphic novel by Derf Backderf. Set during his last days of high school, Jeffrey was the strange kid in school. With longish hair hanging over his forehead, oversized glasses and stooped shoulders, he loped through school a perpetual loner. At home, his mother (Anne Heche) was clearly exhibiting wild swings of mental instability and driving his father (Dallas Roberts) to leave. In a desperate act to seek attention at school, Jeffrey fakes a loony epileptic seizure in the hallway and becomes the hero for budding artist Derf (Alex Wolff) who, along with a few friends, egg Dahmer on to spazz out in other public places. But in private, Jeffrey was exhibiting more disturbing behavior. In a shed behind his house he submerged roadkill he finds in acid and watches the slow decomposition. He stalks a handsome doctor (Vincent Kartheiser) jogging along the road by hiding in the brush with a baseball bat. He starts drinking heavily to anesthetize his pain at home and even showing up at school drunk. This doesn't play out like a horror movie, but there is a sense of creeping dread that sets in knowing how this story will end and feeling so helpless to intervene. Truly one of the best films I've seen in some time.
Lady Bird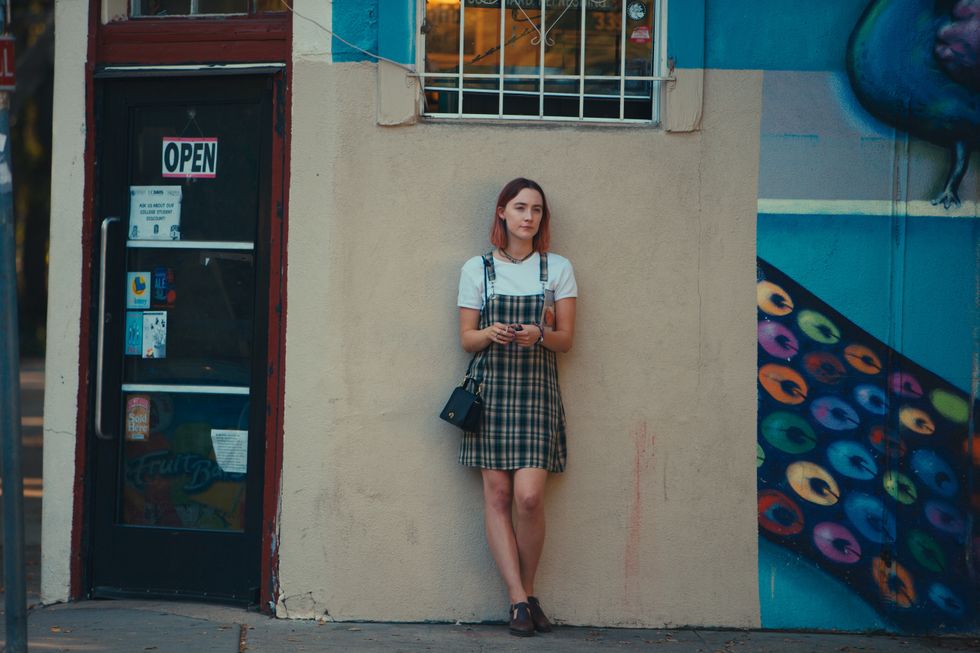 By Merie Wallace, courtesy of A24
A comic triumph from writer-director Greta Gerwig about the emotional roller coaster a young girl (Saoirse Ronan) navigates during her final year of Catholic high school in Sacramento, California. Defiantly calling herself "Lady Bird," she fights with her parents -- her sympathetic out-of-work dad (Tracy Letts) and especially her overly critical mother (Laurie Metcalf, never better). She finagles herself into a cooler crowd, pushing aside her best friend (sensational Beanie Feldstein), and has a doomed love affair with a fellow thespian (a wonderful Lucas Hedges) and a hipster rocker in a band (Timothée Chalamet). All the while dreaming of getting into colleges as far away from Sacramento as she can get. Every scene is wittily carved out, with great humor and a sympathetic heart. And once again Saorise Ronan gives such an alive, rich, offbeat portrait on screen that the audience is helpless before her.
Three Billboards Outside Ebbing, Missouri
Francis McDormand gives a full-throttled, heartbreaking yet hilarious performance as a frustrated and angry mother who pays for three billboards to go up criticizing the local police in not solving her daughter's murder. Complicating matters is the fact that the chief of police (Woody Harrelson) is a decent guy who has exhaustively investigated the case, and is dying of cancer. This infuriates many people in town, particularly a hotheaded fellow cop (a terrific Sam Rockwell). Writer-director Martin McDonagh (In Bruges) infuses this perfectly pitched dark comedy with many shades of gray, and the results are considerable -- the movie constantly surprises. And the cast not only rises to the challenge but surpasses it. Just the best.
Blade Of The Immortal
Takashi Miike's 100th film, based on a manga, is about a samurai warrior Manji (Takuya Kimura) who, after gorily decimating nearly a hundred bounty hunters with his sword and lying mortally wounded, is given the gift of immortality by a mysterious crone (who injects blood worms into his body which constantly repair everything). Fifty years later, he crosses paths with a young girl named Rin (the astonishing Hana Sugisaki) whose Kendo teacher father was assassinated by Anotsu (Sota Fukushi), the androgynous leader of a fearsome crew wiping out all fight training schools. Rin begs Manji to help her seek revenge, and her resemblance to his late sister seals the deal. Miike surprisingly plays it pretty straightforward. Each villain is given wild, original, looks, and the sword fights are as thrilling as they are splattery. But there is also a sweet humanism to the characters. What I loved about Manji's immortality is that, while he constantly resurrects, he still suffers the searing pain and agony of each slash and cut. A blood-spattered blast.
Thelma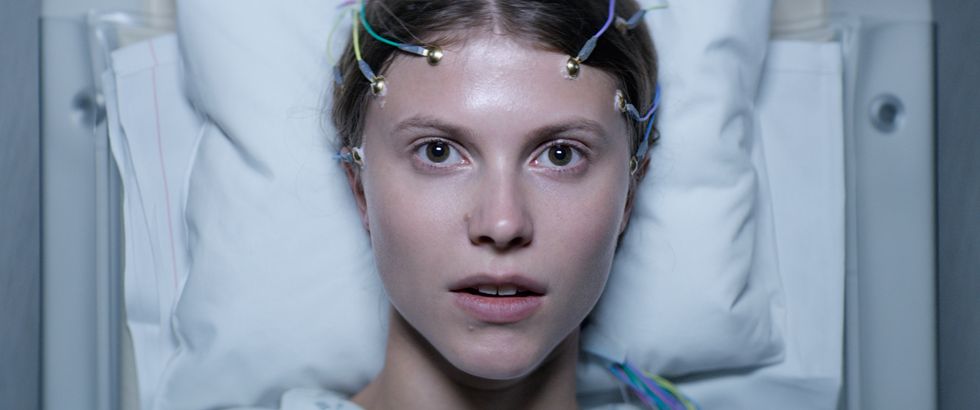 Courtesy The Orchard
In Norwegian director Joachim Trier's simmering supernatural psychological drama, Thelma (Eili Harboe) is a lonely student in college in Oslo, raised by devoutly Christian parents, who strikes up a friendship with a fellow student Anja (Kaya Wilkins) and slowly falls in love with her. These powerful, deeply conflicting emotions cause her to have a series of epileptic-like seizures, coinciding with spooky flocks of crows racing towards the windows of her school. As the movie progresses and more secrets from her childhood are revealed, we discover Thelma has certain disturbing powers that have been dormant since she was little and are alarmingly returning with a vengeance. Beautifully lensed by Jakob Ihre with a terrific score by Ola Flottum, the movie eerily evokes Thelma's erotic awakening and the chilling repercussions that follow.
Leatherface
Directors Alexandre Bustillo and Julien Maury are, criminally, not as well known in the US. But their films like Inside, Livid, and Among the Living are unique chilling masterworks and they bring their splatter-punk sensibilities to this ferociously frightening "origins" film about the cannibalistic Sawyer family introduced by Tobe Hooper in his 1974 classic The Texas Chainsaw Massacre. Set in 1965, several violent and dangerous misfits abduct a nurse (Vanessa Grasse) in their escape from the Gorman House Youth Reformatory, and hit the road in stolen cars, cutting a bloody path across Texas. One of the gang is the son of Verna Sawyer (Lili Taylor -- terrific), the monster matriarch of the chainsaw wielding family. Stephen Dorff is feverishly fabulous as the vengeful Texas Ranger out to avenge his daughter's death (at the hands of the Sawyers) and catch and terminate these runaways with extreme prejudice. Many directors have attempted sequels, even director Tobe Hooper with his bonkers The Texas Chainsaw Massacre 2, but Bustillo and Maury bring their own twisted take and the results are a nightmarish wallow in demented hillbilly horror, one that I think the late Hooper would heartily approve of.
Mayhem
The ultimate wet dream revenge film for anyone who has had their spirits crushed at the workplace. In director Joe Lynch's violently entertaining film there is a pesky iD-7 virus rampant in the country whose tell-tale sign is one red eye and complete loss of inhibition on the infected. The Walking Dead's Steven Yeun plays Derek Cho, a lawyer at a powerful firm that legally exonerated clients who have committed murder while possessed by the virus. Unfortunately, the iD-7 sweeps his office building the same day he is fired. The building is quarantined and Derek, with the help of an angry young woman (Samara Weaving) who came to the building to try and save her family's home from foreclosure, try to bloodily fight their way to the top floor where the monstrous boss (Steven Brand) and executives are hiding. Using nail guns, hammers, screwdrivers, knives and fueled by their righteous fury. The movie is fast-paced, crazily violent (in a fun way), and eminently satisfying.