When you listen to Talking Heads' most iconic songs, they all have one standout element in common: Tina Weymouth's funky, melodic bassline. Without her there would no "Psycho Killer," no "Burning Down The House," no "Once in a Lifetime," — grooves which are immediately recognizable, ingrained in our collective memories even as the songs' lyrics fade. It's Weymouth's basslines that continue to be sampled and resurfaced by everyone from Jay-Z to, most recently, Selena Gomez — yet her role in creating them is rarely discussed.
Upon the release of Gomez's "Bad Liar," a track built on Weymouth's iconic "Psycho Killer" riff, critics focused on David Byrne's seal of approval, despite the fact that he wasn't responsible for the seminal sample. As is often the case with women who back charismatic frontmen, Weymouth's recognition was an afterthought.
Weymouth, now 66, isn't looking for kudos, either. "I didn't really think I should concern myself about that. I know what I did," Weymouth told PAPER in a phone interview. "I'm still here. I still do my thing. I think that's really what it's all about in the end — not how people perceive you."
In a recent interview, Talking Heads drummer (and Weymouth's husband) Chris Frantz admitted that "had there been no Tina Weymouth in Talking Heads, we would be just another band." So, why does it seem as if she's been slowly written out of the legacy of a band she played such a significant role in?
Critics occasionally mention that Weymouth influenced a slew of female bassists, from Kim Gordon to Este Haim, but not much else. Rarely do people write in-depth profiles of her, despite the fact that she (along with Frantz) figured out that the key to translating Byrne's esoteric ideas into catchy, iconic pop music lay within the rhythm section.
Her basslines became the pulse of the band, infusing downtown punk with a new sound: a danceable combination of the soulful, funky jams of Parliament and James Brown with the rock steadiness of Carol Kaye. They authentically covered a broad spectrum, from melodic funk that drove the songs forward to pointed grooves that anchored African-inspired, polyrhythmic dance music — a sound she and Frantz would further develop with their seminal group Tom Tom Club.
Yet, when Weymouth is written about, her musicianship is ignored while she is characterized as everything from, at best, a humorless shrew to, at worst, "the Lady Macbeth of rock" by men who focus primarily on Byrne. This trope is not unusual — just symptomatic of a bigger problem of female artists being airbrushed from history they helped create. When they are included, they are frequently portrayed in either black and white personality extremes, defined by their gender — talented despite being a woman — or cast in the shadows of their thoroughly examined, fully-formed male peers under the lens of male critics.
Take David Bowman's 2002 biography This Must Be The Place: The Adventures of Talking Heads in the 20th Century. He characterizes Byrne as the humble, friendly protagonist of this story, the true hero, while depicting Weymouth as an antagonist, "a little brittle," with "the vibe of a Catholic saint. Or maybe a tragically lame prima ballerina. Or maybe Valerie Solanis, the woman who shot Andy Warhol." This is Bowman being gentle. Later, he will compare her to "Rochester's wife, the mad one," and call her memories "poisonous."
Critics often brush over the details: Byrne made her audition three times to keep her spot in the band — something no other member was asked to do. In the 2015 documentary Girls in Bands, she recalled Byrne telling her that he thought "a woman's role shouldn't really be in the big world because it was a dangerous place for women."
Whenever something wasn't working, Byrne blamed Weymouth. "Anytime David felt insecure, I was his whipping boy. Every time he couldn't come up with something, he'd beat me up about it. The whole time, it was so painful for me," she recounted to Bowman.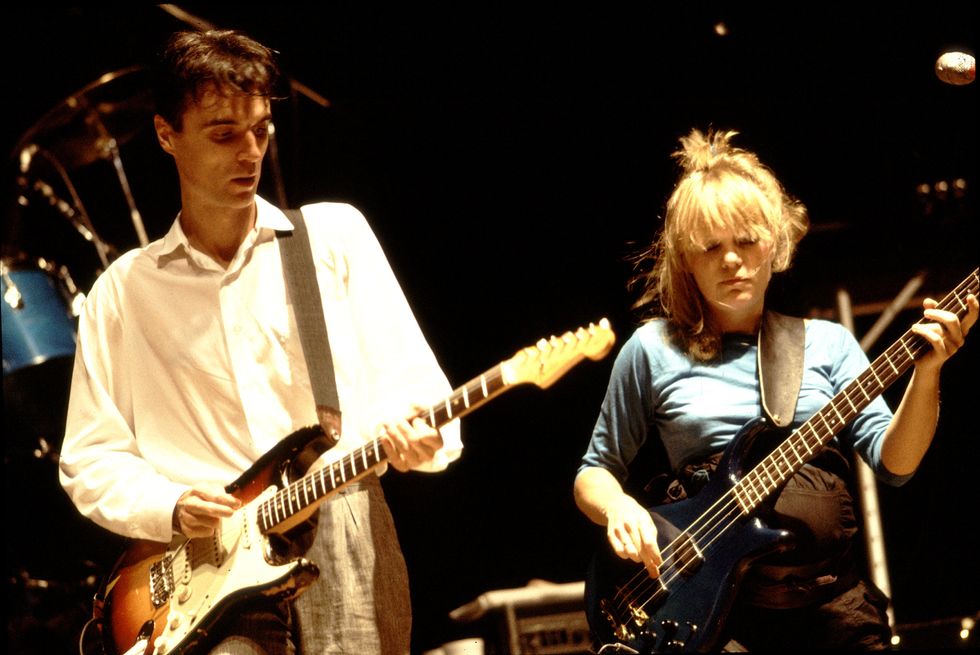 Paul Natkin/Getty
Perhaps, though, Tina Weymouth never gets enough credit because she is, by and large, an unassuming figure so unlike any of her female peers. "I don't want to go beyond what I do well, which is play music," she told Creem in 1979. "I haven't exploited being female 'cause it's better to save those things."
She's a woman who will keep up with an aggressive world tour with Talking Heads while pregnant, who will finish recording a bass track while in labor. A woman who won't hold back on brutal honesty about what it was like to live in David Byrne's shadow: "For years," she once told the Los Angeles Times, "people only asked me about David, and I was good at that."
She is fiercely loyal and exceedingly dependable, but expects no fanfare. Starting a band had been Frantz's dream, she recalled in a 2014 lecture at Red Bull Music Academy, Tokyo, and he spent nearly two years searching for a bassist. No one would bite, so, eventually, Weymouth went out and bought a bass nearly as big as she was, ready to step in:
"I was only playing bass for five months when the band first played [live]," she explained in the same lecture. "I really was a punk. I was a complete autodidact. I did not take a lesson. Nobody taught me how."
She saw holes and knew how to fill others' needs — something women have been doing with no acclaim for centuries. When band members reminisce about their early days, they remember her living with Byrne and Frantz in a commercial loft with no heat and no bathroom, making them food, cutting their hair, driving them to gigs, performing double duty as bassist and road manager.
Tina Weymouth was a pioneer, and she continues to be a lasting influence, particularly on women, today. She hasn't stopped charging relentlessly down her own path, continuing to mentor and collaborate with younger artists while creating new music with Frantz.
"One thing I did that I'm glad about in retrospect is that I never talked about the problems of being a woman," she told The Face in 1981. "I didn't want to discourage anyone who had the same idea. I didn't want to make it look like an uphill trek, which it was."
Women often have to tell their own stories, though, and Weymouth's reluctance to draw attention to herself and the trials of being a female complicates things. It's a catch-22: "I was always a feminist," she told PAPER. "I just hated to always get that question. It locks you into asking, 'Is that all you think about when you see me? As a woman? You don't see me as an artist? You don't see me as a musician?'"
Remaining quiet meant disciples had no fear in emulating her, but it also made her a mystery. So, like so many women who came before her, she's endured the projections of biased critiques and shallow musings from men, her influence reduced to a footnote. Same as it ever was.
Splash photo by Richard McCaffrey/Getty